Crossing the Costa Rica-Panama border is as easy as you make it. In other words, if you're prepared to cross the border, things will go quite smoothly.
On the other hand, if you arrive in Costa Rica and attempt to cross into Panama completely unprepared, you might run into a few bumps in the road.
Traveling through Costa Rica is a once-in-a-lifetime experience, unless, of course, you do it more than once!
The sights, the locals, every piece of Costa Rica is unforgettable. If you've planned your trip well, you should know exactly how to get from Costa Rica to Panama.
How to Get From Costa Rica to Panama
The last stop you make in Costa Rica will determine which border you cross to enter Panama. If you're touring the Pacific Side of Costa Rica, you'll utilize the Pasos Canoas border, and if you're on the Caribbean side, traveling from Puerto Viejo, you'll use the Sixaola border.
The Proper Way to Cross the Border
It's important to know what you'll need to cross the border from Costa Rica into Panama.
Though the process typically runs very smoothly for most travelers, without the documentation that you'll undeniably be asked for, you might run into trouble. You'll want identification as well as proof of onward travel.
Border patrol wants the transition to move quickly without problems, but they also want to ensure that you are who you say you are. It's all very typical of crossing any border.
Make sure that you take note of what time the border closes before you attempt to cross. The Costa Rica-Panama border closes at 5:30 pm unless otherwise specified.
Take note of which days you're visiting and establish what time the border will close on the day that you plan to cross.
Remember, Panama is one hour ahead of Costa Rica, so if the border closes at 5:30 pm, it will only be 4:30 in Costa Rica.
It's a slight time difference, but it can definitely throw your trip and plans off track if you arrive too late and have to wait until the following day to cross.
Deciding how and where you'll cross the border is crucial to your planning process. Whether you're crossing by car, bus, or plane, understanding how to do so easily will make all the difference in your adventure.
Travel Methods for Crossing from Costa Rica into Panama
The most popular ways of crossing from Costa Rica into Panama are by bus and by plane.
Both of these methods are easy on travelers because they are not responsible for operating the vehicle that will take them across, freeing up mental space and making the process easier and much more relaxing overall.
Crossing a border can be stressful all on its own because there is always the potential for something to go wrong. However, foregoing the car rental and choosing to take a bus or plane will ensure that things move along.
Both borders, on the Pacific Coast and the Caribbean coast, along with each point of entry, allow entry via plane and bus.
Regardless of the way you choose to cross, know that it can be chaotic at times, so keep the following documents with you at all times.
Your Passport
Ensure your passport's valid at least 6 months from when you're attempting to cross from Costa Rica into Panama.
Carry two copies with you just in case, because you might get an agent that asks you for both. Have them ready when it's your turn to cross.
A Pen
This might seem ridiculous, but your venture across the border will go much faster if you're prepared.
You'll be presented with Costa Rica exit papers, so have the equipment you'll need to fill them out.
Money
You'll be asked to pay a Costa Rica exit fee of $8 USD, or $4,520.83 colones.
An awareness of the exit fee means you'll have your money ready to hand over to border agents.
Proof of Onward Travel
You'll be asked to present proof of onward travel, or that you intend to leave Panama, at the border.
This could be a bus or plane ticket that indicates you'll be returning to your home country.
Proof of Sufficient Funds
Bring your bank statements or a credit card in your name that shows at least $500 USD. You may also be held at the border if you don't pay a Panama entry fee, which can be paid in Balboas.
The fee is relatively low, ranging from $1 – $4 USD.
Because crossing a border is intense on occasion, it's best if you show up prepared. Take an extra ounce of caution so your trip from Costa Rica to Panama runs smoothly.
Frequently Asked Questions about How to Get From Costa Rica to Panama
How should I cross the border from Costa Rica to Panama?
You can cross by car, bus, or plane. Whatever way you choose to make your way across, be certain you have the proper documentation to get you into Panama legally and without trouble at the border.
What do I bring with me to cross the border?
Do some in-depth research into the exact point that you're crossing before you leave home. In general, you should bring bank or credit card statements, two copies of your passport, a pen, money, and proof of onward travel.
What can I do if I'm held at the border?
Simply listen carefully to all instructions provided by the border agents and try not to panic, even though it can definitely seem scary. Chances are, they need to review paperwork or something non-threatening, so don't let it ruin your trip!


Entering Panama from Costa Rica
Your trip through Costa Rica into Panama is certain to be filled with beauty and adventure.
Crossing the border is just one small part, so try avoiding stressing about it too much. As long as you're well prepared, you'll be just fine.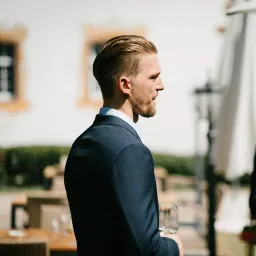 Hey guys! It's me, Marcel. I am the proud owner of carry-on-baggage.com. I am dealing with hand luggage related issues on a daily basis and I own several websites in this niche. Travelling is one of my biggest passions in life and I, therefore, happen to know a thing or two about hand luggage. I hope you all have a safe trip! Take care and thanks for the support. I really appreciate it.