Costa Rica is a popular tourist destination, and many visitors come for its beaches. The city of Tamarindo has some of the best beaches in the country.
However, it can be a little tricky to get to. I did a lot of research and learned all the relevant info about how to get to Tamarindo Costa Rica.
Read on to learn more about traveling to Tamarindo.
How to get to Tamarindo, Costa Rica
There are two main ways to get to Tamarindo, Costa Rica. The first is to fly to Liberia International Airport, which is the closest international airport to the town. Many visitors also fly into San Jose International Airport in the Costa Rican capital. Most visitors rent a car at this point. The drive from Liberia is just over an hour. The drive from San Jose is over four hours. There are also buses from both Liberia and San Jose that lead to Tamarindo.
Flying to Liberia International Airport
If you are planning on visiting Tamarindo, I would recommend flying into Liberia International Airport.
This is because LIA is the closest international airport to Tamarindo. However, Liberia International
Airport is not served by anywhere near as many flights as San Jose International Airport in the capital of the country.
It may be challenging to find a flight from the United States to Liberia International Airport. Many Americans who fly into this airport have to get a connecting flight in Mexico.
This increases the time and expense of the trip.
However, Liberia's proximity to Tamarindo means that the trip from the airport to the city is quicker and you will not have to pay as much to rent a car.
If you choose to take a bus, this option will also be much cheaper when you are traveling from Liberia.
Flying to San Jose
While many people who have visited Tamarindo before choose to fly into Liberia because the total travel time is quicker, this is not an option for many people.
This is because their nearest international airport may offer flights to San Jose but not Liberia.
These people may even have difficulty finding a flight to a Mexican airport that has a connecting flight to Liberia.
Many international airports, especially those in Texas and California, offer non-stop flights to San Jose International Airport.
Once you have landed in San Jose, you will need to travel across the country to get to Tamarindo. Thankfully, Costa Rica has a good public transportation system.
There are regular buses from the capital to the popular tourist destination of Tamarindo. Taking one of these buses will get you to Tamarindo in roughly six hours.
You can also rent a car in San Jose and drive it to Tamarindo. Keep in mind that this option will be pricey because you will have to pay for the miles you put on the car.
If you rent your own car, you can likely make the journey from San Jose to Tamarindo in around four and a half hours.
There shouldn't be that much traffic once you get out of San Jose, and Costa Rica's major roads are well-maintained.
Driving a Rental Car to Tamarindo
The vast majority of people who visit Tamarindo fly into San Jose or Liberia and rent a car to drive the rest of the way.
There are large selections of affordable rental cars available at both airports.
As previously mentioned, the drive from Liberia will take just over an hour, and the drive from San Jose is around four and a half hours.
The roads are well-maintained, and food and gas are easy to find along the way.
Taking the Bus to Tamarindo
Costa Rica has an extensive network of bus routes throughout the country.
There are buses available from both Liberia International Airport and San Jose International Airport that will take you to Tamarindo, though you will need to switch buses if you are traveling from San Jose.
Costa Rica's public buses are affordable and clean. However, they are often very full of both tourists and locals.
If you are planning to take a bus from either Liberia or San Jose, you should give yourself plenty of time after landing to ensure that you can get a seat.
Frequently Asked Questions About How to Get to Tamarindo Costa Rica
How can I get around in Tamarindo?
The downtown area of Tamarindo can be navigated on foot. Many people choose to keep their rental cars and drive them around the city. There are also taxis available.
What can I do in Tamarindo?
Most people who travel to Tamarindo do so for the spectacular beaches. You can also hike in the nearby hills. Additionally, Tamarindo has many great family restaurants offering authentic Costa Rican cuisine.
Are there any flights to Tamarindo?
It is possible to fly into Tamarindo's small local airport. To do so, you will need to catch a small plane from Liberia. However, the schedules of these small planes can vary, so the simplest way is to rent a car or take a bus.


Visiting Tamarindo
Tamarindo is known for its idyllic weather and beautiful beaches. It is one of the more popular tourist destinations in the region.
However, it still retains its authentic Costa Rican flavor.
It is not overrun with tourists, but it is developed enough to offer all the modern luxuries.
There's a good reason that it is considered to be one of the most underrated destinations in the country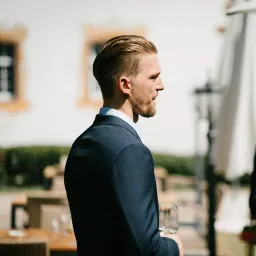 Hey guys! It's me, Marcel. I am the proud owner of carry-on-baggage.com. I am dealing with hand luggage related issues on a daily basis and I own several websites in this niche. Travelling is one of my biggest passions in life and I, therefore, happen to know a thing or two about hand luggage. I hope you all have a safe trip! Take care and thanks for the support. I really appreciate it.