The Republic of Costa Rica is known for, among other things, its rainforests. In order to have rainforests, they must have rain and warm temperatures.
Instead of having four seasons, it has a wet and dry season.
July is during the rainy season, which lasts from May through November. However, it is not as rainy in July as it is during the peak of the rainy season in September or October.
What is the Weather Like in Costa Rica in July

?
July is part of the rainy season or "green season" in Costa Rica. It rains in the afternoon or evening. Mornings are often sunny because this is usually the time of year called the "little summer." Depending on where you visit, it's often hot and humid, ranging from the upper 70s to 90 degrees F.
Veranillo or Little Summer
There's a weather phenomenon that often happens in July and August in Costa Rica called "veranillo", which means "little summer."
During this time, it usually doesn't rain in the morning. It usually rains in the afternoon or the evening for a few hours.
The places that experience the least rainfall during this time are the northwest and middle parts of the country. The area that typically experiences the most rainfall is around Barra del Colorado.
The only problem is that veranillo comes in either July or August, so it's hard to plan.
Since veranillo varies depending upon what region of Costa Rica you plan to visit, it's best to contact a local Costa Rican travel agency to find out what the norm is for where you plan to visit.
The best time to go about in Costa Rica in July is during the mornings. Sunrise is around 5:30 in the morning.
Advantages of Traveling to Costa Rica in July
If you don't mind getting up early and getting wet, then July is an ideal time to travel to Costa Rica.
The peak tourist season always coincides with the dry season. According to the Embassy of Costa Rica, the little South American country gets an average of 1.7 million tourists every year.
Tourism is the number one industry, making over $1.7 billion annually.
The dry season is the time when many businesses in Costa Rica make their money. They jack up the process because the tourists really don't have any choice but to pay.
It's like Disney World in that way. It's also harder to find good hotel rooms.
You avoid these problems in the green season when prices are down and hotel rooms are easier to find. Some businesses shut down in September or October because that is when rainfall is heaviest.
What to Bring for a July Trip to Costa Rica
Pack as if going to Florida. This means it can be hot, humid, and rainy. Bring things to deal with the heat, including:
Sunscreen.
Lip balm with SPF protection.
Eye protection from strong sunlight, such as a broad-brimmed hat or sunglasses.
A reusable water bottle to keep hydrated.
A hand fan to help stay cool.
Weight, breathable clothes, such as shorts and lightweight shirts.
Comfortable, lightweight shoes with plenty of treads that will not get ruined if they get soaked.
Bathing suit and towels if you plan on hitting the beach or a hotel's pool. It's good to take at least two towels and bathing suits because they may not dry easily in Costa Rica's climate.
Women may want a sarong or cover-up to go over their swimsuits.
An eye mask to help stay asleep if you do not plan on being wakened by early sunrises.
You also need to pack for the rain, because you can't always stay in your hotel room when it's raining. Good items to pack include:
A portable umbrella that can fit easily in a handbag or backpack.
A lightweight rain jacket or poncho that can be rolled up when not in use.
Waterproof case for your phone.
Waterproof day bag or purse. These should be lightweight and easy to roll up to pop into your luggage when traveling to and from Costa Rica.
Waterproof laundry bag to put dirty laundry in.
A good book if you do have to spend some time in your room while it rains. Books are also great for relaxing at the beach.
Mosquitoes in Costa Rica
Costa Rica has great beaches, spectacular rainforests, lots to do – and has mosquitoes.
Because of the weather during the green season, there are more mosquitoes than during the dry season.
The mosquitoes are not considered to be bad, but it is recommended that you bring plenty of mosquito repellent with you.
The Centers for Disease Control and Prevention recommend using a repellent with DEET of 20 percent or more. This kind of repellent is rarely found in Costa Rican stores, so you should bring your own.
Other recommended repellents include picaridin (known as icaridin in Costa Rica), IR3535, oil of lemon eucalyptus, and 2-undecanone.
It is vital that any woman planning on getting pregnant uses mosquito repellent to prevent the chance of getting the Zika virus from a mosquito bite.
The Zika virus causes severe birth defects. In adults, the Sika virus causes symptoms similar to the flu, plus a rash and red eyes.
Frequently Asked Questions About

What is the Weather Like in Costa Rica in July
When is the Best Month to Visit Costa Rica?
Some argue that the best time to go is during the dry season, which lasts from December to April. However, this is when most people go. If you want to avoid crowds, try going in the rainy season, called the green season, from May to November.
What Are the Rainiest Months in Costa Rica?
Although each year can vary, generally the rainiest months are from September to November. The average rainfall during these months is six to eight inches. In comparison, New York City's average rainfall for September is 3.4 inches and in October it is 3.7 inches.
How Often Do Hurricanes Hit Costa Rica?
Unlike America, Costa Rica does not have a hurricane season. However, most hurricanes hit Costa Rica in October and November. It can be years between hurricanes.


The Least You Need to Know
There are many advantages to visiting Costa Rica in July. Since July does not occur during the dry season, it's not as crowded with tourists.
The average rainfall in July is 5.1 inches, although it often does not rain every day. The average temperature is 78 degrees F (25.6 degrees C), although it can get hot and humid.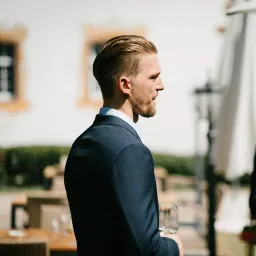 Hey guys! It's me, Marcel. I am the proud owner of carry-on-baggage.com. I am dealing with hand luggage related issues on a daily basis and I own several websites in this niche. Travelling is one of my biggest passions in life and I, therefore, happen to know a thing or two about hand luggage. I hope you all have a safe trip! Take care and thanks for the support. I really appreciate it.