Are you planning to travel to Europe in March? This article lists the best places to travel to in Europe in March.
There are lots of great places to visit in Europe in March. Some regions in Europe such as Iceland and Switzerland might still be cold; after all, winter has just ended when March rolls around.
Here is a selection of my favorite countries and cities to travel to in March.
Best Places to Travel in Europe in March
The best places to travel in Europe in March are:
Croatia (Dubrovnik, Split, and Hvar)
Switzerland (Zurich and Interlaken)
Malta (Valletta and Gozo)
Iceland (Reykavijk, Blue Lagoon, and Jokulsarlon Glacier Lagoon)
Portugal (Lisbon, Porto, Èvora, and Sintra)
Spain (Barcelona, Valencia, Granada, Balearic Islands, Seville, and Bilbao)
Italy (Venice, Rome, Sicily, Florence, Amalfi coast, and Cinque Terre)
Ireland (Dublin, Ireland's Ancient East, and the Kilkenny countryside)
Slovenia (Lake Bled, Ljubljana, and Lake Bohinj).
Top 9 Places to Travel in Europe in March
Here are the best places I've traveled to in Europe during the month of March:
1. Croatia
Croatia is one of my favorite countries to visit, and one that I'd happily travel to again and again. I traveled between Hvar, Split, and Dubrovnik while I stayed in this Balkan country in March.
While I could see many similarities between Split and Dubrovnik, the latter is more touristy and feels more artificial. I loved the beaches in Split, and this city was kinder to my wallet too.
Hvar is something special. An island off the coast of Croatia, Hvar is famous for its lavender fields, which are picture-pretty. Visiting the hilltop fortress on the island was awesome, especially for the architecture and the panoramic views.
2. Switzerland
I loved visiting Switzerland in March. I spent most of my time in Zurich, hopping from one cafe to the next, trying out different coffees, rösti, and the cheese fondue.
The rest of the time I spent in Interlaken where I could enjoy stunning views of the Alps.
Interlaken is also close to Grindelwald, a beautiful little village in the mountains that is worth a visit.
In Grindelwald, you can go skiing in the so-called Jungrauregion.
3. Malta
While hanging out on Malta's beaches is great for sunbathing, this isn't quite the case in March. Instead, I spent most of my time exploring the megalithic temples and fortresses and cave diving in Comino.
I must confess that I'm a foodie, so I also spent quite a lot of time savoring the local delicacies, from pastizzi and Maltese hobz (bread) to Lampuki Pie (fish pie).
4. Iceland
You can still view the Northern Lights in March, and this was one of the main attractions to add Iceland to my travel itinerary.
Besides catching the aurora borealis at Jokulsarlon Glacier Lagoon, I also visited the geothermal spa at Blue Lagoon and saw the waterfalls at Gullfoss Falls and Skógafoss.
5. Portugal
I loved the historic feel of Lisbon while I was in Portugal in March. On my itinerary were the Torre de Belém, one of the most iconic buildings in the city, St George's Castle, Mercado da Ribeira, and Basílica de Estrela.
One of the more eerie sites I traveled to in Portugal was the Capela dos Ossos, which translates to Chapel of Bones. This building can be found in Èvora, and the whole of the interior walls are decorated with human bones and skulls.
In Porto, I went on a river cruise, and in Sintra, I was amazed at the Pena National Palace, which is flamboyant with its vivid colors and stone carvings.
6. Spain
Spain should never be forgotten on any travel list while traveling to Europe in March. Here, I traveled to the future when I visited the City of Arts and Sciences in Valencia. The whole complex left me in awe, and I think the Umbracle and Oceanográfico were my faves.
Other places I saw in Spain include the Balearic Islands, the Alhambra in Granada, the Church of the Sacred Family and Guell Park in Barcelona, the Walls of Avila, Las Médulas in Provincia de León, the Guggenheim Museum in Bilbao, and Alcázar in Seville.
7. Italy
While I was in Italy in March, I traveled to quite a few cities. On my bucket list was Rome, Venice, Florence, Lucca, Siena, Val d'Orcia, and Sicily. I also checked out the Amalfi coast and Cinque Terre.
I was also lucky. While I was in Venice, I could see how Carnival is celebrated as it fell in March the year I visited.
8. Ireland
Bursting with green in March for St Patrick's Day, Ireland is a must-see. While I did what most locals do on St Patrick's Day—wear green and attend a festival or parade or two—I also explored the Kilkenny countryside, took a road trip through the Ancient East, and attended the Cork Sound Fair.
9. Slovenia
Another pretty country to travel to in Europe in March, I spent a few days at Lake Bled in Slovenia. The view of the church on the island in the middle of Lake Bled made me think of fairy tales—so beautiful and enchanting in this area. I could even see some snow lingering on the Julian Alps.
Lake Bohinj is also a must while in Slovenia. The lakes are surrounded by snow-capped mountains and the Vogel cable car ride to the top for stunning views of the Triglav National Park and the Julian Alps are not to be missed.
Don't forget to check out Savica waterfall, a 4.3-mile hike from Ukanc. Or you can take the short trail by driving to the parking lot at the waterfall.
The other two days I had available was spent in the country's capital Ljubljana. I enjoyed walking around the old town. I also explored Ljubljana Castle, the Triple Bridge, Prešeren Square, and my favorite, the Dragon Bridge.
Frequently Asked Questions About Where to Travel to Europe in March
Is it a good idea to travel to Europe in March?
Better weather (following the cold of winter) arrives in early March in Europe. However, it can be a hit or miss depending on where in Europe you want to travel to and what's on your itinerary.
What is Europe like in March?
What Europe is like in March depends on where in Europe you want to travel to. In Northern Europe in March, the temperature starts to increase, and the average temperature is 42.8 ℉. In West Europe, temperatures average between 53.6 ℉ and 59 ℉, while in Southern Europe, you could experience daily highs of 68 ℉.
Where in Europe is it warm in March?
You can experience the warmest temperatures in the south of Europe during March. With an average of 7-8 hours of sun daily, expect average highs of 66.2 ℉ for Algarve, Portugal, and Limassol, Cyprus, and 71.6 ℉ for Tenerife and Seville in Spain.
Conclusion About Where to Travel in Europe in March
The top countries you can travel to in Europe in March are Croatia, Switzerland, Malta, Iceland, Ireland, Italy, Portugal, Spain, and Slovenia.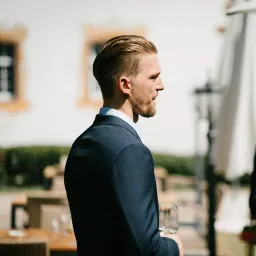 Hey guys! It's me, Marcel. I am the proud owner of carry-on-baggage.com. I am dealing with hand luggage related issues on a daily basis and I own several websites in this niche. Travelling is one of my biggest passions in life and I, therefore, happen to know a thing or two about hand luggage. I hope you all have a safe trip! Take care and thanks for the support. I really appreciate it.