I am a big fan of the carry-on brand Cabin Max.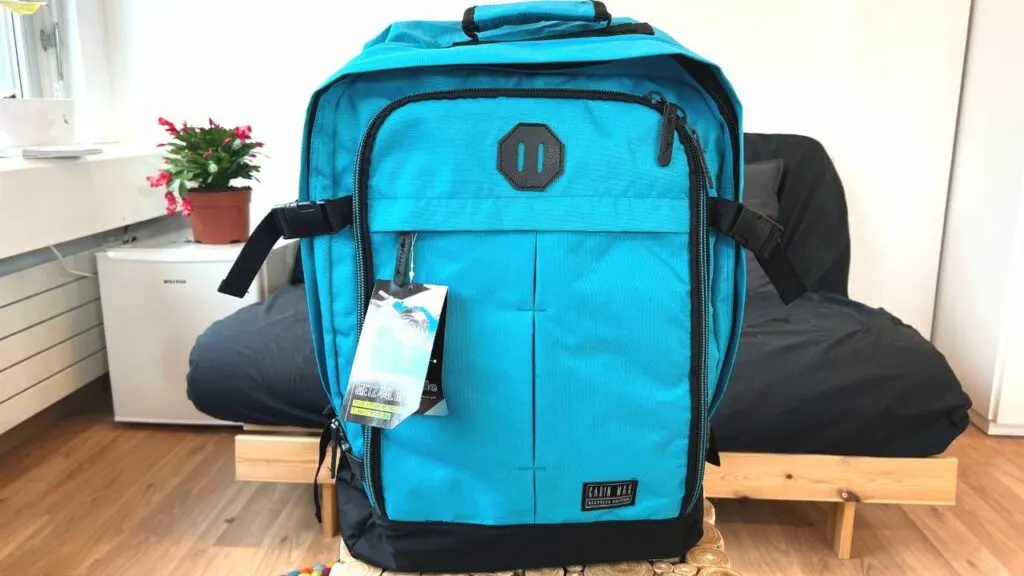 One of the main reasons for this is that Cabin Max makes a really big effort to deliver hand luggage that is tailor-made for what people actually really need.
And as far as carry-on bags and suitcases goes, what we really need is hand luggage that does NOT exceed the maximum dimensions as defined by the airlines.
And, on the other hand, we also want hand luggage that will enable us to pack the maximum amount of luggage.
And this is exactly where the Cabin Max 55 x 40 x 20 cm excels.
With that said, I am excited to bring to you guys my review of this lovely Cabin Max backpack.
Without further ado, let's dive right into it. Please note that the version of the Cabin Max that I linked in this article is different from the one in the review below, as the color version that I review here is no longer available.
Please note that as an Amazon Associate I earn from qualifying purchases.
Cabin Max Metz Travel Backpack| Hand Luggage Flight Bags Cabin Bags 55 x 40 x 20 (Navajo Blue)
Carry On backpack 55x40x20cm soft shell design to fit 94% of worldwide hand luggage gauges including: EasyJet and Ryan Air, Germanwings, Norwegian, Virgin, BA, Lufthansa, Jet2, Lingus, Delta, American, Emirates, and many more.
Material of the Cabin Max 55 x 40 x 20 backpack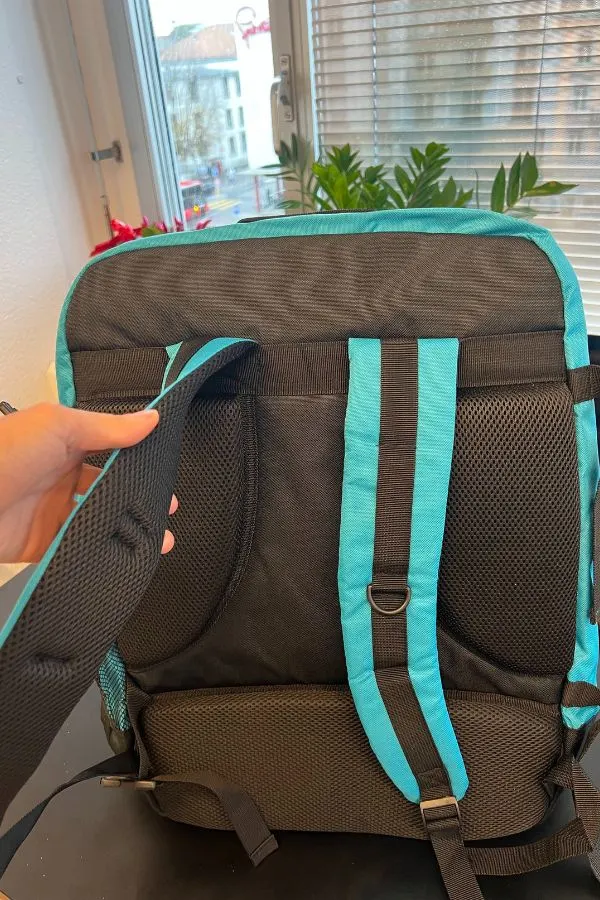 Cabin Max Metz 44L RPET is the name of the model, where the RPET signals that this is actually a recycled version.
PET bottles were processed into a sturdy 600D polyester fabric. 600D is so to speak the thread strength of the fabric and gives information about how strong and durable the fabric is.
With an empty weight of 0.7kg, even the large size of the Cabin Max is anything but heavy.
And that, ladies and gentleman, is always a big plus because lots of airlines only allow around 8 kilograms of hand luggage. And so it only makes sense that your cabin bag should be as lightweight as possible.
Now, if you do travel with a carry-on suitcase, you will find that most of these are at least 1,8 kilograms heavy. So you will only have about 6 kilos left to pack.
So, why not traveling with a carry-on bag such as the Cabin Max 55 x 40 x 20 cm?
Well, you can certainly bring more clothes and other gadgets when going with the Cabin Max backpack, that's pretty much for sure.
The Cabin Max Metz can be hand washed, and may only be air dried.
This makes a lot of sense because otherwise the foam padding could be damaged.
The back part of the Cabin Max is comfortably padded, with three foam pads; two and the side and one on the lower back.
For better breathability, these three foam pads were covered with a mesh fabric.
The carrying straps are also padded, but this is more of a light padding. Again, the carrying straps have been covered with a mesh fabric on the inside.
The backpack also has four compression straps, a mesh side pocket and a carrying handle on top.
The zippers run very smoothly (very important!) and a small leather thingy was also attached to the zip, so you can really open and close the Cabin Max Metz 44 liter backpack very easily and often (if necessary).
Cabin Max Backpack Dimensions
The manufacturer promises that the backpack would be accepted as cabin luggage over 90% of worldwide baggage regulations, including Easyjet, Ryanair, Germanwings or Norwegian Air.
Well, this is sort of true but what needs to be added is that this backpack from Cabin Max usually only passes as a big piece of hand luggage.
Low-carrier airlines these days often just allow a small piece of hand luggage in the standard tariff. This is very important to understand.
As a large piece of hand luggage, the dimensions of length 55 x width 40 x depth 20 cm are really very luggage friendly and you can take the backpack comfortably into the cabin.
Just don't forget to book a large piece of hand luggage when traveling with low-cost-carriers, as again, this kind of hand luggage is usually NOT included in the most basic tariff.
You will also need to make sure not to pack the backpack too heavily because if you put too much stuff in there you might exceed the specified depth of 20 cm.
Anyway, since the regulations are constantly changing, it is advisable to always check the current baggage regulations of the respective airline before departure.
Compartments & Pockets of the Cabin Max 55 x 40 x 20 cm
The backpack comes with many pockets and smaller compartments, which are divided as follows:
Main compartment
Front compartment with small inner pockets
Document pocket
I will now introduce all the compartments in more detail.
Main compartment of the Cabin Max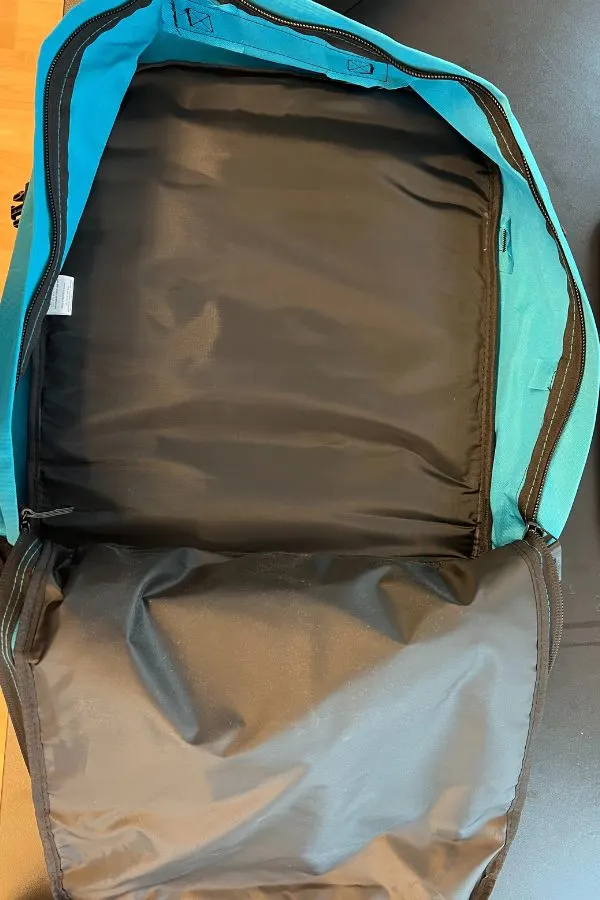 The main compartment has a zipper all around, which means the backpack closes with a flap. The compartment is very large and also quite high; it is best to roll your clothes and put them in the backpack that way.
The easiest way is to put the backpack on a table and then fill it. To quickly put something in and out, this compartment is rather not suitable.
Front compartment with small inner compartments
In total, the front compartment consists of 7 smaller compartments with three pocket panels.
The first compartment is a rather deep compartment, in which my MacBook Air found perfect space. There should also be easy room for a MacBook Pro here as well.
Then there is the second pocket panel with two pen holders, a small zippered compartment and a slip pocket.
The pockets are not particularly long, only 12 cm, which means I put my passport in the slip pocket and the zipper pocket is suitable for smaller things that should not get lost.
In the third pocket panel underwear finds a good place. Here is a simple mesh pocket attached, but unfortunately it can not be closed.
On the opposite side is once again a large mesh pocket with zipper; very handy for socks, cosmetics, etc.
However, whatever you might put in that pocket, always make sure it is folded as flat as possible so the backpack doesn't get too thick.
As I said, most airlines accept a depth of 20 cm, so you don't want to go over that.
Document pocket of the Cabin Max 55 x 40 x 20 cm
The document pocket of the Cabin Max Metz is very large and goes across the entire front. You can really put everything in here that needs to be quickly at hand during the flight.
Special features of the Cabin Max Metz
A really nice feature of the Cabin Max Metz are the compression straps as you can use them to make the backpack quite small.
Before the flight, it is best to put everything you need during the trip in the document compartment. Like your passport and the flight ticket and so on.
This is best for quick access because you will need to put the backpack on the floor to really access the main compartment.
Another thing to mention are the vegan leather loops on the zippers as they make it much easier to close and open the backpack.
When you buy the backpack, it comes with a special label that once again tells you about the "recycle feature" of this backpack, which is a nice touch.
The only small suggestion for improvement I would like to make at this point is:
At 44 liters of capacity, I would have liked to have another chest strap to wear the backpack more comfortably and stable.
Apart from that, the Cabin Max Metz is great value for the buck!
Overall impression of the Cabin Max 55 x 40 x 20 cm:
The Cabin Max Metz 44L Liter RPET keeps what it promises. It is pretty to look at, very spacious and equipped with many internal compartments, which makes for a great travel companion.
The dimensions of 55 x 40 x 20 cm are yet another plus as this is literally the standard size of hand luggage as recommended by the IATA.
I also really liked its clear interior and that you can pack it like a suitcase. I'm 191 tall and was able to carry it comfortably, so all the padding was where it should be.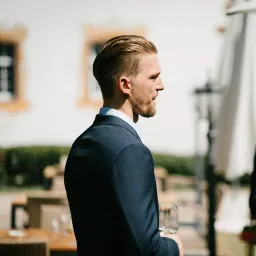 Hey guys! It's me, Marcel. I am the proud owner of carry-on-baggage.com. I am dealing with hand luggage related issues on a daily basis and I own several websites in this niche. Travelling is one of my biggest passions in life and I, therefore, happen to know a thing or two about hand luggage. I hope you all have a safe trip! Take care and thanks for the support. I really appreciate it.