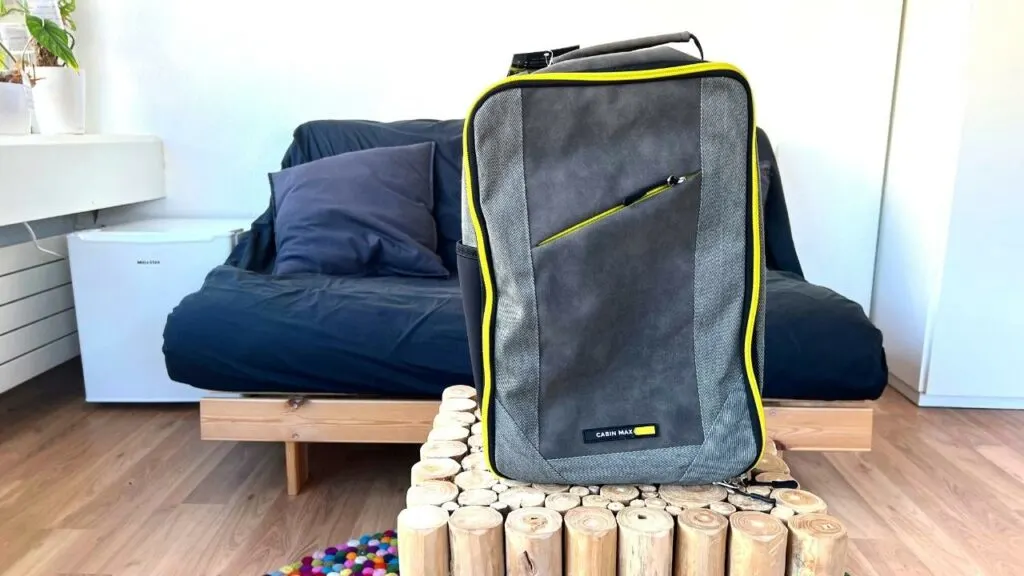 The next short trip is coming and as hard as I tried, I did not get everything in my small suitcase.
So an additional hand luggage had to be purchased. I was looking for a cabin bag that will pass as a small piece of hand luggage (on Ryanair flights) and it was also supposed to be a backpack that could still pack a considerable amount of clothes, etc.
Sounds a bit unrealistic?
I thought so too, but then I came across the Cabin Max Manhattan Stowaway XL and just had to give it a go.
It's a really neat looking backpack and with size of 40 x 20 x 25 cm, it has the perfect dimensions as far as small pieces of hand luggage go on Ryanair and many other airlines.
Please note that as an Amazon Associate I earn from qualifying purchases.

Sale
Cabin Max Stowaway XL 40 x 20 x 25 cm Material
As briefly mentioned above, visually, the backpack is a real eye-catcher.
It is made of polyester, which according to the manufacturer was refined with a UV coating.
In addition, the backpack has inserts made of imitation leather.
Depending on which color you order, the zippers and the lining come in intense yellow, blue or red.
In addition, the backpack has a side pocket made of neoprene on the outside.
The main compartment and the laptop compartment are each separated with foam panels.
The padding in the laptop compartment is significantly stronger, which is a great thing because I would obviously hate to see my laptop damaged because of insufficient padding.
To avoid sweating, a mesh fabric was processed on the back and straps. Another lovely detail.
Another thing that I like about this backpack is that you can either wear it as a backpack or also use it as a shoulder bag, shoulder straps included.
All straps are attached to the backpack with snap hooks, so you can attach or detach them very easily.
The back straps are comfortably padded. The shoulder strap also has extra padding.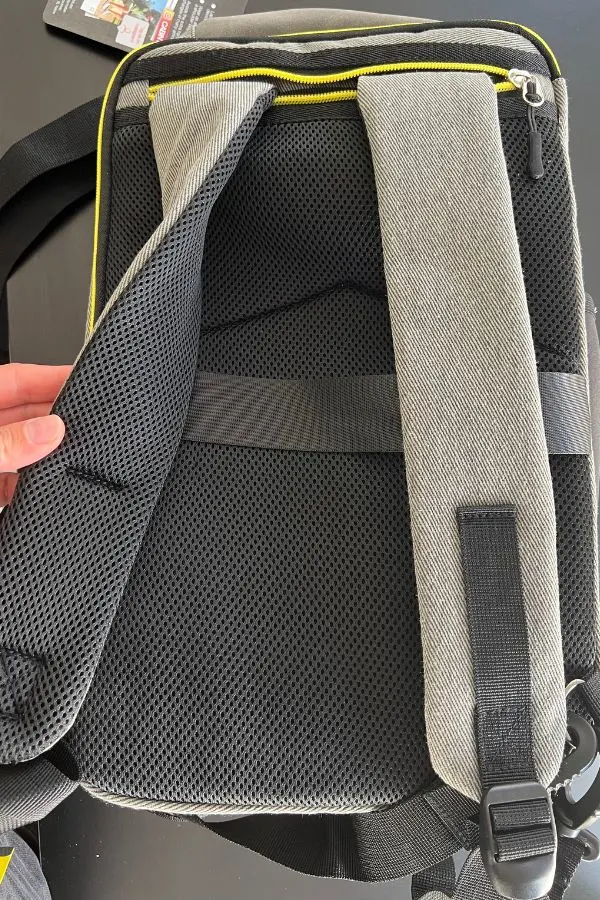 Dimensions of the Cabin Max Stowaway XL Backpack
Now we come to one of the most important criteria: the dimensions.
The manufacturer gives the dimensions as follows:
Length 40 cm, width 25 cm and depth 20 cm.
When re-measuring, these specifications prove to be true, however, it must be remembered that the "side areas" of the backpack are flexible.
Consequently, the measurements are only valid if the backpack is not packed to bursting and the side areas are not bulging.
With these dimensions, the backpack can be taken on board with Ryanair, EasyJet, Swiss and some other airlines without extra charge, even in the standard tariff.
However, since baggage regulations change regularly, it is worth taking a look at the regulations of the respective airline before departure. You never know, right?
Interior of the Cabin Max Manhattan XL Stowaway
The Cabin Max Manhattan XL Stowaway has a few compartments, which I will now present in detail.
The backpack is divided into two compartments: a laptop compartment and a main compartment with a small mesh pocket.
Then we also got a small front pocket and at the back a pocket to store the shoulder straps.
Laptop compartment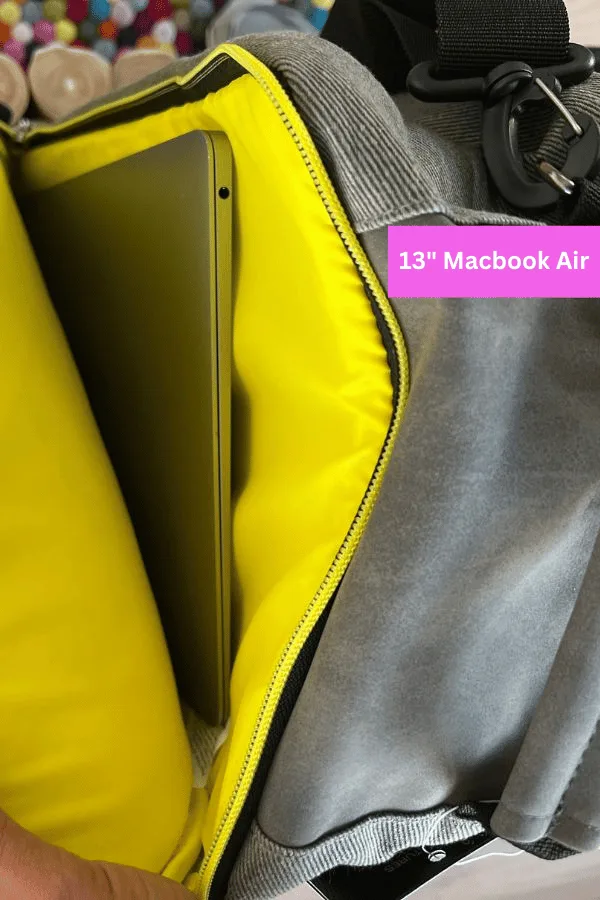 The laptop compartment is padded with foam panels. I like.
It has enough room for my MacBook Air without the sleeve. (The sleeve is 36 inches long and 27 inches wide).
With the 16 inch MacBook Pro it is already a little tight even without a sleeve but still doable.
Main compartment of the Manhattan Stowaway XL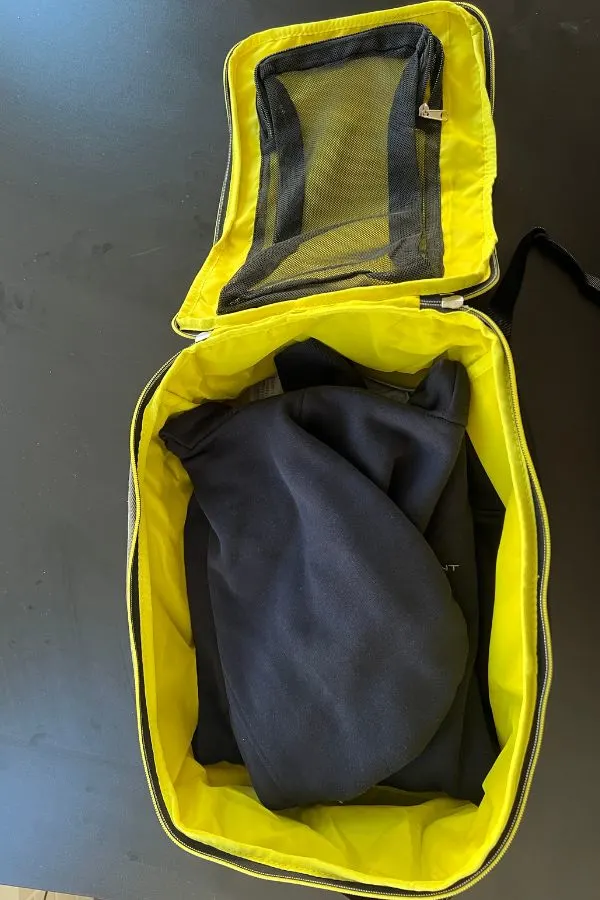 The main compartment is very spacious and offers enough space for 1-2 outfits.
The zipper is continuous, which means you can pack the backpack like a suitcase and then close it with the flap lid.
The size and shape of the main compartment are perfect even for shirts: regularly folded shirts fit in really nicely.
Many other backpacks can only be opened from the top and this might lead to chaos within the backpack itself.
There is another mesh pocket on the inside for cosmetics, socks or other smaller items.
This is very handy and helps keep things somewhat organized.
Outside pockets
Side pocket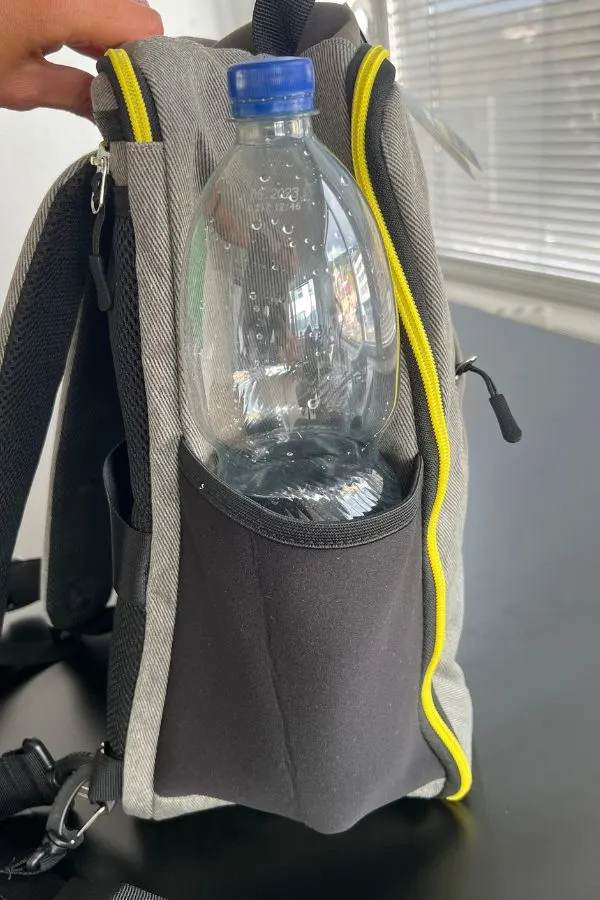 The backpack offers a large neoprene side pocket that can easily fit a 1.5 liter water bottle.
At 21 inches long and 16 inches wide, this pocket also has room for my Bose over-ear headphones with case. (It's tight, but it fits).
Front pocket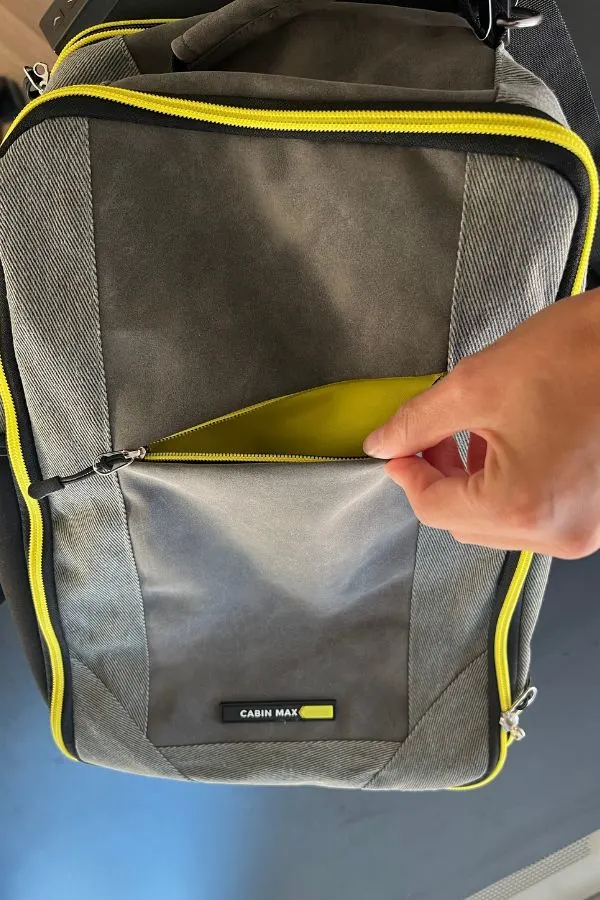 The front pocket can be closed with a zipper.
It fits loosely the airline ticket and passport purely, however no Din-A4 papers.
The bag is about 22 cm long and 16 cm wide.
The zipper is very nicely covered and so the backpack gets a noble look.
Back pocket
As already mentioned, you can wear the backpack once as a backpack on your shoulders and once as a bag.
The small back pocket serves as the first to stow the straps.
Personally, I think this is a great pocket for valuables.
Since I prefer to wear a backpack, well on the back, anyway, I just left the shoulder strap at home and thus had one more compartment available.
Special Features of the Manhattan Stowaway XL backpack
Sale
The backpack has a suitcase holder strap, due to its shape it also stays quite stable on the suitcase.
Locks can be attached to the zippers to the main compartment and laptop compartment, but they have to be purchased separately.
It's handy that you can detach the straps very quickly and easily, so that the Stowaway Xl can be easily used either as a backpack or a shoulder bag.
Overall impression of the Cabin Max Manhattan Stowaway XL
The first impression of the Manhattan Stowaway XL already was a good one.
Now, after extensively testing and using the Stowaway backpack, I am even more thrilled with it.
The laptop compartment is very practical and also the small front pocket is great when you need to have something quickly at hand.
The carrying comfort is also great, due to the ergonomics of the backpack and the extensive padding.
And as a cherry on top, I may take this spacious backpack on many airlines as a small piece of hand luggage on board without paying an extra fee.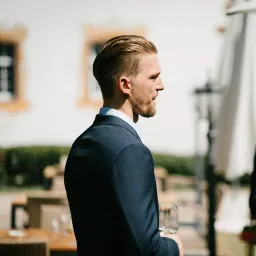 Hey guys! It's me, Marcel. I am the proud owner of carry-on-baggage.com. I am dealing with hand luggage related issues on a daily basis and I own several websites in this niche. Travelling is one of my biggest passions in life and I, therefore, happen to know a thing or two about hand luggage. I hope you all have a safe trip! Take care and thanks for the support. I really appreciate it.