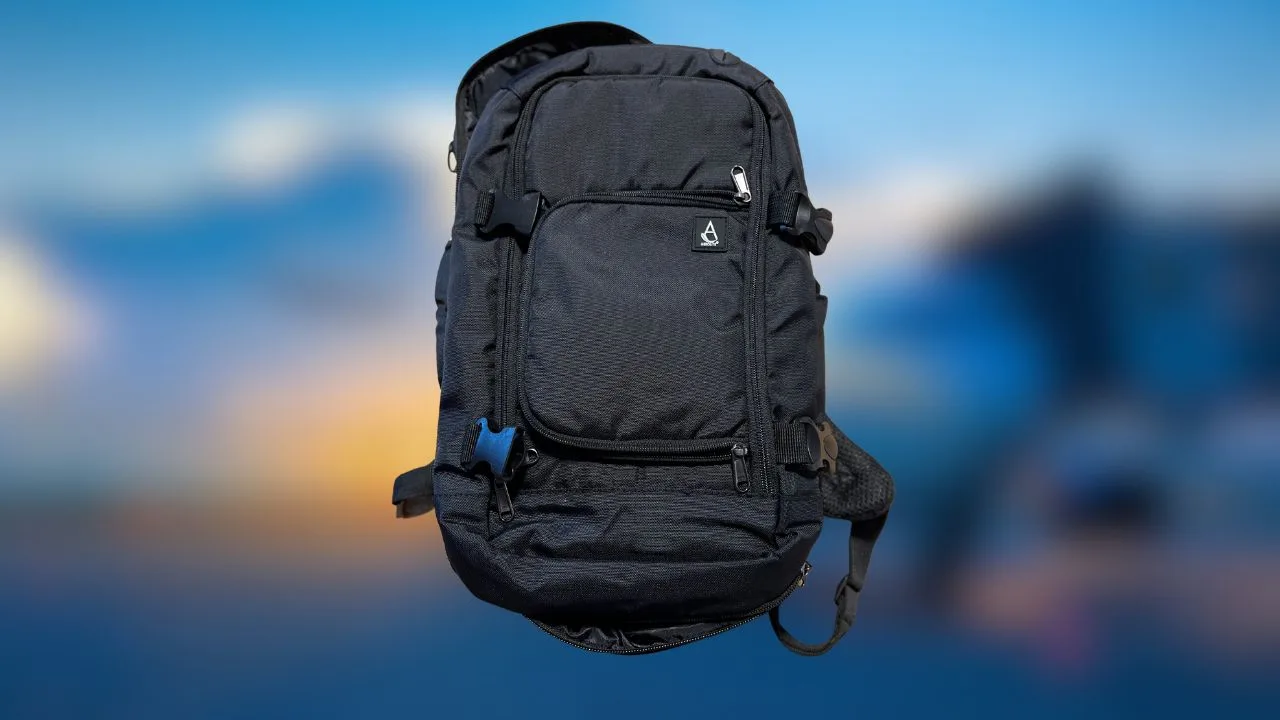 Now I finally got my hands on the Aerolite Winter 2023 40 x 20 x 25 carry-on backpack.
The Aerolite 40 x 20 x 25 Ryanair backpack was on my list for a long time, because it is on the one hand very popular and on the other hand, as we will also see in a moment, very versatil.
But now to the actual test and review of the Aerolite backpack.
Aerolite Spring 2023 Backpack: Material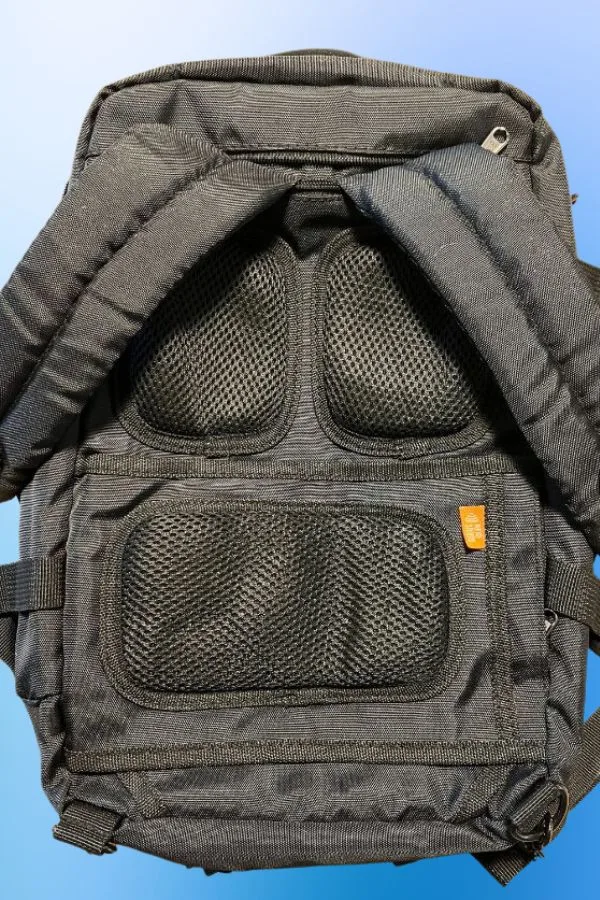 As is so common with carry-on backpacks, this is a polyester backpack.
The material makes a quality and solid impression.The backpack has very nice padding, especially on the back side, as can be seen in the picture above.
The zippers are of good quality as well and run very smoothly.
Aerolite Spring 2023 Backpack: Dimensions
As for the dimensions, the case is clear: the Aerolite backpack with dimensions of 40 x 20 x 25 cm is the perfect backpack for people traveling with Ryanair.
Why?
Simply because this backpack was designed for exactly this purpose, because the dimensions 40 x 20 x 25 cm are anything but randomly chosen.
In fact, these are exactly the dimensions that are allowed on Ryanair flights. And this applies to the SMALL piece of hand luggage.
Meanwhile it is so that one may take with cheap fliers like just Ryanair in the standard tariff only such a small piece of hand luggage in the cabin.
With all that said, the Aerolite 40 x 20 x 25 cm is the perfect backpack for you, if you fly with Ryanair in the standard fare because it has the perfect size for that (=max. allowed size).
Aerolite Spring 2023 Backpack: Compartments
For a 40 x 20 x 25 cm backpack, this backpack has an extremely large number of compartments, including:
One main compartment
One lid compartment
A "secret" RFID compartment
A waterproof compartment for toiletries
A tablet compartment
We'll now take a quick look at the main compartment here, but we won't discuss each compartment.
The main compartment of the Aerolite 40 x 20 x 25 backpack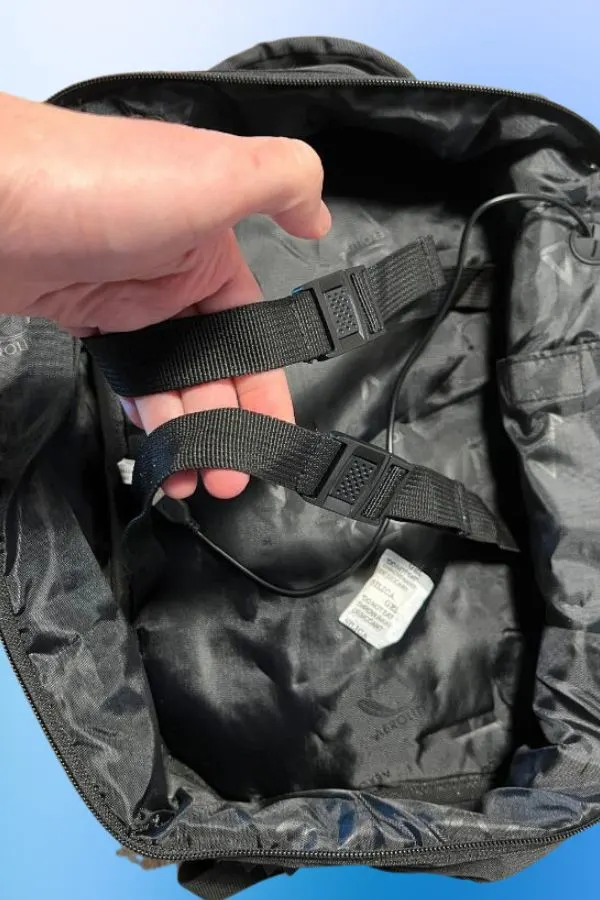 The main compartment of the Aerolite is one of the highlights of the backpack, because it opens from the side like a suitcase.
This is very convenient because it allows for much better organization within the main compartment.
Backpacks that only open from the top often have chaos in the main compartment, as it's simply almost impossible to pack in an organized manner when you can only access the contents from the top.
And even if you are a packing genius, access to the utensils that are at the bottom of the compartment is rather difficult, because you have to remove them from the backpack practically "blindly".
Especially at the airport, if you have to repack something, for example, it is of course very convenient if you can simply open up the main compartment of your backpack as if it would be a carry-on trolley.
To make this experience even better, the Aerolite Ryanair carry-on backpack also features luggage straps in the main compartment (see picture above).
Aerolite Spring 2023 Backpack: Special Features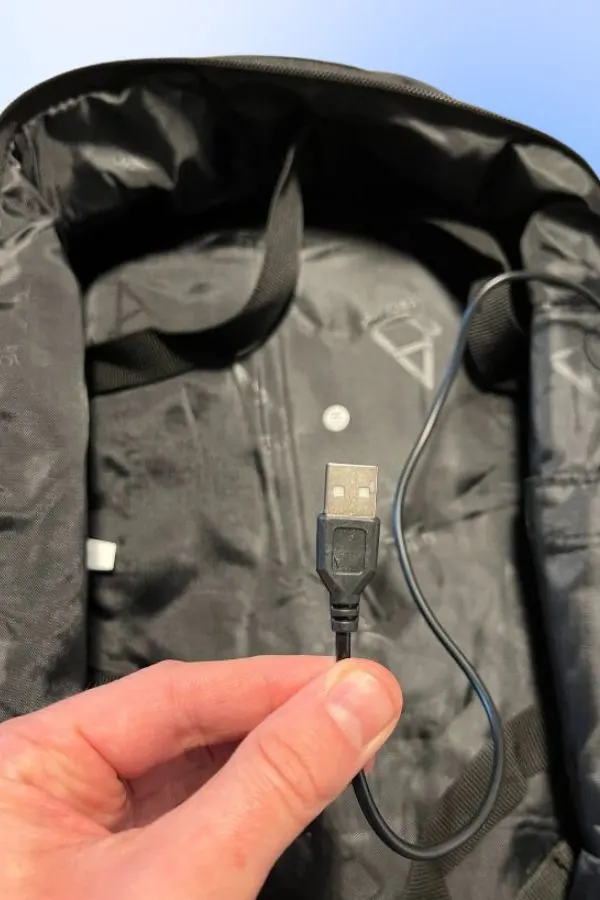 USB port in the main compartment of the Aerolite backpack.
The Aerolite 40 x 20 x 25 is special in a number of ways.
We saw in the review that on one hand there are the 3 different carrying modes. Both as a backpack, as well as a bag or shoulder bag, the Aerolite 40 x 20 x 25 cm carry-on is great to carry. I personally like it best as a backpack.
But if I have a second piece of hand luggage with me, then I would also consider using it as a bag that I can carry in my hands.
I am personally not a big fan of shoulder bags, so I would not consider using the Aerolite Ryanair 40 x 20 x 25 cm as such. But this does not have anything to do with this backpack in particular. It's more about personal preference, you know.
One of the other highlights of this backpack is of course the USB port.
The USB cable is already integrated into the case, but of course the powerbank is not.
This means that if you get this backpack and want to make use of this feature, you will have to buy a powerbank as well.
Aerolite Spring 2023 Backpack: Conclusion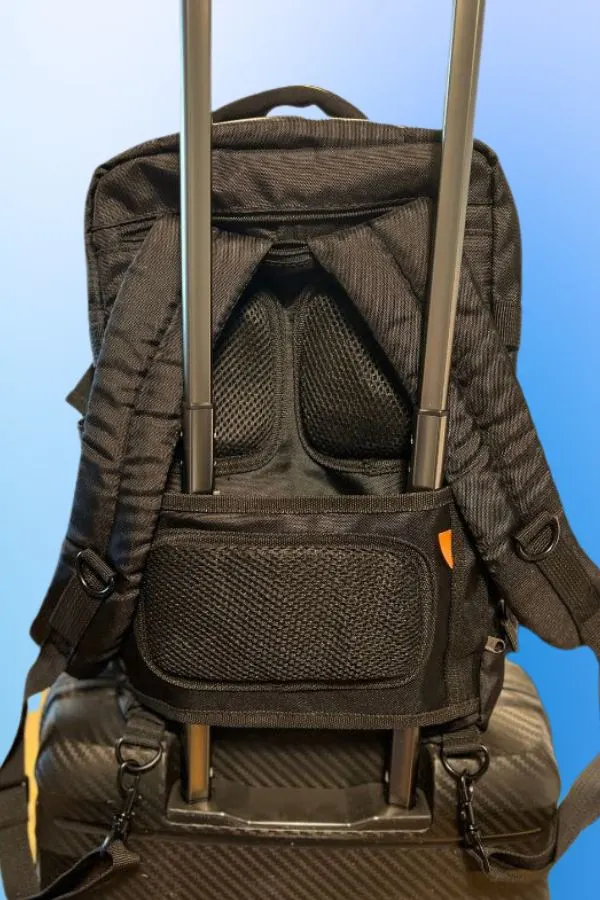 The Aerolite Spring 2023 Ryanair backpack makes a good figure.
And when I fly with Ryanair and fly the standard fare, then this backpack is the first choice for me.
On the one hand simply because I know so very well that there is no stress at the airport with the backpack and on the other hand also because the backpack is very practical and offers everything you need.
So my conclusion is positive throughout.
However, for my taste, the backpack has almost too many compartments and extra features.
And on trips where I absolutely have to have my laptop with me, the Aerolite backpack would probably not be my first choice because it does not have a laptop compartment.
For that purpose, I prefer other backpacks such as the Cabin Max Manhattan Stowaway 40 x 20 x 25 cm.
Apart from that, the Aerolite backpack is really great. And therefore gets a clear buy recommendation from me.
If the Aerolite isn't right for you, then you can take a look at some more luggage in the 40 x 20 x 25 cm size here: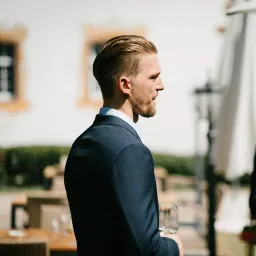 Hey guys! It's me, Marcel. I am the proud owner of carry-on-baggage.com. I am dealing with hand luggage related issues on a daily basis and I own several websites in this niche. Travelling is one of my biggest passions in life and I, therefore, happen to know a thing or two about hand luggage. I hope you all have a safe trip! Take care and thanks for the support. I really appreciate it.