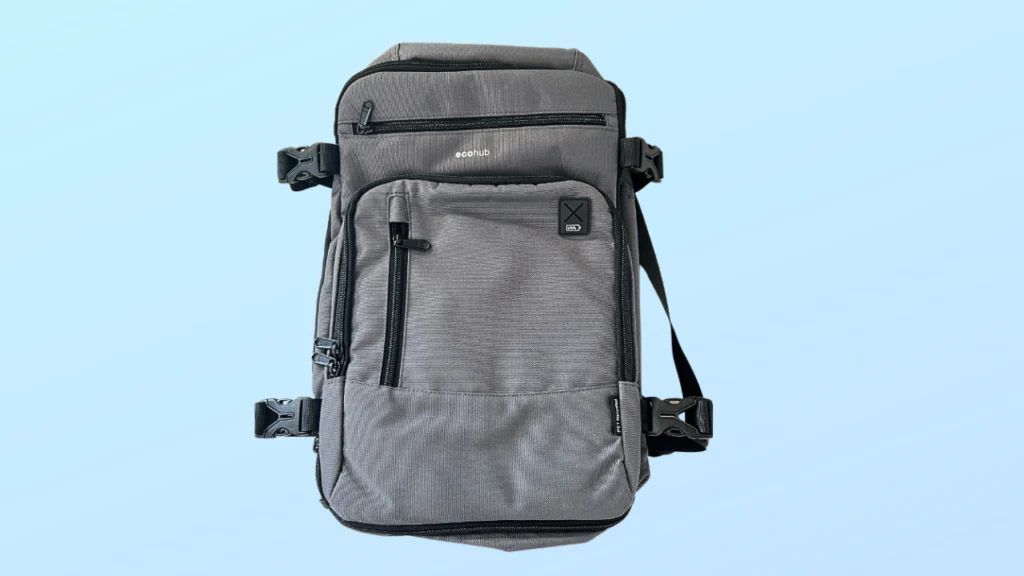 Today I'm taking a closer look at ECOHUB's eco-friendly carry-on backpack.
Let's see how the backpack made from 30 PET bottles performs!
Sale
Ecohub backpack 40 x 20 x 25 cm material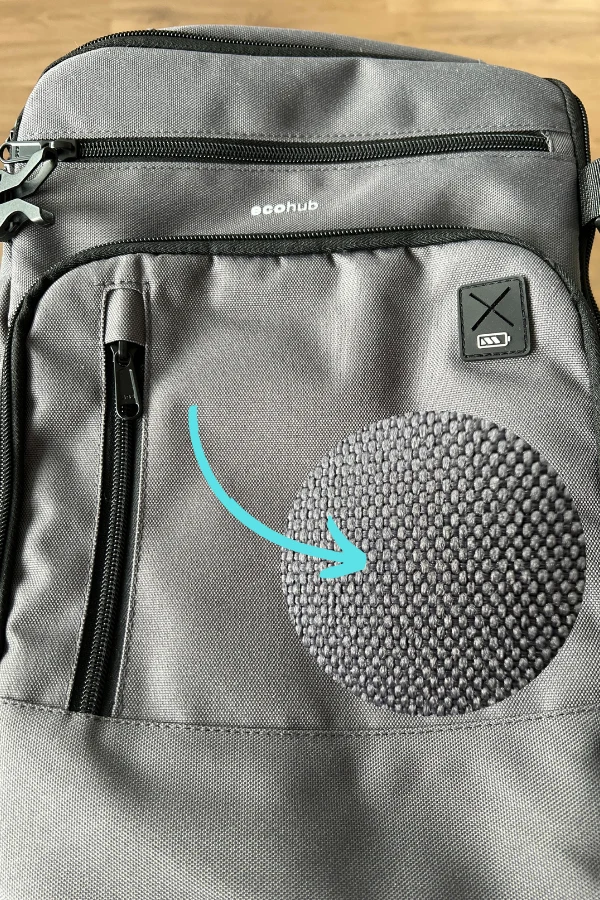 30 PET bottles were processed into a robust fabric for this backpack. Great thing, in my opinion.
And it really doesn't show. At first glance, the backpack looks like a normal backpack made of polyester.
The material itself leaves a solid impression. And the back part of the backpack is nicely padded, as it should be.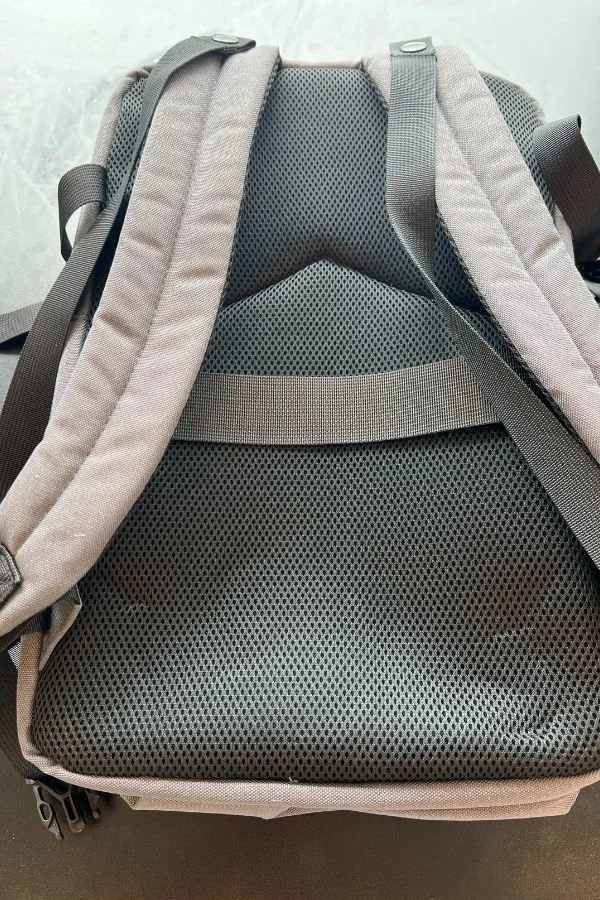 Ecohub backpack 40 x 20 x 25 cm: dimensions
40 x 20 x 25 cm is the size of the Ecohub backpack. This might not sound as it would be a big deal but it actually is…
At least if you are traveling with Ryanair, because 40 x 20 x 25 cm is the perfect size (=maximum size as allowed by Ryanair) for flights with Ryanair in the standard fare.
Because, as you probably know, Ryanair and various other low-cost airlines have for some time only included small pieces of hand luggage in the standard fare.
If you want to bring a large piece of hand luggage in this fare, you have to pay more for it.
And if you don't, then absurd excess baggage charges will be incurred at the airport, which is something to be avoided at all costs.
So it's better to buy a backpack like the Ecohub 40 x 20 x 25 cm right from the start to avoid nasty surprises at the airport…
Ecohub backpack: outside compartments
The Ecohub has a total of 3 external compartments in the front.
The front compartment is a rather small compartment, which is suitable for important, but rather small travel items.
A passport suits perfectly in there.
The compartment directly behind the small outer compartment is slightly larger. It has some more small pockets in it and can be used for pens & pencils and the like.
Everything pretty standard here.
What I really like here, though, is the simplicity of this compartment.
It is not stuffed with millions of rather useless smaller pockets which is the case with many travel-friend backpacks and hand luggage these days.
Ecohub Backpack: Interior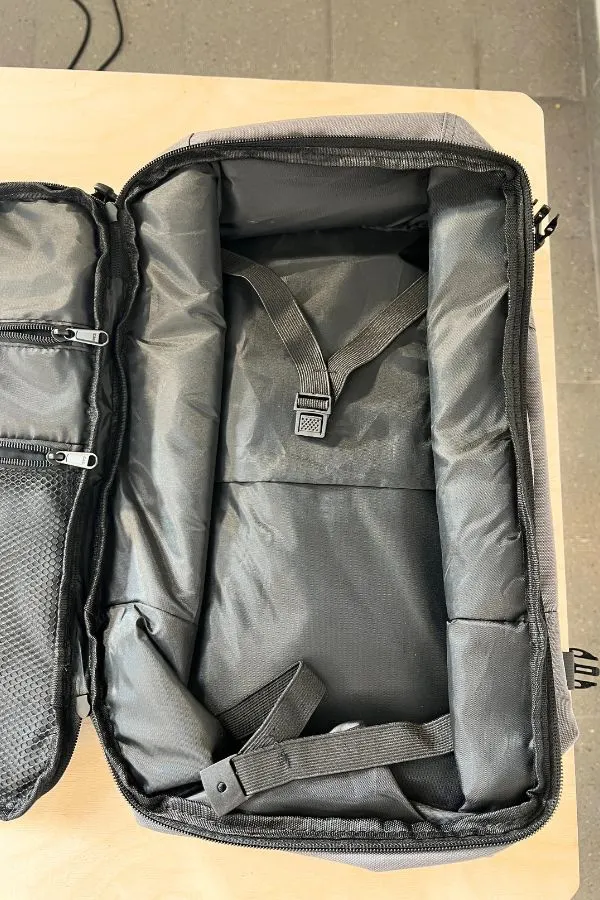 When you open the Ecohub 40 x 20 x 25 cm, it feels like you're opening a carry-on suitcase. And this is great, because in my opinion it is much easier to pack a carry-on trolley than a backpack. Especially when you're going on vacation.
I find the packing concept of traditional backpacks rather suboptimal (especially when traveling), because you can pack them only from the top. Unless you have a transparent backpack, chaos might reign within…
Well, with the environmentally friendly Ecohub backpack there is no such problem, because it simply opens sideways just as a carry-on. Neat stuff.
And then in the main compartment of the Ecohub 40 x 20 x 25, you'll even find luggage straps to attach your things. This is certainly appreciated.
Ecohub travel backpack: special features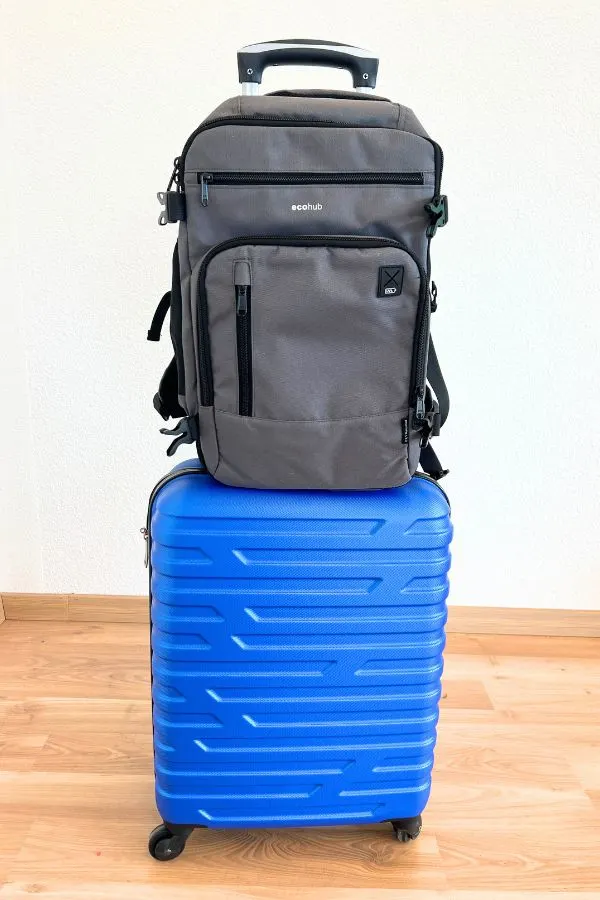 What's special about the Ecohub backpack is, of course, first and foremost the fact that it's made from 30 Pet bottles, a.k.a it is eco-friendly.
But then it also opens sideways just as a carry-on would. This helps a lot to make everything more organized.
By the way, this backpack also has a handle on the side. So you can also carry the Ecohub as a bag. Not my cup of tea but some people will certainly appreciate that.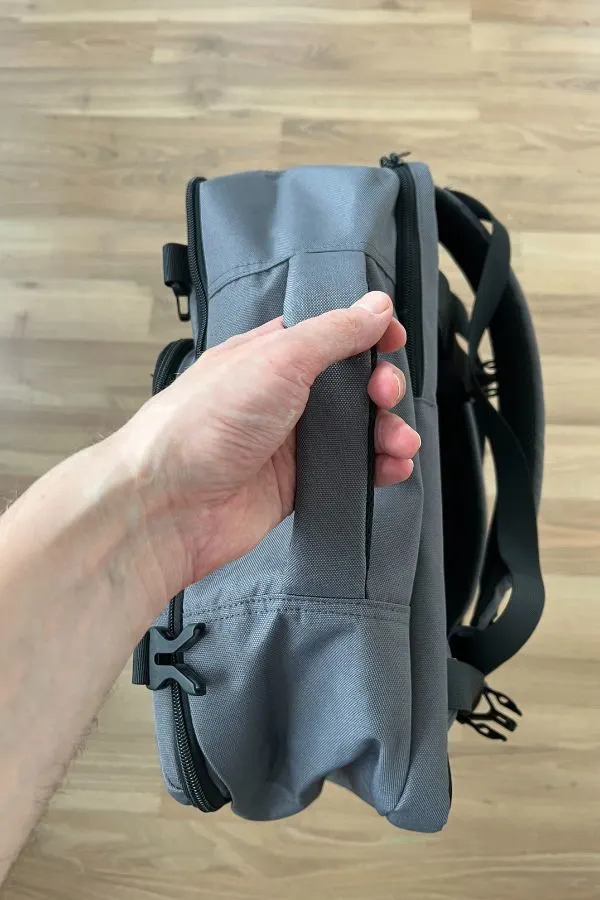 Another cool feature is the "thingy" (sorry, don't know how to call that one in English) on the back of the backpack that lets you fix the backpack on top of hand luggage trolley.)
If you are traveling with two carry-on luggage or maybe even 3, this is extremely practical, because you can then easily put the backpack over the telescopic bar of the carry-on luggage trolley and then carry the backpack very easily without having to carry it on your back.
Ecohub backpack: laptop compartment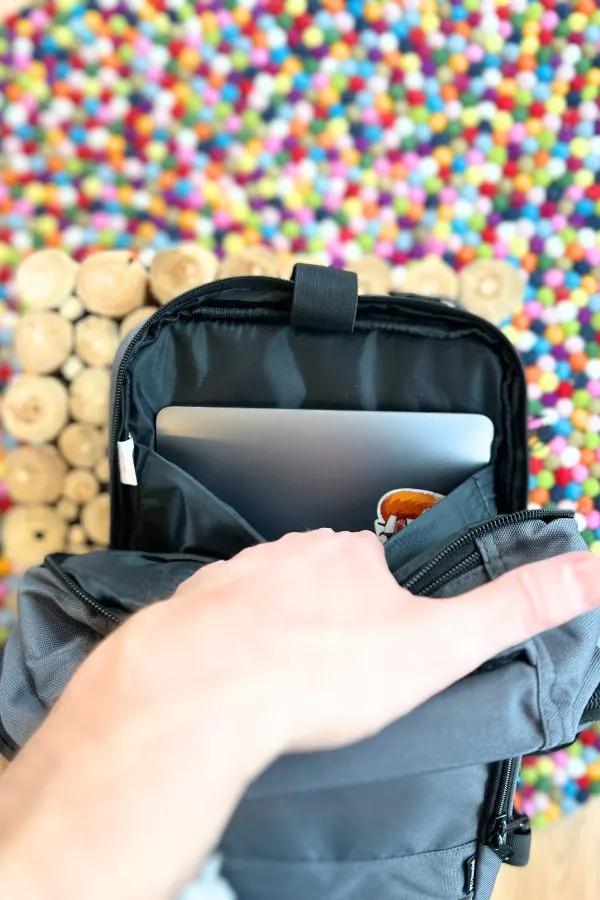 The rearmost compartment, that is, the compartment that is more or less worn directly on the back, is a laptop compartment.
So far nothing special, because that's how it should be, because it makes the most sense to put such a compartment directly on the back part to achieve good padding and maximum stability.
The padding on the back of the Ecohub is well done. Laptops are well protected and the carrying comfort
My 13″ Macbook fits easily in the laptop bag. Cool thing.
My 16″ Macbook doesn't fit in, but that's not to be expected from a backpack with the dimensions 40 x 20 x 25 cm.
Ecohub backpack: Conclusion
The Ecohub backpack is very well thought out and at the same time as environmentally friendly as possible.
Sure, you pay a few euros more, but for a great purpose.
And with Ecohub you get a lot for the money, because the workmanship is very good and the great packing concept, which allows packing in hand luggage trolley manner, knows very convincing.
And at the very back we have a nice compartment for the laptop, which rounds off the offer very nicely.
For me personally, in any case, a laptop compartment is an absolute must, because without a laptop I travel rarely to never (I should, however, perhaps also make times …).
Sale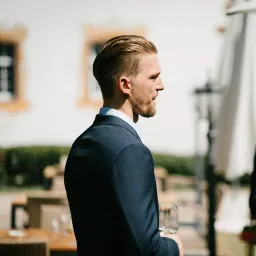 Hey guys! It's me, Marcel. I am the proud owner of carry-on-baggage.com. I am dealing with hand luggage related issues on a daily basis and I own several websites in this niche. Travelling is one of my biggest passions in life and I, therefore, happen to know a thing or two about hand luggage. I hope you all have a safe trip! Take care and thanks for the support. I really appreciate it.