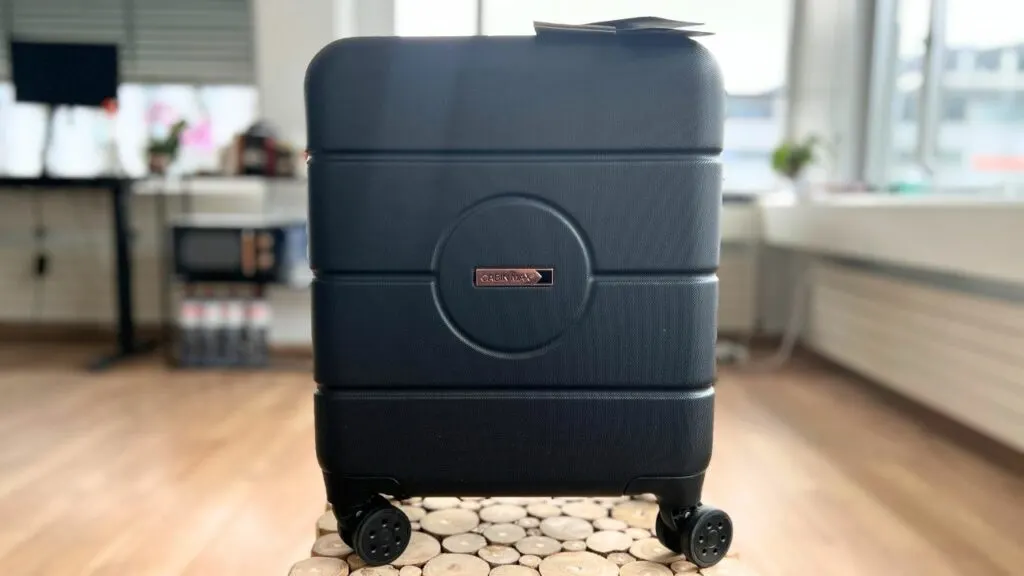 A carry-on trolley that can be stowed under the seat as small hand luggage?
A carry-on suitcase that can travel free of charge with many airlines, including easyJet?
That sounds almost too good to be true!
But that's where the Cabin Max Anode 45 x 36 x 20 cm (30 liters) comes in!
The Cabin Max Anode 45 x 36 x 20 cm is one of the only suitcases with the exact dimensions of 45 x 36 x 20 which makes it perfect for travels with easyJet, as 45 x 36 x 20 cm exactly corresponds with the max. allowed hand luggage as defined per easyJet.
Please note that as an Amazon Associate I earn from qualifying purchases.
Cabin Max Anode 45 x 36 x 20 cm Material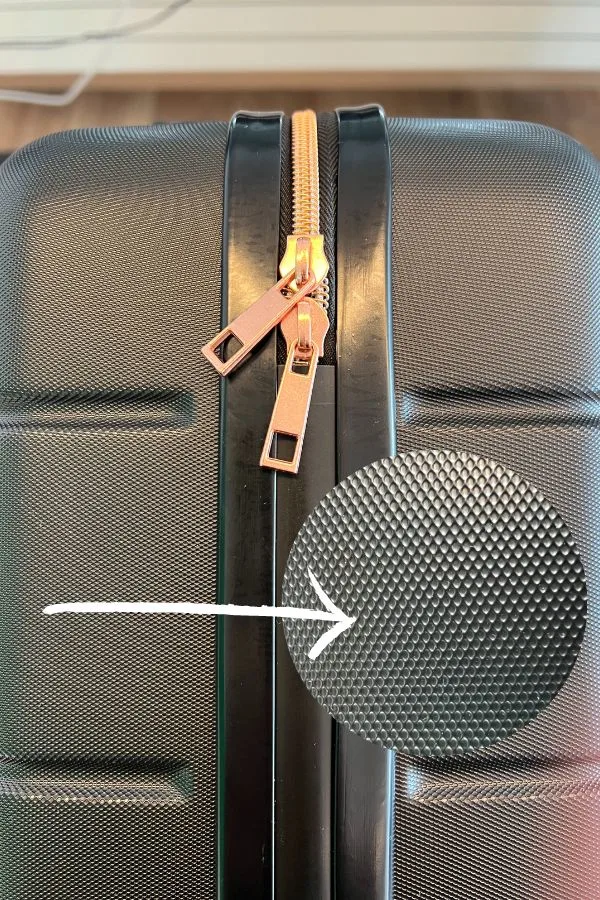 The Cabin Max Anode features grainy ABS material.
It feels sturdy and solid. And is really pretty to look at.
The Cabin Max Anode also has four sturdy 360-degree wheels.
The wheels are covered with a firm rubber, so they run relatively quietly. Also, I really like the fact that we get 4 wheels here and not two.
Especially when traveling with 2 suitcases, the Cabin Max Anode as a small piece of hand luggage and probably a bigger cabin bag, then having 4 wheels on both suitcases is very practical, as it allows for maximum flexibility and maneuverability.
Also, the wheels are a little wider and give the case a good stability.
So you can still easily pull it well when it is a little heavier.
With just 2.2 kg empty weight, it is a real flyweight among the suitcases and with a capacity of 30 liters, it offers enough storing space for a weekend trip or a short business trip.
The carrying handle of the Anode is also very nicely made and has an even softer rubber coating under the handle for better carrying comfort.
The Cabin Max Anode itself unfortunately has no lock. However, it needs to be said that this is very common for cabin suitcases of this size. It's simply not something you can expect.
The telescopic handle was made of a light metal.
Compared to other suitcases, the quality of the handle surprised me a lot.
It is very sturdy and folds in and out well.
It still is a little bit wiggly but this is the case with almost all the handles that I ever tested. It is probably supposed to be that way even…
Cabin Max Anode Dimensions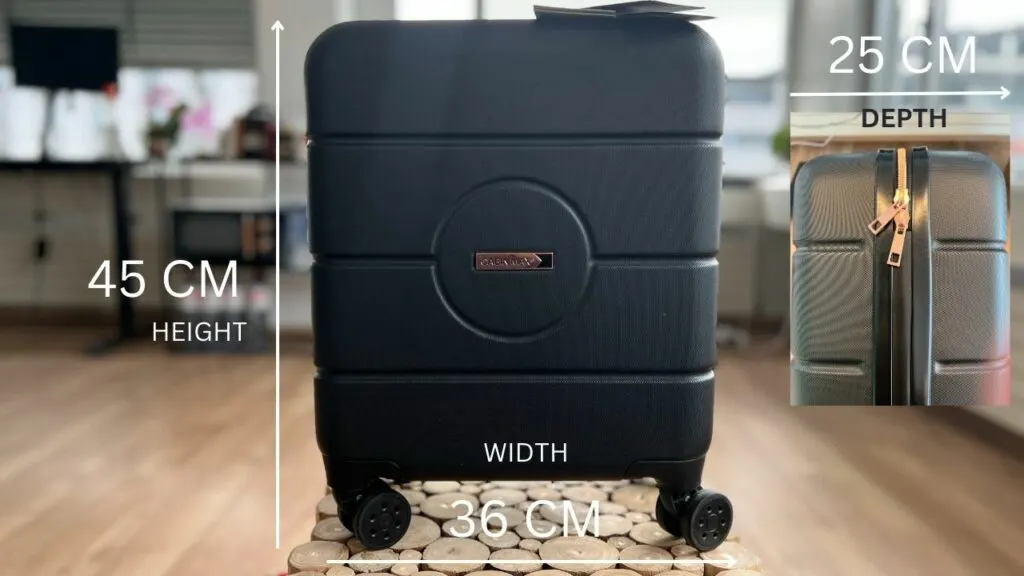 The manufacturer promises that you can take the suitcase as hand luggage on board an Easyjet flight for no additional fees.
With a length of 45 cm, width of 36 cm and a depth of 20 cm, it fits perfectly within the given guideline for under-the-seat luggage on EasyJet and some other airlines.
However, these regulations are constantly changing, so it is always a good idea to familiarize yourself with them before departure.
The telescopic handle of the Cabin Max Anode 45x36x20 cm 30l can be adjusted to two heights: circa 83 cm and circa 102 cm.
102 cm is a comfortable height to pull the suitcase vertically next to you on all four wheels.
At 190 cm tall, however, it is tight if you only want to pull the suitcase on two wheels behind you, because you can actually only pull it with your fingertips.
I must say, however, that this is unfortunately the case with about 90% of the suitcases that I have tested so far.
Interior of the Cabin Max Anode Carry-on Suitcase
The case has two compartments: a simple compartment with two luggage straps to fix the clothes and a compartment that you can close with a lid.
Both main compartments are lined with a polyester fabric.
This looks visually very pleasant, but the fabric is rather stiff and hard.
When you first open the case, it smells slightly of plastic, but this is almost always the case and can probably not be avoided.
Fortunately, the smell is gone quite quickly. No big deal, really.
Main compartment with luggage straps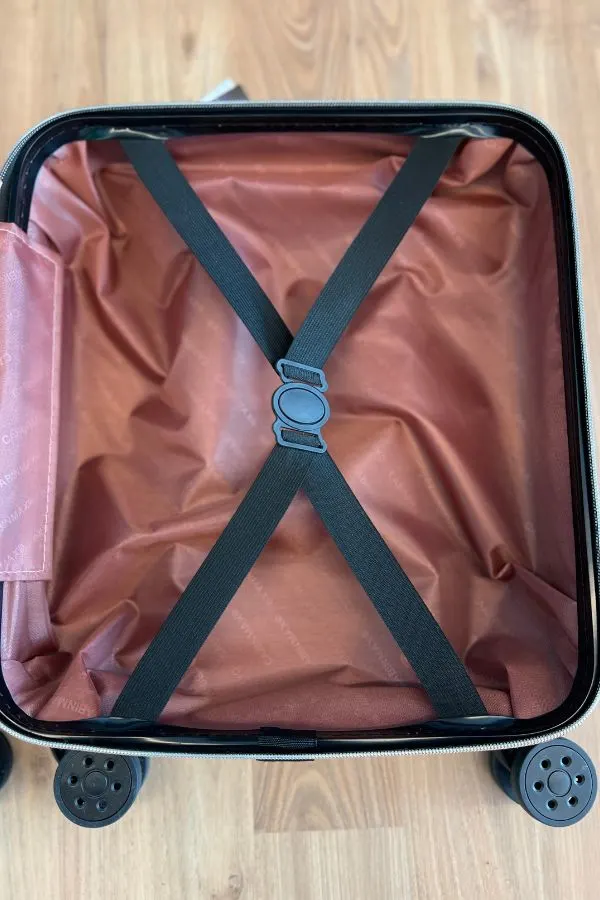 The compartment is a classic suitcase compartment and offers enough space for clothes.
The luggage straps help keep the packed items in place and prevent everything from falling out when the suitcase is opened.
The telescopic handles are also attached to this compartment, which is why you have the two bulges here.
You can still pack the case well, though it's a good idea to roll your clothes or lay them completely flat to get as much in as possible.
This compartment is not particularly suitable for shoes, as the two bulges from the telescopic handle are relatively high.
Main compartment with mesh pocket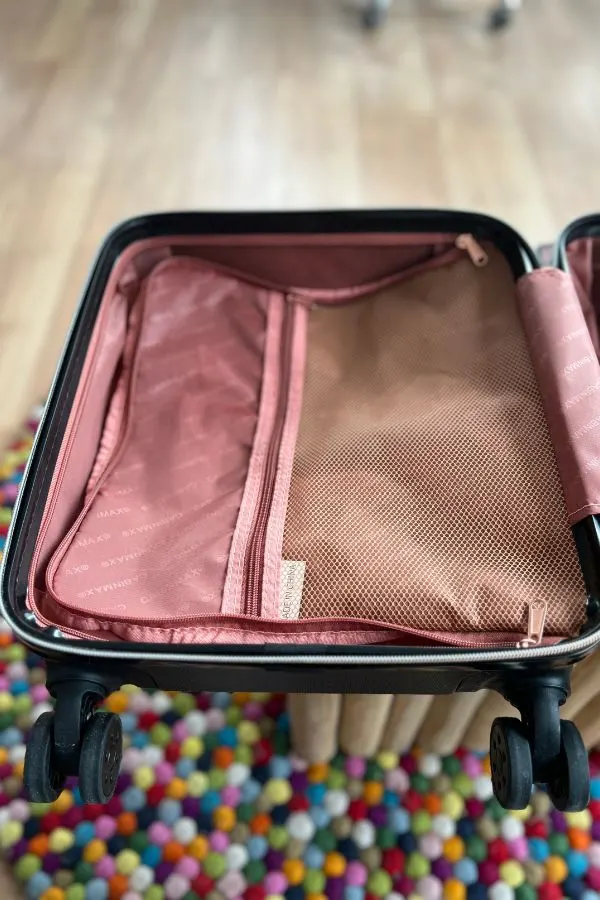 The second main compartment can be closed with a zipper.
Here shoes also find their place, since no bulges of the telescopic handles are present.
The zippers run nice and smooth. That's always very important because this is where a lot of cheaper suitcases fail miserably.
On the flap we find a small mesh pocket for smaller items and cosmetics.
This mesh pcoket can also be conveniently closed with a zipper.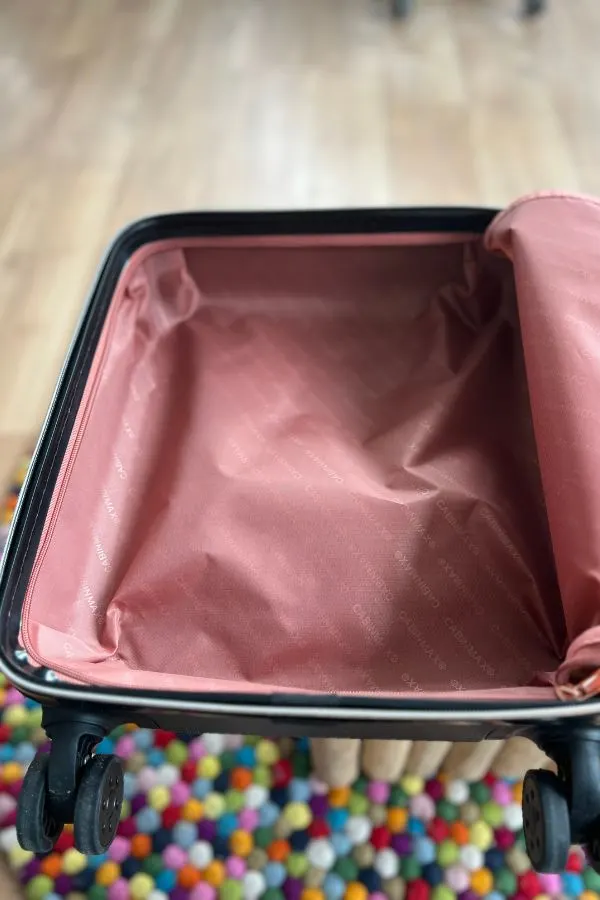 Special features of the Cabin Max Anode 45 x 36 x 20 cm 30l carry-on luggage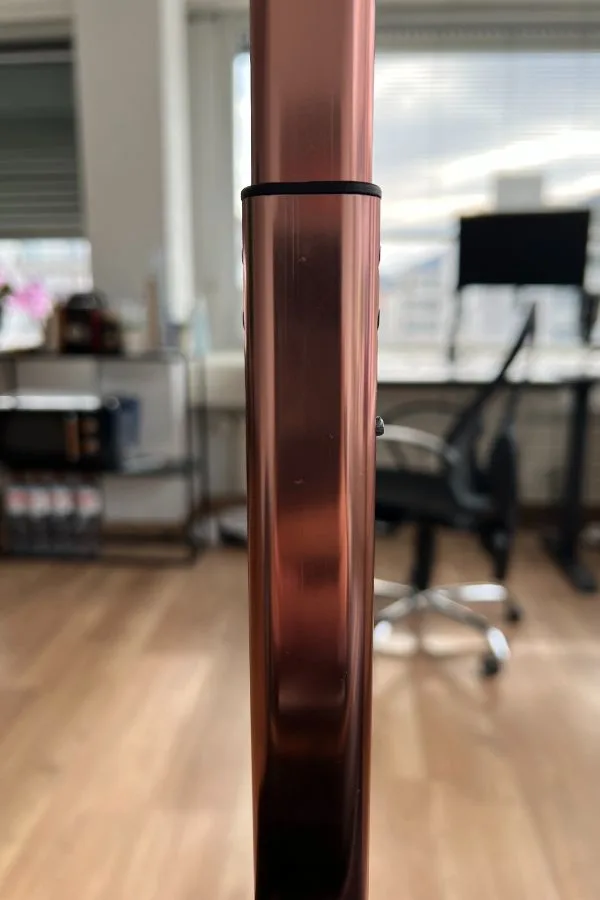 I chose the color combination of rose gold with black and got a real eye-catcher.
The suitcase lives very much from the details, such as a telescopic handle in rose gold, zippers in rose gold and the logo in rose.
A lot of luggage is more practical than pretty, but this model of the Cabin Max Anode is really pretty to look at. I love all the details!
Overall Impression of the Cabin Max Anode Underseat Trolley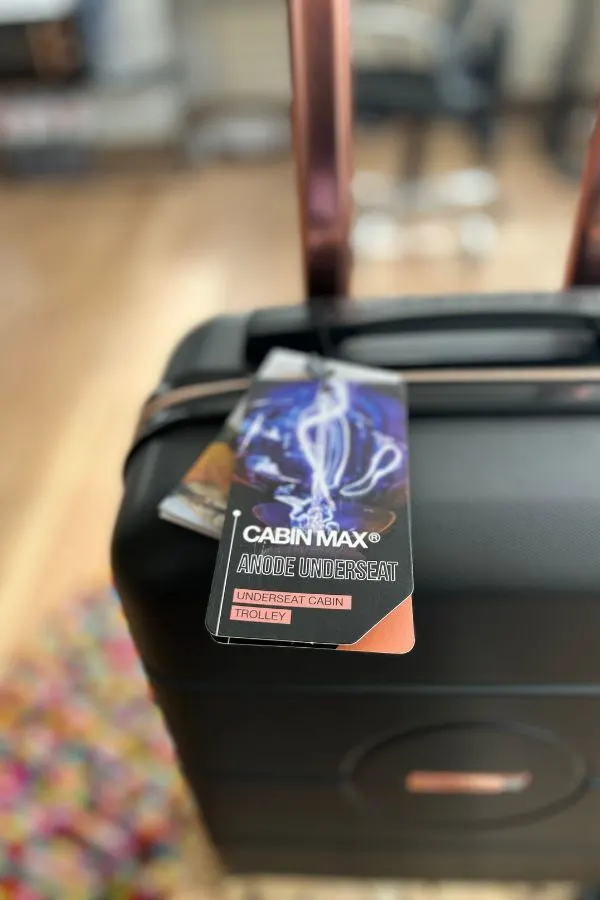 The Cabin Max Anode is a tiny suitcase, yet it is perfect as a small piece of hand luggage, especially when traveling with easyJet, as their maximum allowance for hand luggage as far as dimensions go is exactly set at 45 x 36 x 20 cm.
Also, if you would like to have a suitcase in this exact size, there are almost no other choices on the whole market.
And it's not that the Cabin Max Anode is not a great suitcase.
In fact, it's very functional and I really like how it looks like. There are lots of lovely little details that make it stand out visually that you would usually not find with a cabin suitcase in this price range.
All in all, the Cabin Max Anode leaves a great impression and is very good value for the money. I definitely recommend it.
Now, let us dive right into the review of the Cabin Max Anode suitcase! Enjoy.
Please note that as an Amazon Associate I earn from qualifying purchases.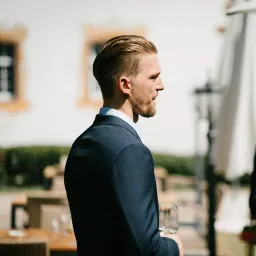 Hey guys! It's me, Marcel. I am the proud owner of carry-on-baggage.com. I am dealing with hand luggage related issues on a daily basis and I own several websites in this niche. Travelling is one of my biggest passions in life and I, therefore, happen to know a thing or two about hand luggage. I hope you all have a safe trip! Take care and thanks for the support. I really appreciate it.