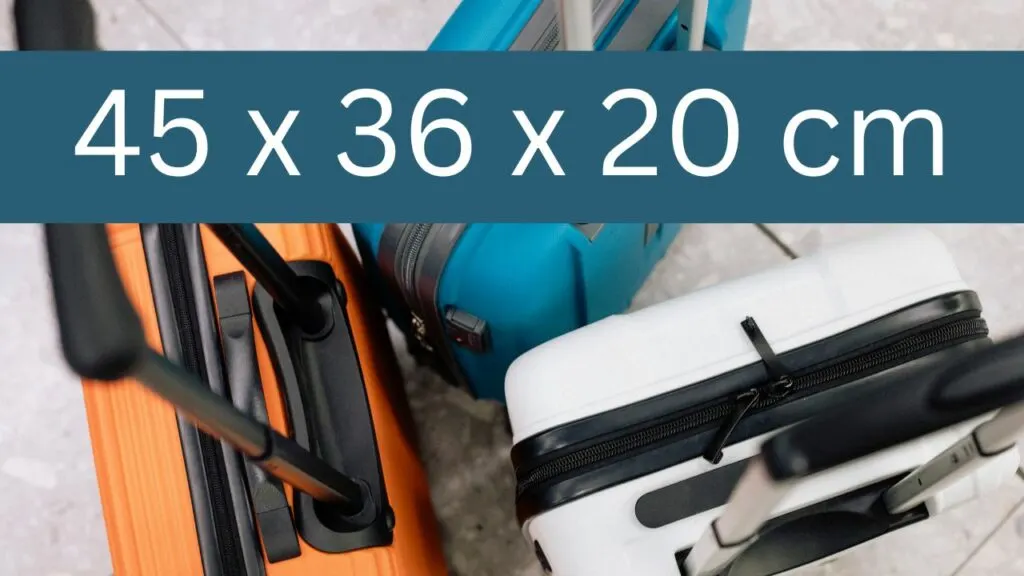 Every airline has its own hand luggage regulations.
And that is the main reason why the choice of hand luggage is often so difficult.
In this article, we will introduce you to carry-on luggage that has a maximum dimension of 45 x 36 x 20 cm.
All hand luggage shown in this article is therefore perfect for easyJet flights, because easyJet allows exactly 45 x 36 x 20 cm as part of the small hand luggage (also called small hand luggage).
Please note that with low-cost airlines (easyJet, Ryanair, etc.) you can usually only take one small piece of hand luggage on board in the basic fare.
Larger carry-on bags can now only be brought into the cabin for an additional charge.
So, if you are flying on EasyJet's standard fare and don't want to pay extra, then the following carry-on baggage is particularly suitable for you.
If you would just like to use hand luggage 45 x 36 x 20 cm as a large cabin bag, then you will be fine with almost all airlines.
In any case, I highly suggest you to consult the website of your airline to check what your hand luggage allowance is.
This is especially important when you are traveling with low-cost airlines, as these usually have very strict hand luggage policies.
Also, nowadays, most of them also allow only one small piece of hand luggage as hand luggage in the standard fare. So please be careful!
Please note that as an Amazon Associate I earn from qualifying purchases.
Best Hand Luggage Backpacks 45 x 36 x 20 cm
Cabin Max travel backpack 45 x 36 x 20 cm
Cabin Max is one of these hand luggage companies that pays special attention to the exact dimensions of their hand luggage.
What I mean by that is that they usually release products that exactly fit the requirements as far as allowed dimensions for hand luggage go.
And as we all know, these requirements depend on the actual airline that you are flying with.
And so it is not surprising that this backpack here from Cabin Max corresponds exactly to the maximum allowed hand luggage dimensions according to easyJet (= small piece of hand luggage for under the seat). Which makes this backpack a perfect fit for travels with easyJet.
With 30 liters of storage capacity, the simple but stylish design and a weight of only 500 grams, the Cabin Max travel backpack is always the first choice when you want to take the maximum amount on the trip without having to make sacrifices in terms of quality and comfort.
Pros:
Hybrid design with two carrying modes
Large main compartment with a generous capacity of 30 liters
Easy access front compartment for important travel documents
VMIKIV Cabin Bag
Sale
With 45 x 36 x 20 cm, the VMIKI Cabin Bag, is yet another perfect bag for easyJet carry-ons.
And with a capacity of 32 liters, this backpack is very spacious, especially when considering its small size
What's more, you can fit a laptop up to 15.6″ in it. That's another big plus that we certainly enjoy.
Pros:
Perfect as a carry-on bag with easyJet
Large capacity of 32 liters
For laptops up to 15.6″
HOMIEE hand luggage travel backpack 45 x 30 x 17 cm
Sale
If you are going on a business trip with easyJet, then you should take a closer look at the travel backpack from Homiee.
It's a little smaller than 45 x 36 x 20 cm, but it's better to be a little too small than a little too big.
And since there are very very few products in the 45 x 36 x 20 cm category, the HOMIEE backpack still made it into our list because it's more or less the only business backpack in this size range!
Simple, functional and a well-organized interior characterize this business backpack from Homiee.
And of course, this one also offers enough space for a laptop of up to 15.6 inches. Another big plus, for sure.
Pros:
Comes in a sleek business look
Laptop compartment for laptops up to 15.6 inches
Large capacity from 22 to 38 liters
Theft protection bag included
Best Hand Luggage Trolleys 45 x 36 x 20 cm
"Cabin Max Greenwhich" trolley/backpack 45 x 36 x 20 cm
Can you think of more interesting things than searching the internet for 3 hours to find suitable carry-on luggage for your next easyJet flight?
We hear you. That's what we are here for!
And one of his top recommendations when it comes to easyJet compliant carry-on luggage is "Cabin Max Greenwhich."
Because this piece of luggage from Cabin Max fits easily under the seat on your next easyJet flight, no ifs, ands, or buts.
What's more, this piece of luggage shines with its two carrying modes; you can choose to use it as either a backpack or a trolley. Just like that.
Pros:
Perfectly suited as a small carry-on bag on easyJet flights
Hybrid design: can be used as both a trolley and a backpack
Large main compartment with a capacity of 30 liters


"Travelite Luggage Series" Cabin Underseat 43 x 34 x 20 cm
Travelite Cabin Luggage, 43 cm, Schwarz
Box contents: 1 x travel suitcase hand luggage underseat dimensions: 43 x 34 x 20 cm, meets IATA on-board trolley dimensions, volume 28 litres, weight 2.1 kg, material: polyester, colour: black
You just want to buy a sleek, reliable hand luggage trolley that will hold its own as a reliable travel companion on your next trip with easyJet or basically any other airline?
Then this Travelite hand luggage is a great fit for you. While the dimensions are not exactly, 45 x 36 x 20 cm, with 43 x 34 x 20 cm it comes pretty close and that's why we have decided to include it in our list.
I personally own several Travelite products and I am a big fan of the brand. The quality speaks for itself.
What's nice with this trolley here is that it comes with a transparent zipper bag for liquids. You surely remember that all your liquids must be stowed in the bag of liquids…right?
Pros:
Perfect to use as cabin luggage on your next easyJet flight
Includes transparent care/cosmetic bag (=bag of liquids)
Compact but fully equipped: with front pocket, side pockets, extendable telescopic handle and two smooth rolling wheels


Best Hand Luggage Duffel Bags 45 x 36 x0 20 cm
ECOHUB Cabin Bag 45 x 33 x 20 cm
The ECOHUB bag is the right size for free cabin luggage on easyJet and numerous other airlines and has a laptop compartment, a lot of different pockets and is water-resistant.
It is made from high-quality recycled PET fabric; 32 PET bottles in total were used to make this bag. That's certainly impressive.
The design of this bag is elegant and the colors are plain, which makes the ECOHUB Cabin Bag perfect for business trips.
And of course, if you are travelling with a hand luggage trolley, this bag features some sort of "pocket" that lets the bag easily slide over your trolley.
Pros:
Weight of only 500 Grams
Capacity of 30 liters
100% Eco Friendly
For laptops up to 16″
"Spaher Foldable Travel Bag" 45 x 36 x 20 cm
Finding a travel bag in the size 45 x 36 x 20 cm is anything but an easy task. But the Spaher Foldable Travel Bag certainly meets these conditions perfectly.
Well, it might not be the most robust or prettiest bag but it does two things really well: With 330 grams it is ultra-lightweight and with a capacity of 40l you can fit a whole lot of things in it.
Pros:
Ultra leightweigt, only 330 grams
Can be attached to a trolley
Perfect as cabin luggage on easyJet flights
Large capacity of 40l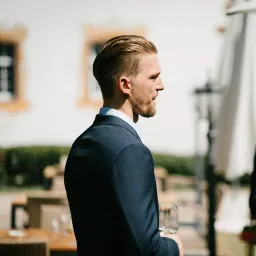 Hey guys! It's me, Marcel. I am the proud owner of carry-on-baggage.com. I am dealing with hand luggage related issues on a daily basis and I own several websites in this niche. Travelling is one of my biggest passions in life and I, therefore, happen to know a thing or two about hand luggage. I hope you all have a safe trip! Take care and thanks for the support. I really appreciate it.