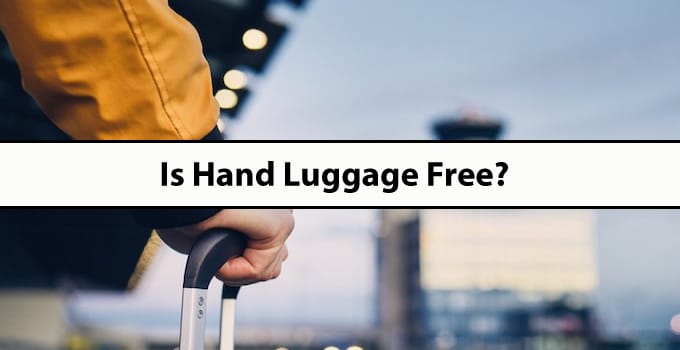 For hand luggage, you don't pay additionally. At least that's what you thought, right? Hopefully not, because there are a few "bad boys" in the airline business who will charge additionally for hand luggage. We will now take a closer look at these few airlines who charge you extra for your carry-ons. First of all, as always, the most important information in brief in our condensed answer to the main question of this article: Is hand luggage (always) free of charge?
Is Hand Luggage always free?
Hand luggage is almost always free of charge. But only almost. And only in limited quantities. Because if the maximum dimensions and the maximum weight as determined by the airline are exceeded, then it can become really expensive. A large piece of hand baggage (trolley, rucksack) is, therefore, free in almost all cases, as long as the airline's conditions regarding weight and dimensions are met.
The maximum permitted dimensions vary depending on the airline. There is NO international standard. For example, easyJet allows a large piece of hand luggage of 56 x 45 x 25 cm, while Eurowings allows a maximum of 55 x 40 cm x 23 cm. Most airlines operate within this range. But not all airlines offer this large piece of hand luggage free of charge. For example, the American Frontier Airlines charge a fee for the large piece of hand baggage. The same applies to the low-cost airlines Allegiant Air and Spirit Airlines (also from America). Now the large piece of hand luggage is no longer available free of charge from Ryanair and Laudamotion.
At least one small piece of hand luggage usually called a "personal item" by the airlines, such as a laptop or a small handbag, may also be carried free of charge in the cabin of these airlines (Attention: note max. permitted dimensions and possibly max. weight).
Are there any European airlines that charge money for hand luggage?
Are there any European airlines that charge extra for regular hand luggage? Yes. Recently, it has no longer been the case that all airlines automatically include hand luggage in their flight tickets (standard fare).
Ryanair is one such example.
Since Ryanair has once again adapted the cabin baggage regulations, the Irish airline has now made it clear that you are only entitled to a small piece of cabin baggage (also called personal belongings) in the standard fare. If you want to take a larger piece of hand baggage with you, such as a trolley or a larger backpack as hand baggage, you will have to pay extra.
Also, the airline Laudamotion, which now also belongs to Ryanair, has recently adopted the new hand luggage regulations of Ryanair. And as a logical consequence, this rule (only small hand luggage such as a laptop or a handbag included in the standard rate) is now also valid for Laudamotion.
Unfortunately, it is to be expected that other European airlines will introduce such hand luggage regulations in the near future.
Excess baggage charges for hand baggage?
If you transport hand baggage, but this exceeds the free baggage allowance, for example, 15 kilograms, but the airline only allows a maximum of 10 kilograms of hand baggage, then excess baggage charges apply. Usually, the excess baggage charges are per kilogram and you will usually be very expensive. With certain airlines, however, you simply pay a lump sum.
With Ryanair, for example, you pay 55 euros at the gate if your hand luggage is too large. Depending on the situation and available space in the aircraft, the piece of luggage will not be accepted in the first place and cannot be transported.
With easyJet, on the other hand, only excess baggage charges can be incurred for hand baggage in this sense if the piece of hand baggage is too large. At the boarding gate, 60 euros are due. If the piece of hand luggage is too heavy, then…wait a moment. There is no weight limit for hand luggage at easyJet. Accordingly, when it comes to weight, you don't have to worry about excess baggage charges for your hand luggage.
But beware: Of course this does not mean that you can take more than one piece of hand luggage on board. But this piece of hand baggage can be of any weight as long as it does not exceed the maximum dimensions for easyJet hand baggage, 56 x 45 x 25 cm. This is only true for easyJet, though!
To avoid excess baggage charges, please take a look at our list of hand baggage regulations for all well-known airlines worldwide.
Paying for a personal item?
As already mentioned, most airlines allow the transport of a personal item in addition to a large piece of hand luggage. What exactly this personal item may be is defined by the airlines themselves. Classic examples of this are handbags or laptops.
The question that now arises in this context is:
Are there airlines that charge a fee even for this small piece of hand luggage? No. Not as far as I can tell.
In any case, I would not have been able to find an airline that wanted money for it itself. This does not mean, however, that every airline allows such a personal item in addition to hand luggage. However, if a personal item is allowed, then my research shows that it is always free of charge.
Take several large pieces of hand luggage on board free of charge?
Taking more than one large piece of hand luggage on board free of charge is only possible if you have booked a more expensive tariff.
When you fly Economy, all airlines only allow one large piece of hand baggage.
However, if you fly Business Class, some Airlines will allow you to take two large pieces of hand luggage onboard. This is the case with Lufthansa, for instance (2 pieces of hand luggage, each can be 8 kg)
Two "free" hand luggage items in Business Class are also available from other airlines such as SWISS and many others. Of course you pay much more for a Business Class flight than for an Economy Class flight, so of course, you have to ask yourself whether free of charge is really the right word for it. But I think we understood each other.
Costs if hand luggage has to be transported in the hold?
The hand baggage capacities are very limited in most aircrafts and it can happen that you are not allowed to carry your hand baggage in the cabin of the airplane.
In these cases, the airlines usually make an appeal via loudspeaker announcement and ask the passengers to hand in their hand luggage so that it can be transported in the hold. The airline then hopes that at least some of the passengers will be able to comply with this request and thus solve the space problem on board. Such scenarios are often experienced with low-cost airlines.
For the passengers, the whole thing is quite annoying, since nobody would like to hand over his suitcase for the transport in the cargo hold since there the risk is already considerably greater that the suitcase is damaged than this would be the case with transport in the cabin.
The transport of hand luggage in the hold is, of course, free of charge in these cases.
However, if your suitcase has to be transported in the hold due to excess baggage, additional charges will apply, as mentioned above.
It might happen that….
If hand baggage is free in itself, but you are afraid that you will not be able to comply with the free baggage allowance (e.g. if 10 kilograms of hand baggage is allowed, but you have a 14 kilogram suitcase in front of you), then it may be a very good idea to book an additional piece of baggage online early.
This is because the online price for an additional piece of baggage to be checked in is usually lower than the price that you would otherwise have to pay at the airport in the case of excess baggage.
As a general rule, you should book all services directly at the time of booking if possible. Everything that has to be changed or adapted at the airport at the last second costs extra.
Related Questions
What is the meaning of check-in baggage?
Check-in baggage, or checked baggage, is baggage that you need to check-in at the check-in counter at the airport. So this kind of baggage will later be placed in the hold of the aircraft. You will not have access to this baggage during the flight. The opposite of checked baggage is hand baggage (also hand luggage). Hand Luggage is luggage that you can take on the plane with you.
Is a backpack considered hand luggage?
It all depends on the size. As long as the backpack does not exceed the max. dimensions (and max weight) for hand luggage as defined by the airline, the backpack can be brought onboard as hand luggage.
Is a pillow considered a carry-on item?
Most airlines allow a large piece of hand luggage such as a trolley or a larger backpack as well as a small piece of hand luggage, also known as "Personal Item". In addition, most airlines allow you to take other items, so-called accessories, with you. This category usually includes items such as an umbrella, reading material or also a jacket. Although most airlines don't list cushions as personal items or possible accessories, you can usually take them on board in addition to your regular hand luggage.
What is the standard size of cabin luggage?
Unfortunately, there is no standard size of cabin luggage. Well, there are some recommendations from the IATA, the International Air Transport Association, who tried to introduce a standard size of cabin luggage back in 2015 (55 x 35 x 20 cm) but without success. So to put it plain and simple: There is no standard size and every airline has different rules on both max. size and max. weight of hand luggage pieces.
[ivory-search id="4153″ title="Default Search Form"]
Hey guys! It's me, Marcel. I am the proud owner of carry-on-baggage.com. I am dealing with hand luggage related issues on a daily basis and I own several websites in this niche. Travelling is one of my biggest passions in life and I, therefore, happen to know a thing or two about hand luggage. I hope you all have a safe trip! Take care and thanks for the support. I really appreciate it.