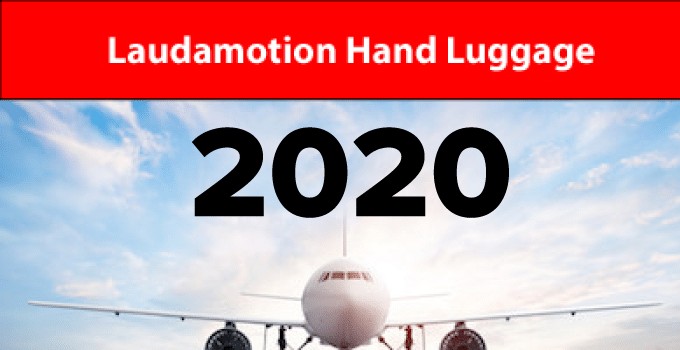 Laudamotion is now part of Ryanair. So far, so good. But how does this affect the airline's cabin baggage regulations?
Is Laudamotion subject to the same cabin baggage regulations as Ryanair?
Ryanair has been adjusting their hand luggage policy several times in the past few years.
But what about Laudamotion? Let us have a closer look at this problem and determine the exact hand luggage allowance of Laudamotion.
The different Laudamotion tariffs in detail
As with Ryanair, Laudamotion offers a total of 3 different fares:
Value fare (Standard Tariff)
Regular fare
Plus fare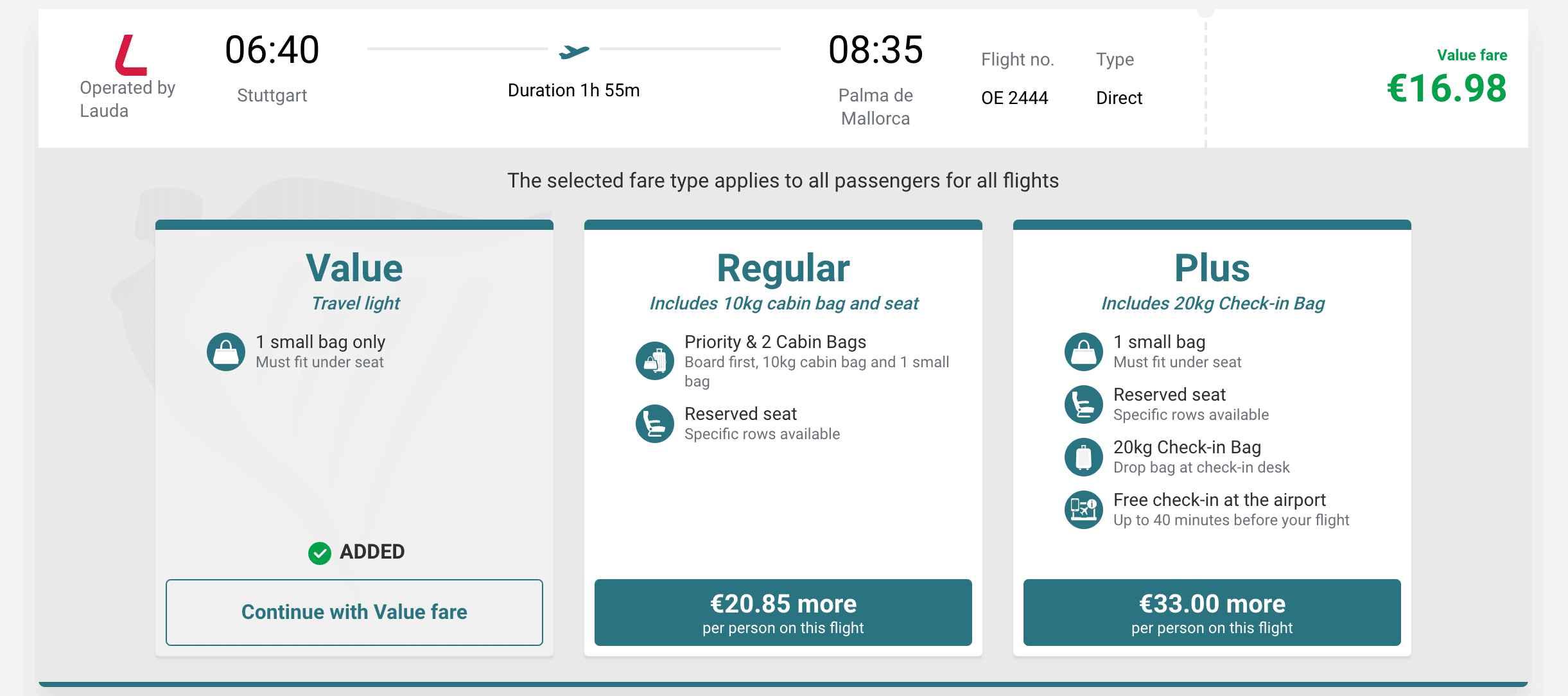 The VALUE fare (old name = standard tariff or fare) is now Laudamotion's cheapest fare. In this tariff included:
A small piece of hand luggage (also called personal item), max. dimensions 40 x 20 x 25 cm, no weight limit
Attention: There is no more big piece of hand luggage included in the value tariff. ONLY one single small piece of hand luggage. If you do bring more than that and just have a value ticket, you will be charged excess baggage fees (very expensive!).
Laudamotion REGULAR TARIFF
The REGULAR Fare includes:
A large piece of hand luggage, max. dimensions of 55 x 40 x 20 cm, max. 10 kg
A small piece of hand luggage (personal item), max. dimensions of 40 x 20 x 25 cm, no weight limit
Both, the large piece of hand luggage and the small piece of hand luggage, can be brought into the cabin.
The option Priority & 2 Cabin Bags is already included in the regular tariff
A small piece of hand luggage, max. dimensions of 40 x 20 x 25 cm, no weight limit
A piece of checked baggage, max. of 20 kgs (Attention: This is NOT hand luggage and needs to be checked in at the check-in desk)
The checked baggage will be transported in the hold of the airplane.
The option Priority & 2 Cabin Bags is NOT included in this fare, so you can only bring a small piece of hand luggage in the cabin.
Laudamotion and liquids in hand luggage
When it comes to liquids in hand luggage on Laudamotion flights, there are no surprises. The liquid rule is the same as for Ryanair. In concrete terms this means:
At Laudamotion, liquids must be transported in a plastic bag for liquids
This bag must not be larger than 20 x 20 cm and must be resealable and transparent
All containers with liquids must be placed in this bag. Each individual container must have a maximum capacity of 100 ml
Only one such liquid bag per person is allowed
The liquid bag must be presented separately at the security checkpoint
Laudamotion: Pets in cabin
We have seen in this article that Laudamotion is essentially subject to the same hand luggage regulations as Ryanair, as Laudamotion belongs to Ryanair. This also applies to animals in the cabin.
In plain language, this means: Laudamotion does not transport animals. Neither in the cabin of the aircraft nor the cargo hold of the plane. However, there is one exception (as with Ryanair): On most routes, guide dogs are allowed.
However, guide dogs will not be accepted by Laudamotion on the following routes:
Flights to/from Morocco
Flights to/from Israel
So if you are going to transport a guide dog, there are a few important things to bear in mind:
If you are travelling to the United Kingdom or the Republic of Ireland, special care should be taken. Further important information on the carriage of such dogs by Ryanair/Laudamotion can be found here.
If you want to fly with your pet, be it cat or dog, you have to switch to another airline than Laudamotion/Ryanair, because both airlines do not carry pets.
Laudamotion: excess baggage
If you have too much hand baggage with you, i.e. if it is found that your hand baggage is too heavy, you will have to pay excess baggage charges.
The excess baggage charge at Laudamotion is 11 euros per extra kilo. This 11 euros per extra kilo must be paid, regardless of whether the violation was discovered at the check-in counter or the gate.
If your hand baggage is too large, your hand baggage must be checked in at Laudamotion as regular checked baggage to be transported. This would then cost 40 euros. So make sure that this does not happen!
Does Laudamotion not have its own website?
They do. Unfortunately, everything is a bit confusing and chaotic. If you call laudamotion.com, you will be redirected to the Ryanair website: https://www.ryanair.com/la/en/
Ryanair has embedded Laudamotion under its own website, as you can see from the addition " /la ". From the design of the page, you can see that this must be Laudamotion and not Ryanair. This impression is further confirmed by the Laudamotion logo at the top left of the page.
But the whole thing is a bit confusing because this website is a mixture of Laudamotion and Ryanair. You become aware of this, for example, when you call up the general terms and conditions of Laudamotion.
At the top, there is the Laudamotion banner, but at the bottom, the content still shines in the Ryanair look with the known Ryanair colours.
Under point 8 in the general terms and conditions, you will also find the corresponding hand luggage regulations for Laudamotion.
Laudamotion: Be careful when booking
If you book a flight via the official Laudamotion website, i.e. https/www.ryanair.com/la/de, and then enter the departure and destination airports, you will find flights with both Ryanair and Laudamotion.
So, when booking, make sure that you check exactly whether it says "Operated by Laudamotion" (see screenshot above) or "Operated by Ryanair".
Laudamotion is serving the following destinations
To give you a better idea of which destinations Laudamotion is heading to at all, we would like to briefly illustrate in the following which destinations the low-cost airline Laudamotion is heading to at all, and from which airports in Germany, Switzerland and Austria the Niki Airline successor is swinging into the air.
Laudamotion from Germany
Laudamotion will take off from eight airports in Germany:
Berlin-Tegel
Düsseldorf
Cologne
Frankfurt am Main
Hanover
Munich
Nuremberg
Stuttgart
In total, 65 different destinations are served from Germany. The Austrian airline announced that Mallorca was one of the most important destinations.
Laudamotion from Austria
From Austria Laudamotion swings into the air from the following airports:
Graz
Innsbruck
Linz
Salzburg
Vienna
Destinations from Austria include Palma de Mallorca and Ibiza.
Laudamotion from Switzerland
Laudamotion flies from Basel, Switzerland. From there it goes to Mallorca and Heraklion on Crete.
Originally, Niki Lauda's airline was also supposed to fly from Zurich, but this deal has been broken, and Laudamotion does not offer any flights from Zurich until further notice.
Laudamotion Hand Luggage FAQ
Can I take my pet with me on the trip with Laudamotion?
No. Laudamotion (like Ryanair) does not carry pets. Your cat or dog must, therefore, stay at home. However, the transport of guide dogs (can be done in the cabin) is also permitted at Laudamotion.
Are the hand baggage regulations of Laudamotion and Ryanair identical?
In the past, the hand baggage regulations of Laudamotion and Ryanair were very different. Now the regulations are practically identical. You can read more about the hand baggage regulations of Ryanair here.
Are duty-free bags allowed in addition to hand luggage?
Yes, if you go shopping in a duty-free shop in the secured area at the airport, you may take this bag (bags) into the cabin in addition to your regular hand luggage. This is the policy of virtually all airlines. With easyJet, however, caution is advised! With the low-cost airline easyJet, you are NOT allowed to take duty-free bags on board the aircraft in addition to your hand baggage. So if you shop duty-free and fly with easyJet, it is imperative that you store your purchases in your hand baggage.
What is this 10 kg check-in baggage item? Is it carry-on baggage?
Laudamotion now also offers a so-called 10 kg check-in baggage item. Is this hand luggage? No. This baggage item is intended for non-priority customers (= customers travelling at the standard tariff) who still have more than one piece of luggage with them at check-in or at the gate (please remember that the standard tariff only allows ONE small piece of hand luggage).
So if you are travelling at the standard tariff and you have both a large and a small piece of hand luggage with you, then you have to buy this 10 kg check-in piece of luggage in addition (at check-in or at the gate). It is better to avoid this because this piece of luggage is, of course, more expensive than if you book the option "priority and two hand luggage items" from the beginning, i.e. choose a different tariff than the standard tariff.
What do I have to do to be able to take two pieces of hand luggage with me on the plane at Laudamotion?
For some time now, Laudamotion (and also Ryanair) has only included a small piece of hand luggage in the standard tariff. At Laudamotion you can only take a large regular hand baggage item (55 x 40 x 20 cm) into the cabin if you have booked the "Option Priority and 2 hand baggage items".
Can I take a drone or quadcopter in my hand baggage on Laudamotion flights?
Drones/Quadcopters are usually powered by lithium batteries. Devices equipped with lithium batteries are approved for transportation in hand luggage (cabin), but only if the battery does not exceed 160-watt hours. If the battery exceeds 160 Wh, transport is not possible. Neither in checked baggage nor in hand baggage. Caution: Lithium batteries may only be transported in hand luggage. This also applies accordingly to the popular Powerbanks.
Is it possible to reach Laudamotion through Live chat?
Yes, simply use the Ryanair Live Chat. In addition, it is now the case that the hand baggage regulations of Ryanair and Laudamotion are practically identical. What is valid for Ryanair is also valid for Laudamotion.
Hey guys! It's me, Marcel. I am the proud owner of carry-on-baggage.com. I am dealing with hand luggage related issues on a daily basis and I own several websites in this niche. Travelling is one of my biggest passions in life and I, therefore, happen to know a thing or two about hand luggage. I hope you all have a safe trip! Take care and thanks for the support. I really appreciate it.