How much hand luggage can you take with you on your journey at Ryanair?
Ryanair offers three basic fares: The VALUE fare, the REGULAR fare and the PLUS fare.
Also, Ryanair also offers some flight options, which can also affect the cabin baggage allowance.
Here is a precise overview of the free hand baggage allowance depending on the fare:
A small piece of hand luggage (also called personal item), max. dimensions 40 x 20 x 25 cm, e.g. a laptop bag with laptop, a handbag or briefcase. There is no official weight limit for the small piece of hand luggage.
Important note: As you can see, the value tariff at Ryanair does NOT include a large piece of hand luggage (trolley, bigger backpack). Ryanair is one of the few airlines that no longer allows a larger piece of hand baggage for the transport in the cabin of the aircraft in the cheapest fare (value fare). Another airline that follows this example is Wizz Air.
One large piece of hand luggage with the maximum dimensions of 55 x 40 x 20 cm, maximum weight 10 kg
A small piece of hand luggage (also called a personal item), max. dimensions 40 x 20 x 25 cm, e.g. a laptop bag with laptop, a handbag or briefcase.
The REGULAR fare includes the option "Priority and Two Cabin Bags", so one large piece of hand baggage is included and guaranteed to be taken on board along the small piece of hand luggage.
A small piece of hand luggage (also called personal item), max. dimensions 40 x 20 x 25 cm, e.g. a laptop bag with laptop, a handbag or briefcase. There is no official weight limit for the small piece of hand luggage.
One checked baggage, max of 20 kgs (Attention: This is NOT a piece of hand luggage. It needs to be checked in at the check-in counter).
Overview of Ryanair fares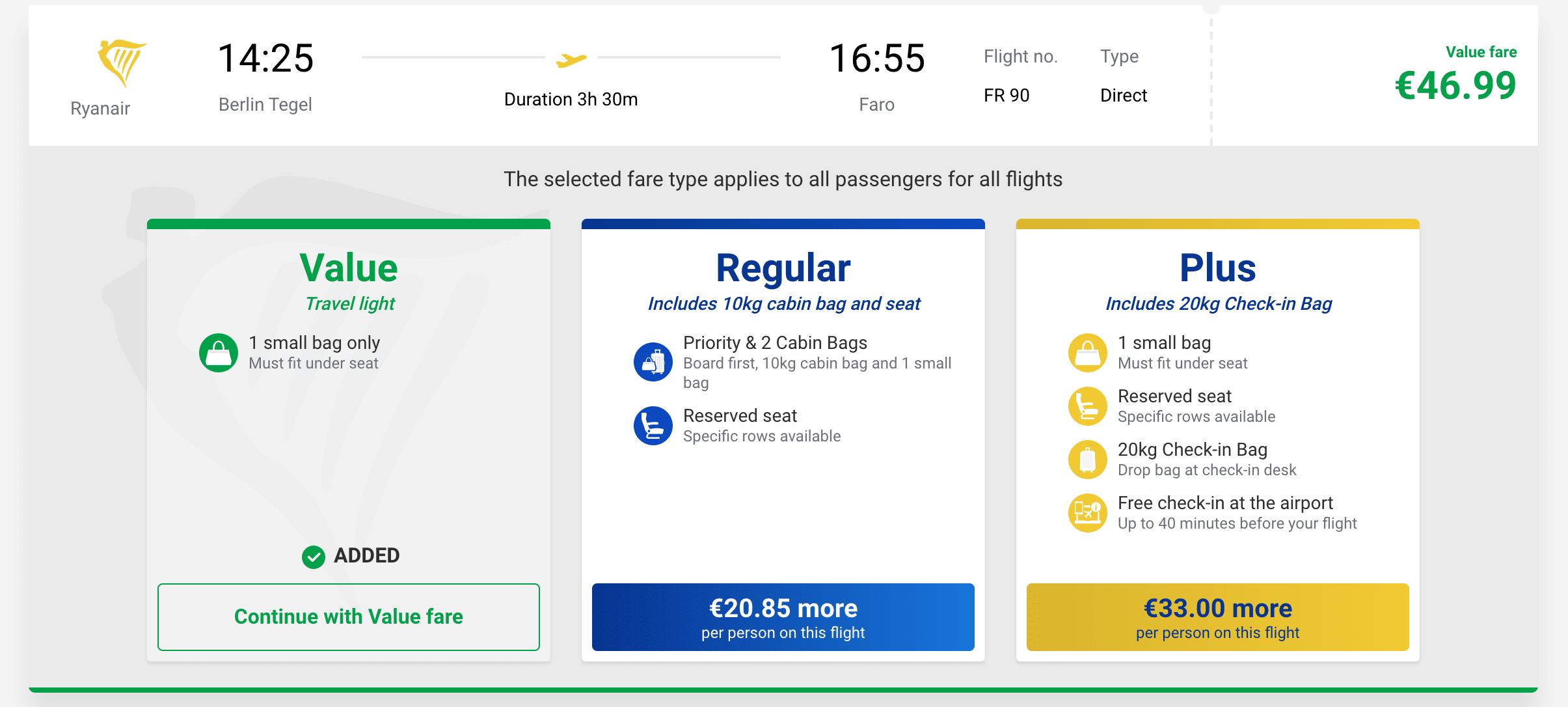 On the screenshot, you can see the three fares: Value, Regular and Plus.
Tips for travelling with hand luggage at Ryanair
To ensure that everything goes smoothly when you travel with Ryanair, you should follow the steps below.
Before the trip:
Study the different fares (Value, Regular, Plus) and book your flight online.
If necessary, book additional options such as Priority & 2 cabin bags. (included in the regular tariff)
Study Ryanair's conditions of carriage and make sure that you do not carry any prohibited items in your luggage and that you follow the security regulations for "sensitive items" (certain items must be protected, some items only possible in hand luggage, etc.).
Check-in online (when flying with the value tariff or regular tariff, online check-in is a MUST) and print out your boarding pass.
You can also download/display your boarding pass on the Ryanair app.
Moreover, you should always have important information about the trip at hand: Booking number, flight number, departure and landing times as well as information about the airport and the corresponding terminal.
At the airport:
Make sure that you have stowed the items that must be shown separately at the security check within easy reach (easily accessible, if possible in outside compartments).
Liquids (packed in 1-litre bags as described above), medicines and special food, as well as duty-free items, must be shown separately.
You should also have your personal documents at hand at all times.
At certain airports, there are self-service kiosks where you can book additional options for your Ryanair flight if required. For example, Priority Boarding (see "What is Priority Boarding" above).
Liquids in hand luggage at Ryanair
There are strict rules for liquids in hand luggage. It does not matter if you are flying with easyJet, Ryanair or Lufthansa. The rules for liquids in hand luggage always stay the same (holds true for Europe (EU) and also the US for instance).
As a general rule, liquids must be transported in containers, whereby a single container must not have a capacity of more than 100 ml. A
All containers must be placed in a special bag for liquids
This liquid bag needs to be transparent and resealable
Each container must not exceed 100 ml
The size of the liquid bag must not exceed 20 x 20 cm
The max. capacity of the liquid bag is set at 1 litre
At the security check, this liquid bag must be removed from hand luggage so that it can be checked/scanned separately.
Hand luggage for toddlers on Ryanair flights?
At Ryanair, infants aged between 8 days and 23 months travelling with an adult on their lap are not entitled to their own carry-on baggage. However, adults are entitled to carry an additional baby bag weighing up to 5 kg when travelling with an infant.
The cost for travelling with an infant is 25 euros per one way flight.
What else may you take on board (as hand luggage) when travelling with small children?
You can also take a child seat for an infant on board. This must be specially approved for use in the aircraft and equipped with a 5-point harness system.
If the infant for whom you wish to use the child seat is not yet two years old, you must purchase an additional seat, as infants aged eight days to 23 months are transported on the passenger's lab (mother/father for instance).
At Ryanair, a total of two child items per child/infant can be transported free of charge: a pushchair plus one of the following items: car seat OR booster seat OR travel cot
The child seat must also meet the following requirements:
Pointing forward
Must fit in the 42.5 cm wide aircraft seats
Be certified for use in an aircraft in accordance with the following provisions: Within Europe: the child seat must be equipped with a CE sticker and an imprint certifying its airworthiness. When travelling to the USA: The child seat must be equipped with an FAA sticker and an imprint certifying airworthiness.
I recommend the Britax Römer Eclipse child seat for air travel with Ryanair. Click on the link, and you will find out why this seat is exactly the right child seat for your child!
If you indeed get this seat, you will need this additional piece of equipment. Without this, you can't use the seat in the aircraft!
No matter which child seat you choose, please contact Ryanair to have the child seat confirmed in advance.
With the Britax Römer Eclipse, that should be a piece of cake.
Take medical equipment on board as hand luggage
Are you allowed to take medical equipment into the cabin of Ryanair? Probably, yes. But whether you are allowed to use them during the flight is another matter.
So if you want to take medical equipment on board or even need to be able to use it on board, you should contact the Ryanair hotline for special assistance.
On the English page, you can find the number. Here is the link to the hotline of Ryanair for special help. Then simply select the country you are calling from and the number will appear.
What about pets in the cabin at Ryanair?
Ryanair does not carry animals. Accordingly, no pets are allowed on Ryanair flights. However, there is one exception: guide dogs. On certain routes guide dogs are allowed. Further information can be found here.
Ryanair & Musical Instruments in the cabin
Small musical instruments which do not exceed the maximum dimensions and max. allowed weight for hand luggage might be carried in the cabin if you can stow them in your hand luggage (when travelling on standard fare, then the instrument would need to be stowed in your small hand luggage piece → 40 x 20 x 25 cm).
But not in addition to your regular hand luggage.
Smaller musical instruments such as a cello, a guitar, a violin or a viola, whose dimensions exceed the maximum dimensions permitted for hand luggage, may be carried in the cabin if a separate seat has been booked for them and the price has been paid.
When booking an additional seat for a musical instrument, there is no additional personal baggage limit and no right to carry additional hand baggage.
If you wish to book an extra place for your musical instrument, please specify "ITEM SEAT" as the surname and "EXTRA" as the first name when booking. Your booking and online boarding pass will then be marked "EXTRA ITEM SEAT".
Huge instruments such as double basses, harps and drums may not be transported in the cabin of the aircraft.
You will be charged 55 Euros for instruments that must be carried in the hold of the aircraft.
Please note: The data of the travel document of the accompanying passenger must be entered during the online check-in. Reserved seats at exit rows in rows 1, 16 and 17 can't be purchased if you have already purchased an extra seat for more comfort / an item.
Moreover, I have some great tips for the carriage of musical instruments on airplanes for you. You might want to have a look at them to make sure the carriage of your precious instrument goes smoothly.
What items are prohibited or restricted on flights with Ryanair in (hand) baggage?
Ryanair lists in its General Conditions of Carriage all items that are prohibited in both hand and checked baggage. The possession of these items is also prohibited in the security zone of the airport. You will find the list of illicit items in point 8.9 of the regulations. Click here
Now, of course, it is also important to know which items may only be carried in hand luggage and which items may only be carried in checked luggage.
At Ryanair, for example, knives may NOT be transported in hand luggage.
Lithium-ion replacement batteries may only be transported in hand luggage. A maximum of 2 such batteries per person is allowed, whereby the number of watt-hours of the batteries must not exceed 100 watt-hours per battery.
Please don't forget: Powerbanks fall into the category of lithium-ion replacement batteries!
You can find more useful information about this topic in our article: Batteries in Hand Luggage: This is what you need to know
Also in the field of knives and scissors, there are often ambiguities and not every airline handles this topic in the same way. Many airlines say: "Knives up to a blade length of 6 centimetres may be transported in hand luggage". On the basis of Ryanair's General Conditions of Carriage, it is not clear how this is regulated by the Irish airline.
According to a live chat with Ryanair, which I had on 18.10.2017, the transport of knives is completely forbidden at Ryanair. However, one hears and reads (among other things in forums) contradictory opinions/answers to this topic.
Accordingly, we recommend that you transport such small knives in your checked baggage. Further useful tips & tricks and detailed information about knives and scissors can be found in our article Rules for Knives and other Sharp Objects in Carry-On Baggage
Q&A about hand luggage at Ryanair
Can I take my wheelchair on board at Ryanair?
Passengers with reduced mobility are not allowed to take their personal wheelchair on board.
However, on all Ryanair flights, Ryanair provides special aircraft wheelchairs which can be used free of charge by passengers with reduced mobility. Staff are specially trained to help passengers get from the seat to the washroom and back.
However, wheelchairs can usually be transported in the cargo hold.
With electric wheelchairs, Ryanair points out that contact must be made at least 48 hours before the journey (according to live chat conversation of 19.11.2017), but you should also inform Ryanair of a simple manual wheelchair in good time!)
The weight and the size of the wheelchair should be communicated to Ryanair. Passengers who wish to transport a wheelchair must also bring the wheelchair operating instructions with them. Furthermore, electric wheelchairs must be used:
The battery of the wheelchair must be a gel/dry battery. So it must not be a wet battery!
The dimensions of the wheelchair when folded must not exceed 119 x 81 x 119 (W x H x D).
The batteries must be removed and the open connections protected against short circuits.
How to protect batteries from short circuits and other important information about battery types can be found in our article Batteries in hand luggage.
In addition, the key must be removed, and the joystick and other insulation mechanisms (switches, buttons and plugs) must be deactivated.
What is the easiest way to get in touch with Ryanair?
Im am constantly in contact with Airlines. So please let me tell you about the best and easiest way to get in touch with Ryanair.
As befits a modern airline, Ryanair can also be reached via the following channels:
I recommend contacting Ryanair via Twitter or live chat.
The Irish airline usually answers quickly and competently via Twitter.
You can also contact them via live chat. Depending on the time of day, this is an excellent option. At certain times, however, the "digital queue" is very long. But it's still worth a try. Live Chat is pretty good for easy requests.
If you have very specific and complex questions, though, you should be careful. Not all of the staff members seem to be very well informed about hand luggage related questions 🙁
So it might make sense to ask your questions a couple of times through various channels (twitter, facebook, live chat). Just to make sure, you know.
Any further questions? Contact Ryanair via Live Chat
If you personally don't think much of hotlines, then this might be something for you: The live chat from Ryanair. With the help of the chat, you can get in touch directly with a Ryanair employee and place your questions there.
Research into carry-on baggage regulations is often very difficult. You often find contradictory statements and sometimes you don't find a clear answer to your questions: How was that again with knives in your hand luggage?
Are honey and Nutella in hand luggage regarded as liquids? Can I place lithium-ion batteries in checked baggage? Ask the Ryanair staff directly in the live chat!
Laudamotion was recently taken over by Ryanair. But the regulations for hand luggage are not identical to those of Ryanair.
If you are travelling with Laudamotion, please take a look at our article "Laudamotion Hand Luggage Allowance at a Glance" to learn all about the current Laudamotion hand luggage regulations and to find out about the differences to the rules for Ryanair flights.
Hey guys! It's me, Marcel. I am the proud owner of carry-on-baggage.com. I am dealing with hand luggage related issues on a daily basis and I own several websites in this niche. Travelling is one of my biggest passions in life and I, therefore, happen to know a thing or two about hand luggage. I hope you all have a safe trip! Take care and thanks for the support. I really appreciate it.