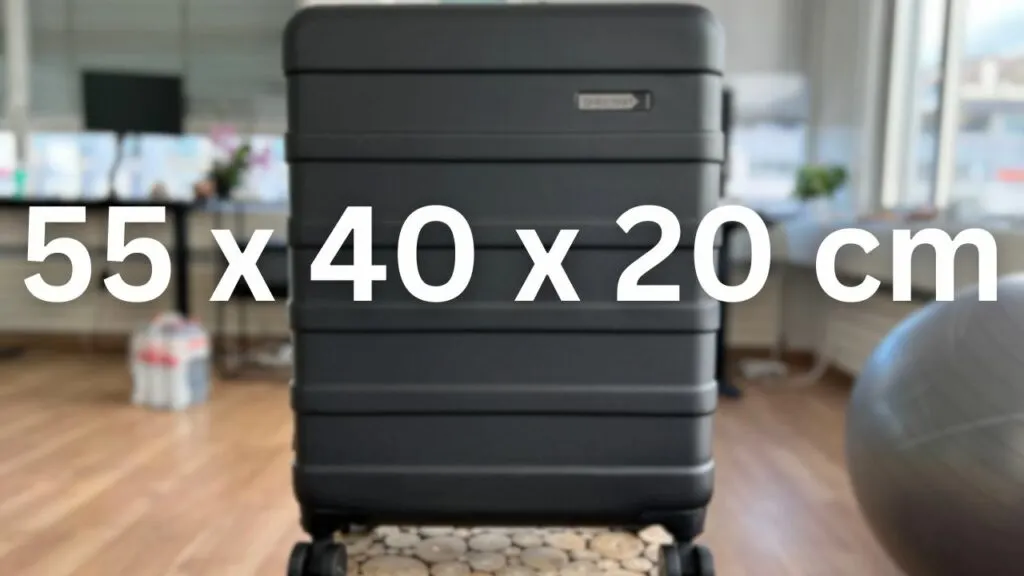 Finding the right carry-on luggage is often not an easy task.
It often takes hours of research until you finally find a carry-on that is tailored to your personal needs on the one hand, but also perfectly meets the hand luggage regulations of the airlines on the other.
However, you can count on me, I will help you in your search for a carry-on and have already done some preliminary work.
In this post here you will find hand luggage in the size 55 x 40 x 20 cm.
Some of the products here are a bit smaller, but still very close to the dimensions 55 x 40 x 20 cm. So if you're looking for carry-on luggage in this size, you'll definitely find it here.
Now let's take a look at the various carry-on luggage together, which meets these regulations and can also convince otherwise.
Please note that as an Amazon Associate I earn from qualifying purchases.
Best Hand Luggage Trolleys 55 x 40 x 20 cm
Cabin Max Anode 55 x 40 x 20 cm
If you're often on the lookout for carry-on luggage, you might be familiar with the name Cabin Max.
The company Cabin Max is known for developing functional hand luggage that is tailored exactly to the needs of customers and also to the regulations of the airlines.
Thus, Cabin Max has hand luggage on the market, which is perfect for travel with easyJet, for example, and other hand luggage that is in turn perfect for the next flight with Ryanair.
The crucial point here is often the dimensions of the hand luggage.
With the Cabin Max Anode 55 x 40 x 20 cm Cabin Max uses the standard size for hand luggage, as recommended by IATA, the International Air Transport Association.
This size is accepted as hand luggage by virtually all airlines. However, only as a large piece of hand luggage.
As you may have noticed, many low-cost airlines now only allow a small carry-on bag to be brought on board. There, this cabin max would then not be allowed into the cabin.
But wherever a large piece of hand luggage is allowed on board, the Cabin Max Anode is ideal.
Now, let's have a closer look at the actual hand luggage.
Well, as for the Cabin Max Anode 55 x 40 x 20 cm, this is a simple, elegant case made of ABS plastic.
Inside you will find two large main compartments. The first main compartment is equipped with luggage straps.
On the other side there is then a second main compartment and in the partition with zipper, there is still a classic mesh compartment integrated.
All in all, a very classic space allocation in the interior, as it is to be expected for hand luggage in this size and price range.
In terms of wheels, the Cabin Max Anode 55 x 40 x 20 cm comes with four 360-degree wheels.
In addition, the Cabin Max Anode 55 x 40 x 20 cm also has a lock, which provides more security. However, this is not a TSA lock, which is not to be expected at this price.
I personally used the Cabin Max Anode 55 x 40 x 20 now quite a while and am very satisfied with it. Everything still works fine and the zippers also still work great.
Flight Knight ABS Hard Case Hand Luggage 55 x 35 x 20 cm
Flight Knight Lightweight 4 Wheel ABS Hard Case Small Suitcase Approved for Over 100 Airlines Including easyJet, British Airways, Ryanair, Jet2, Emirates & Many More - Carry On 55x35x20cm
SIZES: Underseat Cabin 18" Dimensions: 45x36x20cm (All Parts), 37x35x20cm (Body), Weight: 2.55Kg, Capacity:25L. Cabin 21" Dimensions: 55x35x20cm (All Parts), 48x35x20cm (Body), Weight: 2.9Kg, Capacity:34L. Overhead Cabin 22" Dimensions: 56x45x25cm (All Parts), 48x44x25cm (Body), Weight: 3Kg, Capacity:52L. Medium 25" Dimensions: 70x52x27cm (All Parts), 63x48x27cm (Body), Weight: 4.2Kg, Capacity:82L. Large 29" Dimensions: 80x59x32cm (All Parts), 73x56x32cm (Body), Weight: 5.5Kg, Capacity:131L
With 55 x 35 x 20 cm, this cabin bag from Flight Knight is slightly smaller than our targeted 55 x 40 x 20 cm.
However, this is usually a good thing, as hand luggage regulations are often very strict, especially with low-carrier airlines.
With that said, 55 x 35 x 20 cm is playing it safe and you won't need to be worried to have to pay additional charges just because your hand luggage is 1-2 cms over the limit (these things happen, believe me!).
Now, as far as the Flight Knight Hand luggage is concerned, you will get a solid hard shell suitcase that is both scratch and water resistant, has a capacity of 34 liters and is lightweight, solid and durable.
The suitcase has four 360-degree wheels, which I always appreciate, because it allows for maximum flexibility and best possible maneuverability.
Special features:
Dimensions: 55 x 35 x 20 cm
34 liter capacity
360-Degree-Wheels
Scratch & water resistant
Best Backpacks 55 x 40 x 20 cm
HOMIEE Cabin Bag 54 x 36 x 19 cm
If you're looking for a nice business backpack that is accepted as a large carry-on bag on virtually all airlines and that offers the largest possible capacity, you should take a closer look at the HOMIEE Bag.
This carry-on bag from Homiee convinces with its simple, elegant business look, space even for large laptops, many different compartments and finally also with its low weight of only 1.37 kilograms.
In direct comparison with the vast majority of hand luggage trolleys, the Homiee backpack is extremely light, as almost all trolleys weigh at least 2 kilograms.
So if you want to take as much as possible with you on your trip, the Homiee bag is the best choice, because it's also important to remember that the vast majority of airlines also have a limit when it comes to hand luggage weight.
And if the weight of the hand luggage is already 3 kilograms, there is not much weight left for the actual luggage.
Special features:
38L capacity (up to 50L when expanded!)
Business-Look
Separate Laptop Comportment for Laptops up to 18″
Expandable up to 54 x 36 x 25 cm
Cabin Max Metz Hand Luggage 55 x 40 x 20 cm
Sale
Cabin Max Metz Cabin Bag 55x40x20 Carry On Bag Travel Ryanair Cabin Bags 55 x 40 x 20 (Recycled rPET Atlantic Blue44L)
CARRY ON BAG 55x40x20 cm soft shell design to fit 94% of worldwide hand luggage gauges including: EasyJet and Ryanair, Eurowings, Vueling, Norwegian, Virgin, BA, Lufthansa, Jet2, Wizz Air, Iberia, Lingus, Delta, American, Emirates, and many more.
The Cabin Metz belongs on every good hand luggage list.
Why?
On the one hand, the Cabin Metz is extremely affordable, but on the other hand, it also offers maximum storage space (capacity of 44 liters!) and looks stylish. Also, with its dimensions of 55 x 40 x 20 cm, it passes as a big piece of hand luggage on almost all airlines!
Of course, the Cabin Metz is not the most robust hand luggage on the market, but if you want a lot of hand luggage for little money, the Cabin Metz is the best!
I doubt there is any hand luggage on the market with the dimensions of 55 x 40 x 20 cm that can pack more luggage than this Cabin Max cabin bag.
Special features:
Extremely affordable
XXL Capacity of 44l
IATA compliant (55 x 40 x 20 cm is the official recommendation for hand luggage as per the IATA)
Looks huge, but passes as carry-on luggage on virtually all major airlines!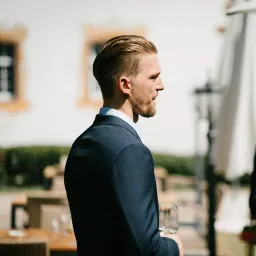 Hey guys! It's me, Marcel. I am the proud owner of carry-on-baggage.com. I am dealing with hand luggage related issues on a daily basis and I own several websites in this niche. Travelling is one of my biggest passions in life and I, therefore, happen to know a thing or two about hand luggage. I hope you all have a safe trip! Take care and thanks for the support. I really appreciate it.