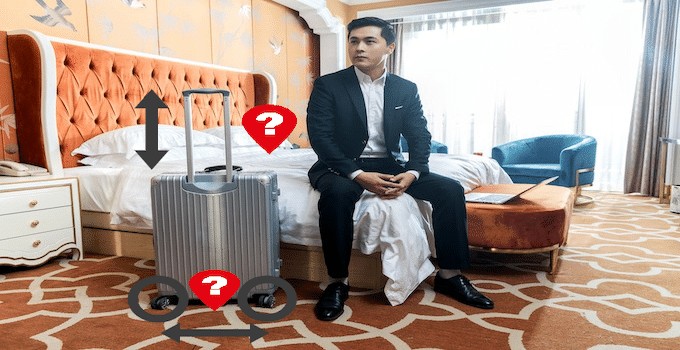 Every airline handles hand luggage a little differently. While easyJet, for example, allows a large piece of cabin luggage measuring 56 x 45 x 25 cm, Ryanair's standard tariff only allows a small piece of hand baggage, a so-called personal item, to be taken on board as hand luggage.
And there are also big differences in the weight of the allowed hand luggage. For example, there is no weight limit for easyJet hand luggage, while other airlines often only allow you to carry 6 to 8 kilograms of hand luggage.
But what about the question: "Do wheels and handles count towards the max. dimensions for hand luggage?"
Does cabin baggage size include wheels and handles?
The permitted dimensions for hand luggage always include wheels and handles, unless expressly stated otherwise by the airline. As for the telescopic handle, the measurements are of course to be understood for the handle in a collapsed state.
What about exterior pockets?
Exterior pockets are also included in the max. dimensions as defined by the airlines. So you need to take wheels, handles and also exterior pockets into account when measuring your carry-on bag.
Your hand luggage is too big: What now?
If your hand luggage, including the wheels and handle, is slightly larger than the maximum permitted dimensions, this does not mean that your hand luggage cannot be transported in this way.
Even today, the size (and also the weight) of your hand baggage is in many cases not even checked, and as long as it is only a few centimetres, you have a good chance that your piece of hand baggage will be accepted.
Of course, there is a certain risk.
Most of the time, as long as your hand luggage does indeed look like a regular-sized carry-on bag, you will be fine. If it does look super big (and heavy) though, then staff might become suspicious and will indeed check the size/weight.
Only a few airlines do check the size/weight of cabin luggage of every passenger as a standard procedure.
Play it safe and disassemble the wheels?
The wheels of hand luggage trolleys can usually not be dismantled so easily. Therefore, you should make sure when buying the trolley that it does not exceed the maximum permitted dimensions for hand luggage.
However, there are also hand luggage models with easily removable wheels, such as the Skyline 3000 HS hardware 4-wheel cabin trolley 55 cm. So you can easily save 5 cm with this case and reduce the case height from 55 cm to 50 cm.
With a little technical skill, the wheels can also be dismantled on other models. You must first check whether the wheels are screwed or riveted to your trolley.
If they are screwed, you have been lucky. Because then you can disassemble or loosen the wheels yourself. A screwdriver and an Allen key should do the trick.
Depending on the trolley, these tools can be used to loosen the wheels directly from the outside. If you are unlucky, which of course we do not hope, then you will have to loosen the screws from the inside.
Search at the bottom of the case for the mentioned screws and loosen them with the screwdriver/Allen wrench.
So that the whole procedure does not become too annoying, you should first contact the trolley manufacturer and inquire whether the wheels can indeed be removed " by means of a little amateur craftsmanship." If not, you may want to let it be better.
An Allen key or a screwdriver may be sufficient in most cases to disassemble/change wheels on trolleys (provided that the wheels are screwed to the trolley and not riveted).
If you own Rimowa hand luggage
If by chance, you are the proud owner of a Rimowa suitcase, then you have it particularly easy to unscrew when it comes to wheels.
Why is that?
It is because on the one hand the wheels on Rimowa suitcases are very easy to unscrew from the outside and on the other hand the necessary tools, a simple Allen key, are already included in the new Rimowa case models.
You will usually find the key inside the case, directly "behind the fairing".
The only exception is the super light Salsa Air collection because there is no key to success waiting for you behind the fairing. But such an Allen key has one or the other of us already somewhere at home within reach. Perhaps from the last Ikea piece of furniture? :=)
How to measure your carry-on?
Sometimes it makes sense to understand how NOT to do something, in order to understand how to actually do something.
This video of Samsonite is a perfect example of this. They got it all wrong in this video. Just have a look at the comments, and you will understand what I mean:=)
So how should you measure the luggage then?
To measure your luggage correctly, please keep this in mind:
The important measures you need to take are the height, depth, and width of your carry-on bag and also linear inches (centimeter measurement)
You can use a ruler to do so, but better is a measuring tape if you do have that
This is how you take the measurements
Measure the height of your carry-on baggage first. The height usually corresponds to the "upright" measurement of your hand luggage. To get the height of your carry-on bag, measure from the bottom of the wheels to the top of your handle (the telescopic handle should be in a non-extended state of course).
Then measure the depth of your carry-on bag. To do so, you need to measure from the back of the bag to the front. If your bag has extra pockets on the front, you will need to include them in your measurements.
Finally, take the width of your carry-on. To do so, simply measure horizontally from one edge to the other. If there are handles on either side (left/right), you would need to include them in your measurements.
Of course, you should also take the weight of your luggage. You can find cheap luggage scales online, for instance on Amazon.
LINEAR INCHES
Sometimes the airlines will simply tell you that they allow a certain amount of linear inches instead of telling you exactly about the allowed height & width & depth. So many airlines will allow carry-on bags up to 45 linear inches (115 cm).
How to calculate the linear inches?
This is actually super simple. All you need to do is to take the sum of the three dimensions (height + width + depth). So, if the height of your suitcase is 22 inches, the width is 14 inches and the depth is 9 inches, then your bag is 45 linear inches (22 + 14 + 9).
The same in cm: If the height of your suitcase is 55 cm, the width is 40 cm and the depth is 20 cm, then the sum of the three dimensions (also called centimeter measurement) would be 115 cm (45 linear inches = 115 cm).
The maximum allowed cabin baggage dimensions for all airlines
Now that we've settled everything, there's only one thing left for you to do. Please inform yourself primarily about the maximum permitted dimensions for hand luggage at your airline.
However, you do not necessarily have to visit the official website of the airline, as I have compiled a list of the hand luggage regulations of practically all airlines worldwide especially for you. You can have a look at this list here.
On this list, you will see the maximum permitted weight and dimensions and you will also clearly see whether, in addition to your regular hand luggage (such as a hand luggage trolley, a suitcase or a larger travel bag), you may also bring a personal item (such as a handbag or a laptop bag with laptop) on board.
Sometimes, in connection with the maximum permitted dimensions for hand luggage, you will also find designated standard sizes defined by the IATA, the International Air Transport Association.
It is important to understand that these values are always IATA recommendations and not rules carved in stone.
This ultimately means that the airline always has the last word on the dimensions of its baggage and does not have to comply with IATA recommendations.
Related Questions
Does checked baggage size include wheels?
Yes. As for carry-on baggage, the max. dimensions, as indicated by the airlines, include the wheels of the baggage.
What is the standard size of cabin luggage?
There is no international standard for the size of cabin luggage. However, the IATA, the International Air Transport Association, made an effort in 2015 to introduce a smaller cabin baggage size of 55 x 35 x 20 cm, but without success.
Different airlines still have (very) different maximum dimensions for hand luggage. Gulf Air, for instance, allows a carry-on bag with dimensions of 45 x 30 x 35 cm, while Southwest Airlines allow carry-on bags of 61 x 41 x 28 cm.
What is the carry on size for Delta Airlines?
The current allowed size for carry-on bags at Delta Airlines is 56 x 35 x 23 cm / 22 x 14 x 9 inches.
What is the carry on size for American Airlines?
The max. dimensions for carry-on bags @ American Airlines are set at 56 x 36 x 23 cm / 22 x 14 x 9 inches.
Does Ryanair cabin bag size include wheels? Yes. Just as with every other airline, the max. dimensions always include wheels and handles, unless expressly stated otherwise by the airline.

Hey guys! It's me, Marcel. I am the proud owner of carry-on-baggage.com. I am dealing with hand luggage related issues on a daily basis and I own several websites in this niche. Travelling is one of my biggest passions in life and I, therefore, happen to know a thing or two about hand luggage. I hope you all have a safe trip! Take care and thanks for the support. I really appreciate it.