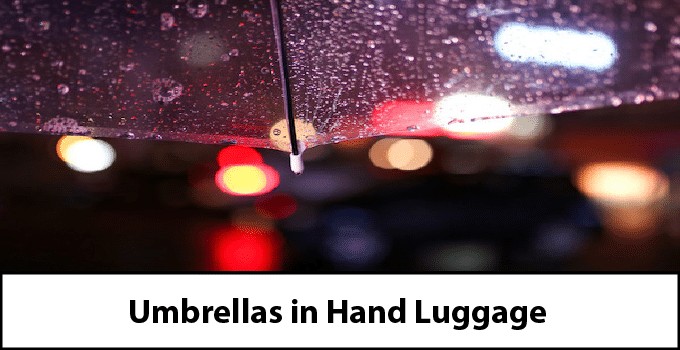 When it comes to carry-on baggage, there are many rules to follow. Lots of different items are either restricted or not allowed in carry-on baggage at all.
Sometimes for obvious reasons, sometimes not. So what about umbrellas such as large stick umbrellas and smaller pocket umbrellas?
Are they violating the regulations in any way or are you safe to bring them on board the aircraft?
Are umbrellas allowed in hand luggage?
Most airlines allow umbrellas (stick umbrellas) & pocket umbrellas to be transported in hand luggage. Umbrellas of any kind usually fall into the category "accessories".
Most airlines allow at least one such accessory to be carried in addition to a large piece of hand luggage, such as a trolley or a large bag or rucksack.
In addition to that must airlines will also allow you to bring one so-called personal item, such as a handbag or a laptop bag.
To find out whether accessories can be taken on board in addition to a regular large piece of hand luggage, please refer to our epic list of hand luggage regulations for the most important airlines worldwide!
Just have a look at the last column of the list. You will find allowed personal items & accessories as defined by the respective airline.
Which components of umbrellas cause problems?
If there are problems with umbrellas at the security checkpoint, it is usually because of the metal tip.
If your umbrella has a sharp metal tip, there is a higher risk that it will be confiscated at the security checkpoint because your umbrella could be considered to be a dangerous object.
In this case, try to make the metal tip harmless with a little tape or another tool to prevent your umbrella from being classified as a weapon because of the tip.
The size of the umbrella can also be a decisive factor. The rule of thumb is that smaller umbrellas such as a pocket umbrella or other foldable umbrellas have a better chance of passing the security check. So a tiny pocket umbrella should always be prefered over a big stick umbrella.
And please don't forget that most of the airlines will allow you to bring one big hand luggage into the cabin as well as a personal item (handbag/laptop bag) AND an accessory. Umbrellas usually fall into the category of accessories.
But for some Airlines this might not be the case, and that could mean that you could not bring the umbrella in addition to your carry-on bag and your personal item onboard the aircraft.
In this case, you would probably need to stow the umbrella INSIDE of your regular hand luggage (or maybe in your personal item).
Sale
Umbrellas in carry-on: What the different airlines say
Small foldable umbrellas are allowed on most airlines as "accessories" in addition to the regular carry-on baggage on board the aircraft.
These Airlines do indeed allow umbrellas as accessories (as stated on their website): China Airlines, Condor, Delta, easyJet, EVA Air, Jetstar, Peach Aviation, Pegasus Airlines, Qatar Airways, Royal Jordanian, Ryanair, Silkair, Singapore Airlines, SriLankan Airlines, tigerair Australia, Vietnam Airlines, Virgin America (These results are easily obtained by filtering the list by "umbrella" in the search box at the top right.
However, many more airlines are likely to tolerate umbrellas as accessories but they just don't explicitly state umbrellas as such on their website.
With the airlines that we just mentioned at least, the transport of umbrellas should not cause any problems from the airline's perspective.
However, there may still be problems with the security check at the airport, because the security check personnel is provided by the airport and not by the airlines.
Umbrellas in carry-on: What the different airports say
Above we have already referred to our epic list which lists the hand luggage regulations (for Economy passengers) for the vast majority of airlines worldwide.
And there, as already mentioned, in the last column you will find information about the personal belongings that may be brought on board (in addition to the regular hand luggage). Often you will also find the explicit indication "umbrellas".
Now it can also be a good idea to have a look at what the airports themselves have to say about the permitted items on board (hand luggage) because ultimately it is the airport personnel who carry out the security checks and not the staff of the airlines. A small but subtle difference.
However, it might be the case that the security check personnel is okay with your umbrella, but the airline has a more restrictive policy regarding umbrellas.
Accordingly, it is indeed always a good idea to consider the regulations of the airports as well as those of the airline with which you are travelling.
London Heathrow
Staff from London Heathrow airport is answering questions about their rules on Twitter.
The question about umbrellas onboard has been asked a couple of times on their Twitter page and it seems that London Heathrow does not have anything against umbrellas onboard. However, it needs to be said that umbrellas are subject to security screening.
London Gatwick
I contacted London Gatwick airport about this matter and what they said is: "Please ask the airline that you are flying with about this issue". This is annoying. Because when asking the airlines about it (allowed/forbidden items onboard), they often say "Please ask the airport staff about it".
In fact, it truly is the security staff at the airport that can decide about these matters and not the airlines themselves, as the security staff always has the last word on the matter.
Anyway, it does not seem they have a problem with umbrellas in specific, as long as the regulations of the Airline you are flying with, are respected.
Dresden Airport
I contacted Dresden Airport via Facebook and they told me that umbrellas in hand luggage would be fine. You should therefore not have any problems with umbrellas, at least not at the security check.
If your airline allows umbrellas as an additional accessory on board, this should not be a problem when departing from Dresden.
Frankfurt Airport FRA
My direct contact with the Federal Police Headquarters at Frankfurt Airport has shown that umbrellas may be carried in hand luggage without hesitation. Of course, you have to respect the allowed dimensions and the maximum weight of the respective airline.
Graz Airport
Just like at Vienna Airport, Graz Airport welcomes umbrellas and pocket umbrellas /folding umbrellas in hand luggage.
Hamburg Airport
The Hamburg Federal Police, which operates at Hamburg Airport, replied that for security reasons there was nothing to prevent umbrellas from being taken along. Umbrellas should therefore not be a problem at Hamburg Airport during security checks.
Vienna Airport
In an official PDF of Vienna Airport, the question of what may be taken on board is clearly stated: Umbrellas and toddlers allowed on board.
Zurich Airport
Zurich Airport also does not comment directly on the website about carrying umbrellas in hand luggage. But I contacted the airport personally and in the reply email to me, it said "umbrellas in your hand luggage":
"Umbrellas and also toddlers may be carried in hand luggage or checked luggage. The regulations and their exceptions apply internationally and are implemented here in Zurich in the same way."
So also in Zurich green light for umbrellas. Yay.
Umbrellas in carry-on: USA
The USA often has different rules and regulations in stock than EU countries when it comes to the question of what may or may not be carried in hand luggage.
But America doesn't leave you standing in the rain when it comes to umbrellas, because according to the TSA, the American transport security authority that is responsible for security regulations for hand luggage and luggage, umbrellas are allowed in the cabin of an aircraft.
In this context, the TSA only points out that regulations regarding weight and size, as defined by the airline, must be complied with.
The umbrella and its story
According to Wikipedia, the first written mention of an umbrella in Europe dates back to 800 AD. At that time the abbot Alcuin of Tours left an umbrella to the bishop Arno of Salzburg with the words "I send you a canopy to keep the rain away from your venerable head".
Do you still need a good travel umbrella?
If you don't have a travel umbrella yet or would like to buy a new one soon, then perhaps this umbrella could be interesting for you.
This umbrella is very suitable for air travel as it fits easily into your hand luggage due to its compact dimensions (29,2 x 5 x 5 cm). Moreover, it offers some other great features which make it your ideal travel companion:
Auto open/close function allows for easy use. Only one hand needed.
Sturdy 9-RIB construction to withstand even powerful gusts without turning inside out
Waterproof, weatherproof and instantly dry
Lightweight: Only 399 grams
Hey guys! It's me, Marcel. I am the proud owner of carry-on-baggage.com. I am dealing with hand luggage related issues on a daily basis and I own several websites in this niche. Travelling is one of my biggest passions in life and I, therefore, happen to know a thing or two about hand luggage. I hope you all have a safe trip! Take care and thanks for the support. I really appreciate it.