Is it allowed to carry a hairdryer in carry-on baggage?
You are allowed to carry a hairdryer in your carry-on baggage. However, the following must be taken into account during transport:
The hairdryer must be in good working order. Possibly, you must prove that the device functions properly at the security checkpoint.
The hairdryer must be presented separately at the security checkpoint. This is also the case for laptops, tablets and other electronic devices.
The regulations for hand luggage (weight, dimensions) must not be violated by the hairdryer. Also, the hairdryer must not protrude from the carry-on baggage.
Find out about the local mains voltage at your destination. If the mains voltage at your destination is different than at home, you may need a travel adapter and possibly an additional voltage converter (travels to the US).
Hairdryer in carry-on: what the airlines have to say about it
British Airways: It is all fine by British Airways to carry a hairdryer in the carry-on bag. I contacted them through Facebook, and this is the answer I got from them.
Easyjet: A hairdryer may be carried in hand luggage. According to a request on Facebook, the easyJet staff has no problem with this.
Eurowings: As long as the dimensions of Eurowings are met (55 x 40 x 23), the transport of a hairdryer in hand luggage at Eurowings should not be a problem, says the lovely lady from Eurowings.
Flybe: The Airline is sympathetic towards hairdryers in carry-on bags. So you can pack your hairdryer and bring it onboard the aircraft. No problem.
Lufthansa: Hairdryers are allowed in both checked and hand baggage, Lufthansa said.
Ryanair: The lady in the Ryanair live chat said the following about hairdryers in Carry-On Baggage at Ryanair: "Yes, that's possible.
But beware: As of 1 November 2018, there will be new baggage regulations at Ryanair. In general, passengers in the economy fare (cheapest airfare) will only be allowed to bring a small piece of hand luggage on board. Of course, there might be a shortage of space for the hairdryer.
You might ask yourself whether there are no universal or at least EU-wide regulations for such items that all airlines have to comply with? Surprisingly, the answer to that is NO.
Now it is the case that there are recommendations by the IATA, the International Air Transport Association, and while most Airlines stick to the recommendations of the IATA, they are not binding after all.
Besides, airlines can, if necessary, raise the standard and lay down stricter rules than those envisaged by IATA. This ultimately leads to the fact that there are no uniform regulations in many matters relating to baggage regulations.
Are you allowed to use the hairdryer onboard?
Electronic devices such as curling irons and hair dryers must not be used during the flight. Reasons for this are:
The use of such devices represents an increased safety risk.
A hairdryer causes a lot of noise and thus impairs the travel experience of the passengers present.
Hairdryer in carry-on baggage on US travels
Let's have a quick look at what applies to the hairdryer in your hand luggage when you travel to the USA. The responsible authority in the US for luggage questions is the TSA, the American Transport Security authority.
A glance at their "What can I bring" section will reveal the following when it comes to hair dryers in hand luggage:
Transport of Hairdryers | TSA
Carry-on bags: YES
Checked Bags: YES
Accordingly, the TSA also gives the green light for hair dryers. This applies to carry-on baggage as well as checked baggage. Can hairdryers also be transported in checked baggage in Europe (within the EU)?
Can hairdryers also be transported in checked baggage in Europe (EU)?
Transport in checked baggage is also permitted. However, it is not allowed to transport all electronic devices in checked baggage simply like that. For example, Powerbanks (which belong to the category of spare batteries) must always be transported in hand luggage.
Do you really need to bring your hairdryer?
Depending on which accommodation you are staying in during your trip, it makes no sense to even bring your hairdryer.
In most hotels, for example, hairdryers are standard equipment. So before you travel, it's best to check your hotel reservation and description and see if the hairdryer may already be provided by the hotel.
In some cases, the hairdryer may not even be mentioned in the description of the accommodation, although it might still be included.
Therefore, it may be worthwhile to briefly contact the accommodation (by phone or e-mail) to ask if a hair dryer is available.
We recommend the following hairdryer
If you are still looking for the perfect hair dryer for your journey, we might have something for you: the Beurer Style Pro HC25 UK Premium Travel Hair Dryer hair dryer with ionic function.
What makes the Beurer Style Pro HC25UK Premium Travel Hair Dryer stand apart from other hairdryers on the market?
The Beurer HC 25 has the following advantages, among others:
It is light and weighs just about 500 grams.
Thanks to the folding handle, the hairdryer can be reduced to a minimum size for travelling
The hairdryer comes with a voltage switch: 110/220-240V. So if you are travelling to the USA, for example, you don't have to buy a voltage converter
What about hair straighteners in carry-on baggage?
Straightening irons may as well be carried in carry-on baggage.
According to EU regulations, hair straighteners used to straighten curly hair are not classified as prohibited or dangerous items in carry-ons.
Accordingly, there is no reason why they should not be carried in carry-ons. As a rule, the smoothing iron does not have to be shown separately at security screenings.
However, the security staff might ask you to prove the functionality of your smoothing iron.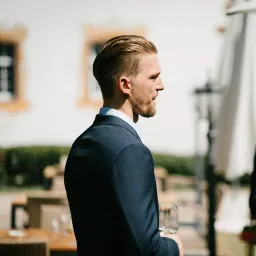 Hey guys! It's me, Marcel. I am the proud owner of carry-on-baggage.com. I am dealing with hand luggage related issues on a daily basis and I own several websites in this niche. Travelling is one of my biggest passions in life and I, therefore, happen to know a thing or two about hand luggage. I hope you all have a safe trip! Take care and thanks for the support. I really appreciate it.