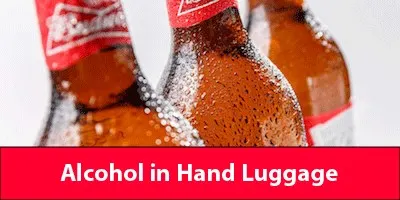 Can I carry a bottle of Jack Daniel's in my hand luggage or must I put it in my checked baggage? And how was that again with alcohol from the duty-free shop?
We here at carry-on-baggage.com have once again fought our way through the jungle of hand luggage regulations and have compiled the most detailed and useful information on the subject and would now like to present it to you on a silver platter. Cheers!


Is it allowed to transport alcohol in carry-on baggage?
Alcohol in hand luggage is generally forbidden. However, there are two exceptions to this rule. On the one hand, you may purchase alcohol after the security check in a duty-free shop (within the EU in a Travel Value Shop) and then carry it as hand luggage.
If it is a flight with a stopover/connecting flight, you must carry the alcohol in an official sealed duty-free bag or STEB bag (Security Tamper Evident Bag).
This duty-free bag is available directly from the Duty-Free Shop/Travel Value Shop. The bag, which is easily recognizable by its red label, may only be opened once you have reached your final destination.
The other possibility to take alcohol on board is to fill alcohol into 100-millilitre containers. These kinds of containers are allowed in hand luggage up to a certain volume (1 litre).
You can find the exact rules for this in our article: Liquids in Carry-On Baggage | Regulations & Rules.
But let's be honest here: Who wants to take alcohol with them in such small quantities? In the vast majority of cases, this makes very little sense.
In any case, the customs regulations of the destination country must also be taken into account.
The amount of alcohol that can be imported duty-free is dependent on the area (within EU, import from outside the EU, and so on) and the destination country.
Alcohol from the duty-free shop / Travel Value Shop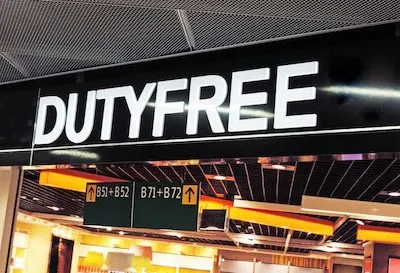 We have seen that the only sensible way to transport alcohol in hand luggage is to buy booze in the duty-free shop.
The first thing to mention now is that duty-free shopping in the sense of tax-free shopping no longer exists in the EU. In 1999, duty-free sales were abolished within the EU.
Since then, duty-free goods can only be purchased (i.e. duty-free shopping) by those who either travel out of the EU or into the EU.
Within the EU you will only find so-called Travel Value Shops. These shops can offer you no duty exemption but are nevertheless in many cases at least somewhat cheaper than conventional dealers and points of sale.
What else is important when buying alcohol in duty-free shops?
On a direct flight, there is not much to consider when it comes to duty-free liquids. Simply buy the liquids in the Duty-Free Shop / Travel Value Shop and carry the liquids in your bag, which you will receive from the sales staff. Keep the receipt as well.
However, if you are taking a flight with a stopover/connection (within the EU, but especially if it is going out of the EU or into the EU), the following must be observed for the liquids so that there are no problems.
The reason for this is the fact that for flights with a stopover(s) (an) additional security check(s) must be passed through and these duty-free liquids (Travel Value Shop liquids) must be transported and labelled accordingly to avoid problems at security checkpoints:
The spirits must be transported in a special, tamper-proof, sealed bag (also called STEB bag). The duty-free shop provides these bags.
The bag must remain closed and sealed until the end of the last destination.
The bag must be equipped with an externally visible document with the date and place of sale.
If you are travelling to a third country, the best thing to do in such a case is to get information about the regulations for liquids that apply in that country in the respective country's foreign representation. Not every country deals with the subject of liquids in the same way.
Ask the staff at the duty-free shop for more information
Admittedly, the whole issue of duty-free alcohol and liquids is not easy to understand.
If you are on an international flight with stopovers/connecting flights (to a third country) and have duty-free goods on board, it is always good idea to ask duty-free staff briefly how best to proceed, so that you don't run the risk of having to hand in your liquids at the next security check!
Valuable tips for international flights with connecting flights
To prevent your precious duty-free spirits from being taken from you during security checks at transit airports on connecting flights, you may want to consider the following:
Check your checked baggage only up to the transit airport. At the transit airport, you have the option of stowing your duty-free alcohol in your checked baggage and can thus skilfully avoid the liquid rule for hand baggage.
However, caution is advised here as well: Plan enough time at the transit airport to check in your checked baggage again! Otherwise, of course, the whole thing won't work!
The second method of preventing duty-free goods from being taken from you at the security checkpoint at the transit airport is simply to buy the duty-free goods at the transit airport rather than at the airport that you are originally flying from.
Of course, this is only possible if the transit airport is not located in the EU, because if the transit airport is already in the EU, then you can no longer buy duty-free there since real duty-free shops were abolished in the EU in 1999.
Customs regulations (duty-free allowances)
Unfortunately, you can't just buy alcohol in the duty-free shop as you please, because apart from how much alcohol the airlines allow you to take with you, the customs authorities also want to have a say here.
The following regulations are the allowances for personal use that may be imported duty-free.
Import into the UK and generally into the EU on return from non-EU States
Alcohol and alcoholic beverages provided that the importer is at least 17 years of age:
1 litre of spirit drinks of an alcoholic strength by volume exceeding 22 % or undenatured ethyl alcohol of an alcoholic strength by volume of 80 % or more OR
2 litres of alcohol and alcoholic beverages of an alcoholic strength by volume not exceeding 22 % OR
A pro rata compilation of these goods AND
4 litres of non-foaming wines AND
16 litres of beer
Import into the UK and generally into the EU on return from a EU state
When returning to the UK or another EU country from an EU country, the following allowances apply for alcohol.
Spirits (brandy, whisky, rum, vodka, gin, etc.): 10 litres
Alcoholic sweet drinks (alcopops): 10 litres
Intermediate products: (e.g. sherry, port wine and marsala): 20 litres
Sparkling wine: 60 litres
Beer: 110 litres
No restriction on wine. However, the regulations governing wine must be observed during transport.
Importing alcohol into Switzerland
In Switzerland, the allowances for alcohol are not identical to those in Germany (and other EU countries), as Switzerland does not belong to the EU. The allowances in Switzerland for alcoholic beverages are:
For alcohol with an alcohol content of up to 18% vol: a total of 5 litres and the minimum age of the person must be 17 years.
For alcohol with an alcohol content above 18%: a total of 1 litre and the minimum age of the person must also be 17 years.
Beverages with an alcohol content of up to 0.5% are not considered alcoholic beverages at Swiss customs.
Further information on the import of alcoholic beverages and other (duty-free) goods can be found here at the Federal Customs Administration
In checked baggage, the rule for liquids in hand baggage does not logically apply, and so you may generally transport a larger amount of liquids, and accordingly also alcohol, in checked baggage.
So the transport of alcohol in regular bottles and containers in checked baggage is not a problem, as long as the entry regulations of the country of destination regarding alcohol and spirits are respected.
So please make sure that you only import as much alcohol as is permitted (duty-free!) according to customs regulations (destination country).
This alcohol may not be imported at all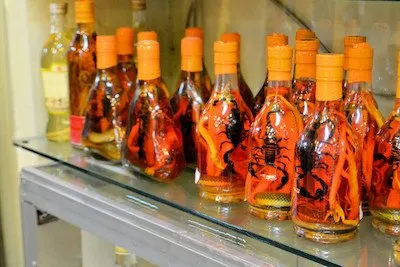 Certain alcohol, such as this Scorpion Liquor from Saigon, may not be imported at all. The same applies, for example, to Snake Wine.
This schnapps, in which real cobras are soaked in alcohol, must not be imported into the UK or any other European Country under any circumstances. The import is forbidden.
In general, if the alcohol contains substances from animals or plants that are protected under the Washington Convention on International Trade in Endangered Species of Wild Fauna and Flora, then the import is prohibited.
There is also alcohol which is strictly forbidden, both in carry-on baggage and in checked baggage.
The reason for this is the fact that cobras are under species protection according to the Washington Convention on International Trade in Endangered Species of Wild Fauna and Flora.
In addition to animals, the WA also contains a whole range of plants that are under species protection. As a general rule, all plants and animals included in the Convention are protected.
This also applies to all parts and products made from these animals and plants.
Bringing home Snake Wine or Scorpion Liquor as a souvenir is therefore absolutely taboo. At this point, you might want to have a look at our interesting article: These eight souvenirs are guaranteed to get you into trouble.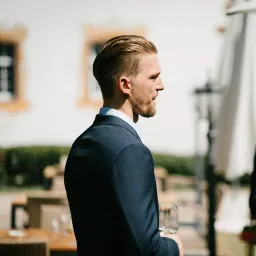 Hey guys! It's me, Marcel. I am the proud owner of carry-on-baggage.com. I am dealing with hand luggage related issues on a daily basis and I own several websites in this niche. Travelling is one of my biggest passions in life and I, therefore, happen to know a thing or two about hand luggage. I hope you all have a safe trip! Take care and thanks for the support. I really appreciate it.