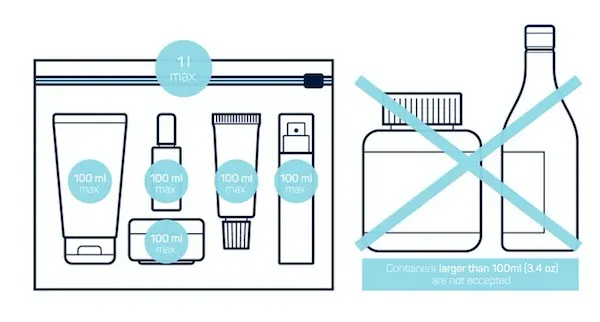 It should now be clear to everyone that only small quantities of liquids may be carried in hand luggage. But what the rules are exactly and where you can get these bag of liquids from, there still seems to be a lot of ambiguity in this matter. Therefore, we would like to shed some light on this topic and answer all the questions you could possibly have about quart-sized bags. Here we go!
Bag of Liquids | Hand Luggage | Rules
The bag of liquids must be transparent
The bag must be made of plastic material.
The bag may have a maximum capacity of 1 litre.
The bag must be no larger than 20cm x 20cm (8in x 8in)
Each container for liquids in the bags must have a maximum capacity of 100 ml.
The bag must be completely (re-)sealable.
Only one such bag per passenger is permitted.
Where can you buy the Bag of Liquids for Hand Luggage?
You can buy the bag for liquids in many different places:
For instance, you often have the possibility to buy these bags at the airport itself. Often there are so-called flight bag machines, which offer the bag of liquids for sale. At some airports, these bags are also available in press and bookshops (e.g. in Frankfurt).
The bag of liquids are also available in many supermarkets (sometimes located at the airports), e.g. in Germany in Edeka and the DM drugstore and in the UK in Poundland.
If you would like to buy the bags for liquids online, you can do so via Amazon. At Amazon, there are many different versions of these bags, some with corresponding accessories (100-ml large containers). But also simple, transparent freezer bags, e.g. from the supermarket, can be sufficient for this purpose.
Sale
What is allowed in the zip-top bag?
The bag of liquids is primarily used for liquids such as shampoo, shower gel, creams and ointments. But what exactly is defined as a liquid is not always obvious. For example, processed cheese and cream cheese are classified as liquids. Ok, most of us can still understand that halfway. But with other foods, such as Nutella, it is not very obvious that they count as liquids. So if you are unsure whether one of your treasures could be classified as a liquid, then the best thing you can do is to check out our article Liquids in Hand Luggage.
Moreover, you could also carry empty syringes in the zipper bag, because these must also be shown separately at the security checkpoint. But be careful: You may transport syringes in this bag, but you need a medical certificate to do so. You can find out more about this in our article "Syringes in hand luggage".
And don't forget: Liquids that you store in this bag must not exceed the capacity of 100 ml per container under any circumstances.
Little tip:
For liquids in the zipper bag, the printed maximum filling quantity and NOT the current filling level always apply. So if you put a half-empty shampoo in the bag and it contains less than 100 ml in half-full condition, but the original filling quantity is more than 100 ml, you must NOT take the shampoo with you.
Do the containers for the bag have to meet further requirements?
The 100-millilitre rule must always be followed. The containers should be transparent so that staff can see at a glance how much is still inside the containers.
Apart from that, you have a free choice of containers. If the products you want are available in small containers with a capacity of up to 100 ml, then you can just place the product in the zipper bag, and you are all done.
However, if your shampoo has a capacity of 250 ml, then you are not allowed to carry it in your carry-on baggage like this. In this case, you still have the option to transfer the contents into a smaller container. And that brings us to the next point.
Where can you get suitable containers for the bag of liquids?
In principle, you can use any leak-proof container with a capacity of up to 100 millilitres per container. But if you don't have any at hand, you can get them on the Internet. On Amazon, you will find various sets of travel bottles for this purpose. As already mentioned above, such travel bottles are often available as a combo with the required zipper bag. As far as the travel bottles themselves are concerned, you will find bottles with pipettes, bottles with funnels, bottles with spray heads and any other possible form of travel bottles on the internet.
What does NOT have to be in the bag?
Certain liquids have the honour of not having to be transported in the transport bag for liquids. Among the happy liquids, liquid baby food and liquid medicine are particularly worth mentioning.
Liquid baby food such as baby milk, milk powder and sterilised water, which is necessary for the flight (i.e. for your baby), may be transported in carry-on baggage outside the zipper bag with the usual liquids. These unusual liquids also have the honour of being allowed to fly in larger quantities. Accordingly, the 100-millilitre liquid rule does not apply for these liquids.
Liquid medicine that is necessary for the flight does not need to be carried in the bag and may also be carried in larger quantities. However, liquid medicine is not quite as noble as liquid baby food, because, for it to be transported (in containers of more than 100 ml), a medical certificate should be carried along. The same also applies to prescription drugs. You can find out more about the subject of "medical certificates" in our extensive article "syringes in hand luggage".
Which airports provide/sell the bag of liquids?
Good question, which I cannot answer conclusively here. However, I have put a lot of effort into answering this question and would like to let everybody know which airports do provide the bag of liquids for free, which airports do sell the bags and WHERE you can actually find/purchase the bags at those airports.
Berlin (TXL):
My bag hunt has been in vain so far. Who knows where you can buy these bags at the TXL, please leave me a comment. Thank you!
Bremen BRE:
You can find the zipper bags for the transport of liquids at the airport machines. One of these flight bag machines is located in Terminal 1 near the check-in counter on the escalator. Two more machines are located in Terminal E.
Dortmund Airport:
UPDATE: In Dortmund, you can buy the plastic bags at the airport. Official message from Dortmund Airport to me was: "There is a vending machine in our terminal where you can buy a bag for one euro. It is located near checkpoint B and the large departure and arrival scoreboard".
Dresden Airport:
Update: Dresden has answered. The plastic bags can be bought at Dresden Airport in the airport shop Gate14 on the arrivals level.
Düsseldorf DUS:
There is no point of sale for bag of liquids at Düsseldorf Airport. If I am wrong, please leave a comment!
Frankfurt:
In Frankfurt, you can purchase these bags in all press and bookshops for a fee of one Euro for two bags.
London Heathrow:
At London Heathrow, the bag of liquids are free and readily available at all terminals right before security control.
London Luton:
I asked London Luton Airport on Twitter and this is their answer: "Bag of liquids are free and can be found at the liquid prep desks at the entrance to security and in the queuing area."
Dublin Airport:
At Dublin Airport, the bags are not free and you need to buy them from vending machines there. Price: 2 Euro for a bag. So better bring your own bag!
Manchester Airport:
At Manchester Airport, the bags need to be bought (vending machine) as well. Price 1 Pound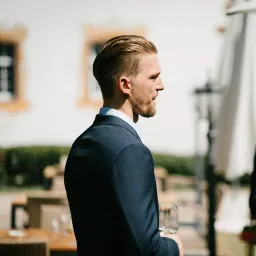 Hey guys! It's me, Marcel. I am the proud owner of carry-on-baggage.com. I am dealing with hand luggage related issues on a daily basis and I own several websites in this niche. Travelling is one of my biggest passions in life and I, therefore, happen to know a thing or two about hand luggage. I hope you all have a safe trip! Take care and thanks for the support. I really appreciate it.