Small Planet Airlines is a Lithuanian charter airline based in the Lithuanian capital of Vilnius. The airline as such has only existed since 2010. It was founded that year to FlyLAL and also took over the aircraft and personnel of this airline.
Let us take a look at the carry-on baggage regulations of this new airline below. As always, we will first present the most important information to you shortly.
What can you bring as Hand Luggage at Small Planet Airlines?
With Small Planet Airlines, you can bring ONE large piece of hand luggage on board, which measures a maximum of 56 x 45 x 25 cm and weighs a maximum of 5 kilograms.
Also, a personal item from the following list can be taken on board the aircraft:
a ladies' handbag
reading material for the flight
a small camera or binoculars
a baby basket
baby food for the flight
a coat
an umbrella (stick umbrella or toddler)
a walking stick
Did you know...
If you want to carry an electronic cigarette (also E-Shisha and so on) or Powerbanks, you need to carry those items in hand luggage for security reasons. This is not a specific rule of Small Planet Airlines, but a security measure that has been taken by almost all airlines in the meantime. A carriage of those items in checked baggage is strictly forbidden.
Hand Luggage Small Planet Airlines: Liquids
As is generally the case in Europe (and many other countries around the world), liquids in carry-on baggage must only be carried in containers of a maximum of 100 ml each.
These liquids must, in turn, be contained in a transparent, resealable liquid bag, which may have a maximum capacity of one litre. Only one bag per person is permitted.
As usual, liquid medicine and liquid baby food needed for the flight and liquid baby food are exempt from the rule for liquids in hand luggage and may therefore also be carried on board in larger containers (more than 100 ml per container).
Please note that you may have to prove that you are dependent on this medicine (during the flight!). Therefore, bring a doctor's certificate for liquid medicine with you whenever possible.
For more information on liquids in hand luggage, please read our article: Liquids in Carry-On Baggage | Regulations & Rules
You can find more detailed information about the liquid bag in which the liquids must be stored in our article: Liquid Bags | Hand Luggage | Rules & Where To Purchase
If you would like to transport alcohol in your hand luggage, then take a look at this article as well: Alcohol in hand luggage | EVERYTHING you need to know about it
Pets on board with Small Planet Airlines
Pets such as dogs and cats are allowed in the cabin of Small Planet Airlines.
However, Small Planet Airlines does not carry pets in the hold.
Transport in the cabin must take place in an appropriate container. This container must not exceed the dimensions 48 x 33 x 29 cm.
In addition, the maximum weight of your pet plus the weight of the container must not exceed 8 kilograms.
Small Planet Airlines charges you 68 euros for the transport of your pet in the cabin. This price applies to both short-haul and medium-haul flights.
The transport of pets must be reported to the airline or your travel agent before buying the ticket. If you would like to register the pet directly with Small Planet Airlines, please use the e-mail address info@smallplanet.aero. So you can't just show up at the airport with your kitten and hope that the transport will go smoothly…that's, unfortunately, the way it is with all airlines.
It is also important to note that animals transported in the cabin are not allowed to occupy their own seat. The animal and its container must be stowed under the seat in front of you.
Small Planet Airlines does not carry pets on these routes
Small Planet Airlines does not carry pets on certain routes. However, this is not primarily because Small Planet Airlines wants to put a spoke in your wheel, but because on certain routes and in certain countries there are special regulations regarding the transport of pets. On the following routes to/from, the transport of pets is therefore not permitted in the cabin:
Dubai International Airport (DXB)
Dubai Airport -World Central International (DWC)
Tenerife South Airport (TFS)
Gran Canaria Airport (LPA)
Al Massira Airport in Morocco (AGA)
And from/to Great Britain
It is not clear from the airline's website whether Small Planet Airlines can also transport animals in the cargo hold. I contacted Small Planet Airlines through info@smallplanet.aero and inquired about it. Their answer: No, we don't transport animals in the cargo hold.
Musical instruments on board with Small Planet Airlines
First of all, it has to be mentioned that Small Planet Airlines does not allow musical instruments in regular checked baggage. This is what is written on the website. However, musical instruments can be transported in the hold if they are properly packed in musical instrument cases.
Smaller musical instruments can be carried in hand luggage, as long as the max. Size and max. Dimensions, as defined for hand luggage, is not exceeded. So, as long as your instrument is not bigger than 56 x 45 x 25 cm and does not weigh more than 5 kg, it may be carried as hand luggage.
Bigger musical instruments can only be carried in hand luggage if you pay for an additional seat for the musical instrument. This could be quite expensive. Usually, airlines charge practically the same price for these musical instrument seats as for a regular passenger seat.
However, you won't find an exact price for the musical instrument seat on the Small Planet Airlines website. So if you want to carry a musical instrument in the cabin, it is best to contact the airline in advance and ask about the price (info@smallplanet.aero)
Prohibited articles in hand luggage
According to the EU Regulation 2015/1998, Small Planet Airlines and all other EU airlines do not allow the following items in hand luggage:
Firearms, rifles and ammunition
Stunning equipment
Pointed and sharp objects (knives, scissors, razor blades)
Dangerous tools
Blunt objects that could be used as a striking weapon (e.g. rackets or clubs)
Explosives and incendiary substances
However, some of these items may be carried in checked baggage. For example, knives, scissors and razor blades. Please refer to the Checked Baggage Regulations as defined by Small Planet Airlines.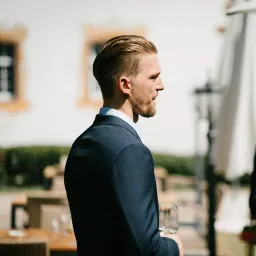 Hey guys! It's me, Marcel. I am the proud owner of carry-on-baggage.com. I am dealing with hand luggage related issues on a daily basis and I own several websites in this niche. Travelling is one of my biggest passions in life and I, therefore, happen to know a thing or two about hand luggage. I hope you all have a safe trip! Take care and thanks for the support. I really appreciate it.