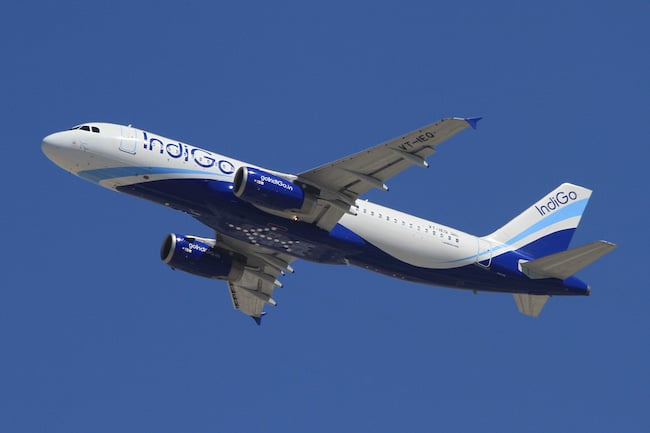 The hand luggage allowance of indiGo at a glance
Specifically, the hand luggage regulations for indiGo are as follows:
Each passenger is permitted to carry one piece of hand luggage with the max. dimensions of 55 x 35 x 25 cm. The maximum weight for the hand luggage is set at 7 kg.
In addition, each passenger might bring a personal item onboard the aeroplane: For instance, a ladies handbag or a small laptop bag containing a laptop
IndiGo also allows several accessories to be brought onboard aeroplane: see the full list here
Usually, airlines do make a difference between so-called personal items, such as handbags and laptop bags, and accessories such as umbrellas, reading material, crutches and so on. This is not the case with indiGo Airlines. They list all these things under one list, naming the items from (a) to (j).
Hand Luggage Allowance for Infants @indiGo Airlines
If you are travelling with an infant (age: 7 days up to 2 years old), then you can bring one piece of hand luggage (max. 7 kg) for your infant. This holds true both for international and for domestic travel.
There is no Check-In-Baggage Allowance for infants, neither on domestic nor or international flights.
Are there different indiGo tariffs?
indiGo does not offer different flight tariffs. This also means that the hand luggage allowance, as described above, always holds true.
Airlines that do indeed offer different flight tariffs often do allow more hand luggage on higher tariffs (first class, business class).
However, indiGo does offer some special discounts for certain "groups of people":
if you are a student over the age of 12, you might benefit from a 6% discount off from base fare and are entitled to an extra baggage allowance of 10 kgs. However, the extra baggage allowance of 10 kg is only for checked-in baggage. Moreover, this "deal" is

only valid until

the end

of December 2018

.
Some other discounts might be applicable to senior citizens and armed forces (India)
When booking a flight online on the official website, you have the option to choose one of these special options
IndiGo: liquids in hand luggage
When it comes to liquids in hand luggage on indiGo Airlines flights, there are no surprises. The liquid rule for liquids in hand luggage is therefore as always:
At indiGo, liquids must be transported in a plastic bag for liquids
This bag must not be larger than 20 x 20 cm and further be transparent and resealable
All containers with liquids must be placed in the bag for liquids. Each container must not exceed e a capacity of 100 ml
Only one such liquid bag per person is allowed
The liquid bag must be presented separately at the security checkpoint for screening purposes.
IndiGo: musical instruments as hand luggage
IndiGo Airlines only allow guitars to be transported as Hand Luggage. Please note that your guitar needs to be packed in a soft case to be transported as hand luggage.
Every other instrument needs to be transported as checked baggage.
It is not possible to buy an extra seat for your instruments at indiGo.
This is rather unusual. Most airlines do indeed offer the possibility to buy an extra seat for instruments (mostly for cellos). But not indiGo as it seems.
IndiGo: pets in cabin
indiGo does not carry pets. The only animals that indiGo carries are service animals such as guide dogs. If you wish to bring a guide dog on your indiGo flight, you would need to contact indiGo prior to the flight. Moreover, please be aware that guide dogs are not allowedto occupy a seat in the aircraft.
Most low-cost-airlines do indeed not allow pets onboard aeroplane.
IndiGo: excess baggage
I was not able to find any clear info about excess baggage fees for hand luggage on the official indiGo website. Therefore I contacted indiGo to ask about it and I got about 3 different answers.
The first time they told me that excess hand luggage will not be tolerated at all. So hand luggage that would either be too heavy or too big would just simply be refused.
Then somebody told me that hand luggage could still be carried if the dimensions are exceeded, but not if the weight is exceeded.
The last answer I got from them is:
If the hand baggage is heavier than the allowed limit, then you will be required to check-in the same. Excess baggage charges may apply if it is over the limit of check-in luggage.
IndiGo
Update: I contacted indiGo again and asked one more time about the specific rules that apply.
So the final answer so far from them is that for hand luggage that is either too heavy or too big in size, the excess baggage charges for checked-in baggage will apply.
Why is that?
Simply because hand luggage that is either too heavy or too big in size will need to be checked in and, therefore, the excess baggage charges will apply. What are those charges:
Domestic Travel:

400 INR (5 Euro) per additional kg

International Travel:

525 INR( (6,6 Euro) (or as per base currency of reservation) per additional kg
How to best contact indiGo?
Good News for you! indiGo actually offers a Live Chat (go to the link "Chat with us"). This is definitely my favourite option to get in touch with an airline but not many airlines are offering this kind of service. Apart from indiGo airlines only easyJet and Ryanair come to mind.
Another good way to reach out to airlines is contacting through social media. If you have some questions for indiGO, you might want to contact them through Facebook or Twitter:
We recommend you to get in touch with indiGo through Twitter. They don't seem to be very active on Facebook. I was able to get answers from indiGo throught Twitter at any given day. Even on sundays.
Hey guys! It's me, Marcel. I am the proud owner of carry-on-baggage.com. I am dealing with hand luggage related issues on a daily basis and I own several websites in this niche. Travelling is one of my biggest passions in life and I, therefore, happen to know a thing or two about hand luggage. I hope you all have a safe trip! Take care and thanks for the support. I really appreciate it.