Did you still have a few questions left unanswered that you would have liked to discuss with Lufthansa? Or perhaps I should say that you absolutely need to clarify before you fly? If so, then the big question is how best to reach Lufthansa.
That sounds trivial at first, but it is not at all. Unfortunately, in many cases, you wait in vain for a quick answer. Of course, this does not only apply to Lufthansa but also for almost every other airline on this planet.
Therefore I would like to give you in the following some insider tips on how to get answers relatively quickly, at least with Lufthansa, WITHOUT having to make use of the telephone hotline.
Because more often than not, using a telephone hotline is extremely annoying. And chances are, you are not a big fan of it either.
After all, who likes to wait (for hours) on the phone and take a roller coaster ride through voice menus before even talking to anyone. Well, we definitely don't. Not to mention the costs that can be incurred!
So what is/are the best ways to reach out to Lufthansa?
The magic words are Facebook and Twitter!
You can find Lufthansa on Facebook and Twitter
Lufthansa (as well as many other airlines) have an official Facebook & Twitter account and are easily accessible via those channels.
So if you have a question about luggage, seat reservation or anything else related to your next flight, we strongly recommend you to contact them through those two channels.
Get answers in hours rather than days
With Lufthansa, you will often receive an answer to your question within a few hours (sometimes much faster), when contacting them through either Facebook or Twitter.
Simply leave your question on Lufthansa's Facebook page by entering a new post there or write them a personal message on Twitter.
From personal experience, I can guarantee that this method is faster than for example if you send Lufthansa an e-mail.
Forget E-mailing Lufthansa
Contacting Lufthansa by e-mail (contact form via the website) can be a frustrating experience because what sometimes happens is this:
You send Lufthansa an e-mail (customer.relations@lufthansa.com). Shortly afterwards you receive a confirmation e-mail from the airline (which is automatically generated, mind you!) confirming only the receipt of your e-mail. In most cases, you won't hear anything after that for a pretty long time.
And then… here it comes!….you often receive an e-mail from Lufthansa saying that the volume of inquiries is unfortunately particularly high at the moment and that you should please wait a little longer.
If you are lucky, you will receive an answer to your question by e-mail a few days later. If that's the case, then you're really lucky. Sometimes Lufthansa will also try to reach you by phone.
This can be quite nice in some cases, but sometimes this is not really desired, because you have contacted them by e-mail in the first place and this indicates that a phone call back is not necessarily what you wanted.
Some airlines may send you an E-mail after having waited forever. However, not with the answer to your question, but with the request that you should contact them by telephone…that is frustrating, isn't it?
In plain language, this means that you might wait a week and then you finally get an answer that is actually not an answer at all. So you are standing there empty-handed and still have to pick up the phone to get an answer.
Or, as I would advise you to: you simply open Facebook or Twitter and formulate your question there!
And if everything runs smoothly, you will be blessed with an answer shortly after that.
Another big advantage of the Facebook/Twitter method is that you can also receive messages/replies from the airlines via the social media channels on weekends (including Sundays).
Because guess what, this is not possible via e-mail contact.
Other ways to contact Lufthansa
In addition to direct contact via e-mail (customer.relations@lufthansa.com), you can also use Lufthansa's feedback form to ask questions.
If you contact Lufthansa using the feedback form, Lufthansa will reply to you by E-Mail. Therefore, there is not much difference between these two methods (direct E-Mail or first contact over feedback form). Experience shows that both channels are equally fast…
…and equally fast, in this case, unfortunately, means equally slow. Contact via Facebook/Twitter has always been faster for me.
Last but not least, you still have the possibility to contact Lufthansa via the good old telephone. As already mentioned, I am not a big fan of it because I simply don't like navigating through voice menus.
Nevertheless, telephone contact can, of course, be a good option, e.g. to contact Lufthansa on public holidays or late in the evening, because at these times Facebook/Twitter accessibility is of course not always guaranteed.
Sometimes a phone call will also be necessary because some options/services might not available through Twitter/Facebook.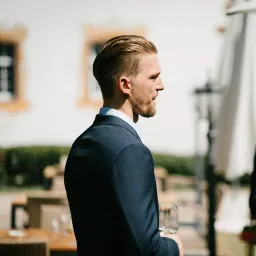 Hey guys! It's me, Marcel. I am the proud owner of carry-on-baggage.com. I am dealing with hand luggage related issues on a daily basis and I own several websites in this niche. Travelling is one of my biggest passions in life and I, therefore, happen to know a thing or two about hand luggage. I hope you all have a safe trip! Take care and thanks for the support. I really appreciate it.