One of the largest components of planning a trip to Costa Rica is ensuring that you'll be able to get where you need to go once you've landed.
Much of the lush, rainforest-laden country is unavailable when it comes to direct flights, leaving travelers nervous about arriving at their hotel rooms and resorts without problems.
Many of the tourist hotspots have become easily accessible over the years, so if you're in the planning phase of your Costa Rica trip, try not to panic too much regarding your travel accommodations.
You're certain to get there with little to no issues if you take the advice given by your travel agent or the hotel in which you're staying. Now we'll talk a bit about how to get to Pavones, Costa Rica.
How to Get to Pavones Costa Rica
Flying is heavily recommended by locals and employees of the hotels and resorts in Pavones, as the roads are poorly maintained and may require a 4×4 vehicle. From San Jose to Pavones, the trip will take less than an hour.
Arriving in Pavones
Costa Rica is absolutely beautiful, but it's not well known for its roads. Driving through the country, depending on where you are, is beautiful but daunting.
It takes a driver experienced in unmarked dirt roads and rough terrain to make it through Costa Rica unscathed, and with tourists, this often is not the case.
Pavones is absolutely amazing, and since you want to see it without a white-knuckled car ride into town, I recommend that you fly!
Not only are the flights into Pavones from San Jose consistent throughout the day, but it will take less than an hour to complete the flight.
Flying is so much safer, simply due to road quality and knowledge of the area. Driving on such terrain at night is very disorienting, and the last thing you need is to end up lost in the rainforest without cell service!
You could hire an experienced driver, but again, flying is the safest travel measure you can take when it comes to arriving in Pavones.
View this post on Instagram
How to Book a Flight to Pavones, Costa Rica
Booking a flight to Pavones is easy, which is yet another reason it's the best way to get there. You can book a flight from San Jose through your hotel, your travel agency, or by yourself!
All you have to do is make sure that your flight to San Jose lands with enough time before your flight to Pavones takes off. You don't want to have to rush through the process or risk missing your flight.
Leaving plenty of time between your international flight into Costa Rica and your domestic flight into Pavones means a time block of about three hours.
This chunk of time has everything to do with the fact that international flights are often delayed, so planning a layover for yourself will ease stress and ensure a timely departure to Pavones.
However, major flight delays happen, and because of this, flights to Pavones are somewhat consistent, though they do change depending on the season.
According to those at Venus Surf Adventures, the best flight to take from San Jose to Pavones is the 11:41 am flight.
This flight in particular is perfectly timed to allow you to check into your hotel on time, with plenty of hours to enjoy the rest of the day. When leaving Pavones, you'll want to take the same approach, only backward.
For instance, if you take the domestic flight from Pavones to San Jose, at 12:45 pm, your international flight should not leave earlier than 5 pm.
While these times may become muddled as you're going through your planning process, take the time to work through the confusion and establish a schedule that works for both your international and domestic flights.
Because traveling in a different country can be scary and overwhelming, it's critical to know how to get around safely. Luckily, there are travel professionals in both Costa Rica and the United States dedicated to helping you do just that.
Frequently Asked Questions about How to Get to Pavones Costa Rica
How should I arrive in Pavones, Costa Rica?
The safest way to arrive in Pavones is to fly. Flying ensures that you will not have to tackle unmarked roads by yourself, and it's the fastest, clocking in at just under an hour from San Jose to Pavones.
Can I drive to Pavones from San Jose?
Technically, yes, you can drive to Pavones from San Jose, but it's dangerous. The roads are often unmarked and require an off-road vehicle, which you may not be able to rent. Even if the car rental does have one available, the chances of making it without problems are slim. Book a flight!
How can I get to Pavones if I really hate flying?
If you take an international flight to Costa Rica, you can definitely push through the domestic flight to Pavones. If it's just too much for your nerves, you can take a bus, though the trip will be rocky and long, clocking in at almost 15 hours.


San Jose to Pavones: An Easy Flight
Even if you're unsure, I can tell you with confidence that flying from San Jose to Pavones is quick, safe, and easy.
You'll be there before you know it, so just sit back, relax, and enjoy your in-flight beverage!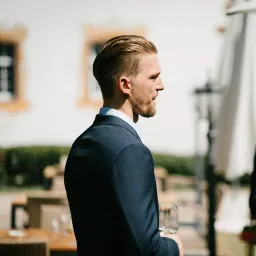 Hey guys! It's me, Marcel. I am the proud owner of carry-on-baggage.com. I am dealing with hand luggage related issues on a daily basis and I own several websites in this niche. Travelling is one of my biggest passions in life and I, therefore, happen to know a thing or two about hand luggage. I hope you all have a safe trip! Take care and thanks for the support. I really appreciate it.