Cocos Island or Isla del Coco is the largest uninhabited island with a rainforest in the world. Many plant and animal species living there are found nowhere else.
The diving is top-notch. Getting to Cocos Island, located 300 nautical miles from mainland Costa Rica, is difficult. It can only be done by boat.
How to Get to Cocos Island Costa Rica
The only way to get to Cocos Island or Isla del Coco of Costa Rica is by boat. The boat trip from the mainland's Port of Puntarenas is 36 hours long. The best way to head over to Costa Rica is by flying to the Juan Santamarina International Airport (SJO) in the San Jose area. From there, travel to the Port of Puntarenas.
Flying to Costa Rica
Costa Rica features two international airports. The one closest to Cocos Island is Juan Santamarina International Airport (SJO), located about 25 minutes from San Jose, the country's capital.
Since this is the airport most often used by tourists, it's easy to navigate. The Tico Times reports that it often has cheaper prices and better signage than Costa Rica's other airport.
Daniel Oduber Quiros International Airport (LIR) is in Costa Rica's northwest. It's close to prime beaches.
If you want to go across Costa Rica or hit the beaches before going to Cocos Island, use this airport. Since tourism is the number one industry in Costa Rica, you'll find lots of car rental places available.
Entry Requirements for Costa Rica
American and Canadian tourists are only allowed to stay in Costa Rica for 90 days. In order to get into Costa Rica, Canadians and Americans need:
A valid passport
A return ticket to America or Canada for no later than 90 days of arrival
A student or business visa for staying longer than 90 days.
Although no vaccines are currently required to enter Costa Rica, check the embassy and the Centers for Disease Control and Prevention or the Public Health Agency of Canada for updated lists on vaccine requirements, especially for COVID-19.
Vaccines that the CDC recommends all travelers to Costa Rica have include:
COVID-19
Hepatitis A
Hepatitis B
Malaria
Measles
Rabies
Typhoid
Yellow Fever
Chickenpox
Shingles
Diphtheria
Mumps
Rubella
Flu
Polio
Renting a Car in Costa Rica
Although many boat tour travel packages to Cocos Island include transportation, you may still want to rent a car, especially if you are planning to visit other places in Costa Rica other than Cocos Island.
Uber and similar services are available in Costa Rica, but not to the extent that they are in America. Public transportation can be unreliable.
Here are other tips for renting a car in Costa Rica:
Most rental car companies in Costa Rica require you to be at least 21 years old; others may require you to be 25 years old at least.
An American driver's license or international driver's license is also required. You need to bring the actual license card. A color photocopy won't work.
Same as in Canada and America, you'll drive on the road's right-hand side.
Smoking isn't allowed in a rental car. You get charged a large fee if the rental car comes back smelling like tobacco smoke.
Manual cars are available. They are often cheaper to rent than automatics.
Bring extra money for toll booths.
Double-check the drop-off and pick-up locations for your car. There are usually extra fees for dropping a car off at a different location from where you picked it up.
What to Do on and Around Cocos Island
The three things to do on or around Cocos Island are sport fishing, diving, or exploring the parts of the island open to visitors. There are no hotels.
Staying overnight is not permitted on the island, but you are allowed to do it on a boat. Perhaps the most famous boat is the Sea Hunter, which has been featured in documentaries about the island.
You'll need a permit for visiting the island. One advantage of hiring a tour boat is that permits are usually included in the fee, but always check in advance.
There is a fee to visit the island, which is a National Park. These fees, as well as transportation from San Jose, are often included in boat tour packages.
Cocos Island National Park is open most days of the year from 8 am to 5 pm.
Confusion with the Cocos Islands
A traveler searching for information about how to get to Cocos Island can easily make the mistake of thinking that there is an airport on the island.
Unfortunately, Australia has a chain of 27 small coral islands called the Cocos Islands, also called the Keeling Islands. It does have an airport.
Its code is CCK.
Be very careful when booking trips to Cocos Island that you do not accidentally book a trip for the Cocos Islands. The two main airports in Costa Rica have the codes SJO and LIR.
When searching for information about what Cocos Island in Costa Rica has (and doesn't have), be careful that search engine results aren't giving you information about the Cocos Islands in Australia.
Frequently Asked Questions About

How to Get to Cocos Island Costa Rica
Are There Airports on Cocos Island?
There is a string of 27 small Australian islands called the Cocos Islands or Keeling Islands which can be reached by plane. However, there are no airports on Cocos Island, Costa Rica. The airport closest to Cocos Island is San Jose's Juan Santamarina International Airport (SJO).
Are There Hotels on Cocos Island?
There are absolutely no hotels, bed and breakfasts, or any other place to stay on Cocos Island. Only park rangers are allowed to live there, and they do not let tourists stay with them. Hence, the boat is the best place to stay on Cocos Island.
Are There Bathrooms on Cocos Island?
Restrooms are available on Cocos Island National Park at the ranger station. There aren't any other public restrooms on the island. Charter boats have restrooms.


The Least You Need to Know
Cocos Island, also known as Isla del Coco, gave Robert Louis Stevenson the inspiration for his classic novel, Treasure Island. The real treasure of Cocos Island is in its unspoiled wildlife.
It's worth the hassle of a 36-hour boat ride and living on a boat in order to witness what may be one of the last unspoiled islands in the world.
Allowing only boats to travel to Cocos Island helps preserve the priceless wildlife.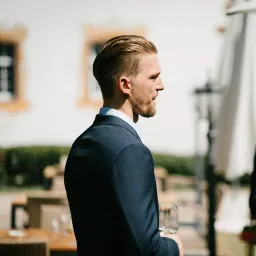 Hey guys! It's me, Marcel. I am the proud owner of carry-on-baggage.com. I am dealing with hand luggage related issues on a daily basis and I own several websites in this niche. Travelling is one of my biggest passions in life and I, therefore, happen to know a thing or two about hand luggage. I hope you all have a safe trip! Take care and thanks for the support. I really appreciate it.