Joshua Tree National Park is one of the most amazing destinations on the planet.
Located right here in the United States, there is a lot to see, people to meet, plenty to do, and beautiful places to stay.
In the early stages of planning your visit, you'll want to decide where to stay in Joshua Tree National Park.
The Joshua Tree is stark but beautiful, whether you're camping under the stars or living a life of luxury in a first-class resort.
Upon first glance, you'll find that the park is not as lush as other National Parks in the United States, but it's absolutely as beautiful.
While you won't find an abundance of shade, you'll find the wonder of nature and the true beauty of Southern California.
Where to Stay in Joshua Tree National Park
A few of Joshua Tree National Parks' best hotels include Les Cactus, The Weekend Palm Springs, The Hideaway, Holiday House Palm Springs, Hotel California, and Desert Riviera Hotel. Never wait too long to book a place to stay in Joshua Tree National Park, as accommodations typically book up quickly.
6 Best Places to Stay in Joshua Tree National Park
Planning any trip can be overwhelming. There is so much to be done schedule-wise, on top of packing and travel plans.
Knowing what hotels are the best to stay in before you begin planning your visit is the best way to set your mind at ease, as you'll have a place to stay long before you depart.
Located in the Palm Springs Uptown District, Les Cactus boasts comfortable, air-conditioned rooms, and the prices are usually quite affordable in comparison to other hotels in the area.
According to guests, the pool is typically serene and quiet, and it's located less than a mile from the hustle and bustle of businesses around the Palm Springs convention center.
If it's too hot to walk around, you can rent a bike!
Smack dab at the heart of Palm Springs, The Weekend Palm Springs is beautiful, especially when lit up at night. If you're into a quiet place to stay, then this hotel's your best bet.
There is free, private parking available, as well as WiFi and plenty of air conditioning to escape the heat after a day in the National Park.
When your trip to Joshua Tree National Park is an adults-only excursion, The Hideaway is where you'll want to stay.
This spacious hotel has plenty of amenities, and it's a child-free zone, which makes it perfect for honeymooners!
The outdoor pool and the beautiful garden make for a relaxing atmosphere and a great place to unwind.
Holiday House Palm Springs has plenty of amenities, including free parking, free bikes, a delicious restaurant, and a bar that gives you the perfect reason to sip poolside cocktails.
The staff is always welcoming, and their free breakfast's delicious. The hotel's clean, and the pool service is outstanding.
It's an incredible place to chill out after a long day of hiking or biking around Palm Springs.
The first thing you'll notice upon checking into the Hotel California is the glass of free wine the friendly staff will offer you.
About two miles from the Palm Springs Convention Center, there is plenty to do in and around Hotel California when you're not taking photos and hiking through the Joshua Trees.
A shared lounge, free private parking, and an outdoor swimming pool are just a few of the incredible amenities that this hotel offers guests.
The outdoor heated pool at the Desert Riviera Hotel could be the best outdoor pool in the area. The mountain views are incredible, and much like The Hideaway, the Desert Riviera is an adults-only location.
The vibe at the hotel is very Old Hollywood, and the service is top-notch.
Spending your days in the Joshua Tree National Park and your nights in the lush grounds of the Desert Riviera Hotel makes for a flawless getaway.
Frequently Asked Questions about Where to Stay in Joshua Tree National Park
Where's the best place to stay near Joshua Tree National Park?
All of the hotels that we've mentioned are perfect for your stay in Joshua Tree National Park, but you can't go wrong at The Hideaway, Hotel California, or the Desert Riviera Hotel. Each hotel has its perks, but they all offer a relaxing atmosphere.
Are there adult-only hotels near Joshua Tree National Park?
If you're aiming for a child-free vacation, or perhaps headed out on your honeymoon, you might be thrilled to know there are hotels that do not allow children to stay. The Hideaway and The Desert Riviera Hotel are delightful child-free locations.


Choosing a Place to Stay Near Joshua Tree National Park
The hardest part of planning a vacation is choosing a place to stay when you've never stepped foot in that place! There are plenty of hotels to stay in around the park, but as it is everywhere, some are better than others.
Every hotel we've recommended is fantastic, but there are others in Palm Springs that are just as great!
When you're planning your vacation, do make sure to consider every aspect of your trip. Do a little bit of research, and you're certain to find the perfect hotel for you near Joshua Tree National Park.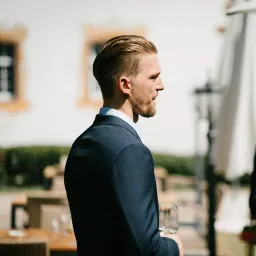 Hey guys! It's me, Marcel. I am the proud owner of carry-on-baggage.com. I am dealing with hand luggage related issues on a daily basis and I own several websites in this niche. Travelling is one of my biggest passions in life and I, therefore, happen to know a thing or two about hand luggage. I hope you all have a safe trip! Take care and thanks for the support. I really appreciate it.