Acadia National Park is a federal landmark located along the Coast of Maine, in Bar Harbor, a true tourist spot that should not be missed!
Acadia offers the usual slew of outdoor activities, and Bar Harbor offers charm, shops, and restaurants galore — with summer and fall being the most popular times to visit, but winter activities abound here, too.
Whether planning a family summer vacation or a simple weekend adventure, consider making the trip up I-95 to Acadia.
Planning a trip to Bar Harbor, Maine? Keep reading to learn more about Acadia National Park!
How to get to Acadia National Park
Acadia National Park is off the coast of Maine, up I-95 on Route 3 in Bar Harbor. This is the easternmost point along the Eastern Seaboard, just 12 miles from the nearest airport in Trento. Bar Harbor is a 2-hour drive from the hub city of Bangor, which has an international airport, and 5 hours from Boston.
Acadia National Park in Bar Harbor
If you drive up Interstate 95 North, toward Maine and Canada, you will hit Route 3, which goes into Bar Harbor. Bar Harbor's one of the most magical and scenic of all places — Acadia National Park.
Acadia is located along the coast, boasting a 20-mile drivable loop through the diverse topography of Maine. Enjoy thick foliage, rugged mountains, and ocean cliffs as you venture along the Loop.
Acadia and Bar Harbor are both located on Mount Desert Island, which is an actual Maine island but you do not need a boat to access it.
Ways to Reach Acadia National Park
There are numerous ways to reach the Park, including driving up the East coast until you reach central, coastal Maine.
You can also fly to the closest airport in Trenton, Maine, which is around 12 miles from the park. There are taxis and shuttles in Bar Harbor, but there are fewer available during winter months, so plan accordingly.
Many large cruise ships, yachts, and private charters dock in Bar Harbor, enlisting local tour companies and taxi drivers to take passengers where they want to go — whether it be a leisurely ride around the Park Loop or a quick trip to find a lobster roll.
Cruise lines like Carnival and Royal Caribbean often have Bar Harbor as a popular port of call on their New England itineraries.
If you choose to fly to a larger airport, like Boston, MA, or Manchester, NH, you could easily rent a car and drive the remainder of the way to Bar Harbor in a few hours.
Tips for Visiting Acadia National Park
Make your trip to Acadia a bit easier and more enjoyable with the following information regarding visiting the Park.
Check for current CDC recommendations, subject to change, for both unvaccinated and vaccinated park visitors. Any form of public transportation may require masks and social distancing protocols.
There is a free shuttle around Mount Desert Island accessible at many public stops throughout the region. Masks are currently required by all passengers.
During peak season, May through October, there is a fee and pass required for all Park visitors. The pass must be displayed clearly on your vehicle during your visit to the Park.
Cars must reserve a spot to drive to the Cadillac summit for sunrise.
There is no overnight parking, camping, or fires allowed in the Park, except at designated campgrounds.
Keep all pets visiting the Park on a leash, not retractable, that is no more than six feet in length. Properly clean up and dispose your pet's waste at one of the many receptacles found in the Park.
Do not approach or feed wildlife, including owls, loons, turtles, and seals that call the Park home. Drive slowly and use caution.
Check out the National Park app during your visit. This app helps you see where you are on a map, as well as points to new spots to discover.
Learn more about the Park with information on the app!
Frequently Asked Questions about How to Get to Acadia National Park
When is the Park open?
The best way to determine when Acadia National Park is open is by visiting the Park's website directly. This will also provide pertinent information related to visiting that you need to know.
When was Acadia National Park established?
Acadia National Park was established on July 08, 1916.
How many people visit Acadia National Park?
There were 2.67 million visitors in the year 2020.
What is the Park Loop in Acadia National Park?
The Park Loop is a major roadway through Acadia National Park that extends 20 miles covering popular sites and attractions of this Bar Harbor, Maine, landmark.
What is there to do in Bar Harbor, Maine?
Bar Harbor is a coastal town with plenty of sights, attractions, and natural wonder to appease any visitor or tourist. The town itself is full of shops, restaurants, and taverns, and May through October is considered to be the peak tourist season.


Conclusion On How to Get to Acadia National Park
Head up I-95 North to Route 3, and visit Acadia the next time you want to getaway. From spectacular sunrise hikes on Cadillac Mountain to dipping your toes in the water off Sand Beach, this Park is not to be missed.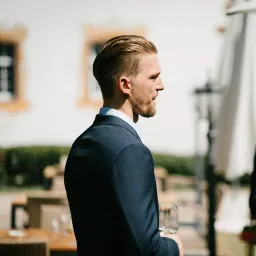 Hey guys! It's me, Marcel. I am the proud owner of carry-on-baggage.com. I am dealing with hand luggage related issues on a daily basis and I own several websites in this niche. Travelling is one of my biggest passions in life and I, therefore, happen to know a thing or two about hand luggage. I hope you all have a safe trip! Take care and thanks for the support. I really appreciate it.