Zion National Park is a stunning destination in Southern Utah where you can see red and white cliff faces and sparkling rivers that cut through the desert landscape.
When visiting Zion National Park, you can partake in many activities including hiking, backpacking, camping, and navigating the rivers.
The park is open year-round, but depending on what you are looking to experience, there are peak months to visit.
The Best Time to Visit Zion National Park
If you are like me and would like to avoid large crowds and cramped hiking trails, the best time to visit Zion National Park is late fall to early spring. The peak tourist season runs from April to October, and if you visit during these months, you'll be met with large crowds and limited lodging availability.
If You Want to Avoid Crowds,

When is the Best Time to Visit Zion National Park
Zion National Park is a popular tourist spot. The peak time for tourists to visit is in April to the early part of October.
If you visit during these months, you will be met with large crowds and can be met with backed-up trails at more popular sites.
If you're like me and would like to experience the park with fewer people, visiting from late fall to early spring are your best months to plan for.
Zion has year-round beauty, with each season offering something different. When visiting in the off-season, you will be met with fewer people at popular trailheads throughout the park.
While the weather conditions are far milder, Zion National Park does not experience extreme cold conditions. You will also be avoiding the hottest times of the year, making for great hiking conditions.
Late fall is arguably one of the excellent months to visit Zion. The weather is still warm and the changing colors of the foliage provide a striking contrast against the red and white of the cliffs.
A benefit of visiting in winter is that more roads are open. During the high tourist months, many trailheads are only accessible by utilizing the national park bus system.
During the winter, when there is less congestion, you can take your own car to travel up the canyon. If you want to hike, most of the trails remain open depending on weather conditions,
As the season changes into early spring, you can still experience the park with limited crowds. March is a popular month to visit for those into photography.
You're able to capture the foliage as it begins to blossom and emerge from the winter.
What You Can Do During These Months
You can still hike many of the trails during the off-season. However, many of the trails that are marked as 'strenuous' (or difficult) are only accessible from March until November.
It is good practice to always check trail conditions before heading out, as much as we would like everything to go according to plan, nature is unpredictable. I always like to look at the Zion National Park trail conditions page to see which trails are open.
Zion National Park has a rich wildlife population. While many of the animals are used to the presence of humans, during the off-season you can experience the wildlife as it acts without heavy crowds.
One little-known activity that you can do in the winter is cross-country skiing and snowshoeing. You can do this at the Observation Point.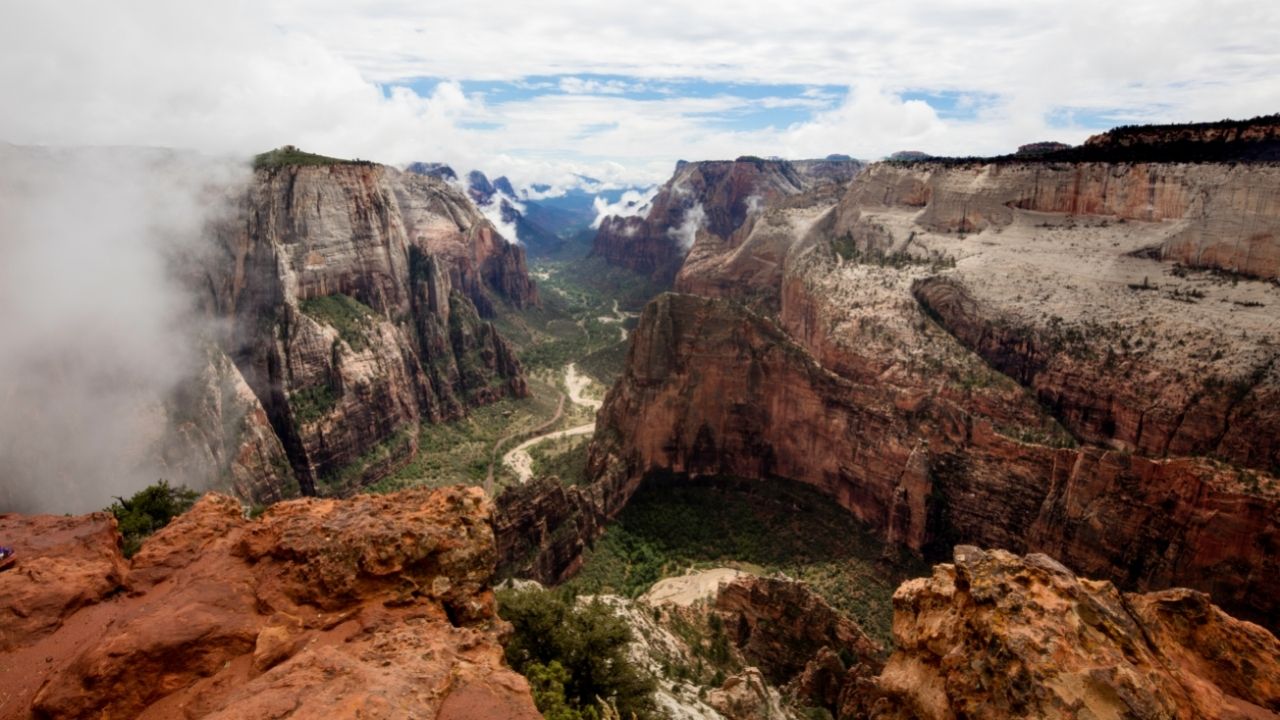 I feel that the winter in Zion offers a very stark and unique beauty that is a once-in-a-lifetime trip.
Frequently Asked Questions About When the Best Time to Visit Zion National Park is
Are the trails in Zion open year-round?
Most of the trails are open year-round, but some trails are more dangerous and can be closed due to weather conditions. Emerald Pools, Riverside Walk, Weeping Rock, and Angels Landing are all trails that have large shaded areas. This means that there can be patches of ice or snow depending on the year.
If I am looking to do some of the more popular attractions, are there months that I should plan not to visit during?
If you are looking to visit attractions in the off-season, like Weeping Rock, Emerald Pools, Riverside Walk, the Narrows, and Angels Landing, aim to visit before late October and into November. If it is an early winter with lots of ice, these trails may be closed.
Will I still see wildlife in the off-season?
Zion has an impressive array of wildlife. There are over 78 species of mammals, 291 birds species, and 37 reptile and amphibian species that call the National Park home. When visiting, no matter the time of year, you are bound to see many of the national parks' residents year-round.

In Conclusion
While you can visit Zion National Park year-round, the optimal months to visit are late fall and early spring. The most popular months to visit range between April to October.
These months draw heavy crowds, popular spots like the Virgin River and Angel's Landing can have long hiking lines.
So, if you would like to enjoy the park without crowds, I recommend visiting in the off months to enjoy the park.
Hey guys! It's me, Marcel. I am the proud owner of carry-on-baggage.com. I am dealing with hand luggage related issues on a daily basis and I own several websites in this niche. Travelling is one of my biggest passions in life and I, therefore, happen to know a thing or two about hand luggage. I hope you all have a safe trip! Take care and thanks for the support. I really appreciate it.