Just two of the seven NPS (National Park Service) units in Missouri have 'National Park' in their name. Therefore, these are the only two that I consider actual national parks.
At the end of this article, you will find a list of all seven NPS service units in Missouri.
What National Parks are in Missouri?
Missouri has two national parks. They are Gateway Arch National Park and Ste. Geneviève National Park
Gateway Arch National Park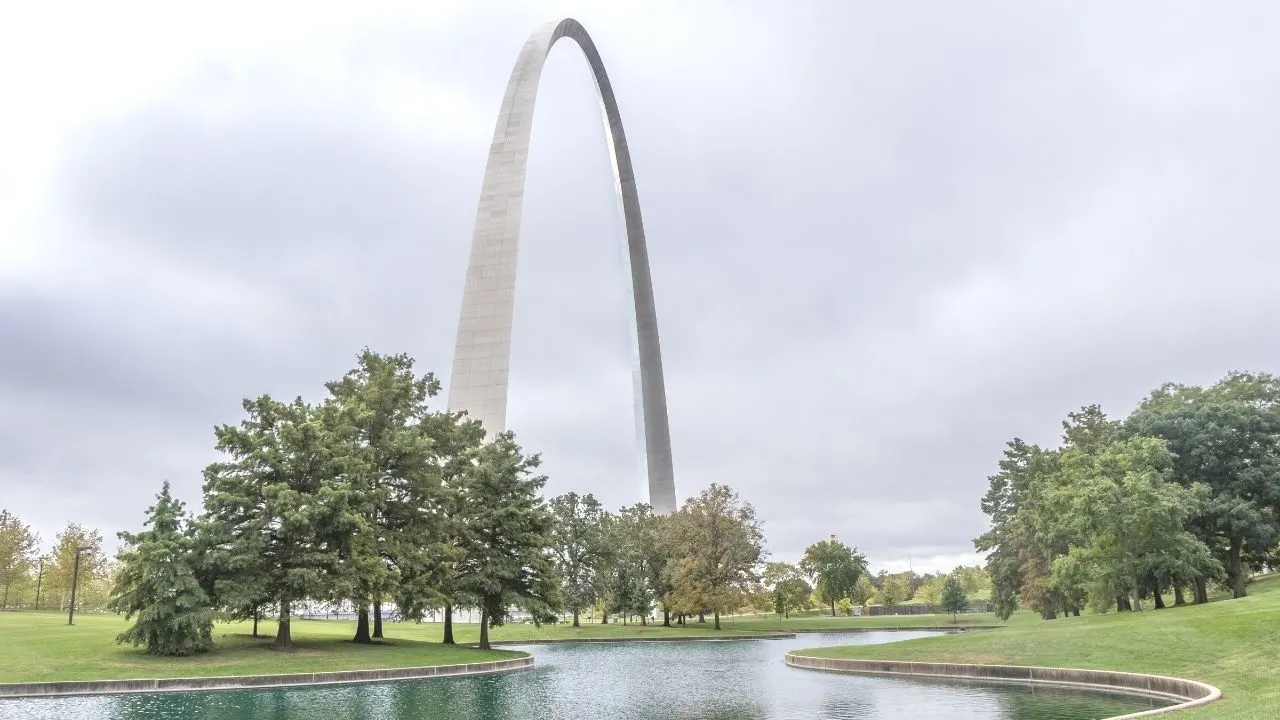 The Gateway Arch National Park was established by the National Park Service to honor Thomas Jefferson's dream of a pancontinental United States.
It stretches from the steps overlooking the Mississippi River up to the Old Courthouse. The Gateway Arch, a bold monument of the pioneering spirit, rises high between the two.
The Gateway Arch today celebrates the many people who have shaped this region and our country. One is Thomas Jefferson, for his work on the Louisiana Purchase.
Others are Lewis & Clark, who scouted new territory along with Shoshone guides Sacagawea and Dred, mapped a route from the Pacific Ocean.
Virginia Minor, a St. Louis suffragette, sued for women's rights to vote. Dred and Harriet Scott then filed a suit at the Old Courthouse to challenge their freedom.
Eero Saarinen (architect) designed the monument to honor them all.
The history of the monument we now know began in 1935. In turn, the Memorial became what is now the Gateway Arch National Park.
Workers cleared the land and the National Park Service received the deeds to the Old Courthouse.
1948 saw a national design contest that determined the Memorial's shape. Construction began in 1963 on Eero Saarinen's design for an arch made of stainless steel.
The Gateway Arch, completed in 1965, symbolizes national identity and is a classic example of mid-century modern architecture.
The Old Courthouse, which anchors the Park's west end, is an outstanding example of the federal architecture of the mid-19th century. The Courthouse was built in 1839 and saw the Dred Scott case and many other historic civil rights cases.
In the 1830s, Scott, an enslaved man, had been taken to Illinois and Wisconsin to obtain his freedom. However, back in Missouri, Scott had to fight his and his family's freedom.
At St. Louis Courthouse in 1847 and 1850, Scott filed for his release.
The U.S. Supreme Court ruled against Scott and Harriet in 1857. It ruled that African-Americans weren't citizens and therefore had no right of action in court.
The decision drew the ire of many people and it probably helped to quicken the outbreak of the U.S. Civil War four years later.
Good to Know: Some Interesting Facts about Gateway Arch National Park
The Gateway Arch is Missouri's tallest structure, 630 feet wide and standing 630 feet tall. Visitors can buy tickets to ride a tram that goes inside the Arch to reach the top.
The Gateway Arch and its surrounding area were originally designated as a National Monument on December 21, 1935. The Gateway Arch was declared a national park on February 22, 2018, for unknown reasons.
Many people still argue to this day that the Gateway Arch is unworthy of being designated a national park. They say it should be returned to National Monument status.
There is a civil war-era old courthouse called the Old Courthouse located next to the Arch. It was home to the Dred Scott trial.
The Gateway Arch commemorates both the Dred Scott trial and the Louisiana Purchase.
Operating Seasons and Hours
The Gateway Arch National Park is open all year, but it closes on New Year's Day, Christmas, and Thanksgiving.
The easiest way to discover current conditions in the Park is to visit its official alerts page to find out.
Ste. Geneviève National Park
Over the centuries, many people traveled to Ste. Genevieve for what they saw as commercial and cultural opportunities.
French colonial merchants and traders from France and farmers and builders settled the area around the beginning of the 1700s. Later, new arrivals from other countries and cultures helped to create the first permanent settlement in Missouri.
These early "voyageurs" built their new homes in the style of those buildings they had left behind in France, using the traditional French vertical log style.
This type of French building employed upright hewn timbers, which are set into the ground, or a stone sill. It also featured a heavy truss system named after the Normandy region.
Intermingled among the French-style buildings are also examples of early pioneers from Britain, Germany, and other countries. This early legacy has been preserved and protected by generations of pioneers, civic leaders, and historical societies.
Congress recognized the importance of this colonial and early American architecture, so it asked the U.S. Department of Interior for Ste. Genevieve's compatibility with National Park Service (NPS) guidelines.
Although many studies of this nature have a negative result, the 2016 NPS Special Resource Study concluded that Ste. Genevieve presents an "unparalleled chance" to increase understanding and appreciation of its nationally important resources.
The ultimate result of the study was the passage of the NPS bill in March 2018 establishing St. Geneviève National Park.
Good to Know: Some Interesting Facts about Ste. Geneviève (Park)
Ste. Geneviève National Park is (in 2021) the newest national park in America, becoming the 422nd National Park in October 2020.
Ste. Genevieve, established in 1750, was the first European settlement established in Missouri.
Two historical buildings are located in this new national Park. The Jean Baptiste Valle House is the second, while the Amoureaux House is the first.
The Park is of special appeal to anyone who has an interest in Creole culture.
Did you know? The cuisine at the Park is region-specific and noted by many as being unique.
Operating Seasons and Hours
Ste. Genevieve National Historical Park is open daily from 9 am to 5 pm, except for Christmas, Thanksgiving, and New Year's Day. Only set times are allowed for interior tours of Jean Baptiste Valle or Bauvais-Amoureux Houses.
To learn about current conditions at the Park, visit its official alerts web page.
Frequently Asked Questions about What National Parks are in Missouri
How long can visitors stay at the top of the Arch?
Park visitors can choose tostay at the top of the Arch for however long they like. It takes about forty-five minutes to complete the trip, though, so do keep in mind closing times if you plan to visit.
What's the significance of the Green Tree Tavern in the Ste. Geneviève Park?
The Green Tree Tavern is a vertical log building that is verified as the oldest in Ste. Geneviève, and one of the oldest in America. It has been dated officially to 1790.


Afterword:

What National Parks are in Missouri
There are two national parks in Missouri if you count by areas called 'National Park'.
However, if you count all those areas managed by the National Park Service (discounting trails), then there are seven:
Gateway Arch (Park)
Ste. Geneviève (Park)
George Washington Carver (Monument)
Harry S Truman (Historical Site)
Ozark (Scenic Riverway)
Ulysses S Grant (Historical Site)
Wilson's Creek (Battlefield)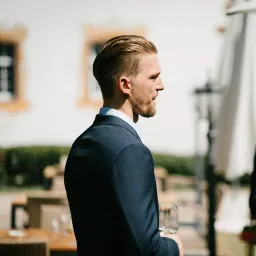 Hey guys! It's me, Marcel. I am the proud owner of carry-on-baggage.com. I am dealing with hand luggage related issues on a daily basis and I own several websites in this niche. Travelling is one of my biggest passions in life and I, therefore, happen to know a thing or two about hand luggage. I hope you all have a safe trip! Take care and thanks for the support. I really appreciate it.