There is so much that Monteverde has to offer, culture- and visual-wise.
If you're planning a trip to Costa Rica, you'll want to ensure that you take the time in your schedule to visit Monteverde for a day or two, at least.
The Cloud Forest in Monteverde is an absolute must-see, so while you're likely enjoying the incredible things San Jose has to offer, you might want to investigate how to get to Monteverde from San Jose Costa Rica.
You won't want to miss the aesthetics and landscapes that await you!
How to Get to Monteverde from San Jose Costa Rica
You can get to Monteverde from San Jose by shuttle, bus, Uber, taxi, private transfer, or rental car. The way you'll travel depends on your personal preference, and how long you want the trip to take. Monteverde isn't far from San Jose, clocking in at about 87 miles from one location to the other.
The Best Ways to Travel from San Jose to Monteverde
Before you pack up and whisk yourself away to Costa Rica, you'll want to have most of your trip planned or loosely outlined, so you know what to expect and what you're doing when.
If you do decide to travel from San Jose to Monteverde, there are a few ways you can expect to get there, and they're all relatively simple to execute.
Shared Shuttle
Taking a shared shuttle to Monteverde from San Jose is one of the best ways to get from here to there.
Your shuttle driver will pick you up at your hotel, and you'll drive in air-conditioned comfort for the relatively short amount of time it takes to get to Monteverde.
It's likely there will be other passengers on your shuttle, but it won't be overly crowded, allowing for casual conversation or maybe a nap, if you're feeling a little tired!
The scenery is incredible, so make sure you take the time to stare out the window, losing yourself in the excitement of your upcoming adventures!
Bus
You may decide to take a bus from San Jose to Monteverde, and chances are, it's a good decision. The bus relieves you of any responsibility with travel accommodation.
Just show up on time.
A bus is destined to be more crowded than a hotel shuttle, but if you're okay with that, it's still a comfortable ride. You can expect to see others from your hotel along for the ride.
Uber
Uber is worldwide and you can easily use the app to score a ride from San Jose to Monteverde.
Public transportation in a part of the world you're unfamiliar with is always advised, but if you're comfortable uber-ing, it's a viable option.
Keep in mind that with fees, taking an Uber may be more expensive than all other forms of travel, other than renting a car.
Uber is completely safe, but it's crucial to always stay vigilant and pay attention while you're traveling!
Taxi
San Jose has reputable and reliable taxi services that will gladly transport you from San Jose to Monteverde.
You'll be able to contact them once you arrive in San Jose, so this option (like Uber and a private transfer) gives you some freedom regarding how long you stay in San Jose and when you'd like to leave for Monteverde.
A taxi ride is typically private and quiet, though you might find it compelling to save money and share with another hotel guest traveling that way.
Though you can book your actual taxi ride when you decide it's time, remember to do your research beforehand.
Private Transfer
Scheduling a private transfer is possible in San Jose, and should be done through a company that offers private cars. In many cases, you can do this through a taxi company or car service.
The ride to Monteverde in a private transfer vehicle will be safe, quick, and quiet, and you should be able to stop along the way if necessary.
Every reputable car service in San Jose will have online reviews, so read up on them before you take off. If you can't schedule a private transfer, a taxi is your best option.
Rental Car
Though the thought of renting a car to take you from San Jose to Monteverde seems like an amazing idea, you might find it more of a hassle and pricier than the other options.
However, some people hate not being in control of the vehicle they're traveling in, myself included, and may decide renting a car to drive to Monteverde is the right choice for them.
In all cases, make sure you know the route, and that you have a backup in case your GPS or memory fails.
While it might seem archaic, printing out directions at home or the hotel is a really good way to make sure you stay on track.
Going to Monteverde from San Jose doesn't have to be a production. Planning well in advance will help save you from any hiccups you may encounter along the way.
Frequently Asked Questions about How to Get to Monteverde from San Jose Costa Rica
What ways can I get from San Jose to Monteverde?
You can easily travel to Monteverde via bus, shuttle, private car, taxi, Uber, or by renting a car. Research your options before you leave home, weighing the pros and cons to figure out which will work best for you.
What is the best way to get to Monteverde from San Jose?
The best way differs based on personal opinion, but you can't go wrong by choosing a private car company or a hotel shuttle. It depends on whether or not you want to share your space and what time and day you'd like to leave.
Is it hard to drive from San Jose to Monteverde?
As far as traveling in Costa Rica goes, San Jose to Monteverde boasts a paved road and straightforward route. In all cases, make sure you have printed directions and an active GPS in case you decide to travel off the beaten path and get lost.


Traveling from San Jose to Monteverde
There are so many options for making it from San Jose to Monteverde, you won't have to exude too much brainpower getting from city to city.
Do a bit of planning and research before you leave home, and you'll have no problems getting where you want to go.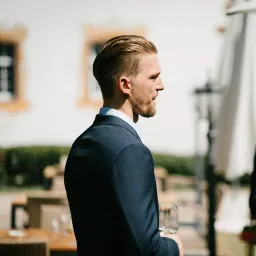 Hey guys! It's me, Marcel. I am the proud owner of carry-on-baggage.com. I am dealing with hand luggage related issues on a daily basis and I own several websites in this niche. Travelling is one of my biggest passions in life and I, therefore, happen to know a thing or two about hand luggage. I hope you all have a safe trip! Take care and thanks for the support. I really appreciate it.