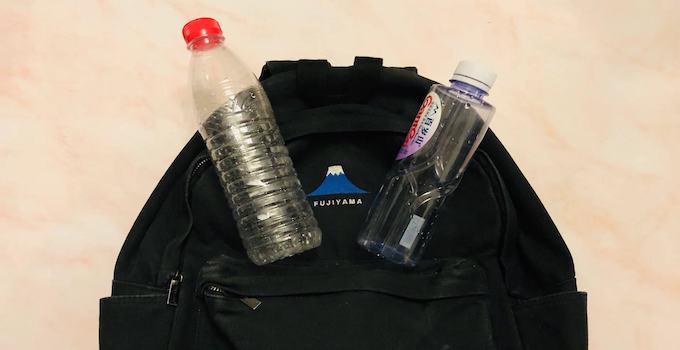 Since November 2006, for safety reasons, only small quantities of liquids may be brought on board aircraft. It is therefore no longer possible to bring a bottle of Sprite or a tasty fruit smoothie on board an aeroplane that you prepared briefly at home in the morning.
However, if you only want to bring water on board to quench your thirst, you can still do so without having to spend money on it.
All you need is an empty drinking bottle because you can easily fill it up after the security check on the toilet and then take it with you on the plane! But is it even allowed to stow an empty drinking bottle in your hand luggage?
We did some research on his. Let us now have a look at our results.
Can I carry an empty drinking bottle in my hand luggage?
There is no reason why an empty drinking bottle shouldn't be carried in hand luggage. Neither the airlines themselves nor the security check personnel – the personnel is provided by the airports (state) and not by the airlines themselves– usually have something against it.
During the security check it can happen from time to time that the personnel would like to have a look into the bottle, because in some cases the X-ray image does not clearly show whether something is in the bottle or not.
It is best to transport the bottle open accordingly and place it separately in a box during the check so that the security personnel can check the bottle as easily as possible and have no unnecessary suspicions.
What kind of bottle should it be?
Of course, this depends on the intended use of the bottle. If you are carrying an empty bottle to fill up with water after the security check and take it with you on the plane, then a foldable drinking bottle is the answer. A foldable drinking bottle has two decisive advantages:
It hardly takes up any space in your hand luggage
It is absolutely harmless
When transporting larger, more massive bottles, such as thermos bottles or even glass bottles, there is a danger that they will be taken from you during the security check, because such bottles may be classified as potential weapons.
If you do not want to buy a new bottle, you can also use an empty pet bottle. Admittedly, such a bottle is not very practical, but in an emergency, it may be better than nothing.
Where do you get such a foldable drinking bottle?
You can easily buy such bottles on the Internet. On Amazon, for example. We highly recommend the foldable water bottle from IKiKin. What makes this foldable water bottle better than other comparable bottles?
The bottle has a large capacity of one litre and is still very light with about 190 grams.
The drinking bottle is leak-proof and makes a solid impression.
The bottle is semi-transparent, so you can always see how much is still in it.
The IKiKin drinking bottle can also be placed upright when empty, which can sometimes be very practical.
The bottle allows drinking without having to touch the mouthpiece (this is done by applying pressure to the bottle).
As already mentioned, once you have successfully passed the security check, an empty drinking bottle can easily be refilled in the toilet and brought on board.
But tap water is not drinkable everywhere. So caution is advised.
In Europe, tap water can be drunk without hesitation in many countries.
In these European countries (see below), however, you should refrain from drinking tap water at the airport (and elsewhere in the country!):
Azerbaijan
Albania
Armenia
Bosnia & Herzegovina
Cyprus
Estonia
Georgia
Kazakhstan
Kosovo
Croatia
Lithuania
Montenegro
Romania
Russia
Serbia
Slovakia
Turkey
Hungary
Ukraine
In Asia and South America, drinking tap water is not recommended in many countries.
In Africa, you should avoid tap water completely, no matter where you are.
Depending on which airport you are at, you should refrain from filling tap water. It is best to start a Google search with the keyword "land + tap water + drinkable/potable" before your (return) journey because this way you can quickly find out whether the tap water in the countries you are visiting is really drinkable or not.
At some airports, however, there are also special drinking stations at the gate where you can fill up with (hot) water.
Sale
Caution with glass and ceramic bottles
If you are carrying an empty drinking bottle in your carry-on baggage, it is a good idea to choose a foldable drinking bottle. If it is a glass or ceramic bottle, you run the risk of getting into trouble at the security checkpoint.
This is because such bottles may be classified as a potential weapon by security personnel, resulting in the bottles being confiscated by personnel.
If you wish to transport glass and ceramic goods for other reasons, for example as a souvenir, it is best to have a quick look at our article: Glass & Ceramics in Hand Luggage: Rules & Tips
Take empty SIGG bottle with you on board
Can the empty bottle also be an aluminium bottle from SIGG? In principle, such bottles, if absolutely empty, are tolerated by security personnel. At certain airports, however, problems may arise because the bottle may be classified as dangerous (because it is much more massive than, for example, a foldable drinking bottle or an empty PET bottle).
Ultimately, it is up to the security officer to decide whether or not your SIGG bottle is allowed to travel. The same applies to empty thermos bottles.
Isn't there free water on board anyway?
That depends on which airline you fly with and what kind of flight it is. In principle, it can be said that on short-haul flights the probability is greatest that you will not be able to benefit from free drinks on board and consequently not from free water.
Cheap airlines in particular now only offer drinks that are subject to a charge. For example, with the low-cost airline Ryanair, all drinks are changed. Nothing is free. Not even water.
On long-haul flights, drinks are almost always included in the flight price, mostly soft drinks such as orange juice and water as well as coffee and tea. In many cases, alcohol is also available free of charge on this type of flight.
Hey guys! It's me, Marcel. I am the proud owner of carry-on-baggage.com. I am dealing with hand luggage related issues on a daily basis and I own several websites in this niche. Travelling is one of my biggest passions in life and I, therefore, happen to know a thing or two about hand luggage. I hope you all have a safe trip! Take care and thanks for the support. I really appreciate it.