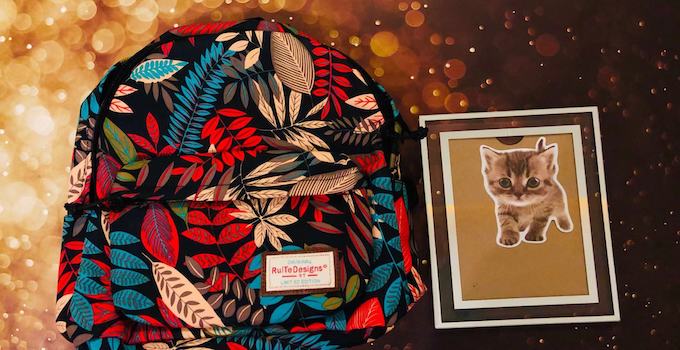 Pre-Christmas puzzle fun: Are you allowed to carry a glass picture frame in your hand luggage? Most hand luggage experts would surely expect a crystal clear NO here…
…but for once they would be wrong! When it comes to picture frames in hand luggage, there is a big surprise waiting for you!
Is the picture frame (made of glass) allowed in hand luggage?
A picture frame may be carried in hand luggage, even if it is a glass picture frame. While (larger) items made of glass in hand luggage are usually problematic – as they may be classified as dangerous and considered a potential weapon – picture frames made of glass are generally tolerated at the security checkpoint. Both in Europe (EU) and in America.
Glass frames in hand luggage: Enquiry to the Security Staff at London Heathrow Airport
I contacted the people in charge of the security checkpoint at London Heathrow and they assured me that bringing a glass picture frame in hand luggage is totally fine.
I also asked the Federal Police Frankfurt am Main (responsible for the security checkpoint at Frankfurt Airport) what exactly applies to the transport of picture frames (made of glass) in hand luggage. They also confirmed to me that you are allowed to bring your glass picture frame in carry-on baggage.
However, they added that the airline could insist on a different transport if the frame were too big for the cabin. But I guess this goes without saying.
Glass picture frames in the USA
For once, the USA is making positive headlines even when it comes to hand luggage regulations. Because see there, picture frames with glass are allowed in the USA, both in carry-on baggage and in checked baggage.
Proof of this can be found on the website of the American Transportation Security Agency TSA: Glass picture frames in hand luggage in the US
Picture frame (made of glass) in checked baggage
A crystal clear YES for picture frames in checked baggage! You may also stow your picture frames in your checked baggage, regardless of whether they are made of glass or not. There is absolutely nothing wrong with that.
Attention with other glass and ceramic goods in your hand luggage
It is often not the best idea to carry glassware in your hand luggage. You can learn more about the risks involved in carrying glassware in hand luggage in my article: Glass and ceramics in (hand)luggage: Rules & Tips
Take a large painting with you on the aeroplane?
As far as the transport of a larger picture with a frame is concerned, there are contradictory answers to this question on the Internet.
Some report that they were allowed to transport such pictures in the plane (as hand luggage, so to speak), while others report that their pictures did not make it through the security checkpoint.
In principle, pictures that violate the regulations for hand luggage (regarding size and weight) may not be carried as (additional) hand luggage.
As a rule, you are therefore forced to hand in your picture as bulky baggage. For smaller pictures, transport in checked baggage is also possible.
If you would like to take your picture into the cabin as carry-on baggage, you should contact your airline in advance to find out whether there is any possibility of transport in the cabin. However, you should not rely on this at all!
To check whether your picture meets the requirements for regular hand baggage size and weight, take a quick look at our list of hand baggage regulations for all major airlines in the world.
Hey guys! It's me, Marcel. I am the proud owner of carry-on-baggage.com. I am dealing with hand luggage related issues on a daily basis and I own several websites in this niche. Travelling is one of my biggest passions in life and I, therefore, happen to know a thing or two about hand luggage. I hope you all have a safe trip! Take care and thanks for the support. I really appreciate it.