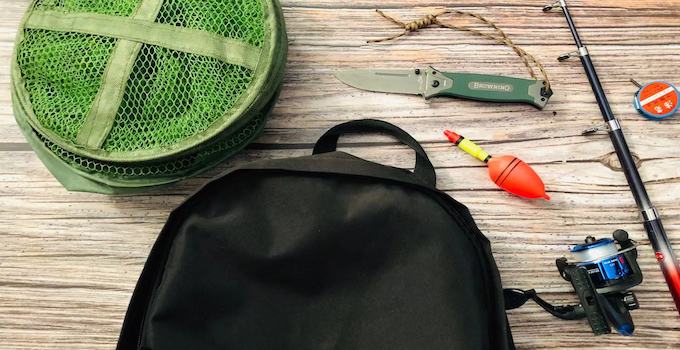 Today, our quest is to investigate whether fishermen may transport a fishing rod & fishing equipment in the aeroplanee or not. In doing so, we will discuss whether transport in hand luggage is possible and will also take a closer look at the carriage of a fishing rod and fishing tackle as checked luggage. So what about your next fishing holiday in Ireland or Norway? Can the fishing equipment be taken into the cabin or do you have to stow it in your checked baggage? Or do you even have to check it in as bulky baggage? Let's find out!
Can I carry a fishing rod in my hand luggage?
Fishing rod and fishing equipment must be checked in at most airlines as special baggage with costs. With some airlines, special baggage can also be carried free of charge within the free baggage allowance for checked baggage. A fishing rod may not be carried in hand luggage. Certain fishing equipment may be carried in hand luggage under certain circumstances. In most cases, however, transport in checked baggage is preferable.
Why no fishing rod in hand luggage?
There are several reasons why fishing rods cannot be carried in hand luggage. On the one hand, fishing rods often exceed the permitted dimensions for hand luggage.
On the other hand, fishing rods also appear to be regarded as "dangerous objects" during security checks. Staff at security check may consider the fishing rod to be a dangerous item that could be used as a weapon. It doesn't matter whether the fishing rod is a rod, a telescopic fishing rod or a Baitcaster rod, for example.
Even the reel (including the line!) of the fishing rod can obviously be your undoing. In any case, a few years ago, at Dortmund airport, it had become the downfall of an angler when he wanted to carry fishing equipment in hand luggage.
During the security check, he was denied the transport of his fishing reel, which did not seem to please the good fisherman very much. He then insulted the security guard's wife with a truly unpleasant 4-letter word, which ultimately cost him 300 euros.
What about fishing equipment in hand luggage?
We've just seen that it's not a good idea to put a fishing reel and line in your hand luggage. On the other hand, a reel without cord has a relatively good chance of surviving the security check in hand luggage. But here, too, if you want to be absolutely sure, you should place the roll in your checked baggage. You will find an interesting discussion on the topic of reels in hand luggage here.
Baits without hooks can be carried in hand luggage as they are not classified as dangerous goods at the security check.
The following fishing gear should not be carried in hand luggage in any case: Knives, scissors, manslaughters, and lures. These items are most likely to be taken from you at the security check, as they are all considered dangerous and therefore prohibited in hand luggage.
You should also refrain from using smaller pocket knives (e.g. mini Swiss pocket knives), as these often do not pass the security checks successfully either, although some airlines advertise on their website that knives and scissors with a blade length of up to 6 cm are permitted.
So what is the best way to transport fishing rods & accessories?
As a rule, rods and accessories should be checked in as sports baggage. At this point, we are already well aware of this. But now, of course, the question on how to best pack your fishing tackle and what kind of sports baggage is best suited for it still remains.
Anglers prefer the following means of transport for the transport (in the airplane) of fishing rods & accessories:
PVC Fishing Rod Transport Tubes
Skiing Gear
Cut-to-size Drain Pipes (PVC)
High-temperature Tubes, also called HT tubes
The transport of fishing rods in PVC pipes is a cost-effective variant. Transport pipes made of PVC can be found on the Internet for little money. Such pipes are robust and offer good protection for your fishing rods. However, it is hardly possible to transport accessories in these transport pipes, which can be a waste of space.
The transport of fishing rods in special sports luggage, which is actually intended for ski and snowboard equipment, often offers not only plenty of space for the rods but also plenty of space for other fishing equipment such as reels, spools, line, baits and boxes. In contrast to PVC pipes, this means of transport often has its price.
Conventional drain pipes are also often used as transport pipes for fishing tackle. As a rule, the pipes themselves have to be cut to the appropriate length. In order to finally make a rod pipe out of the drain pipe, skill and rudimentary handicraft knowledge are required, because you have to mount the pipe accordingly cushioning and suitable ends (sockets), etc.
Other friends of fishing, on the other hand, use high-temperature pipes for the transport of their accessories, which are also often called HT pipes. If you would like to tinker this kind of equipment by yourself, there are only a few things that you will need. You should find all these things in the DIY store:
One HT tube (size depends on the length of your rods)
2 Insulation tubes 22/13
2 HT sleeves and sealing caps to seal the ends of the HT pipe
How much does it cost to transport fishing gear?
The cost of transporting a fishing rod and fishing equipment usually depends on the following factors:
How big and heavy is the fishing rod and equipment?
Where is the trip going?
What items does the fishing equipment consist of?
The cost of a fishing rod and accessories depends on the size/weight of the equipment and the flight route. Some airlines divide sports baggage into different sizes (e.g. small, medium and large) and then charge a flat fee for the sports equipment of the respective category.
Others define a maximum weight and charge the costs according to the weight.
Many airline companies also define exactly which items (sometimes also how many) may be stowed in sports baggage, such as fishing tackle. If other (unlisted) items are then stowed in the baggage, additional charges may apply.
With sports baggage, it is the same as so often with the regulations around checked baggage and hand baggage: each airline handles things differently. And what slightly different means in terms of fishing rods and accessories with the various airlines, we now want to take a closer look.
BRITISH AIRWAYS about fishing tackle
British Airways does not explicitly list fishing rods and fishing accessories as possible sports equipment in its list of sporting goods and musical instruments. This means that you will need to contact British Airways to find out if and how you can best transport your fishing gear.
EASYJET about fishing equipment
A piece of sports equipment can be added to your regular baggage at Easyjet for a fee. However, EasyJet does not list fishing equipment in its list of possible sports equipment. EasyJet points out that sports equipment that is not on this list must be "booked" through the customer service team.
LUFTHANSA: Fishing rods and equipment
At Lufthansa, the fishing equipment is listed under the category standard sports baggage. The prices are as follows:
Domestic routes (Germany): 70 EUR / 80 USD
Routes within Europe: 80 EUR / 92 USD
North Africa, Central Asia and countries of the eastern Mediterranean coast: 100 EUR / 115 USD
Medium intercontinental routes: 200 EUR / 230 USD / 300 CAD
Long intercontinental routes: 250 EUR / 287 USD / 375 CAD
Routes from/to Japan: 100 EUR / 150 USD
Please note that fishing equipment at Lufthansa can only consist of the following components at the most:
One bait box/bread bag/fishing basket
One bag/box
A rod
Maximum number of parts: 2
RYANAIR: Fishing rods and accessories
Ryanair doesn't seem to be one of the big fishing friends, because on a page with frequently asked questions Ryanair states that big sports equipment like fishing rods, golf clubs, fencing equipment and the like are not suitable for transport by airlines with short airport stops (like Ryanair).
Nevertheless, Ryanair is still willing to transport such items anyway. When booking online, you can add items of this kind (sports equipment) beyond your personal baggage allowance (up to a maximum of 20 kg).
A booking for sports equipment (your fishing rod and accessories fall into this category) via ryanair.com costs you 35 euros per route.
A subsequent booking (online or at the airport) costs you 40 Euro per route. You can view the table of fees here.
SWISS: Fishing rods and fishing accessories
At SWISS, the transport of a fishing rod and fishing tackle costs:
Flights within Switzerland: 70 Euro
European flights: 80 Euro
Intercontinental flights (short-/medium): 150/200 Euro
Intercontinental flight (long): 250 Euro
Further special luggage
Other equipment and items that most airlines consider to be special baggage are also included:
Golf equipment
Archery equipment
Wakeboard
Bowling gear
Hang gliding equipment
Hockey gear
Bicycles
Rubber boats
High jump poles
Longboards (Skateboards)
Ski and snowboard equipment
Surfboards
Diving gear
Windsurfing equipment
Fishing rod in checked baggage
We have seen in this article that fishing equipment is normally declared as special baggage by the airlines and that there is a charge for transportation. However, are you not allowed to place the fishing equipment in your checked baggage, provided that you are not travelling with hand luggage only and the fishing rod is a telescopic rod that can be reduced in size for transport and storage purposes?
Tip: Buy a fishing rod at your destination
Since the costs for sports equipment can be considerable depending on the route and airline, it can make sense to buy a new fishing rod at the destination instead of carrying your own rod from A to B with the airline. This method should at least be taken into consideration, especially for low-cost rods.
Ask the fishing experts
Admittedly, the transport of fishing rods and fishing equipment by air is not entirely without its benefits. Especially, if you don't want to spend a lot of money on a suitable transport case for the transport as sports baggage, then you will have to do some work yourself and make a suitable transport case. Here the help of fishing experts can be very valuable.
But also when it comes to the safe transport of accessories, fishing experts can help you and tell you about their experiences. Because one thing is for sure: You are not the first angler who wants to transport fishing tackle from A to B by plane.
In this context, we recommend that you get smart in relevant angler forums. A simple forum search with precise keywords often works wonders. And if your questions still haven't been answered, just open a thread yourself and ask the professionals. We can recommend the following angler forums:
Hey guys! It's me, Marcel. I am the proud owner of carry-on-baggage.com. I am dealing with hand luggage related issues on a daily basis and I own several websites in this niche. Travelling is one of my biggest passions in life and I, therefore, happen to know a thing or two about hand luggage. I hope you all have a safe trip! Take care and thanks for the support. I really appreciate it.