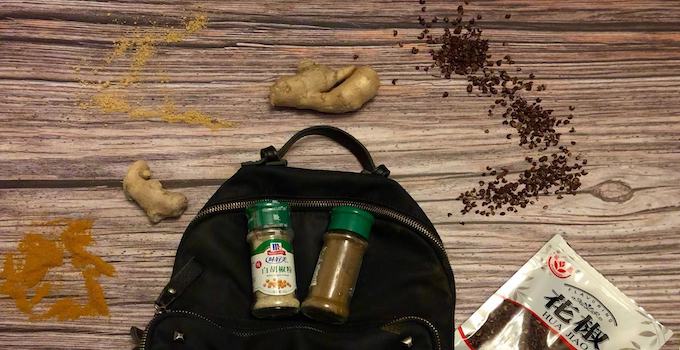 Are you allowed to carry spices in your hand luggage?
Yes, spices may be transported in hand luggage. Both open spices from markets (powder form) and packaged (dried) spices generally pose no problem in hand luggage.
In the case of fresh spices in leaf or herb form (e.g. chilli peppers), however, additional rules on sanitary plant protection must be observed. When importing into the EU, you will need a phytosanitary certificate from the phytosanitary service of the country of origin in order to import the spices and herbs.
Special rule for trips to the US: When transporting spices to the USA, the powder rule has been in force since the end of June 2018, which essentially states that powdery substances (including powdery spices) should no longer be transported in hand luggage in containers with more than 350 ml capacity.
Spices in hand luggage when travelling to the USA
Until recently, almost any amount of spices could be carried in hand luggage without any problems.
These times of uninhibited spice transport are now, however, over for the time being. Since the end of June 2018, the so-called Powder Rule has applied to trips to the USA. This rule restricts the transport of powdery substances in hand luggage. Spices are also affected. The specific regulations regarding spices are as follows:
Spices should only be carried in hand luggage in containers with a maximum volume of 350 ml.
If the capacity of the container exceeds 350 ml, the container is subjected to an additional safety screening.
If you want to take spices to the USA in containers larger than 350 ml, you should store them in checked baggage instead of hand baggage.
Customs App provides certainty for spices and co.
The German App "Zoll & Reise" (in English: "Customs & Travel") gives you an excellent overview of which foodstuffs may (not) be imported into Germany (and any other EU country) and under which conditions.
You can use the app to conveniently select the destination country and look up the regulations for the goods in question. When it comes to spices, the app always has the reassuring answer ready for you:
When importing spices, no special import regulations have to be observed. The import of spices intended for the traveller's own use or consumption is generally permitted.
Reise & Zoll App
It does not matter whether you choose Turkey, Israel or any other country as your destination. Importing spices usually seems to be unproblematic.
Unfortunately, this App is only available in German.
Two other small exceptions in spice transportation
Internationally there seem to be at least two other small exceptions.
The first exception can be found on the website of the Japanese All Nippon Airlines. Because there is a ban on spices like chili powder in hand luggage on flights from India.
The second exception concerns travel to New Zealand.
Passengers must declare all food on arrival in New Zealand. Also, the amount of spices that can be brought to New Zealand is limited to one kilogram.
Rumours also circulate on the Internet that spices (in hand luggage) may only be imported into Israel in limited quantities ( max. of 1 kilogramm). However, we could not find any official evidence for that claim.
However, there does seem to be a restriction for the import of spices into Israel, but this is apparently limited to the import by mail (limit of 1 kg).
Hey guys! It's me, Marcel. I am the proud owner of carry-on-baggage.com. I am dealing with hand luggage related issues on a daily basis and I own several websites in this niche. Travelling is one of my biggest passions in life and I, therefore, happen to know a thing or two about hand luggage. I hope you all have a safe trip! Take care and thanks for the support. I really appreciate it.