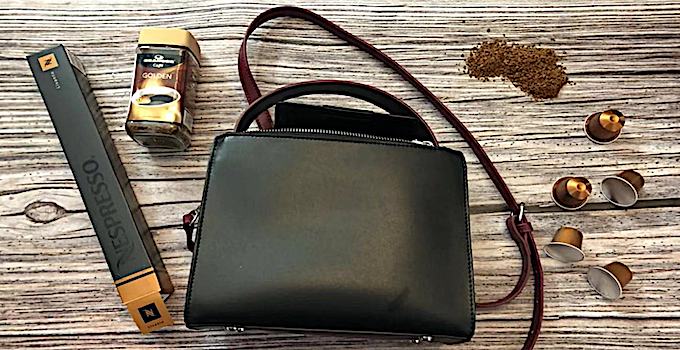 For all the coffee lovers out there, I would like to introduce the rules that apply when carrying coffee in hand luggage.
In most cases, the transport of coffee (coffee beans/ground coffee) at British Airways, Easyjet, Ryanair and Co. is no problem at all.
However, if we are talking about liquid coffee or if your traveling to the US, caution is advised. But don't worry. We will tell you everything you need to know about it. Promised!
Can I take coffee with me in my hand luggage?
Transporting coffee in solid form in hand luggage is permitted. This applies to both coffee capsules and coffee beans. Coffee powder may also be stowed in cabin luggage.
However, caution is advised when travelling to the USA: Since 30 June 2018, the powder rule must be observed when travelling to the US. This rule states that powdery substances (including coffee powder and soluble coffee!) should only be carried in hand luggage in containers that do not exceed a capacity of 350 ml.
Liquid coffee, on the other hand, must generally not be carried in hand luggage, as the rule for liquids in hand luggage applies here.
Coffee in hand luggage when travelling to the US: Powder rule to be observed!
If you are travelling to the US, then you should exercise caution when it comes to coffee in hand luggage. Since 30 June 2018, the so-called powder rule has been in force for trips to the USA.
This rule essentially states that powdery substances should only be transported in very limited quantities when travelling to the USA. At the present time, the quantity has been limited to 350 ml.
Anything above this must be inspected more closely by security personnel at the security checkpoint.
If the contents cannot be identified exactly, then you have had bad luck and your powdery substance must say goodbye to you.
And you probably already suspect it: coffee powder is of course also a powdery substance and so, if you are going to America, you should only carry a maximum of 350 ml of coffee powder or soluble coffee in your hand luggage.
Please pack larger quantities in your checked baggage.
In addition to coffee, this rule also applies to powdery make-up products, proteins, sugar and spices.
Exceptions to this rule are baby food, medicines and urn contents.
When you travel to the USA, however, there are many other difficulties that you might be confronted with when traveling by air. In order to prevent this, we would like to recommend our article "Luggage Rules USA 2018/2019: 7 Things you Need to Know".
Put the whole coffee machine in your hand luggage?
If you don't just want to take coffee beans or capsules with you on the plane, but want to transport your entire Nespresso machine in your hand luggage, you can do so.
Make sure, however, that the coffee machine's water tank is empty, otherwise there are guaranteed problems at the security check (see liquid rule in hand luggage!).
In addition, you must, of course, comply with the hand luggage regulations regarding weight and size. The smallest Nespresso machine, the Nespresso Essenza MINI, weighs 2.3 kg alone.
As some airlines only allow about 5-6 kg hand luggage, this might be too heavy already.
You can find an overview of the hand luggage regulations of all popular airlines worldwide here. This list might come in very handy, as you will see at a glance how much hand luggage each and every airline allows you to take on board the aircraft.
Observe customs regulations for coffee
We have seen that in most cases the transport of coffee in hand luggage goes without a hitch. However, if you want to take larger quantities of coffee with you, you should not forget to keep an eye on the customs regulations of the destination country.
This especially holds true when traveling to a Non-EU country. Because in this case, the maximum permitted travel allowances for coffee can differ significantly from EU rules.
For example, if you travel to Turkey, you may only import one kilogram of coffee (solid) and one kilogram of soluble coffee (e.g. instant coffee from Nescafé) duty-free.
If you travel to Switzerland, then it is easy for you as a coffee lover, because Switzerland has not defined any maximum permitted travel allowances for coffee. So you can bring as much coffee as you like (within the free baggage allowance!) in your (hand) luggage to Switzerland.
It goes without saying that you must not violate the conventional airline regulations for hand luggage (max. weight and max. dimensions).
Within the EU, the following applies to coffee:
You can transport up to 10 kilograms of coffee within the EU borders in your luggage for private use/consumption. In principle, it does not matter whether the transport takes place in hand luggage or in checked luggage.
This rule applies to all types of coffee, except liquid coffee.
Coffee in checked baggage
Coffee can be transported from checked baggage. Both coffee in solid form (capsules, beans, etc.) and coffee in liquid form.
The powder rule, which must be observed in connection with soluble coffee (coffee powder) when travelling to the USA, does not apply to coffee in checked baggage, as this provision is only designed for hand luggage.
You can, therefore, transport coffee powder, ground coffee and soluble coffee in larger quantities than 350 ml (per container) in checked baggage.
In which countries can you get cheap coffee?
The question of whether or not you want to take coffee with you on the plane depends strongly, of course, on whether and at what price you can buy coffee in the destination country.
Why carry 3 kg of coffee with you, when you can buy it at your destination much cheaper than at home?
In Brazil and Peru, for example, according to a study by the Berlin office service provider Service Partner One, coffee is particularly cheap. This is true for coffee in public restaurants and cafés as well as for coffee at home.
According to this study, the average price for a coffee in London is at £1.62, whereas the average price in Rio de Janeiro only amounts to £0.84.
In Switzerland on the other hand, coffee lovers have to dig deep into their pockets. The average price for coffee in Switzerland is as high as £2.92 (4 out of the top-5 most expensive cities for coffee are located in Switzerland!).
Hey guys! It's me, Marcel. I am the proud owner of carry-on-baggage.com. I am dealing with hand luggage related issues on a daily basis and I own several websites in this niche. Travelling is one of my biggest passions in life and I, therefore, happen to know a thing or two about hand luggage. I hope you all have a safe trip! Take care and thanks for the support. I really appreciate it.