easyJet is the second biggest low-cost airline in Europe and even one of the biggest airlines worldwide (by passengers carried). The airline was founded in 1995 by the British entrepreneur Stelios Haji-Ioannou.
The airline's cabin baggage regulations generally corresponds to what can be expected from a low-cost airline today.
However, easyJet is much more generous when it comes to hand luggage than other low-cost airlines – for example Ryanair – and comes up with a big surprise regarding the allowed hand luggage weight. So let us just dive right into it.


easyJet: Hand Luggage Regulations | Weight & Dimensions
The following rules apply to hand luggage at easyJet:
Your hand luggage must not exceed the dimensions 56 x 45 x 25 cm.

The weight of the large piece of hand luggage is NOT LIMITED with easyJet.

A small piece of hand luggage (often referred to as personal item), such as a handbag or laptop bag, is NOT included in the standard easyJet rate.
Important information about easyJets' hand luggage allowance
Attention: When flying with easyJet, you need to always keep two things in mind: First of, as just mentioned, easyJet only allows one SINGLE piece of hand luggage. That means that if you are flying on a standard fare, you can only bring a large piece of hand luggage with the dimensions 56 x 45 x 25 cm.
An additional laptop bag or handbag is NOT included in this fare. And if you do bring a second bag like that, you will be forced to stow it in your cabin bag. If you won't be able to do that, you will need to pay excess baggage fees.
Moreover, if you do have Duty-Free goods with you, the same rules apply.
Duty-Free goods are NOT tolerated in addition to your cabin bag. So there again, if you want to bring duty-free goods with easyJet, you will also need to make sure to stow them in your regular cabin bag.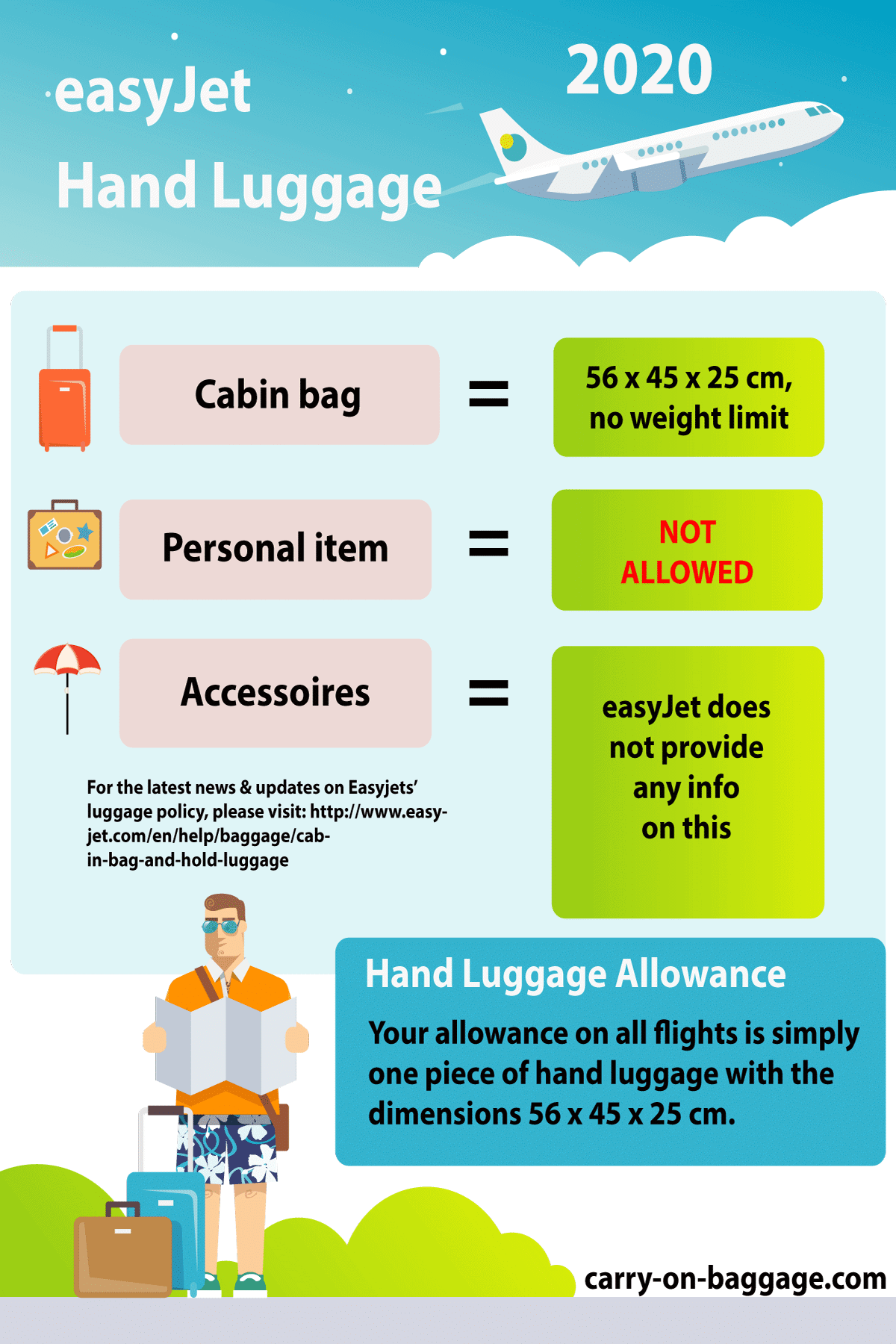 In contrast to almost all other airlines in Europe, easyJet has no weight limits for hand luggage. As long as your hand luggage does not exceed the maximum permitted dimensions, you can carry as much weight as you like.
This is truly unique in Europe, especially when you consider that easyJet is a low-cost airline. Below are the weight regulations for hand luggage of some of easyJet's competitors:
Eurowings: With Eurowings, the hand luggage item must not weigh more than 8 kilograms.
Ryanair: At Ryanair, only a small piece of hand luggage can be brought on board at the cheapest rate since recently. If you want to take a large piece of hand luggage on board, you have to pay extra for it. In this case, this piece of hand luggage may weigh a maximum of 10 kg.
Vueling: At Vueling, the upper limit for the hand luggage weight is also set at 10 kilograms.
For a comparison with other airlines, take a look at our extensive list with hand luggage regulations for most airlines worldwide.
Another interesting question that arises in this context is whether the weight of hand luggage is checked at the airport or not. Answers to this question can be found in our article: "Is hand luggage explicitly weighed by the airlines?
easyJet: Additional option "Hands Free"
easyJet offers the additional option "Hands Free" for hand luggage. The option costs 7 euros (family package for 16 euros) – both online and at the counter – and lets you check in your hand luggage at the bag drop desk. Your hand luggage will then be transported in the aircraft's hold.
You can still take a personal item, such as a handbag or laptop bag, with you on the plane so that you can still take the most important items (valuables) with you into the cabin.
However, you should receive a so-called Tote bag as a personal item at the bag drop desk anyway. You can store your valuables in this bag.
However, if you prefer to bring a handbag or laptop bag as a personal item, you can do that and must then simply stow the Tote Bag in this personal item.
Please note that the personal object must not exceed the dimensions 45 x 36 x 20 cm. This item must be stowed in the aircraft under the front seat.
The advantages of Hands Free are as follows:
Hands Free eliminates the limitations for liquids as defined by the liquid rule. You can, therefore, stow more liquid in your hand luggage as would otherwise be possible (even in containers with a capacity of more than 100 ml).
Use of the easyJet Plus baggage claim system.
Stress-free passage through the security check (because your hand luggage is already checked-in at that time).
Early boarding, directly after priority customers.
Hand baggage arrives first in the baggage claim area.
The disadvantages of Hands Free are:
Logically the cost.
Your carry-on baggage will appear first on the baggage conveyor belt, but you must first go to the baggage claim area to collect your carry-on bag that you would otherwise carry.
The risk of your baggage being damaged is somewhat greater, as your hand baggage must be loaded in the hold.
easyJet: Travelling with pets
easyJet does not carry pets. The only animals transported by easyJet are assistance and guide dogs. These types of dogs are generally carried by all airlines.
easyJet: Musical instruments on board
With easyJet, there are quite generous regulations when it comes to musical instruments.
While most airlines only allow musical instruments as hand luggage as long as they comply with the conventional regulations for hand luggage, easyJet allows you to carry musical instruments up to the dimensions 30 cm x 120 cm x 38 cm in hand luggage.
If you bring a musical instrument into the cabin, then this musical instrument is considered your regular, large piece of hand luggage. You will then no longer be entitled to another piece of hand luggage.
This applies to violins, violas, piccolos, flutes, clarinets, clarinets, horns and trumpets. However, easyJet specifies here that the decision as to whether the musical instrument may be carried is always at the discretion of the flight captain and also depends on the space available in the luggage compartments.
Specifically for cellos, you can/must book a seat. In this case, the cello can also be carried in the cabin. Such a seat costs the same as a regular seat.
You can book an additional seat while booking your trip online. If you book an additional seat for your cello, please note that you must enter the name "MR SEAT CELLO".
The online check-in must then be carried out both for your own seat and for this instrument seat.
Even larger instruments such as harps and double basses cannot be transported in the easyJet cabin. Transport can only take place in the cargo compartment. This is the case with all airlines known to me.
If you want to transport a harp or a double bass with easyJet, you must contact the airline and clarify whether such an instrument can be transported on your flight at all.
easyJet: Excess baggage charges
Your easyJet hand luggage must not be larger than 56 x 45 x 25 cm and must fit through the easyJet baggage sizer. If your hand baggage does not meet these requirements, easyJet will charge you for checked baggage.
And these fees are very high:
If the violation is noticed at the baggage counter, you pay 47 Euro for it.
If the violation is detected at the gate, then 60 euros are to be paid for it.
So don't overdo it with your hand luggage! And don't forget: there is no weight limit for hand luggage, but the piece of hand luggage still has to fit into this luggage device. If you stuff the hand luggage too tightly, then the weight could still get you in trouble somehow.
easyJet: Liquids in hand luggage
When it comes to liquids, easyJet has no special surprises in store for you. As with all other airlines (in Europe and the EU in general), the liquid rule for liquids, gels and aerosols in hand luggage applies here at easyJet in accordance with the EU regulation of 2006.
Liquid baby food and liquid medicines that are absolutely necessary for the flight are also excluded from the rule for liquids in hand luggage at easyJet.
easyJet: Get in touch with the airline
easyJet is, besides Ryanair, one of the few airlines to offer a live chat as a contact channel. In addition, easyJet advertises the fact that you can do everything that can be done with a call via its chat. Even making payments is possible via the chat.
Furthermore, easyJet can also be reached via the following channels:
We recommend contacting them via live chat. If the rush there is too big, then contacting via Facebook or Twitter is usually very promising.
If you don't have time to wait for an answer, then you probably have to pick up the phone. You can find the easyJet contact hotline on the contact page under "Call us".
Hey guys! It's me, Marcel. I am the proud owner of carry-on-baggage.com. I am dealing with hand luggage related issues on a daily basis and I own several websites in this niche. Travelling is one of my biggest passions in life and I, therefore, happen to know a thing or two about hand luggage. I hope you all have a safe trip! Take care and thanks for the support. I really appreciate it.