Costa Rica is an amazing country with a lot to offer. If traveling to or through Costa Rica, you really must remember to bring back some specific souvenirs and items.
Make sure to report whatever you bring back to customs and adhere to their guidelines regarding restricted or prohibited goods.
So,

what to buy in Costa Rica

?
Some things to bring back from a trip to Costa Rica are coffee and chocolate- both of which are permitted by customs in moderation and easy enough to carry. Some other fantastic products of this region are sugar, cocoa, bananas, and beef- though these may not travel as well at home.
Try some of these wonderful goodies when you travel to Costa Rica!
Coffee
A trip to Costa Rica would not be the same without the coffee- it is truly that good. Here is a little bit to know about the history of this country's greatest crop- coffee!
Coffee first came to Costa Rica from Ethiopia around 1779. The government offered people free land to grow coffee as a means of saving the Costa Rican economy. It became the country's leading source of revenue in 1829.
Britain was the number-one importer of Costa Rican coffee until WWII.
Proceeds from exporting coffee helped build the railroad in the early 1900s in Costa Rica.
Costa Rica is currently a leader in producing the finest coffee found, partly due to the fertile volcanic soil that it is grown in.
When traveling, buy coffee in the local fiber bags offered by vendors throughout Costa Rica. These cheery, handcrafted bags are as enjoyable as the delicious roasted coffee inside!
Chocolate
The jungles of Costa Rica are known for their Cacao beans, which means some of the best chocolate is in this area of the world.
The high cacao content makes this chocolate not only decadent and rich but also good for you and a superfood that you should incorporate into your daily diet!
Imperial Merch
Imperial is the unofficial beer of Costa Rica, so it is not surprising to see this logo on shirts and stickers across the country.
The beer is a light lager that is served widely in establishments, eateries, and bars, but the emblem of Imperial is seen even further- extending to apparel, keychains, and bumper stickers across the globe!
Try an Imperial beer- and then take home some merchandise.
Handcrafted Goods
Costa Rica is well known for the culture, arts, and crafts that are found widely. These handcrafted goods also make excellent souvenirs to remind you- or others- of the trip.
Visit the street fairs and markets for the best selection and lowest prices, like the Central Market in San Jose. Check out the local shops and contribute to the economy by purchasing a few souvenirs to take home.
Ox Carts
Look for the vibrant and colorful ox carts when visiting this country- they are sort of an unofficial symbol of Costa Rica.
Typically red with bold blue, green, and yellow details, craftspeople in the region replicate these carts in miniature form for tourists to buy. These are endearing and meaningful to those that have visited.
Hammocks
What better place to purchase a hammock than Costa Rica? This country is known for its colorful and intricate woven goods, like hanging seats and hammocks.
These are cheaper than you would find in the US and, since they are made from natural fibers, they are a sustainable souvenir to take home. Colorful hammocks also make excellent gifts!
Seed Jewelry
Check out any of the street markets and craft vendors in Costa Rica, and you will see seed jewelry for sale. These inexpensive and colorful necklaces, bracelets, and earrings are widely available and a cheap souvenir to take home.
There is something very regional and cultural about these dainty, handcrafted pieces- they are very popular items among visitors.
Frequently Asked Questions About What to Buy in Costa Rica
What are the best things to eat in Costa Rica?
Costa Rica is known for its chocolate and cacao, as well as the locally harvested fruit. Chocolate and fruit make a great combination at snack time, too.
What products is Costa Rica known for?
Costa Rica's prime products and exports are coffee, sugar, cocoa, and beef. The US buys these goods and imports them from Costa Rica, as does the UK, Germany, Italy, Belgium, and several other countries.
Why is coffee so great in Costa Rica?
The cool climate and rich soil of the Central Valley in Costa Rica has the ideal growing conditions for coffee- which is reflected in the taste of the local beans. The high altitudes are known for growing the best coffee.
What are some things to do in Costa Rica?
Costa Rica is known for watersports, from fishing to surfing- as well as horseback riding, biking, golf, and tennis. There are some great trails for mountain biking, too. If you like to shop, there are numerous vendors, markets, and shops to peruse.
What should you bring to wear in Costa Rica?
That depends on your itinerary, but the climate is hot and humid, so bring lightweight apparel. It can be breezy and windy, so bring a jacket and protective clothing from the sun, insects, and plants if you plan to spend time outside. Hiking boots are also recommended.


Conclusion
If you are going to Costa Rica, keep an eye out for these treasures- and bring some home! From coffee and chocolate to a finely woven hammock, savor the vacation vibe of this beautiful region with some of their proudest products and souvenirs.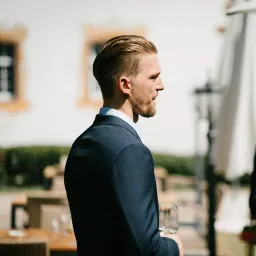 Hey guys! It's me, Marcel. I am the proud owner of carry-on-baggage.com. I am dealing with hand luggage related issues on a daily basis and I own several websites in this niche. Travelling is one of my biggest passions in life and I, therefore, happen to know a thing or two about hand luggage. I hope you all have a safe trip! Take care and thanks for the support. I really appreciate it.