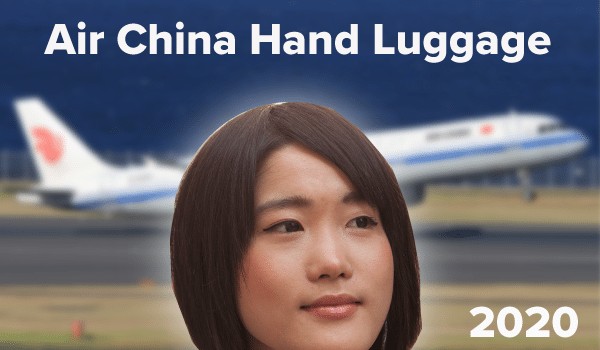 Air China hand luggage allowance
In economy class, each Air China passenger can carry one piece of hand luggage with a maximum size of 55 x 40 x 20 cm and a maximum weight of 5 kilograms.
Passengers travelling in First Class or Business Class can take two pieces of hand luggage into the cabin. The two pieces of hand luggage may each weigh a maximum of 8 kilograms and the maximum dimensions for each individual piece of hand luggage are 55 x 40 x 20 cm.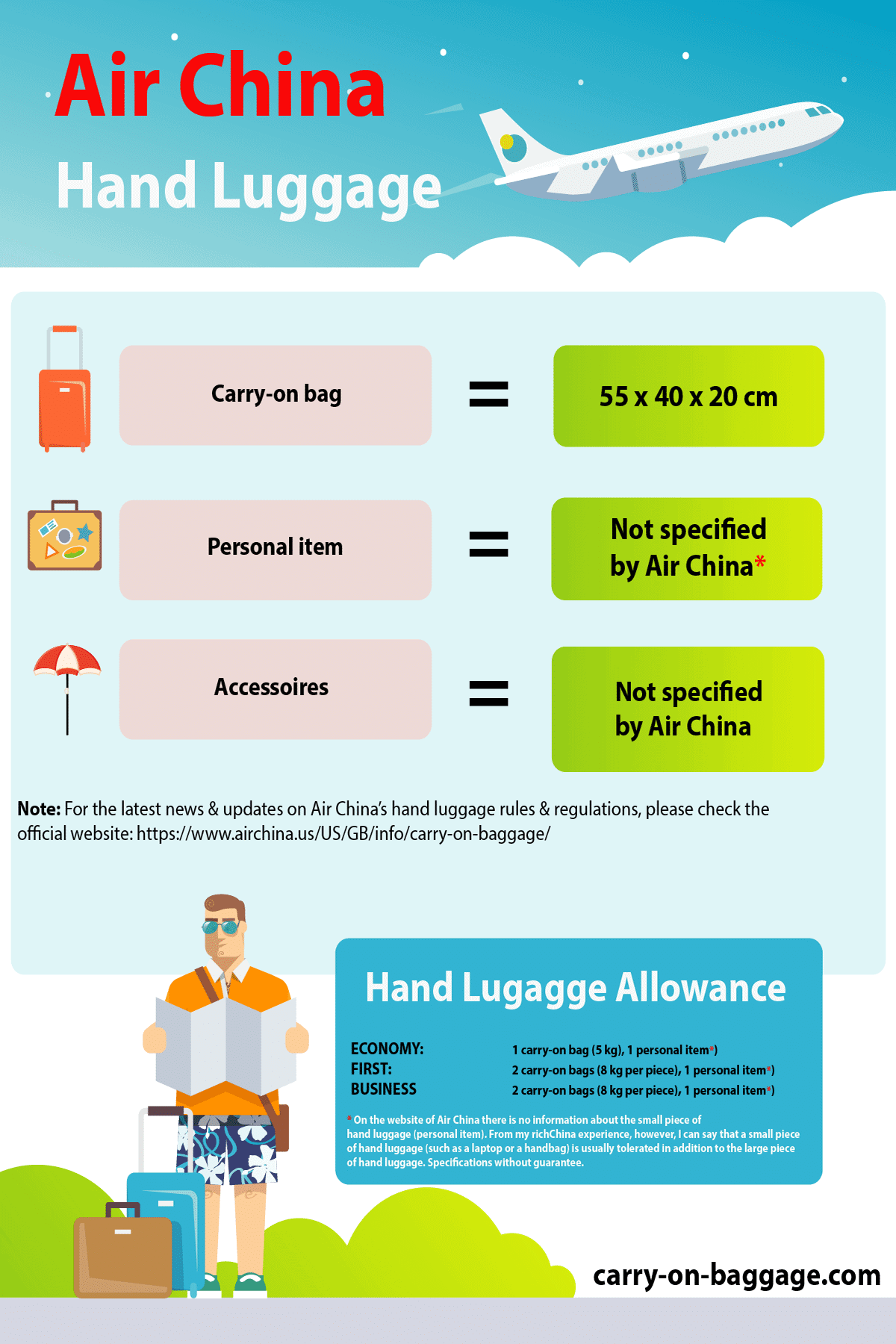 Air China: Carry-on baggage allowance for infants
Children aged 0-2 years are not entitled to carry-on baggage at Air China.
Children 2 years and older are entitled to the same hand baggage allowance as adults on Air China.

Air China: Liquids in hand luggage
What about liquids in hand luggage at Air China?
China adheres to international standards when it comes to liquids on board. Thus the same applies to liquids in hand luggage as in Europe or the US (known in the USA under the name Liquids 3-1-1 Rule). The rules for liquids (including both creams and aerosols) are as follows:
All liquids must be stowed in the bag of liquids.
Each individual liquid container must have a maximum capacity of 100 ml.
The capacity of the bag of liquids must not exceed one litre.
The bag for liquids must not be larger than 20 x 20 cm.
Only one such bag is allowed per person.
Liquid baby food and liquid medicine are exempt from the rules for liquids in carry-on luggage (larger quantities can also be taken on board accordingly; for liquid medicine > 100 ml per container, however, you must have a medical certificate).
Air China: Food in hand luggage
If you are travelling from Europe to China, you can take practically all solid food with you in your hand luggage, as long as you eat it during the journey and do not want to import it to China.
For example, you can easily take snacks with you in your hand luggage: Sandwiches, chips, chocolate and even meat snacks are allowed.
This does not mean, however, that you are allowed to import these foods into China. Especially for milk and meat products, there are strict import bans (not only in China but in general almost everywhere in the world as far as the import of such products from third countries is concerned).
As far as liquid food in hand luggage is concerned, you must comply with the rules for liquids in hand luggage. This means that you can only bring very limited quantities of liquid food on board.
Attention: Nutella, sausage spread, cheese spread, for example, also count as liquids at the security checkpoint.
Air China: Pets on board
Many airlines carry smaller pets, such as dogs and cats, both in the cabin of the aircraft and in the hold of the aircraft. However, this is not the case with Air China. The Chinese airline does not carry animals in the cabin.
Dogs and cats can be transported as "special baggage" in Air China's cargo hold. The following rules must be observed in particular:
The transport of pets at Air China requires an early registration at an official ticket office.

The transport of pets is handled under the category "special baggage" and is calculated according to the special baggage fee standards.

Each flight is limited to one container of live animals and each container is limited to one live animal.

The total weight of each container must not exceed 32 kg, otherwise, it must be transported as cargo.
Cats and dogs must be at least 8 weeks old in order to be transported;

Cats and dogs during pregnancy or breast-feeding cannot be transported.

Cats and dogs that have just given birth to offspring may only fly after one week after the birth of the offspring.

The transport of live animals applies to the actual one-way direct flights of Air China as well as to national and international connecting flights via Beijing, Shanghai and Chengdu with a transit time of more than 2.5 hours.
To transport pets with Air China, you must also have a suitable pet carrier. As a rule, these containers must comply with IATA guidelines.
However, Air China's website states that the container must meet a Chinese standard, National Standards GBT26543-2011, People's Republic of China – General Requirements of the Packing of Live Animals for Air Transportation.
On the following page, you will find an overview of the requirements according to this document.
Air China: musical instruments in the cabin
Transporting a musical instrument by air is often more complicated than one would like.
Most airlines do provide good information on how to transport musical instruments in the passenger cabin (or in the cargo hold), however, the problem is that each airline has its own rules & regulations when it comes to the carriage of musical instruments on airplanes.
An international standard for the transport of musical instruments in airplanes? Don't even think about it. Unfortunately, there is no such thing (yet).
Well, what about Air China and musical instruments then?
Unfortunately, Air China does not provide much information on this on its official website. After a long search, we could only find the most basic information in a Q&A session at Air China. We have summarized the information for you:
Air China allows musical instruments in the cabin if they comply with the regular hand luggage regulations (in terms of size and weight).
In plain language, this means that you may only bring musical instruments on board (cabin) if they are no larger than 55 x 40 x 20 cm and no heavier than 5 kilograms (economy class) or 8 kilograms (first/business class).
If the musical instruments exceed these regular hand luggage regulations, the musical instrument can only be transported in the cabin if you have booked an additional seat for the musical instrument.
n this case, Air China does not specify exactly which musical instruments may be transported in an additional seat.
From experience, however, I can tell you that the transport of musical instruments on an additional seat is usually only possible for a few musical instruments at all.
Historically, airlines carry a cello or a guitar in such an extra seat. In addition, such an extra seat is a costly undertaking, as it will cost you as much as a regular ticket.
How strict is Air China about hand luggage?
Air China can be described as a less strict airline when it comes to hand luggage. I have travelled a lot in China in recent years and my hand luggage has never been checked for weight and/or size. Neither in China nor in Europe.
Of course, it also plays a role what kind of hand luggage (appearance, size, etc.) you have with you and what routes (airports) you travel. Some airports have stricter controls than others.
I always had a standard piece of hand luggage (trolley) with me, which probably doesn't look really suspicious.
In general, you should make sure that your hand luggage does not exceed the maximum dimensions. As long as the size of your hand luggage is within the allowed maximum, most airlines still do not weigh it (regularly).
Attention: When travelling in China, absolutely to consider
In China, many aspects of baggage are subject to the same regulations as in the EU and the USA. For example, the liquid rule for liquids in hand luggage is the same as in the EU and also in the USA (in the USA we are talking about the Liquids 3-1-1 rule).
However, there are certain differences: for example, it is strictly forbidden in China to take lighters and matches with you on flights.
And not only in the hand luggage as well as in the checked luggage but also on the body. In Europe, on the other hand, one lighter or one box of matches per passenger may be transported on the body. But not in China.
How to best get in contact with Air China
Although the social media channels Twitter and Facebook, which are common in the West, are blocked in China itself, i.e. it is not possible to access these websites on the Chinese mainland, Air China, like most other airlines, still has its own Twitter and Facebook channel.
Through these channels, you can ask questions to Air China (including questions about hand luggage and checked baggage) as long as you are outside mainland China:
Contact by E-Mail (for customers in the European region): ca_europe@airchina.com
The hotline number for calls from the US is:
Air China US Hotline Number: +1-800-882-8122
According to Air China's website, there is no direct hotline number for calls from individual European countries. But there is a number for customers in Europe in general:
00-800-86-100-999 (For landline calls!)
Air China does not currently offer a live chat function, as is the case with easyJet, Condor or Ryanair, for example.
Air China Hand Luggage FAQ
Can I bring a handbag on Air China in addition to my large piece of hand luggage?
Air China's official website mentions only one piece of hand baggage (a large piece of hand baggage).
In practice, it seems that Air China also allows you to bring a small piece of hand baggage (e.g. a laptop or a handbag) on board in addition to this piece of hand baggage. Also in economy class.
I have been travelling a lot in China in recent years, have often flown with Air China (both in China and internationally) and always had two pieces of hand luggage with me. There were never any problems with that.
Can I carry a Powerbank in my hand luggage at Air China?
Powerbanks are allowed on Air China, but only in hand luggage. Powerbanks are not allowed in checked baggage at Air China.
Can I carry a lighter on Air China flights?
No. Lighters are prohibited on Air China flights, in hand luggage, checked baggage and on the body. Lighters and matches are generally prohibited in China when travelling by air.
Can I take a shaver with me in Air China hand luggage?
An electric shaver is no problem in hand luggage. The same applies to epilators. Traditional wet razors, on the other hand, are prohibited. If they are wet razors with blades behind bars, this is fine (disposable razors). Razor blades are forbidden in hand luggage.
Is Air China a member of the International Air Transport Association (IATA)?
Yes, China is a member. IATA code CA, IATA prefix 999.
Hey guys! It's me, Marcel. I am the proud owner of carry-on-baggage.com. I am dealing with hand luggage related issues on a daily basis and I own several websites in this niche. Travelling is one of my biggest passions in life and I, therefore, happen to know a thing or two about hand luggage. I hope you all have a safe trip! Take care and thanks for the support. I really appreciate it.