Emirates: Hand Luggage Allowance
ECONOMY CLASS: You may bring a large piece of hand luggage with the maximum dimensions of 55 x 38 x 20 cm (max. 7 kg) with you.
BUSINESS & FIRST CLASS: You may bring both a large piece of hand luggage measuring 55 x 38 x 20 cm (max. 7 kg) and a small piece of hand luggage measuring 45 x 35 x 20 cm (max. 7 kg) onboard the aircraft.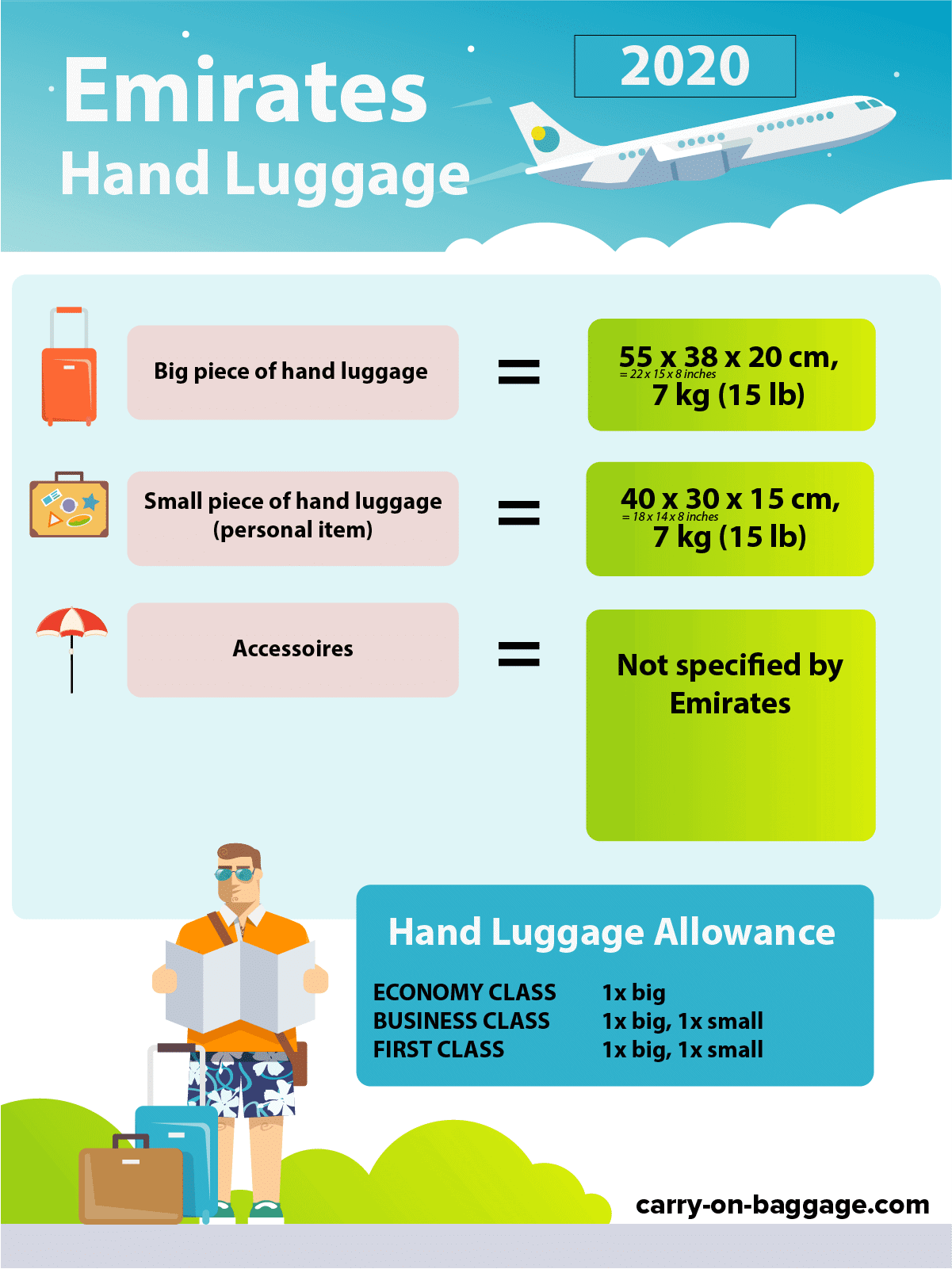 Emirates: Hand baggage allowance for infants
Can passengers travelling with infants bring additional hand luggage on board Emirates?
Yes, passengers in all Emirates classes (Economy, First, Business) may take the following additional cabin baggage:
one carry-cot or one fully collapsible stroller, but only if you do not have a child seat with you
*By the way, liquid baby food and liquid medication are not subject to the hand luggage regulations for liquids in hand luggage. You may, therefore, also carry these items in containers larger than 100 ml per container in hand luggage, but these must be baby food or liquid medication on which the passenger is urgently dependent during the flight.
If the medication is liquid, you may be required to present a medical certificate at the security checkpoint. You can read more about this, for example, in our extensive article "Syringes in hand luggage".
Emirates: liquids in hand luggage
Liquids in hand luggage are only permitted in small quantities at Emirates. The same applies here as always:
All liquids must be transported in the bag of liquids
This plastic bag for liquids must be transparent and resealable
Each liquid container must not exceed the max. capacity of 100 ml (the capacity of the container is decisive, not the current filling level)
The capacity of the bag must not exceed one litre
The bag must not be larger than 20 x 20 cm
Each person may only take one such plastic bag (type: freezer bag from the supermarket) with them
You can find more about the Liquid Rule according to the EU Regulation here
Emirates: Food in hand luggage
Is it allowed to take food in your hand luggage at Emirates? Basically, you can. The following are some important points, but they must be observed:
If the food is in solid form, then transport within the EU is generally harmless, and this type of food does not cause any problems at the security checkpoint.
If you bring food in liquid form with you, you must comply with the regulations for liquids in hand luggage (according to EU regulations or for departures from America according to Liquid Rule 3-1-1). The trick is to know which food is classified as a liquid at the security checkpoint and which is not. This is relatively simple for many food products, but not everyone is aware that Nutella, sausage spread and jam are strictly treated as liquids at the security check.
For some foodstuffs, in particular milk and meat products, there are strict import regulations and, in some cases, bans. Here it is essential to understand that this will not lead to problems at the security checkpoint, but rather at customs. For example, you can easily take meat through the security check, even if you are travelling internationally and across EU borders. However, your meat will then be at the end of its journey at customs when it arrives in the country of destination because meat products are generally not allowed to be imported. Within the EU borders, you can also take meat and dairy products with you in your hand luggage without any problems.
A little hack for you: As long as the food is solid and you eat it before landing in the destination country (or before customs), you can also carry practically all kinds of food in your hand luggage on international flights (even across EU borders). Even meat snacks and sandwiches for airplane travel are included.
Emirates: Musical instruments on board
Taking musical instruments with you on flights… that's one of those things. And unfortunately, it's a thing that every airline handles differently. So how does the music play with Emirates?
With Emirates there are three ways to transport musical instruments in the plane:
Carrying musical instruments in the cabin as hand luggage
The transport of musical instruments in the cabin on an additional seat (for which you have to pay) or on a free seat in the cabin, provided that the instrument is below the usual size and weight limits for hand luggage.
The transport of musical instruments in the cargo hold of the aircraft (i.e. as checked baggage)
So far, so good. These three options are offered by most airlines. However, the regulations for each type of transport are very different for all airlines.
Now, Emirates provides only very vague information about the transport of musical instruments in the airplane and does not mention any instruments by name, let alone explain exactly what the regulations are.
From experience, however, we can let you know that the topic of musical instruments onboard the aircraft usually gets handled by the airlines in the following way:
Smaller musical instruments which do not exceed the regular size and weight regulations for hand luggage according to Emirates (i.e. not larger than 55 x 38 x 20 cm, maximum 7 kg) may be transported in the cabin.
Musical instruments that violate these regulations can either be transported in an additional seat or must be checked in as checked baggage (special baggage).
Typically, (only) cellos are transported on an additional seat, as they are "the right" size for transport on an additional seat. It is unclear whether Emirates can also transport guitars on an additional seat. This is not possible with many airlines. Please contact your Emirates branch or your travel agent to find out
Large musical instruments such as a double bass, a drum set or a harp cannot be transported in the cabin of any airline. Transport (if at all) is only possible in the hold (checked baggage) or even as freight. If you wish to transport such an instrument, please contact Emirates as well (either via the contact channels at the bottom of this article or even better via your Emirates branch/travel agency).
As a rule, the transport of such large musical instruments must be notified in advance to the airline. You cannot simply arrive at the airport with a harp and assume that it can be transported as checked baggage in the hold. The space for such musical instruments is usually very limited, and only a few such bulky items can be transported per flight.
If you would like to get some more in-depth information about the topic, please have a look at these great 9 tips for carrying musical instruments on airplanes.
Emirates: Travelling with Pets
Transport in the cabin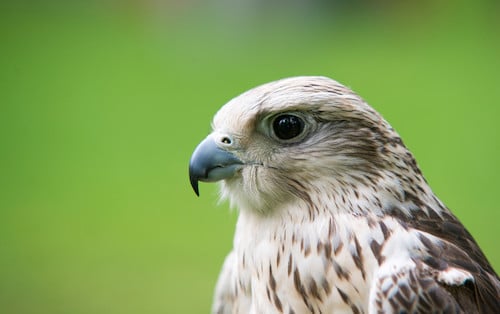 In principle, Emirates does not carry animals in the cabin of the aircraft, but with two exceptions: Falcons and guide dogs.
Emirates does generally not carry pets in the cabin of the aircraft. However, there are two exceptions:
Falcons may be carried in the cabin on flights between Dubai and certain destinations in Pakistan.
Guide dogs are also allowed in the cabin. However, this is not really surprising, because guide dogs are allowed in the cabin of all airlines (probably regulated by law).
Transport in the cargo hold
Emirates usually carries pets in the aircraft's cargo hold, including falcons, cats, dogs and birds. However, only if the following points are observed:
The total duration of the journey, including transit times, must not exceed 17 hours.
You must contact your local Emirates office well in advance of your trip.
The transport of animals requires a special animal transport container. Especially if the transport is to take place in the cargo hold, then you absolutely need an IATA-compliant transport container.
For the animals themselves, you must have various documents (import permit of the destination country, health certificate, vaccination certificate, etc.).
Attention: On all routes ending in Dubai, the animals must be transported as cargo and cannot usually be carried in the aircraft's hold. More information can be found at Emirates SkyCargo
As far as prices are concerned, you can find them here.
When departing from America, please note the following in particular
If you are travelling with Emirates and take a flight from America, the rules as defined by th the American Transportation Security Administration (TSA) need to be observed.
The TSA has a very practical and detailed website where you can find out in a hurry which items are allowed or forbidden in your hand and checked baggage, how much you can bring with you and under which (special) conditions.
Especially the subpage "What Can I bring" offers a quick overview. You should definitely consult this page if you are planning a flight from America.
If you are still unsure afterwards whether your luggage and all utensils really comply with the rules of the TSA, you can write to the TSA directly. And best of all via Twitter. The official TSA channel on Twitter allows you to reach TSA staff at virtually any time, and in most cases, you will receive a prompt reply.
The cool thing about this service is that you can also attach pictures. So if you're not sure if your corkscrew is allowed in your hand luggage, just take a picture of it, upload it as an attachment to your message and send it to the TSA. Soon a message will flutter into your Twitter inbox, and you will know if your corkscrew or another item in question is allowed to travel in your (hand) luggage or not.
When flying with Emirates to America, be sure to observe the powder rule
If you are travelling to the USA, regardless of whether you are travelling with Delta Airlines, United Airlines or a European airline such as British Airways or Lufthansa, you must comply with the powder rule which came into force at the end of June 2018 for flights to the USA.
Essentially, the powder rule states the following:
Containers in hand luggage with more than 350 ml of powder are subjected to an extended inspection at the security checkpoint.
If it is not possible to determine exactly what powder substances are involved, the powder is confiscated at the control centre.
Pack powders which are in containers with a capacity of more than 350 ml into your checked baggage.
One question that naturally arises in this context is, of course, which substances are regarded as powders at all. Powders include (but are certainly not limited to) the following substances:
baby powder
protein powder
vitamin powder
powder makeup
coffee powder (instant coffee for instance)
How strict is Emirates on hand luggage?
There are huge differences between airlines when it comes to checking hand luggage, especially in terms of weight and dimensions. Emirates checks hand luggage quite rigorously, and at some airports, both the weight and the dimensions of hand luggage are strictly controlled.
Weight checks are carried out at some airports directly at check-in (e.g. Manchester), while at other airports the weight of hand baggage is only checked after check-in (e.g. Dubai). After check-in, why is that?
A good reason for why checks in Dubai are only carried out after check-in could be that many passengers now do the practical thing of not bringing part of their hand luggage to check-in (and, for example, leaving it with friends for a short time) and only adding it back to their hand luggage after check-in. This is, of course, a cheat, but the weight of hand luggage can be drastically reduced in the meantime, and there is no danger of being caught with excess baggage at check-in.
You have probably recognised what I am trying to say: If the hand luggage is checked only after the check-in, then, of course, you have to show the complete hand luggage, and so it becomes quite difficult to cheat.
Well, is this done practically everywhere like in Dubai? No. And even if you fly with Emirates, your hand luggage won't be weighed at some airports, either at check-in or afterwards.
What is the best way to contact Emirates?
Emirates can be reached via the following contact channels:
Emirates Call Center (scroll down to page until the "Call Us" section and choose your country there)
If you want to contact Emirates via a call centre, here are the numbers for calls from the UK & the US.
From the UK:
For general inquiries: +44 344 800 2777
For lost and damaged luggage: +44 344 800 652 96
From the US:
For general inquiries: +1 800 777 3999
For lost and damaged luggage: +1 844 556 1400
If you want to contact Emirates via social media, we recommend you to contact them via Twitter. Of course, you will need a Twitter account to do so. Contact via Twitter is easy, efficient and possible at any time because Emirates offers around-the-clock service on its Twitter channel.
Related Questions
Can I bring a laptop into the cabin in addition to my hand luggage?
Laptops are generally allowed as hand luggage at Emirates. However, not in addition to the free hand baggage allowance, but rather as part of the free hand baggage allowance and usually referred to as a small piece of luggage (or personal item). Emirates calls this small piece of hand luggage "briefcase" on the official website and specifies that it must not exceed 45 x 35 x 20 cm. Instead of a briefcase, you are allowed to bring a laptop (in a laptop bag).
Is hand luggage weighed at Emirates?
At some airports, Emirates weighs all hand luggage either at check-in (e.g. Manchester MAN airport) or afterwards (e.g. Dubai DXB). At other airports, Emirates only randomly checks the weight of hand luggage at check-in or at the gate. In principle, it can be said that Emirates checks the weight of hand luggage more regularly than many other airlines.
Can I take a Powerbank with me in my hand luggage at Emirates?
Yes, Powerbanks even have to be carried in carry-on luggage, because replacement batteries, including the Powerbanks, are forbidden in checked baggage at Emirates, as is now the case with all other airlines.
How many kilograms of hand luggage are allowed on Emirates?
Each hand luggage piece may weigh a maximum of 7 kg. This applies both to the large piece of hand luggage (trolley, backpack or large bag) and to the small piece of hand luggage (e.g. briefcase, handbag or laptop bag with laptop).
Can I have sweets in my hand luggage on Emirates flights?
Sweets in your hand luggage are usually no problem. Especially when it comes to sweets in solid form, there are hardly any restrictions. For sweets in liquid form, however, the rules for liquids in hand luggage must be observed. They may only be carried in containers of 100 ml each in hand luggage, and all of these containers must be stowed in the bag of liquids.
Can I bring medication in my hand luggage on Emirates flights?
Yes, Emirates does allow medicines in hand luggage. It is even strongly recommended to carry all important medicines better in your hand luggage than in your checked baggage. As far as the transport of tablets is concerned, you can carry them in your hand luggage without hesitation and usually do not need a medical certificate. If, however, you wish to bring liquid medication with you in your hand luggage, you should be able to produce a medical certificate (this will occasionally be checked at the security checkpoint. Liquid medication (needed for on board!) is excluded from the rule for liquids in hand luggage. You can, therefore, also take liquid medicines into the cabin in containers with a capacity of more than 100 ml. Liquid medicine does not need to be stored in the bag of liquids.
Do Emirates offer a live chat function?
Yes, Emirates does indeed offer a Live Chat. You can find it here (scroll until you see "Live Chat").
Hey guys! It's me, Marcel. I am the proud owner of carry-on-baggage.com. I am dealing with hand luggage related issues on a daily basis and I own several websites in this niche. Travelling is one of my biggest passions in life and I, therefore, happen to know a thing or two about hand luggage. I hope you all have a safe trip! Take care and thanks for the support. I really appreciate it.