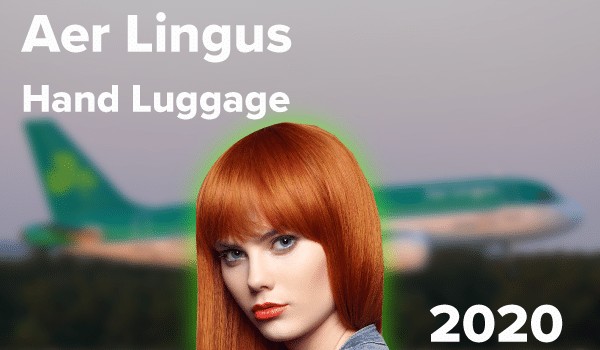 Today we want to take a closer look at the hand luggage regulations of Aer Lingus. But who exactly are we dealing with here?
Aer Lingus is the national airline of Ireland based in Dublin. It belongs to the holding company IAG and is the second largest airline in Ireland after Ryanair.
Aer Lingus primarily serves cities and destinations in Europe, North America, and the Middle East. Seasonally, Aer Lingus also flies to popular holiday destinations.
After this short introduction, we want to focus on the subject that is most important to us here at carry-on-baggage.com: Hand Luggage Allowance


How much hand luggage does Aer Lingus allow?
Aer Lingus offers 7 different fares: SAVER, PLUS, ADVANTAGE, SMART, FLEX, BUSINESS and BUSINESS FLEX.
Three of these 7 fares can be booked on european flights: SAVER, PLUS and ADVANTAGE.
The SAVER, SMART, FLEX, BUSINESS and BUSINESS FLEX fares are available on transatlantic flights.
Let us now have a closer look at the cabin baggage allowance of Aer Lingus:
One piece of regular hand luggage with the maximum dimensions of 55 (H) x 40 (W) x 24 (L) cm and a maximum weight of 10 kilograms.
One small piece of hand luggage (also called a personal item), such as a small handbag, laptop, duty-free bag or diaper bag. The maximum size for the personal item is 25 (H) x 33 (W) x 20 (D) cm.
AER LINGUS REGIONAL ALLOWANCE
One regular piece of hand luggage with the maximum dimensions of 48 (H) x 33 (W) x 20 (L) cm and a maximum weight of 7 kilograms.
Attention: On Aer Lingus Regional flights you are NOT allowed to bring a personal item. You are, therefore, only allowed to bring one large piece of hand luggage on those flights.
Aer Lingus: Travelling with children
Infants and babies between 0-2 years of age are not entitled to their own hand luggage at Aer Lingus – a practice that most airlines (unfortunately) do.
Children 2 years and older have the same right to hand luggage as adults at Aer Lingus (see above).
In addition to regular hand luggage, you may carry one of the following items if you are travelling with your child:
Car seat
Child seat
Travel cot
Collapsible buggy (must be handed in at check-in or gate)
Flying with children is a big challenge and needs to be well considered and planned. For this reason, I have created a useful guide for you: Flying with Baby and Toddler: The Ultimate Advisor
What if my Hand luggage is too big/heavy?
If your carry-on baggage is either too large or too heavy, the hand baggage cannot be taken into the cabin. In this case, the baggage will be transported in the hold of the machine and a fee will be charged.
Liquids in hand luggage at Aer Lingus
When it comes to liquids, there are no surprises at Aer Lingus. As always, the following applies here:
Liquids may not be transported in containers of more than 100 ml each
These containers must be stowed in a transparent, resealable plastic bag
The volume of this Zip bag must not exceed one litre
Only one such bag is allowed per person
Liquid medication and baby food that is needed for the flight are excluded from this liquid rule. For such liquid medications, however, you must have a medical certificate confirming that you are dependent on these medications (during the flight).
Aer Lingus musical instruments on board
Small instruments
Small instruments can be taken into the cabin on Aer Lingus flights, as long as they comply with the conventional regulations for hand luggage.
A musical instrument must, therefore, not exceed 55 x 40 x 24 cm in size and 10 kg in weight.
If it is an Aer Lingus Regional flight, the maximum dimensions are 48 x 33 x 20 cm and the maximum weight is 7 kilograms.
Medium-sized instruments
For medium-sized musical instruments, Aer Lingus, like most other airlines, may be able to transport them in the cabin, but you will have to book an instrument seat.
Such a seat can be used for a guitar or a cello. The cost of such an extra seat is the same as the cost of the regular seat. So it's anything but cheap.
It should be noted, however, that this is the case with all airlines that offer instrument seats. The weight of the instrument for the seat, including the instrument case, may not exceed 75 kilograms. In addition, the dimensions 94 x (H) 58 (W) x 41 (L) cm must not be exceeded.
How to book an "instrument seat"
If you are taking an international Aer Lingus flight, you can book your instrument seat online.
The surname must be the passenger's surname. Enter the first name 'ONE' plus the name of the instrument. For example, this could result in 'SMITH/ONE GUITAR MR'.
If you are taking a regional Aer Lingus flight, you will need to book your instrument seat at check-in and you will not be able to register it online.
More information about musical instruments at Aer Lingus can be found here on the official website.
Larger instruments
Larger instruments such as a drum set, double bass or harp must be checked in and can only be carried in the hold of the aircraft.
For the transport of musical instruments in the hold, there is usually a fee of 40 Euro if the transport is booked online. If the transport is booked at the airport, it will cost you 50 euros. In general, this fee corresponds to the transportation of sports baggage at Aer Lingus.
To carry musical instruments on airplanes is sometimes easier said than done. Therefore, I would like to draw your attention to the article "9 Great Tips for Carrying Musical Instruments on Airplanes".
Animals on board at Aer Lingus
Aer Lingus does not transport animals in the cabin of the aircraft, neither on flights in Europe nor on transatlantic flights. The only exception is assistance dogs.
Transport of dogs, cats and rabbits on European flights
On European flights of Aer Lingus, these animals can only be transported by freight.
Carriage of Pets on Aer Lingus Regional Flights
On regional Aer Lingus flights, dogs, cats and rabbits can be transported in the cargo hold of the aircraft.
Regional in this context means flights within Ireland and flights between Ireland and England.
If you wish to travel with a pet, you must contact Aer Lingus at the time of booking. You must contact Aer Lingus through the call centre to make the reservation for your pet.
Flying with pets is not an easy option. For example, your cat/dog must have an EU pet passport to be admitted to the trip. You can read more about this here.
Carry-on baggage left on board, what now?
If you forgot your hand luggage on an Aer Lingus flight, then it is best to proceed as follows:
Contact Aer Lingus. There is a special hotline number for this: 1890 800147 (for lost or delayed luggage).
Note: If you have forgotten your hand luggage on a flight to Dublin, Aer Lingus advises you to use the wereturnit service to track down your hand luggage and to get it back.
What is the best way to contact Aer Lingus?
Aer Lingus is present on all important social media platforms.
Feel free to contact the Irish airline via one of the following channels:
I recommend that you contact him via Twitter. Aer Lingus is easy to reach via this channel and gives detailed and precise answers. Aer Lingus usually responds within a very short time.
Related questions
Is it allowed to take an umbrella on Aer Lingus flights? Yes, you can take an umbrella into the cabin of Aer Lingus in addition to your regular hand luggage.
How many pieces of hand luggage are allowed in Aer Lingus? Each passenger is allowed to carry one large piece of hand luggage and one personal item. A hand luggage trolley or a large bag can be used as a large piece of hand luggage. A laptop bag or handbag, for example, is considered a personal item.
Please note: On Aer Lingus REGIONAL flights only one large piece of hand luggage may be brought into the cabin. No additional personal item (small piece of hand luggage) is allowed on these flights.
Does Aer Lingus not allow two pieces of hand luggage in the more expensive fares? No. With many other airlines, it is common for each passenger to be allowed to bring two large pieces of hand luggage on board in the more expensive fares (e.g. Business), but not with Aer Lingus.
Is a baby entitled to its own hand luggage on Aer Lingus flights? No. Babies aged 0-2 years are not entitled to their own carry-on baggage at Aer Lingus.
What exactly is Aer Lingus Regional? Aer Lingus Regional is an Aer Lingus brand used for commuter and regional flights of the Irish airline Stobart Air on behalf of Aer Lingus. Aer Lingus Regional mainly operates flights from Ireland to Great Britain, France and the Channel Islands. The base is located at Cork and Dublin airports (both in Ireland).
What is Stobart Air all about? Stobart Air is an Irish airline. It operates mainly under the Aer Lingus Regional brand for the airline Aer Lingus. Stobart Air also operates for Flybe under a franchise agreement.
Hey guys! It's me, Marcel. I am the proud owner of carry-on-baggage.com. I am dealing with hand luggage related issues on a daily basis and I own several websites in this niche. Travelling is one of my biggest passions in life and I, therefore, happen to know a thing or two about hand luggage. I hope you all have a safe trip! Take care and thanks for the support. I really appreciate it.