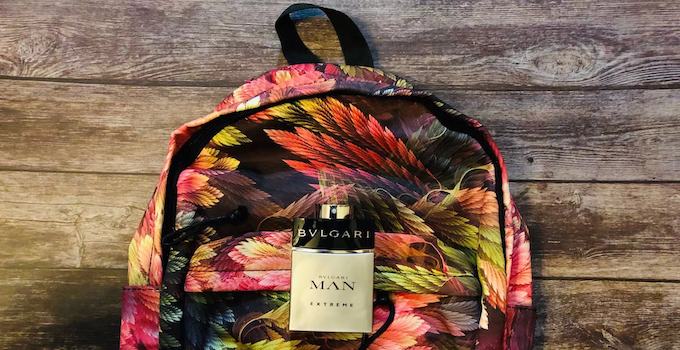 If you can't do without the perfect men's or women's fragrance when you're travelling by plane, then there are some ways to to get your perfume savely stowed in hand luggage.
However, to ensure that your sweet-scented perfume does not become your undoing at the security checkpoint, there are a few rules to keep in mind that we would like to present to you in detail below.
First, as always, the most important facts in brief, though.


Is perfume allowed in Hand Luggage?
In principle, perfume may be carried in hand luggage. However, as with all other liquids, the regulations for liquids in hand luggage must be observed.
These essentially state that liquids such as perfume may only be carried in containers of 100 millilitres each.
The containers themselves must be stowed in a transparent and resealable zip bag, which must not exceed a capacity of one litre. Also, only one such bag per person is permitted.
Accordingly, you can carry a maximum of one litre (10 x 100 ml containers) of liquid in your hand luggage.
In the case of perfume, this means that you must either buy perfume in travel sizes or transfer existing perfume into a container that conforms to the rules so that it can be transported in hand luggage.
You can order such containers on the Internet. You can find them on Amazon, for example.
Another possibility is to buy perfume in the duty-free shop because here the rule for liquids in hand luggage does not apply and so you can easily carry perfume in normal size in carry-on baggage in a sealed duty-free bag.
Buy perfume in Duty-Free-Shop
If perfume in a 100-millilitre container is not enough for you, you should buy it in the duty-free shop.
As with all other duty-free goods, perfume can be taken into the cabin in addition to regular hand luggage and, more importantly, the liquid rule for liquids in hand luggage does not apply to such duty-free goods.
Please refer to this article to find out exactly how duty-free baggage must be transported.
Buy perfume in travel sizes
Finding perfume in travel sizes is easy. And often 100 millilitres of perfume is enough for a whole trip. So if you don't want to have to transfer it into travel containers, you could buy perfume in travel size.
The most important rule to follow is that the perfume container must not exceed 100 millilitres.
After you have bought your perfume, you must place it in the bag for liquids. This bag may have a maximum capacity of one litre. If you do not yet have such a bag, then you can find out here where you can get such a bag from and what else needs to be considered in this context.
Little Tip: Keep your samples
Perfumes are often distributed as perfume samples or offered or given away in perfumeries. These promotional gifts are particularly suitable for air travel, as they come in tiny containers.
However, you should not forget that you have to keep these perfume samples in a transparent bag for liquids during transport in your hand luggage in order not to get into trouble at the security checkpoint.
You can also sometimes benefit from free perfume samples when ordering perfumes in online shops or by visiting Tryspree.
Moreover, a simple Google search with the keyword "perfume samples free of charge" brings a lot of interesting search results to the light. Just try it. And you might find several websites that offer you some perfume samples.
A travel bottle set usually also contains containers with sprayers. Consequently, perfume can also be decanted into such a container so that it can be carried in hand luggage. There are various such containers on Amazon, including those specifically for perfume.
However, don't forget that you must comply with the rules for liquids in hand luggage.
Transferring perfume into travel containers has the advantage that you do not have to transport a perfume glass bottle. Glass bottles can be classified as a security risk at the security checkpoint, as they could possibly be used as a weapon.
With a small bottle of perfume (remember: only 100 ml per container is allowed), the risk is low, but if you want to be on the safe side, it is better to fill the perfume in extra travel bottles.
There are also silicone travel bottles on the market, which you could also use for perfume and a wide range of other liquids.
What about Eau de Toilette, Eau de Cologne and Original Eau de Cologne?
Eau de Toilette, Eau de Cologne and Original Eau de Cologne (Kölnisch Wasser) are subject to the same regulations as Eau de Parfum. In compliance with the regulations for liquids in hand luggage, they can also be carried in carry-on baggage.
Did you know...
The different product names Eau de Parfum, Eau de Cologne and Eau de Toilette are based on the perfume concentration of the respective product.
The Eau de Cologne contains between 2-4 % perfume concentrate.
The Eau de Toilette contains between 5 and 20 % perfume concentrate.
Eau de Parfum contains between 10 and 20 %.
The Extrait Parfum contains between 15 and 35 % perfume concentrate.
The preference for the different dilution classes varies considerably around the world.
In Asia, for example, people often prefer perfumes with low concentrations so as not to mask the smell of the skin.
Americans, on the other hand, love strong perfumes and choose accordingly high concentrations to "adorn the skin".
In Northern Europe, the situation is similar to that in the USA, while in Southern Europe, perfumes with a moderate concentration are chosen to perform an aesthetic function.
Source: Perfume: The Alchemy of Scent (Jean-Claude Ellena, 2016)
Perfume in checked baggage
You can also transport perfume in checked baggage. It doesn't have to be a particularly small container, because the rule for liquids in hand luggage logically doesn't apply to checked baggage.
If you do not necessarily want to use your perfume yourself during the journey, it is, therefore, best to simply stow it in your checked baggage. Two or three regular-sized bottles of perfume in checked baggage are no problem at all.
Hey guys! It's me, Marcel. I am the proud owner of carry-on-baggage.com. I am dealing with hand luggage related issues on a daily basis and I own several websites in this niche. Travelling is one of my biggest passions in life and I, therefore, happen to know a thing or two about hand luggage. I hope you all have a safe trip! Take care and thanks for the support. I really appreciate it.