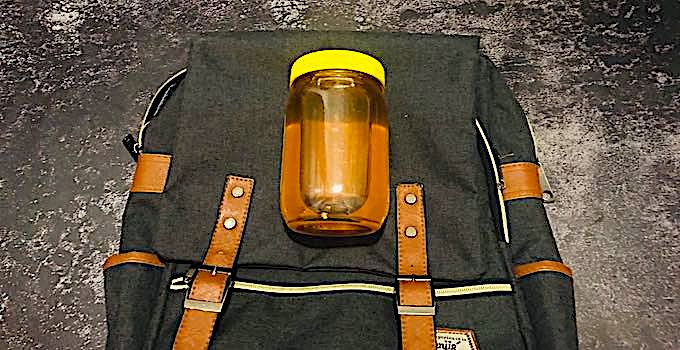 Is honey allowed in hand luggage at all?
Within the EU, the transport of honey in hand luggage is allowed, but only in very limited quantities. This is because the rule for liquids in hand luggage applies to honey. Therefore, you can only carry honey in hand luggage in containers that do not exceed 100 ml.
And these containers must be kept in the plastic bag for liquids, which must not exhibit a capacity of more than one litre.
However, there is a way to get honey in bigger containers on board the airplane: Simply purchase honey in a Duty-Free or a Travel Value Shop. Honey, which was bought there, may be taken in addition to the hand luggage also into the airplane. The 100 ml rule does not apply in this case, at least as long as you are on a direct flight!
Purchase of honey in the Duty Free and Travel Value Shop
Buying honey in the Duty Free Stores is especially recommended if you are flying directly.
If you are travelling by direct flight, you will usually only have to pass a single security checkpoint.
And thus there is no danger after the purchase that the honey (as a duty-free bag in addition to the regular hand luggage) will be contested at a security check because you actually bought that honey in the Duty-Free Shop AFTER the security check.
However, if you have to make a connecting flight, you are doomed to have an additional security check carried out at the transit airport and you may run into trouble with your duty-free goods, even if they have been packed in accordance with the rules.
What does in accordance with the rules mean?
Transport must take place in an official sealed duty-free bag (get it with the purchase).
You can recognize the bag by its red edge (the bag is called STEB-Bag by the way).
You may only open the bag at your destination.
If you are not flying directly, it is best to check with the staff at the duty-free shop whether you are really allowed to carry the honey with you or not. This applies particularly to journeys with connecting flight in non-European countries.
Within the EU the honey should make it to its destination, even if you have to make a connecting flight and thus pass through a second security check.
Watch out for honey imports into the EU
There are strict rules for the import of animal products, including honey, as far as imports are concerned. For example, meat for private use must not be simply imported into luggage.
As far as milk products and the import of fruit are concerned, you should be very careful, because here too there are strict rules to be observed.
As far as precious honey is concerned, there is fortunately an exception:
Per person 2 kilograms of honey may be imported in the luggage (for the personal use).
However, this does not mean that the rule for liquids in hand luggage does not apply. So it must either be honey that you have transported in your checked baggage or that you have bought in the duty-free shop.
Import of honeycomb honey is forbidden
For honeycomb honey, however, the above exception rule (see previous section) does not apply. For example, if you fly back to the EU from Turkey, you cannot import honeycomb honey as a holiday souvenir. This is because importing honeycomb into the EU from third countries is prohibited.
Why is that?
The reason for this is that there could be pathogens in the honeycombs that could cause epidemics in bees. Imports are therefore prohibited unless you have a health certificate for the honeycomb honey.
Bringing honey to Switzerland
As Switzerland is not a member of the EU, the provisions for food in travel may in some cases differ from those for EU countries.
However, it is often the case that Switzerland is treated in the same way as an EU country when it comes to food in travel.
In the case of honey, the following applies to taking it into Switzerland:
You may import honey from the EU without special restrictions. The same rules apply as within the EU.
You may import a maximum of two kilograms of honey from third countries. In other words, as much as in an EU country.
The import of honeycomb honey into Switzerland is also prohibited.
Further information on the introduction of foodstuffs and animal products can be found at the Swiss Federal Customs Administration
Honey in checked baggage
Can you put your precious honey in your checked baggage, though? Absolutely. There's nothing wrong with that. In your checked baggage you can also transport honey in larger quantities than 100 ml per container, as long as you comply with the 2-kilogram rule (as described above) and the honey is for personal use.
Related Questions
Is honey considered a liquid at the security checkpoint?
Absolutely. So you can only bring it if you safely store it in a container that does not exceed 100 ml. Moreover, this container needs to be stowed in the bag of liquids.
Can you bring honey on a domestic flight?
In the US and also in Europe, you can definitely bring honey on domestic flights as well. However, in any case, you will need to respect the rules for liquids in hand luggage. Therefore, honey can only be brought in very small amounts in hand luggage (containers of 100 ml max, up to 1 litre. Containers need to be stored in the bag of liquids).
Can you take glass in hand luggage?
In the case of glass in carry-on baggage, it is at the discretion of the security officer at the security checkpoint whether or not the glass may pass through. There is no clear answer to this question. The smaller the glass object, the greater your chances that it will make it through the security check. If the security officer considers the glass object to be dangerous (for example, because the glass object could potentially be used as a weapon), the object will be confiscated at the security checkpoint.
Hey guys! It's me, Marcel. I am the proud owner of carry-on-baggage.com. I am dealing with hand luggage related issues on a daily basis and I own several websites in this niche. Travelling is one of my biggest passions in life and I, therefore, happen to know a thing or two about hand luggage. I hope you all have a safe trip! Take care and thanks for the support. I really appreciate it.