There's no shortage of things to see and do at La Caleta National Marine Park. Located in the beautiful Dominican Republic, La Caleta is a location that you'll never forget.
Not only is the park itself incredible and inspiring, but the sights and surroundings are nothing short of stunning.
Perfect for family and couple vacations, you might be wondering before you go: what can visitors see and do at La Caleta National Marine Park?
Well, the park is completely underwater, so the adventure is endless. One visit to La Caleta is certain to leave you talking about it for years to come, and longing to go back.
What Can Visitors See and Do at La Caleta National Marine Park
Visitors that come to this underwater treasure will see the bright and colorful coral reefs, marine animals such as sea turtles, grouper, balloon fish, lionfish, rays, and octopus, underwater caverns, and caves, and several incredible shipwrecks. The park is suitable for divers of every level.
Exploring La Caleta National Marine Park
Exploring La Caleta National Marine Park is an unforgettable experience. The park dive employees are experts at the park and will gladly show you the ropes, but for experienced divers, the adventures are endless.
La Caleta boasts beautiful underwater caves and caverns, full of marine life, seascapes, and shipwrecks.
The opportunities are abundant for stunning visuals, so if you've got a camera that works underwater, don't hesitate to bring it along. These are memories you'll want to capture and remember forever, especially if you're with family and friends.
Caves and Caverns
The caves and caverns at La Caleta are both gorgeous and haunting. It's eerily quiet deep under the sea, but there is also a certain level of peace that you'll find swimming gently through the water.
It gets very dark in some of the caves, so always be sure that you have a swimming partner and a light to ensure that you don't accidentally wander away from the group.
If you've never experienced underwater caves and caverns, La Caleta is one of the best ways to do so.
Shipwrecks
Shipwrecks are typically a once-in-a-lifetime visual. Not many people get to see them more than once, so revel in every second of your time exploring the shipwrecks of La Caleta.
It's amazing to see something so large under the sea, and the level of preservation on the ships is shocking.
Your guides will give you some background information on the shipwrecks you'll see, and though the marine life is incredible, the shipwrecks are often the highlight of the visitor experience.
Marine Life
The marine life at La Caleta is extensive, and there are times during your dive when you'll feel like it's all around you. While it's not as plentiful deep in the caves, near the surface, and around the reefs, you'll find a large number of different marine animals going about their days.
Sea turtles, octopuses, lionfish, balloonfish, grouper, and rays of all sizes are plentiful. The colors are incredible, and you're certain to never forget how it felt to see these animals up close, in their very natural habitat.
Coral Reef
People from all over the world travel to La Caleta to see the reef. It's bright, beautiful, and unlike anything, you'll ever see when it comes to color. The animals that live among it peek in and out of the coral, creating wonderful surprises along the way.
Guides will explain to you, in detail, the animals that you'll see under the water. They will most likely tell you to keep your hands to yourself, which should be obvious, though it can be difficult to resist reaching out and touching a large ray!
These animals are relatively used to humans, and may not shy away from you. Still, it's best to keep your hands to yourself.
View this post on Instagram
Other Options at La Caleta National Marine Park
Though diving is the best part of La Caleta, there are other things to do and see if the water isn't your thing.
Live music events, golfing, beaches, hiking, spelunking, horseback riding, fishing, boating, ziplining, and museums are just a few of the activities offered in and around La Caleta.
Frequently Asked Questions about What Visitors Can See and Do at La Caleta National Marine Park
What is there to do at La Caleta National Marine Park?
The adventure options are endless, but diving to see the underwater marine park is one of the most popular experiences at La Caleta. When you're not diving, try hiking, live music, dining, horseback riding, spelunking, golfing, or simply lying out on the beach!
Is diving at La Caleta safe?
Diving at La Caleta is safe for divers of all levels, and you can join a guided tour with experienced divers as your guides. Many tourists dive safely at La Caleta every day, so don't let those concerns hold you back from at least a shallow dive.


Conclusion On

What Can Visitors See and Do at La Caleta National Marine Park
You can do and see the following at La Caleta National Marine Park:
Go diving and explore the bright and colorful coral reefs
See marine animals such as sea turtles, grouper, balloon fish, lionfish, rays, and octopus
Visit underwater caverns and caves
Dive and explore several incredible shipwrecks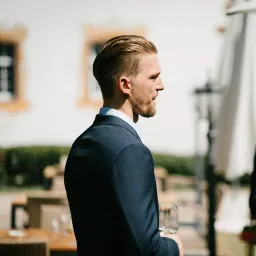 Hey guys! It's me, Marcel. I am the proud owner of carry-on-baggage.com. I am dealing with hand luggage related issues on a daily basis and I own several websites in this niche. Travelling is one of my biggest passions in life and I, therefore, happen to know a thing or two about hand luggage. I hope you all have a safe trip! Take care and thanks for the support. I really appreciate it.