You'll find the 14 best areas to live around Dallas listed in this article.
Dallas TX is one of the country's largest cities, and it continues to grow and attract many people from all over the world.
According to experts, more people have moved to the Dallas-Fort Worth area in the last decade or so than any other city in the U.S., and the trend is not likely to stop anytime soon.
Most people living in Dallas do not stay within the city itself but in its surrounding areas instead.
You'll be happy to know that in this vibrant, growing metropolis, there are many interesting areas you can call home.
14 Best Areas To Live Around Dallas
Addison
Plano
Irving
Frisco
University Park
Highland Park
Coppell
Richardson
Southlake
Mckinney
Allen
Arlington
Flower Mound
Grapevine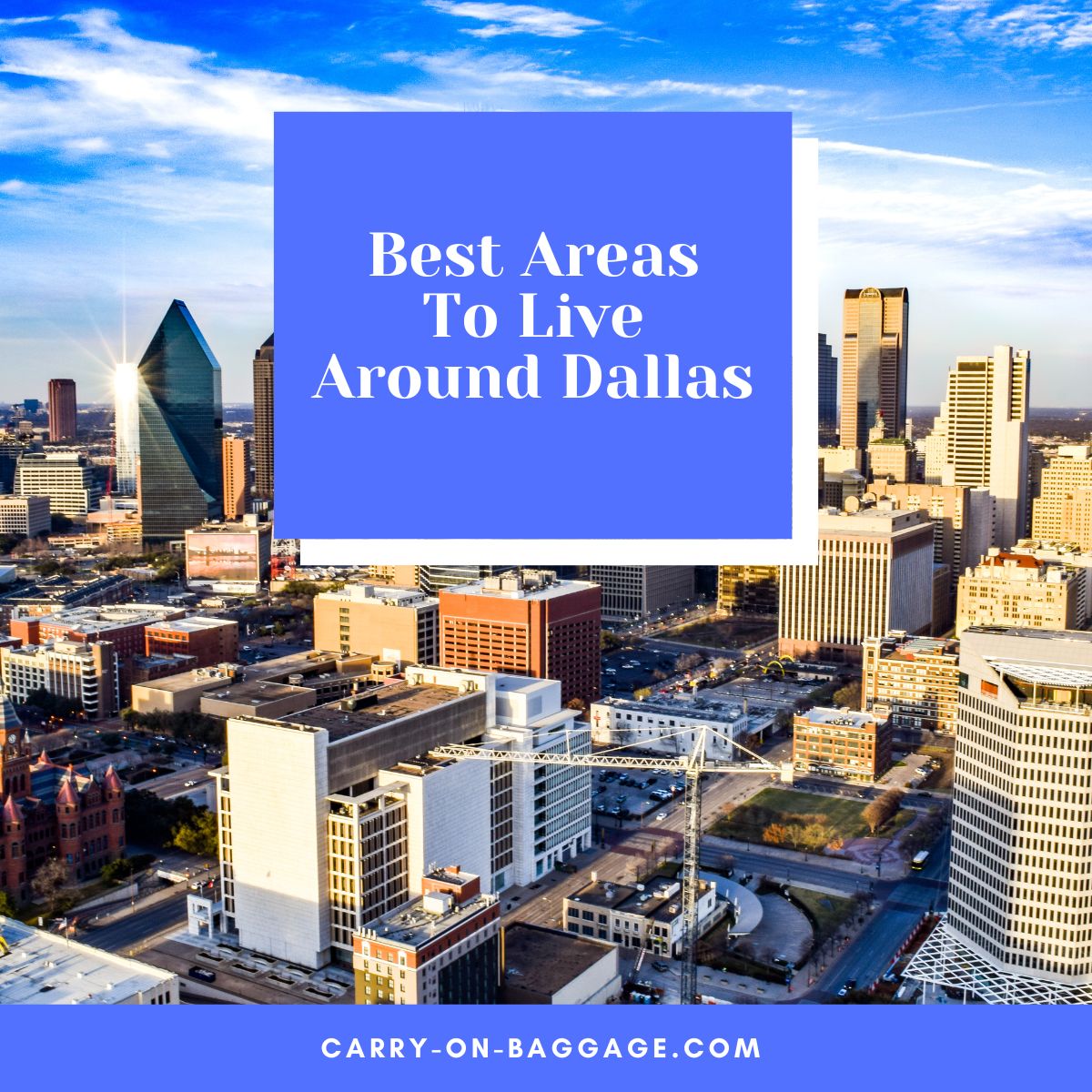 14 Best Areas To Live Around Dallas
1. Addison
Addison is a town located 14 miles north of the city of Dallas. It is a popular suburb for families and young professionals because of its close proximity to the Dallas city center, as well as to neighboring towns like Frisco and Plano.
Addison is known for its shopping, museums, outdoor events as well as food.
The Galleria Dallas is an upscale shopping center that features top-notch luxury brands and is known for its ice-skating center and Holiday events. It is considered one of the best shopping centers in all of Dallas with hundreds of shops and food options.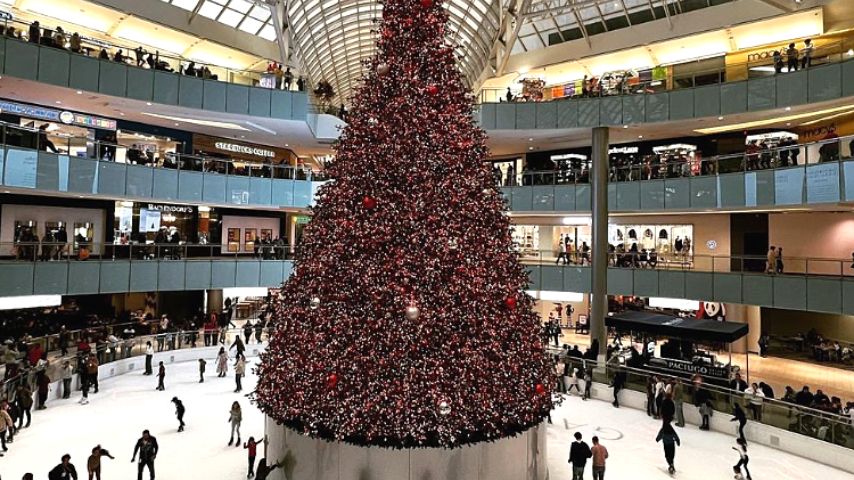 The Cavanaugh Flight Museum is also a popular attraction in Addison Airport, and it contains the largest collection of WWI and WWII warbirds in the Southwest.
Addison Kaboom Town is a yearly, nationally-recognized fireworks show that happens every year on July 3rd to celebrate the country's Independence Day.
Over 400,000 visitors come to witness the dramatic fireworks show and the air show featuring the historic warplanes from the Cavanaugh Flight Museum.
Addison is known for its green spaces and parks. Vitruvian Park is a 19-acre world-class destination park with a beautiful spring-fed creek and tons of green spaces developed for people to enjoy and relax outdoors with the various festivals and activities that it hosts.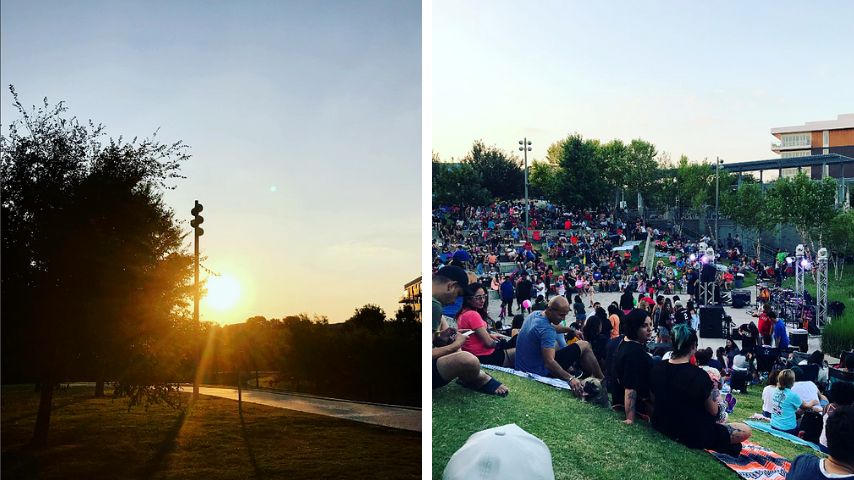 Addison is also known as a foodie hotspot, with over 200 restaurants found in just 4.4 square miles. With just 16,000 residents, Addison has the most restaurants per capita in USA.
Most of the restaurants and food choices are local and homegrown, which means that most of them cannot be experienced anywhere else other than Addison.
Addison also has tons of events that attract many visitors. Taste Addison is an award-winning food and music festival that showcases good food and musical artists, and the Oktoberfest celebration in Addison is considered by several media outfits as one of the most authentic outside of Munich.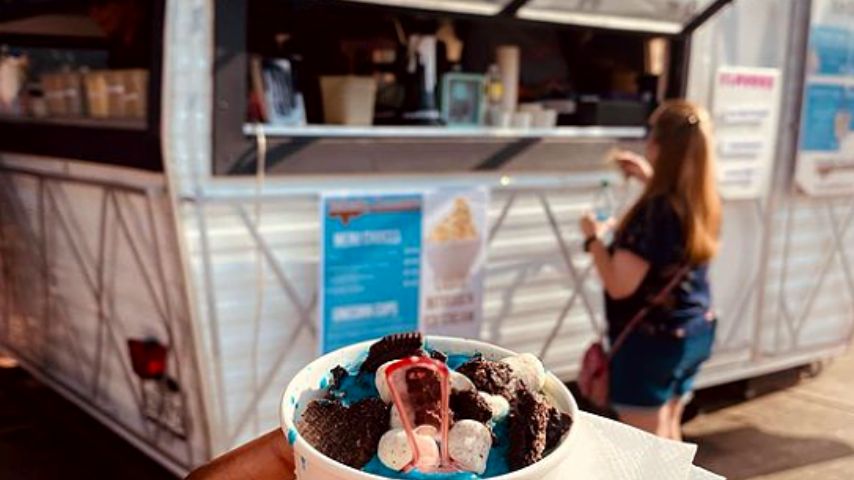 Addison is close enough to the Dallas city center for it to be convenient but also offers the experience of a suburban town with unique events and festivals.
Main Attraction: Over 200 restaurants, shopping, parks, annual festivals
Distance from Downtown: 14 miles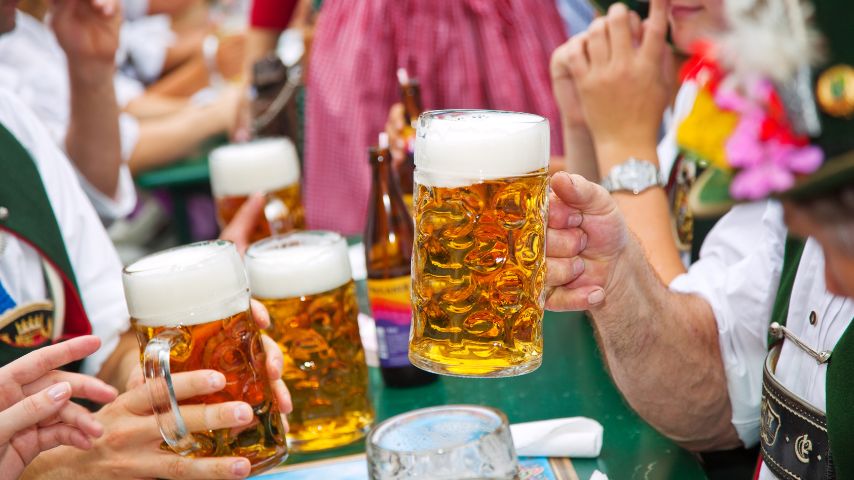 2. Plano
Considered one of the happiest cities in the country and the number one happiest city in Texas according to the finance website WalletHub. Plano is largely known as one of the best places to live in the USA.
With its safe streets, excellent public schools, diverse community, world-class dining, shopping, and booming job market, it has generated a lot of interest in the last several years and is becoming a very popular place to live outside of the Dallas city center.
It is a highly educated, affluent area that houses the headquarters of many large corporations like Toyota Motors North America, Frito-Lay, JC Penney, Bank of America, and Pizza Hut, among others. The main industries found here are business and trade, manufacturing, and education.
Some of its top attractions include the Arbor Hills Nature Preserve, a 200-acre natural park where jogging, walking, hiking, and cycling can be enjoyed, and the Heritage Farmstead Museum, a living history museum that depicts life in the Blackland Prairies in the 1800s.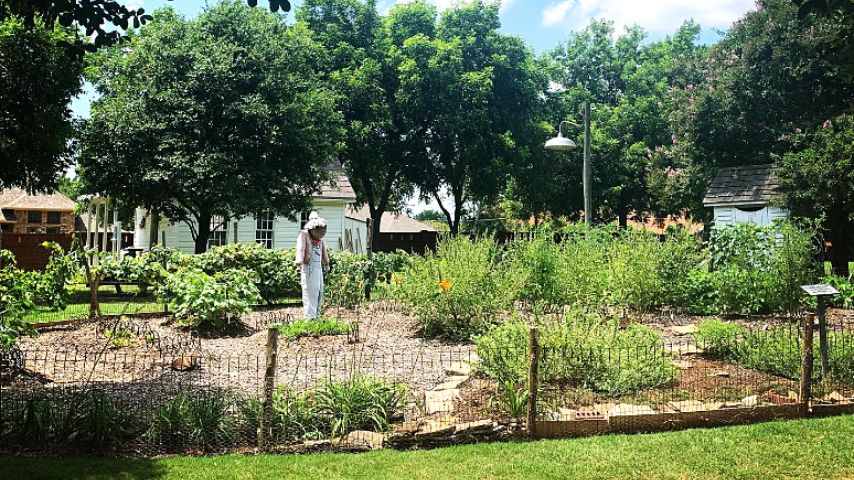 Legacy West is a 255-acre mixed-use development that boasts a variety of restaurants and shops and is the largest of this kind of development in North Texas. You can buy clothes, cosmetics, home furnishings, and yes even cars, as Tesla also has a showroom here.
During the summer in Plano, you can also swim in a Texas-shaped pool, a unique pool listed on the National Register of Historic Places.
Plano is a popular place to live because of its good educational system, strong job market, safe streets, and myriad dining and entertainment options.
It is also a green city, one of the greenest in Texas. Most residents living in Plano enjoy the fact that most places are within a ten-minute walk from a green space.
Main Attraction: Strong job market, diverse entertainment options, excellent education, green spaces, and parks
Distance from Downtown: 19 miles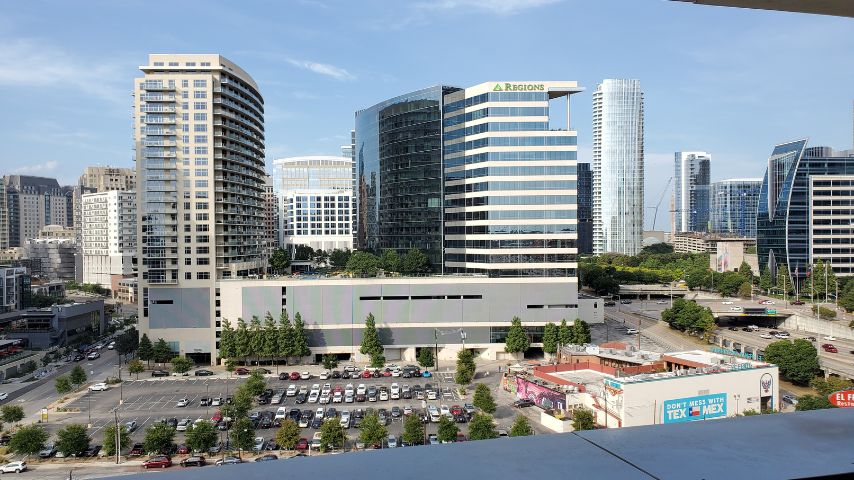 3. Irving
Irving is a city conveniently located between Dallas and Fort Worth and is a zip code that is considered to be one of the most diverse in the country. It is home to about 240,000 residents but over 3 million people come to the city to work.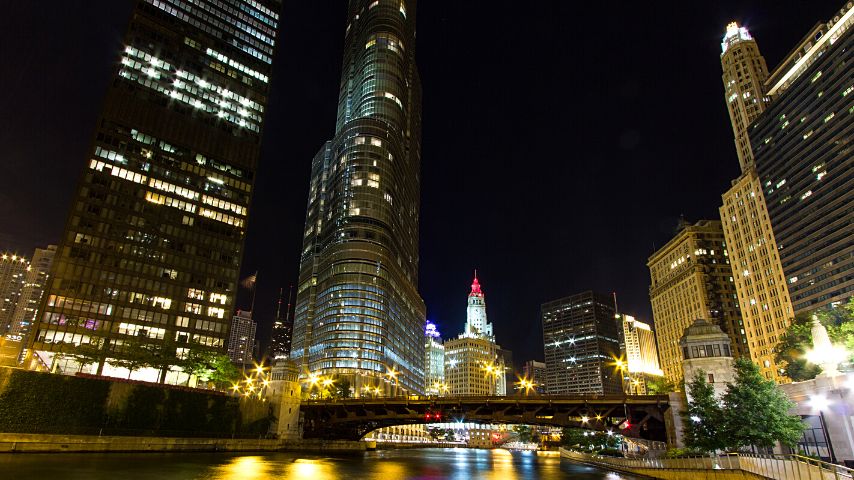 Its proximity to two major airports makes it a very convenient place to live, especially if you travel a lot.
It is most well known for being the headquarters of several Fortune 500 corporations like Exxon Mobil, Kimberly-Clark, and McKesson Corp, as well as over 8,000 local and multi-national companies that have offices in the city.
Las Colinas is a 12,000-acre, mixed-use, planned urban development that has a diverse mix of commercial, residential, and corporate amenities that is a huge attraction for these Fortune 500 and Fortune 1000 companies, with most of them being based here.
Centers of higher learning like the University of Dallas, DeVry Institute of Technology, and Dallas College North Lake Campus have also set up shop here.
Las Colinas has 56 beautiful lakes within the property, a lot of public and private parks, golf courses and country clubs, hospitals, colleges and universities, cultural and recreational centers, lots of amazing shopping, dining, and hotels, and many unique things to do.
The Pavillion at Toyota Music Factory is a 250,000 square-foot indoor and outdoor amphitheater that can seat 8,000 for live music and entertainment, and the Mandalay Canal Walk is a quaint part of the city filled with restaurants where you can enjoy a gondola ride.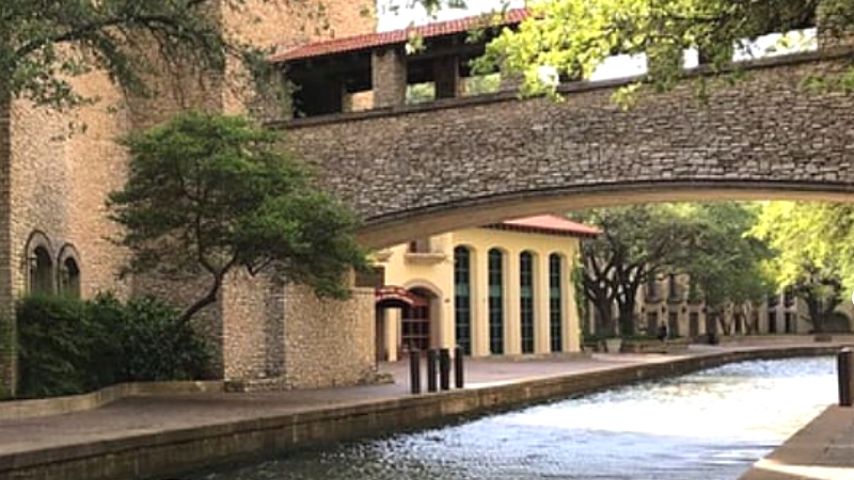 The beautiful equestrian sculpture, Mustangs of Las Colinas, features nine bronze mustangs running through a granite prairie stream. It's quite realistic to watch and breathtaking to behold.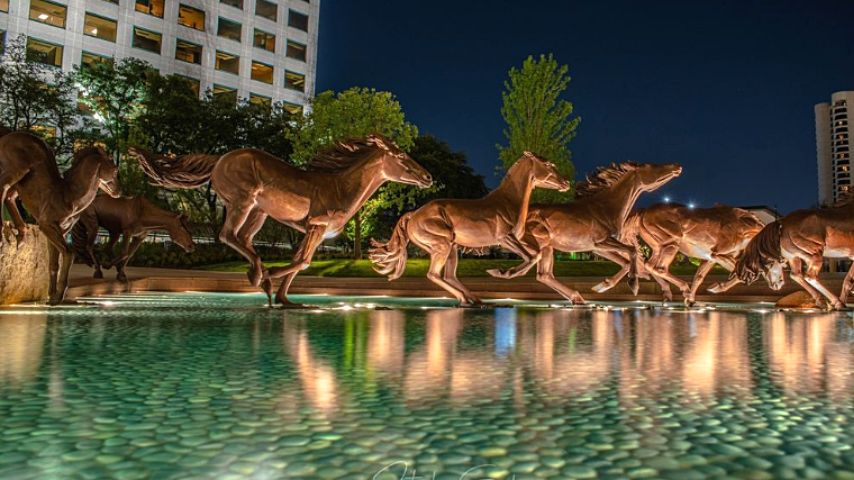 With over 100 shopping centers, 500 restaurants, tons of art and museums, and a plethora of indoor and outdoor things to do, the city of Irving is one of the most vibrant places to live near Dallas.
Main Attraction: Shopping, entertainment, art, proximity to the airport, growing economy, tons of green spaces, and home to local and multi-national corporations
Distance from Downtown: 14 miles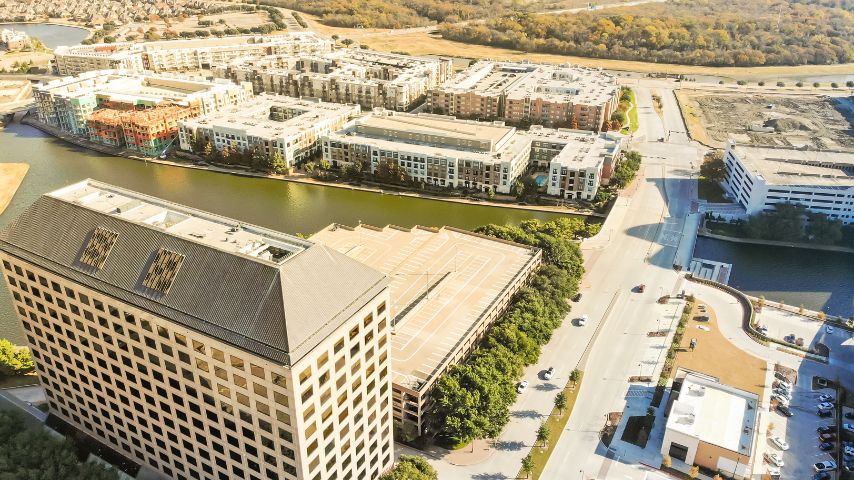 4. Frisco
If you are into sports, Frisco might be an interesting suburb for you. Known as "Sports City USA", several sports teams call Frisco their home: the Dallas Cowboys for football, the Dallas Stars for hockey, FC Dallas for soccer, the Texas Legends for the NBA G League, and the Frisco Roughriders for Minor League Baseball.
Just recently, the PGA of America also unveiled its newly constructed, state-of-the-art headquarters here, located just a few miles away from another state-of-the-art training facility, The Dallas Cowboys' The Star.
With sports being the main draw and main attraction, a lot of the retail businesses in the area are built around them.
The Star District within The Star is a premier destination with lots of shopping, dining, and various events geared for both sports fans and non-sports fans alike.
Frisco is also big on outdoor activities, with many parks and trails to explore by walking, running, cycling, or hiking.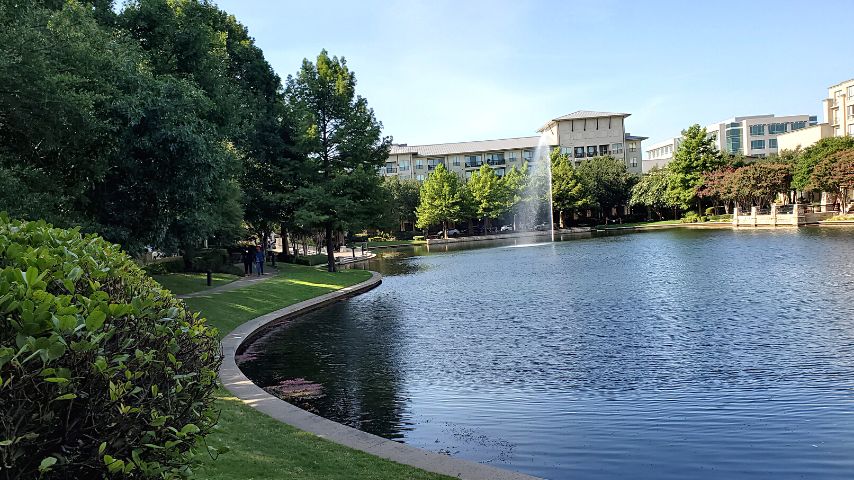 The art scene is also growing here, headlined by the nationally known Texas Sculpture Garden, which features over 40 unique works of art done by Texan artists. It houses the state's biggest collection of private contemporary sculptures.
For someone who loves sports, art, and the outdoors, Frisco is the place to check out.
Main Attraction: Sports City, outdoors and parks, art
Distance from Downtown: 27 miles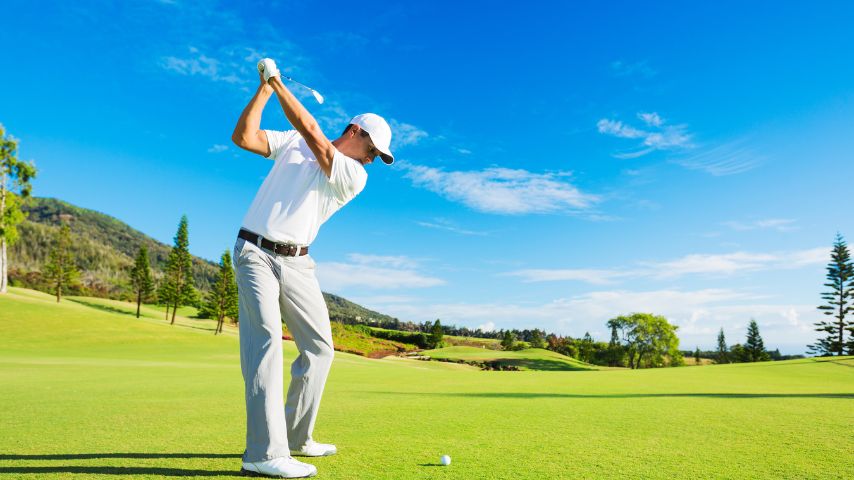 5. University Park
University Park, located 7 miles north of downtown Dallas, is an affluent suburb known for its safe streets, tight-knit community, and its focus on education.
It is where Southern Methodist University is located; a famous, nationally-ranked research university known for its diverse student population and high-achieving students. Students come from all 50 U.S. states and also come in from all over the world, from over 80 countries worldwide.
It is prized for its small classes and hands-on learning and well-rounded educational programs. This is actually where the suburb gets its name.
The Meadows Museum houses the biggest collection of Spanish Art in the country and is located inside the campus.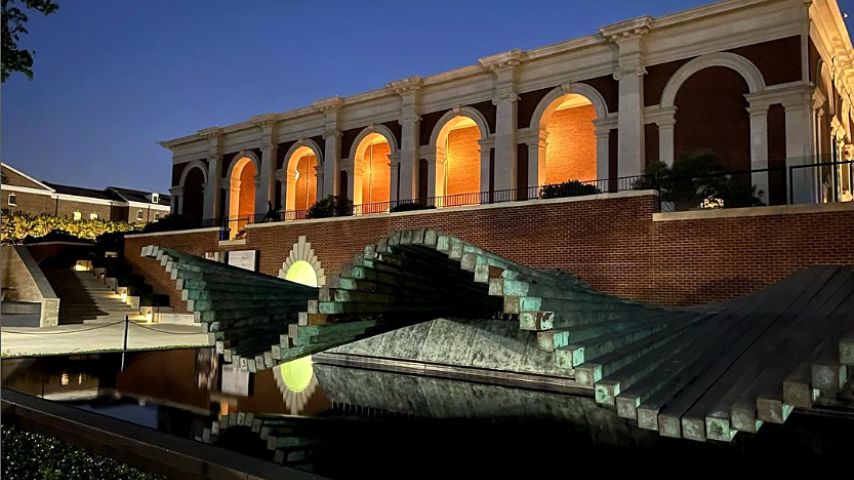 The public and private schools in University Park are also among the best in the state, and most people with families move here because of the city's untiring commitment to helping with children's development and education.
It has safe streets, a low crime rate, upscale shopping, and a small-town vibe just a few minutes outside of the city, so you have access to both worlds.
Main Attraction: Close proximity to the city, premier educational institutions, safe streets, low crime rate
Distance from Downtown: 7 miles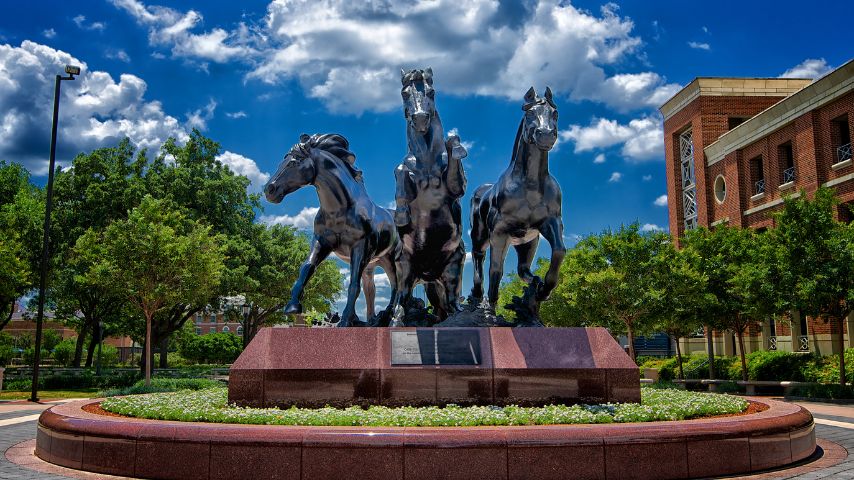 6. Highland Park
Highland Park is located 5.5 miles north of Downtown Dallas, south of University Park, and along with the latter, is considered part of what is known as the Park Cities.
It is known to be one of the safest places in all of Dallas, with beautiful tree-lined streets that are constantly patrolled by their zealous but highly effective local police force.
The houses are big, spacious, and luxurious, and can be expensive, but the community is tight-knit, warm, and welcoming.
Like University Park, it is known for having some of the best schools in the state and they take this very seriously. A lot of events and activities in this area are child-focused and family-centered, dedicated to fostering the growth and well-being of children.
Beyond the school-centric attitude of the community, Highland Park is also home to lots of shopping and food. Highland Park Village is the oldest outdoor mall in the country, and Al Biernat's is a well-known steakhouse that is a staple in this area.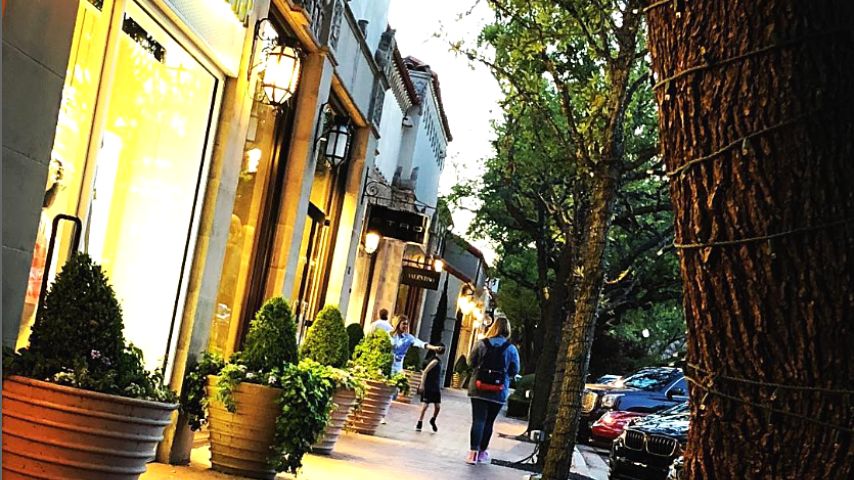 Aside from the shopping and the food, Highland Park is also known for its beautiful parks complete with fountains and ponds, manicured lawns, gardens, and beautiful outdoor spaces.
Its tight-knit community and close proximity to Uptown and Downtown Dallas make it one of the best and most trendy areas to live. (Read: 11 Trendy Dallas Neighborhoods [2022]).
Main Attraction: Family-friendly, tight-knit community, shopping, and dining, beautiful parks, and gardens
Distance from Downtown: 5.5 miles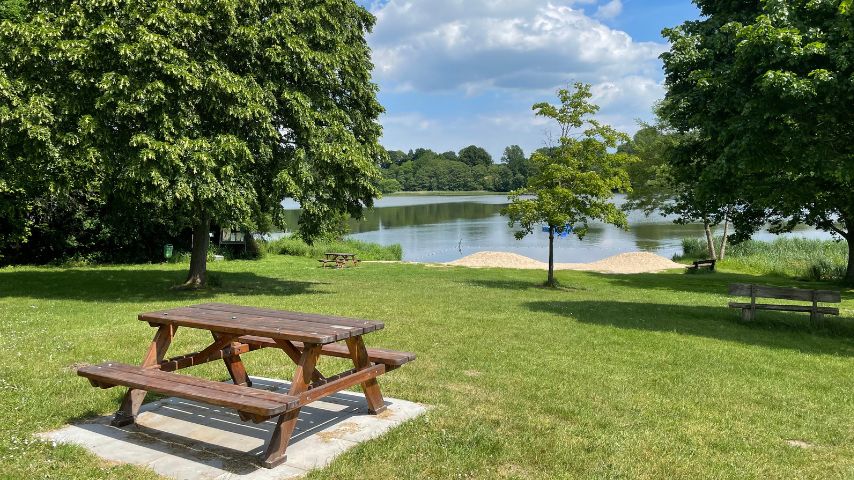 7. Coppell
Coppell is a suburb located in Northwest Dallas and is about 20 miles away from Downtown Dallas. It is quaint and has the vibe of a small town.
Location is one of the biggest draws of this suburb, with easy access to the DFW airport, the business center at Las Colinas, and the North Dallas Business Center.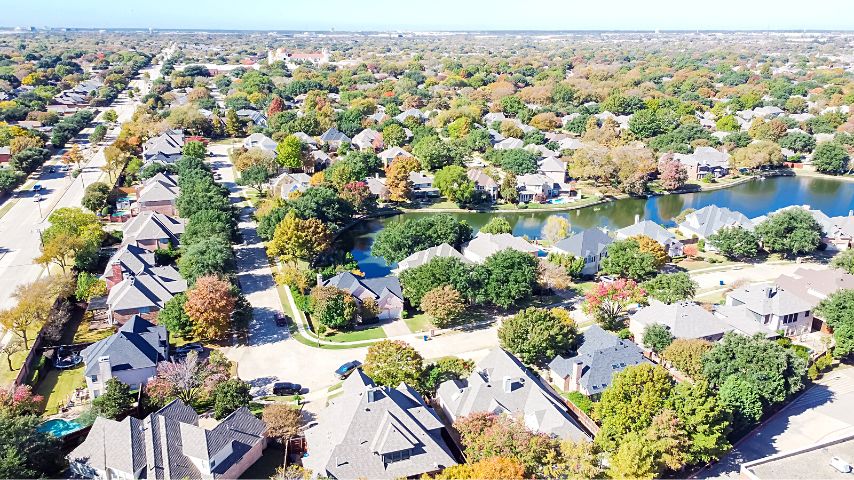 It is an area that is known for its schools, considered some of the best schools in the state, and family-friendly activities, making it one of the best places to live for families. (Read: 10 Best Areas to Live in Dallas For Families).
Coppell Nature Park is a 66-acre park and wildlife conservation area that is home to diverse plant and animal life, which includes 130 species of birds. It is a dog-friendly park with lots of trails and exhibits that can be explored by the whole family.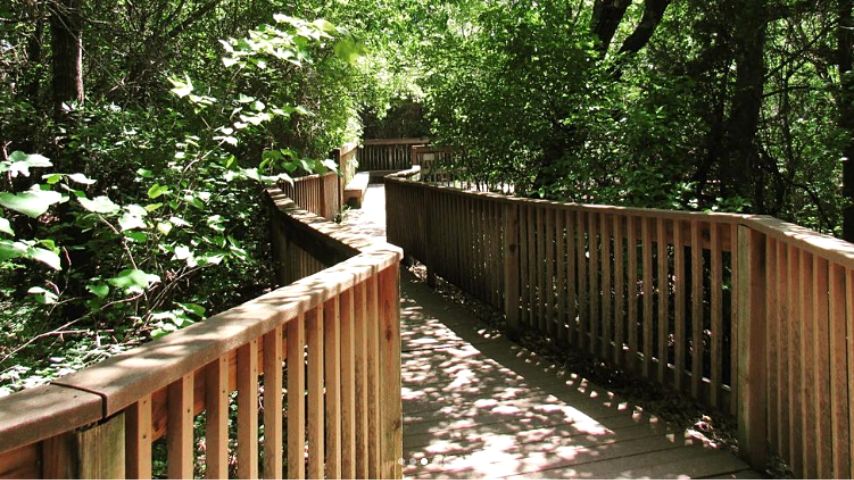 Old Town Coppell is a quaint, community-centered area of the town that is home to cute boutiques, cafes, restaurants, and charming pastel-colored homes. It is also where the Coppell Farmers Market is located.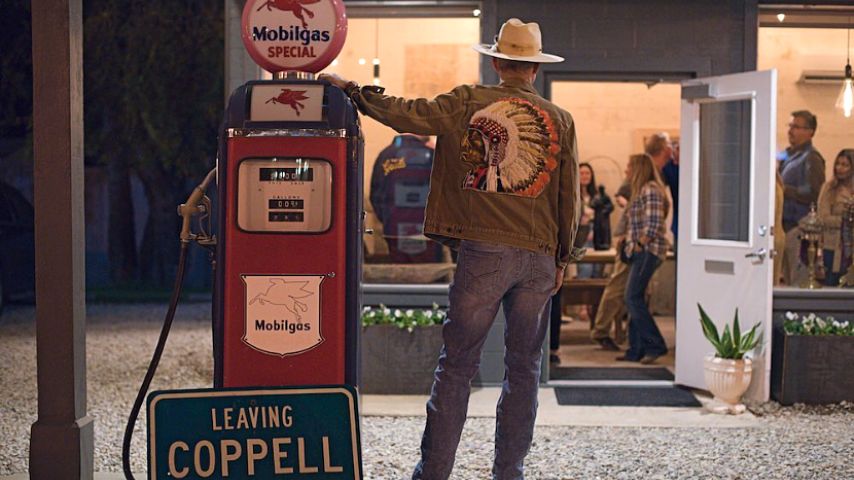 The Coppell Farmers Market offers fresh, seasonal produce that helps promote the livelihood of local producers and farmers. It provides healthy, sustainable food to the town and helps foster a sense of community within its residents, while also helping to strengthen the local food system.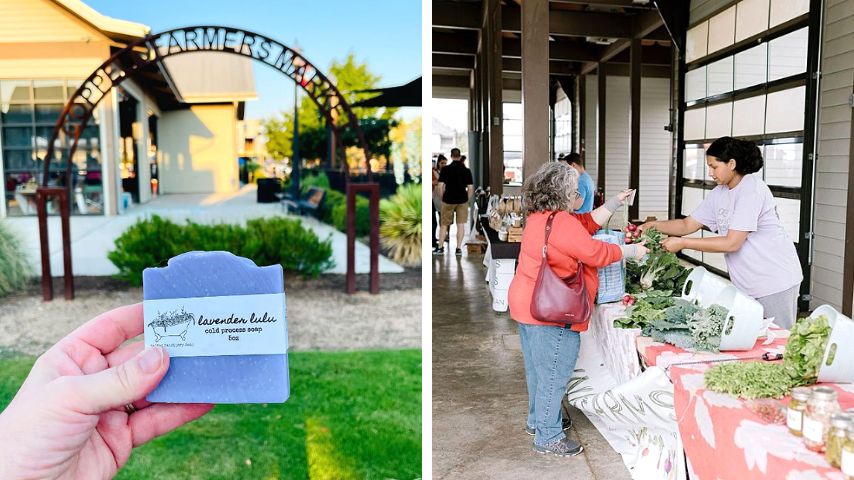 There are lots of places to go and hang out in Coppell, and its streets are very safe. If you want a community-centered place with a small-town feel and friendly residents, yet with quick access to modern conveniences, Coppell might be the place for you.
Main Attraction: Convenient location, safe, family-friendly
Distance from Downtown: 21 miles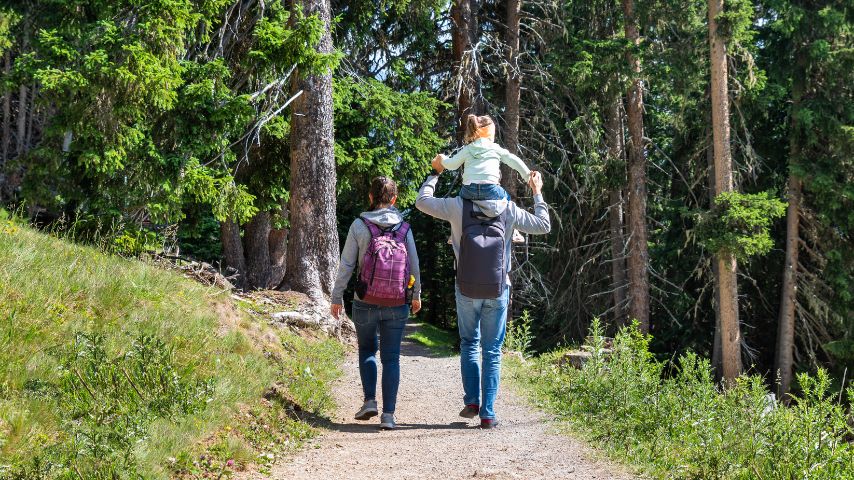 8. Richardson
Richardson is a suburb of Dallas located about 14 miles north of Dallas downtown. It is known as the home of the University of Texas at Dallas, one of the best universities in the country, as well as the Telecom Corridor, which houses a big number of telecommunications and network companies like AT&T, Verizon, Cisco, Samsung, Fujitsu, and others.
It is a modern and wealthy suburb with a college-town feel to it but is rich and culturally diverse.
Cottonwood Park is a favorite among locals, which features picnic areas, trails, playgrounds, and tennis and volleyball courts that residents can enjoy.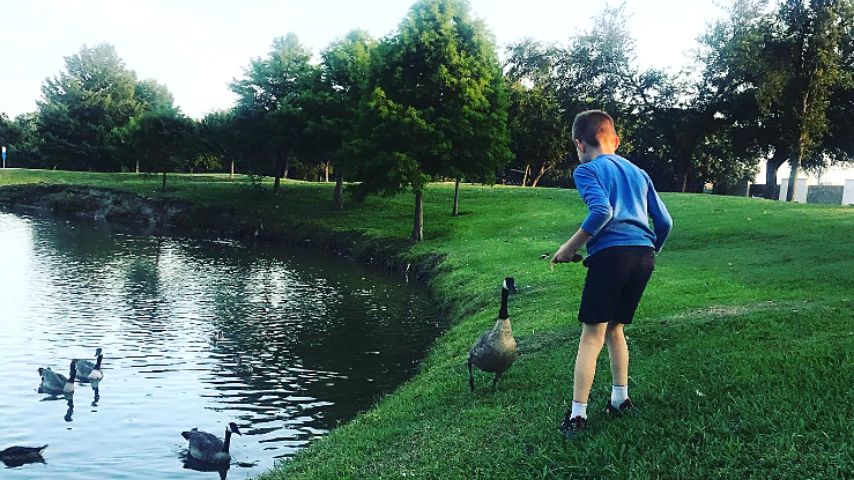 You also get to feed the ducks in a duck pond nearby. It also hosts the Cottonwood Art Festival, an art show that showcases fine art from the nation's top artists in May and October.
The Charles W. Eisenmann Center for Performing Arts is a performance hall that hosts different types of cultural events.
Main Attraction: Close to the city, the University of Texas at Dallas, outdoors and culture
Distance from Downtown: 14 miles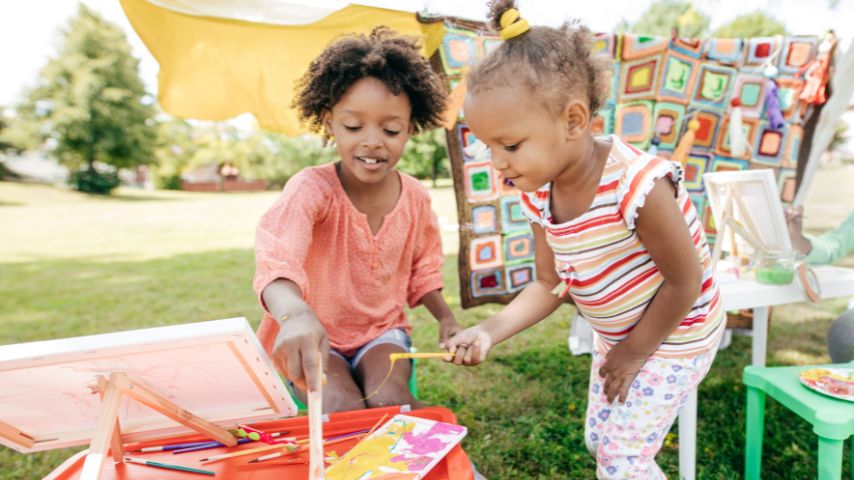 9. Southlake
Southlake is considered one of the country's wealthiest cities. It is known for its top-tier educational system, high-end shopping and dining, and affluent residents. It is home to many celebrities, pro-athletes, CEOs, and other A-listers, who are all proud to call this area their home.
Southlake is home to the Carroll Independent School District Dragons. From preschool and kindergarten to senior high school and beyond, everyone that goes to school here identifies as a Dragon, and this is ingrained in their identities beyond the school program.
Whereas in other districts, every school has its own mascot and therefore engages in rivalry with each other, all schools in the Carroll ISD share the same mascot and identity – a dragon.
This approach fosters a unique sense of camaraderie and family among all students in this district so that even if they do not go to the same school, they feel connected to each other.
This unique school culture boosts student performance both in athletics and academics and fosters a sense of unity among all the residents beyond the educational system. Southlakers are proud of their city and proud of their sense of family.
Southlake is also home to the Southlake Town Square, an upscale shopping district with lots of food options, and also hosts year-round events.
This is a tight-knit, special community that takes pride in what they do. If this is your style, Southlake is a great option for you.
Main Attraction: Tight-knit community with a strong individual and collective sense of identity, great school systems, safe and affluent city
Distance from Downtown: 26 miles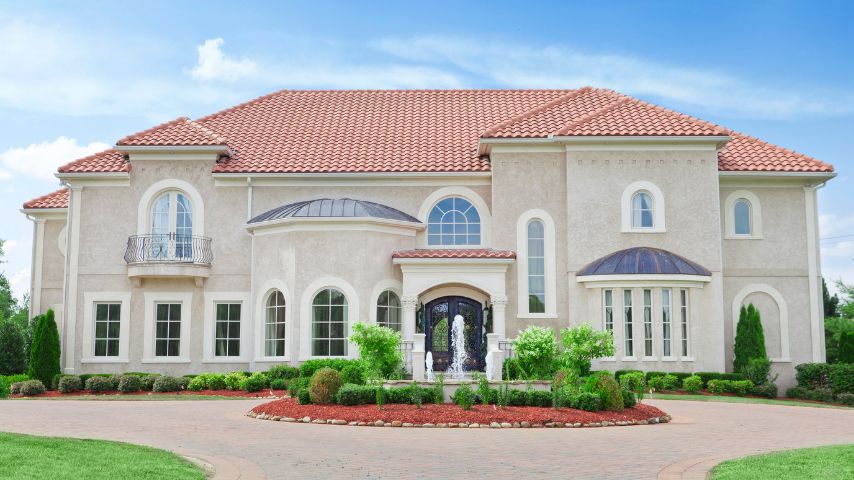 10. McKinney
McKinney is a town located 32 miles north of Downtown Dallas that is known for its culture, history, food, unique shops, breweries, and vineyards.
It is rated as one of the country's best places to live, with a unique mix of old Texas and new Texas. It is only half an hour away from Dallas, but the vibe and feel of the two areas are markedly different.
McKinney is a historic town where you can get an experience of how Texans lived 150 years ago, as well as experience modern offerings and conveniences.
The atmosphere is calm and the pace is slower and is perfectly suited for those who want to take a break from the hustle and bustle of the city.
Historic Downtown McKinney features lots of unique, one-of-a-kind shops and restaurants, and is a way to experience old Texas with historic architecture and buildings, some of them as old as 165 years old. You'll feel a small-town vibe to the area, with police regularly patrolling the streets.
Events like Oktoberfest and numerous art festivals are also held regularly here, thanks to volunteers that always make sure there is something going on and something to do.
Lone Star Wine Cellars is a family-run winery where you can learn about McKinney wines.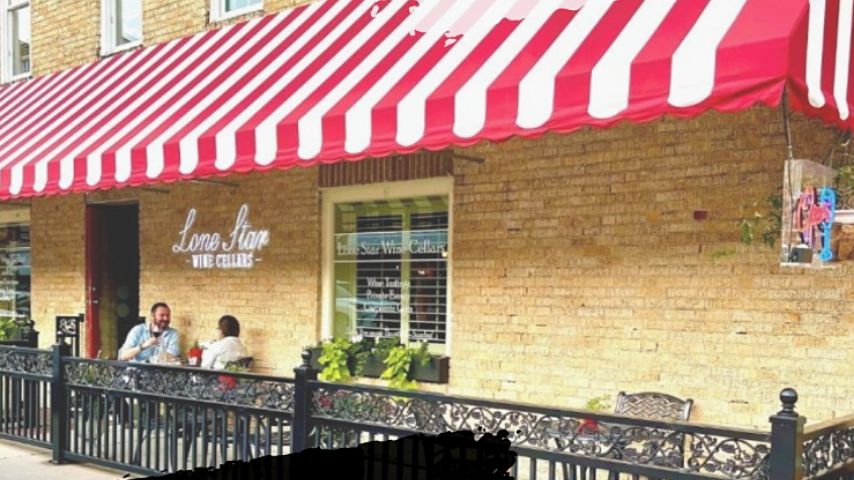 Franconia Brewing Company, on the other hand, is a place where you can sample different types of local beers while learning more about the beer-making process from the owner, who has 220 years of beer-making legacy from his family in Germany.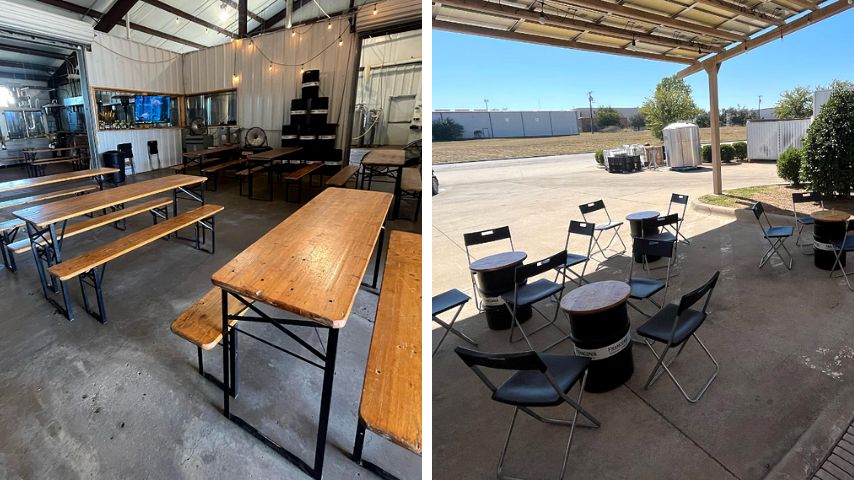 Main Attraction: Texas history, art, culture, unique food and shopping, laid-back vibe, vineyards, and breweries
Distance from Downtown: 32 miles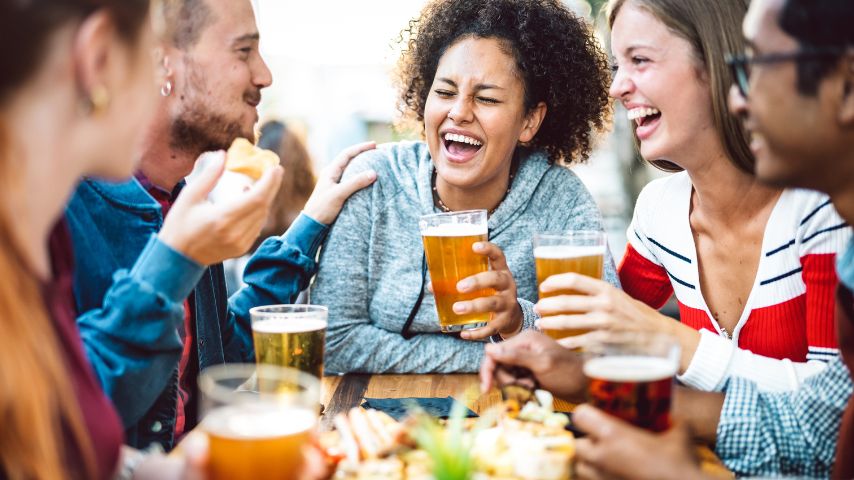 11. Allen
Allen is a suburb in North Texas located 25 miles from Downtown Dallas. It is known for its excellent shopping, dining, arts, culture, outdoor activities, and sports.
Its history is tied to railroads. The town used to be located along the Houston and Texas Central Railroad and it was named after Ebenezer Allen, a promotor of the railroad who used to be an attorney general of Texas.
The first robbery in Texas also occurred in Allen, perpetrated by a known outlaw by the name of Sam Bass, along with his associates in 1878.
Today, Allen is known for its world-class arts and culture, its shopping, and its sports.
The Allen Arts Alliance is a nonprofit organization that serves as the umbrella organization for all things art and culture-related in the city, helping to foster the love for arts through performances, classes, workshops, and various other events.
Allen has over 5 million square feet of shopping spread out across several shopping destinations, which houses a huge selection of specialty stores, luxury designer fashion, and popular brands.
The Credit Union of Texas Event Center is a multi-purpose event center and is where the Allen Americans Hockey team (ECHL) and Sidekicks Indoor Soccer (Major Arena Soccer League) play their games.
With a variety of things to do, Allen is a suburb that is a tourist destination in its own right, and if you like living in a vibrant city filled with activity but still manage to have that small-town feel, Allen is the place for you.
Main Attraction: Sports, shopping, culture, and arts
Distance from Downtown: 25 miles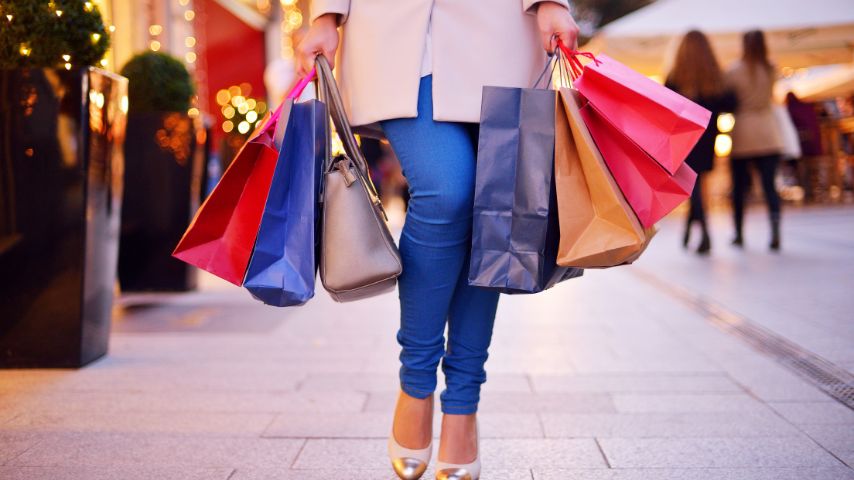 12. Arlington
Arlington's known to be North Texa's entertainment capital, attracting millions of visitors yearly. Three major sports teams play their games here: the Dallas Cowboys from the NFL, the Texas Rangers from MLB, and the Dallas Wings from the WNBA.
Two famous stadiums are located in the area – The AT&T Stadium is home to the Dallas Cowboys, and the Globe Life Park, is home to the Texas Rangers. Both stadiums are open to the public for tours.
The University of Texas Arlington is also based here, which is considered a tier-one research university and in terms of athletics, is a Division 1 school that competes in the highest level of collegiate sports.
Arlington is also home to the original Six Flags Over Texas, a 212-acre amusement park, as well as Hurricane Harbor, a water amusement park that is under the same brand that draws thousands of visitors to the area regularly.
Even without sporting events, Texas Live! offers a place to hang out and relax with its many bars and restaurants, and it also has areas for outdoor events.
If you love this type of excitement and are into sports, Arlington is a great place to live in.
Main Attraction: Sports, amusement parks, restaurants, and bars
Distance from Downtown: 21 miles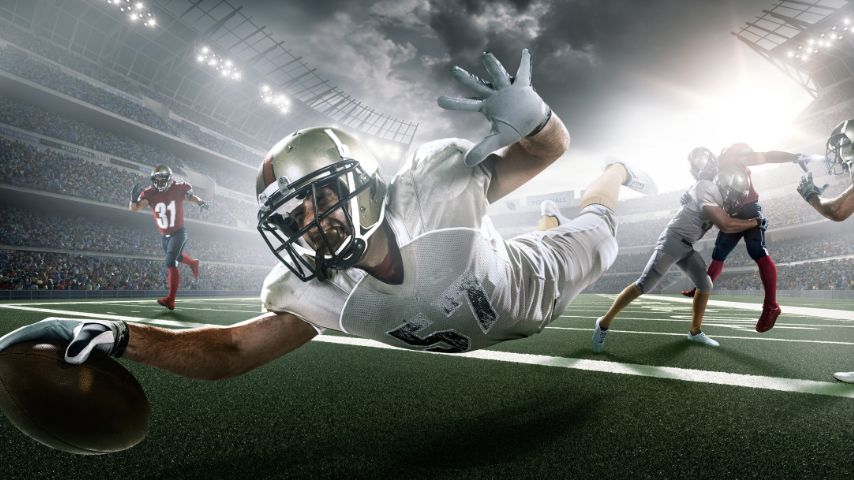 13. Flower Mound
Flower Mound is located 27 miles northwest of Dallas. It got its name after the 12.5-acre flower mound located in the center of town, known simply as "The Mound". It's the town's centerpiece and is one of its notable features.
The Mound is said to rise 50 feet above the area surrounding it, and the Texas historian A.C. Greene believed that in the 1840s, wildflowers grew abundantly in the area, which is what gave it its name.
The town has grown recently but still maintains that country, small-town vibe, and feel. It is located close to Grapevine Lake, which means that there are a lot of outdoor activities that can be enjoyed, like boating, kayaking, and hiking.
Bike trails and hiking trails are abundant, as well as equestrian trails.
Flower Mound's Community Activity Center offers tons of classes and things to do not only for kids but for the whole family as well.
The town has also implemented the SMARTGrowth Program, a green movement designed to manage the effects of rapid urbanization to ensure that the beautiful landscapes of the town and its green areas are maintained and not sacrificed in the name of development.
Main Attraction: Small town vibe, outdoors, beautiful vistas, and views
Distance from Downtown: 27 miles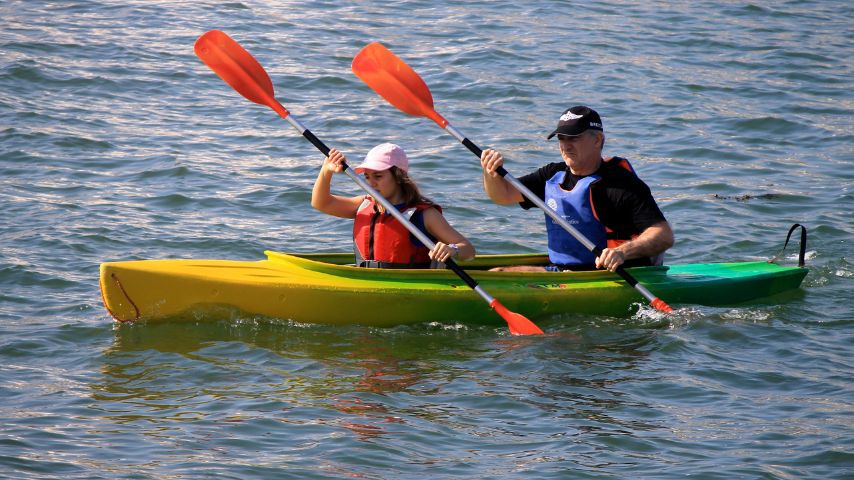 14. Grapevine
As you can tell from the name, Grapevine plays a huge role in promoting Texas' wine heritage.
Texas ranks number 5 in wine production in the country and Grapevine is host to several wineries and tasting rooms. These can be experienced through the city's famed Urban Wine Trail, which is a must-do in the area.
Grapevine also hosts award-winning festivals like Grapefest, which celebrates wine in general but takes special pride in Texan wines.
The People's Choice Wine Tasting Classic features only wines made in Texas and is the largest wine competition in the country that is judged by consumers.
Aside from wine, Grapevine is also known as the "Christmas Capital of Texas", as, during the holiday season, Main Street lights up and becomes adorned with festive Christmas lights.
Its charming Main Street is full of unique stores and restaurants, the neighborhoods are beautiful and tree-lined, and the city also offers a lot of opportunities for outdoor activities like boating, kayaking, and jet-skiing.
Main Attraction: Urban Wine Trail, charming houses and streets, outdoor activities
Distance from Downtown: 22 miles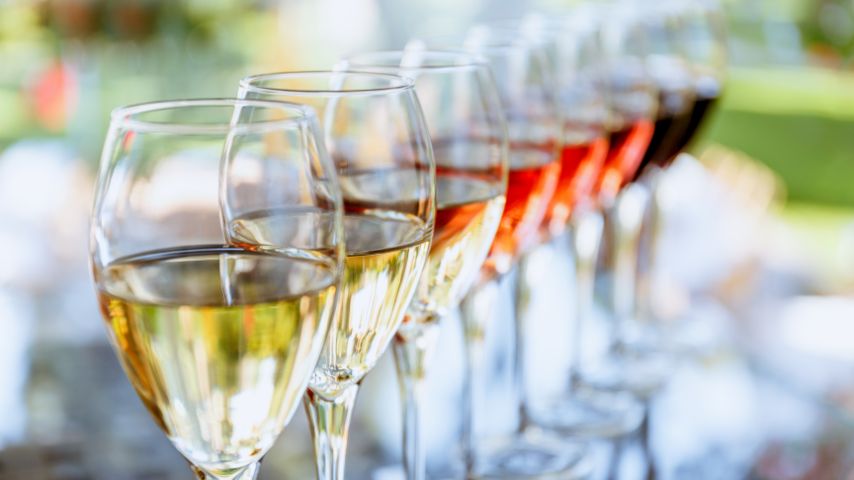 So there you have it, 14 great areas to live around Dallas. Whether you are single or have a family, or are younger or older, there are plenty of neighborhoods around the city center that you can call your home.
Conclusion to 14 Best Areas Around Dallas to Live
The best areas to live around Dallas are Addison, Plano, Irving, Frisco, University Park, Highland Park, Coppell, Richardson, Southlake, Mckinney, Allen, Arlington, Flower Mound, and Grapevine.
Hey guys! It's me, Marcel. I am the proud owner of carry-on-baggage.com. I am dealing with hand luggage related issues on a daily basis and I own several websites in this niche. Travelling is one of my biggest passions in life and I, therefore, happen to know a thing or two about hand luggage. I hope you all have a safe trip! Take care and thanks for the support. I really appreciate it.