Dallas is one of the biggest cities in the U.S. by population. Over the last decade, more people have moved here than in any other U.S. city. Many believe that this trend will continue and that the economy and city of Dallas will just keep growing in the next few years.
If you are one of those looking to make the big move to the Big D, I've got you covered. Here you'll find the list of the 16 Best Places to Live in Dallas in 2022.
Best Places to Live in Dallas 2022
Deep Ellum
Bishop Arts District
Design District
Downtown
Uptown
Oak Lawn
Greenville Avenue
Preston Hollow
Park Cities
Lake Highlands
Lakewood
Frisco
Plano
McKinney
Arlington
Addison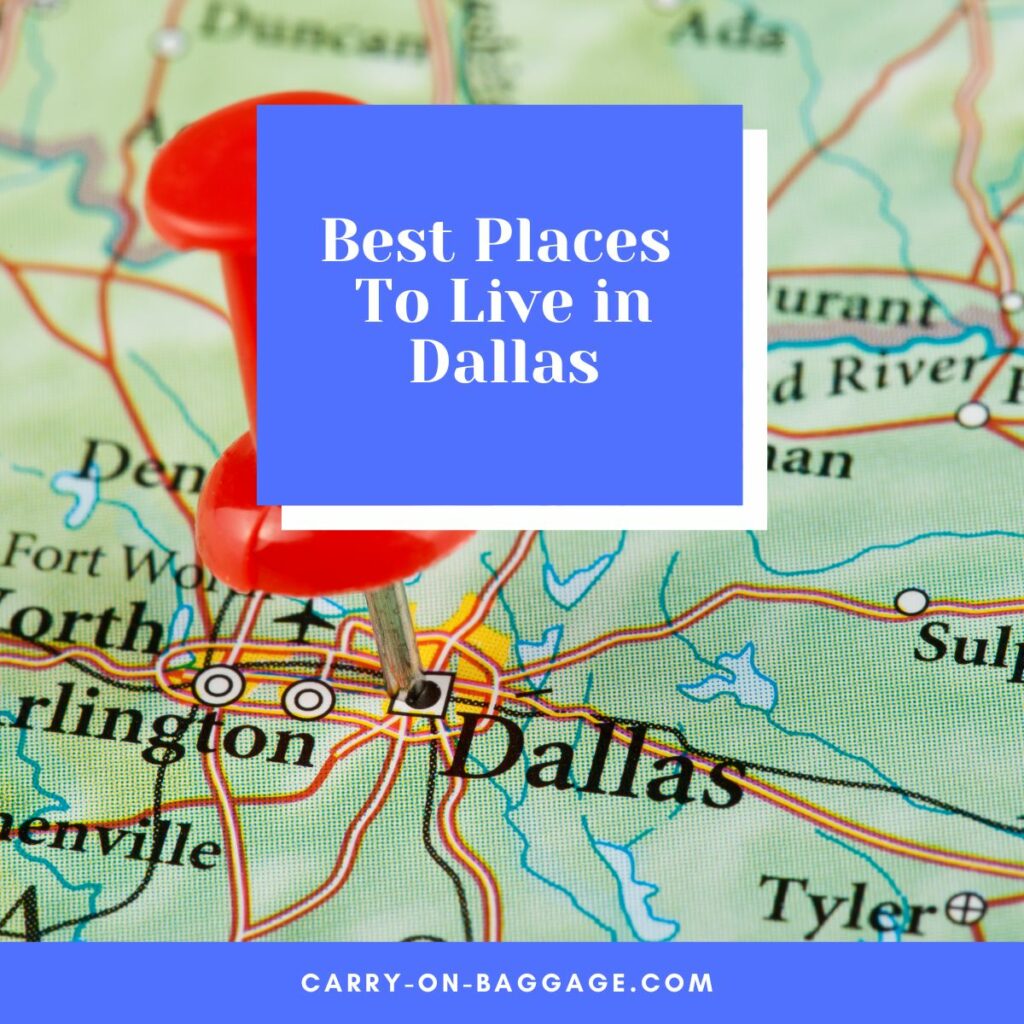 16 Best Places to Live in Dallas 2022
1. Deep Ellum
Deep Ellum is one of the most colorful and interesting Dallas neighborhoods. It was established in 1873 as both a residential and commercial area and was one of the first commercial districts for African-American and European immigrants in the city.
It is a culturally significant and historically-rich neighborhood known for its deep love for music. It was once a hotbed for jazz and blues musicians in the 1920s, and to this day, the neighborhood prizes its rich musical heritage.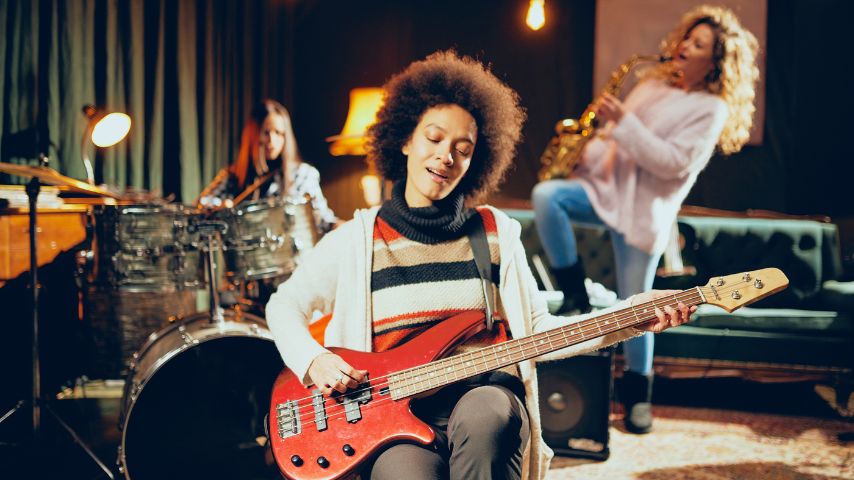 Deep Ellum's streets abound with live music ranging from jazz and blues, to dance and electronica, to hip hop, rock, country, funk, folk, indie, and even honky-tonk music. You can do karaoke, participate in open mic nights and enjoy live bands and DJ sets, all of which can be done in a space of just a few miles.
Deep Ellum is also home to many art galleries that promote local artists and instill a deep appreciation for art. Aside from that, it is known for its street murals, walkable streets, and historical buildings, including one of the first assembly plants of Ford.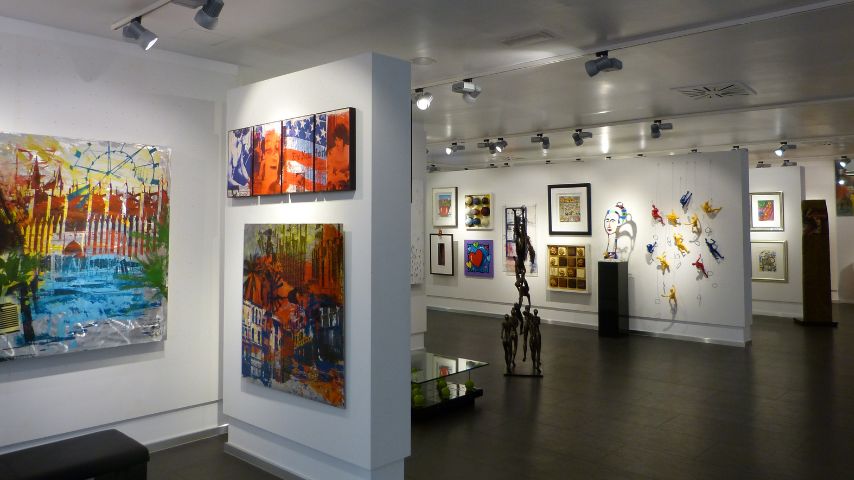 If a busy and thriving nightlife is what you seek, and you love art, Deep Ellum is a great neighborhood to consider.
Median Rent: $1,383
Median Home Value: $188,851
Population: 2,743
Main Attraction: Live Music and Art
2. Bishop Arts District
The Bishop Arts District is another great Dallas neighborhood with its walkable and instagrammable streets filled with street murals and art galleries.
Known in the past as "Dallas' Best Kept Secret", the neighborhood has a quirky, retro, and hipster appeal.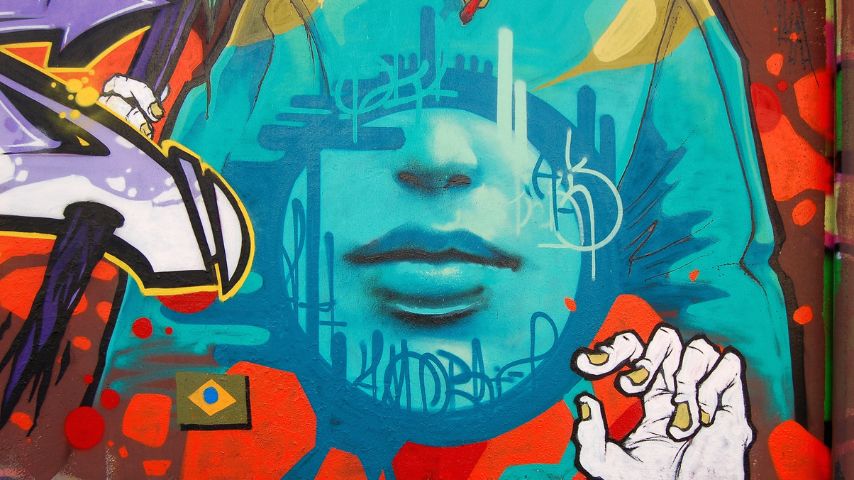 It used to be the busiest stop in the Dallas trolley in the 1930s, back when buses were not yet the preferred mode of public transportation.
It is a charming neighborhood rich in culture and history, which successfully blends the traditional with the trendy. It has been added to the National Register of Historic Places.
The neighborhood is home to over 60 independent shops, with a focus on local artisans and local businesses, so the offerings here are truly unique and one-of-a-kind.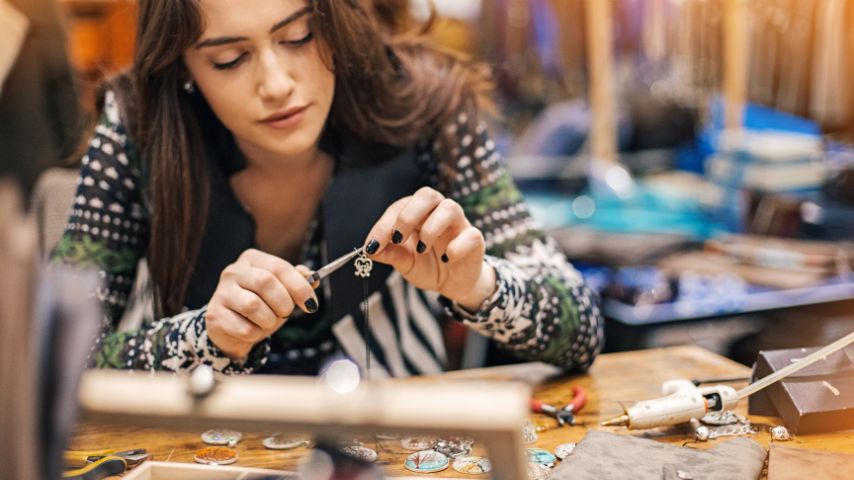 The Bishop Arts District offers options for great live music, as well as varied dining options. Organic, vegan, and gluten-free items, artisanal chocolate, and farm-to-table fare can be found here, as well as traditional Texas BBQ.
And like any other hipster haven, it has great coffee shops with nice outdoor seating and patios.
Independent stores with unique concepts are also the norm here. The Wild Detectives is a bookstore slash bar that allows its patrons a venue to connect with those with similar interests. It encourages conversations about books and culture in general to foster an exchange of ideas.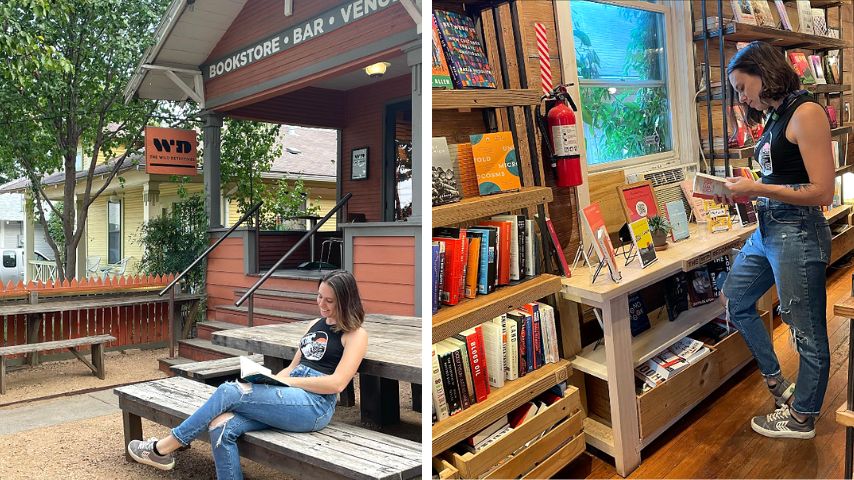 The Bishop Arts District is a charming and interesting neighborhood with a unique, hidden-gem appeal and a great ambiance.
If great coffee, cute shops, and an artsy vibe is your thing, this is the neighborhood to check out.
Median Rent: $894
Median Home Value: $316,080
Population: 2,722
Main Attraction: Hipster ambiance, Independent Stores
3. Design District
Several decades ago, the Design District was just a bunch of warehouses used to store goods and inventory.
Today, it's one of the areas in Dallas that is most sought-after to live in. With upscale art galleries, famous vintage and antique stores, fine dining establishments, and luxury apartments, it is one of the coolest neighborhoods in Dallas.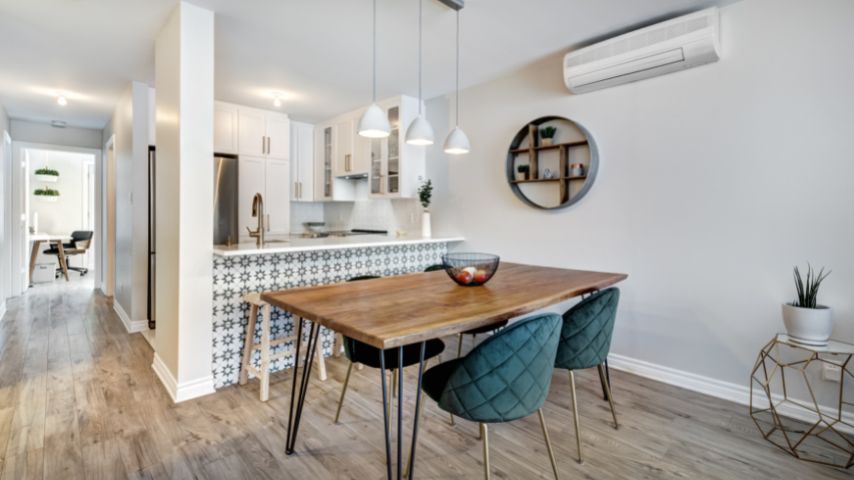 It wasn't something that happened immediately, though, nor was it the result of some careful master planning. Instead, the neighborhood just somehow came to be on its own, organically.
Closed-down warehouses have reopened into restaurants, and apartment buildings have one by one popped up around existing neighborhood structures. Just like that, it was a neighborhood that everybody wanted to be in.
"Industrial chic" is a standard description for the neighborhood, home to many upscale art galleries and fine art dealerships, high-end furniture showrooms, and contemporary art installations.
It is a haven for art enthusiasts and is home to the largest number of art galleries in the city.
The Goss-Michael Foundation, started by the late music icon George Michael and Kenny Goss, is located here, among many other notable art galleries.
Aside from art, The Design District is also known for its vintage and antique shops, some of which are famous worldwide and visited by many collectors worldwide. European antiques from the 17th to 19th century are the most common, although different types of antiques from different periods are also found here.
Legacy Antiques has over 300 antique chandeliers and mirrors, and Country French Interiors focuses on French country antiques, one of the first stores to introduce this look to the city.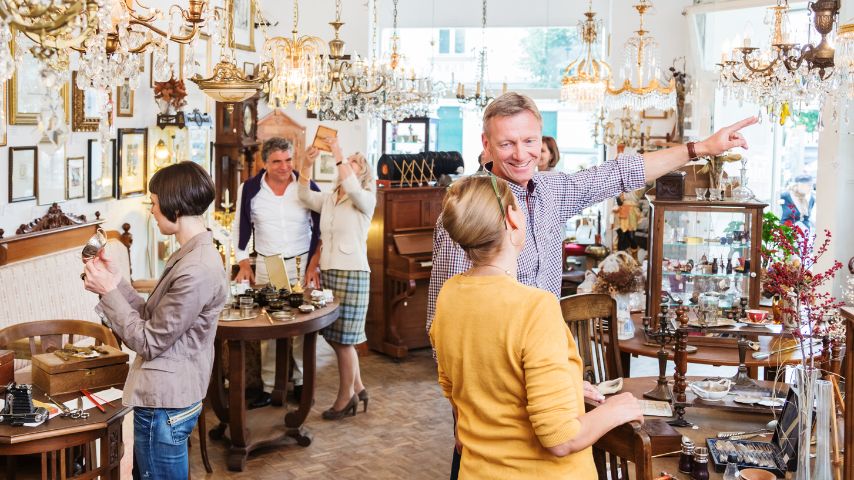 Aside from art and design, the neighborhood offers many upscale dining options. The Charles is an upscale, stylish, Italian-inspired restaurant considered one of the best Dallas restaurants. Town Hearth is one of Dallas' most popular steakhouses.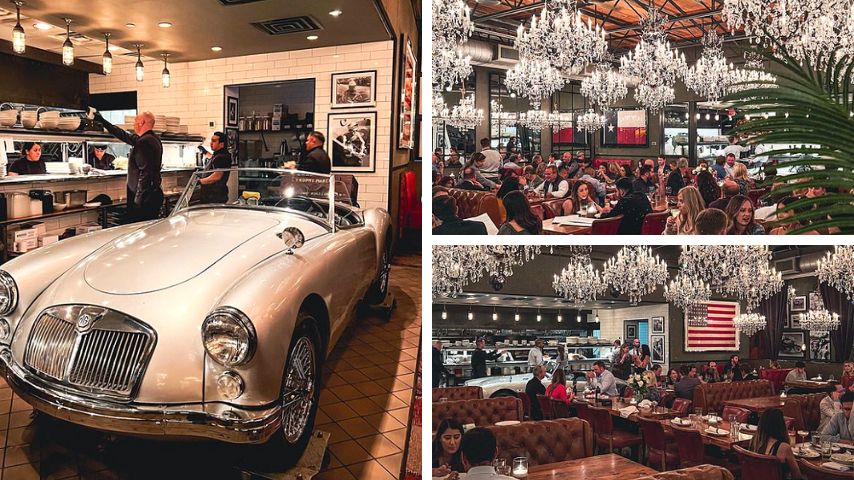 Breweries such as the Peticolas Brewing Company, which regularly offers tours and tastings, can also be found in the neighborhood.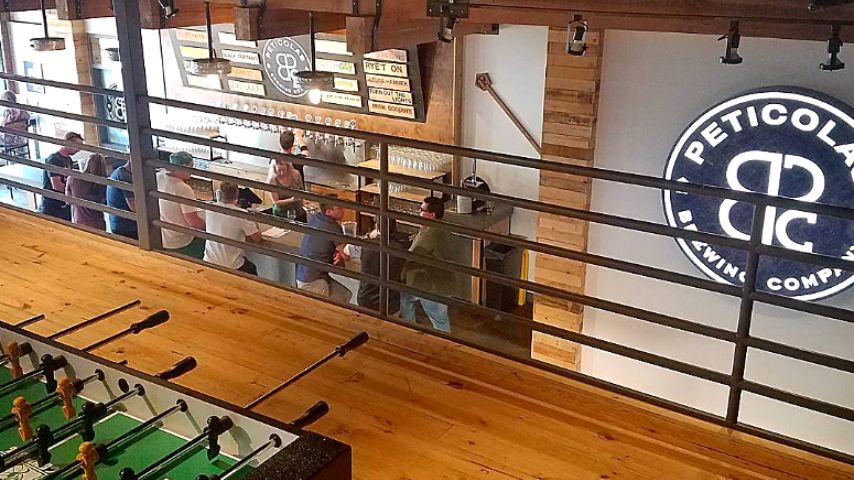 Median Rent: $1,662
Median Home Value: $330,051
Population: 941
Main Attraction: Upscale art galleries, vintage and antique stores, fine dining restaurants, breweries
4. Downtown
There was a time when downtown Dallas was just a place to work, but with the influx of new developments, restaurants, stores, and bars, it has turned into a vibrant live-work-play community, with many people wanting to live amongst the city's skyscrapers.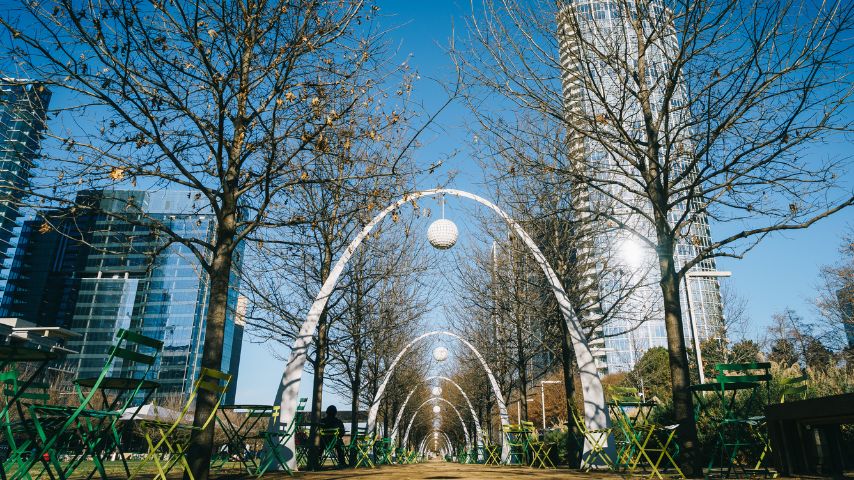 The central business district is a highly walkable area and easy to explore. With the central hub of the DART system located here, it is extremely convenient to commute to other neighborhoods.
The Reunion Tower, with its ball-shaped observation deck, is one of the most identifiable landmarks in the Dallas skyline. The original Neiman Marcus store opened Downtown in 1914. Other notable landmarks include the Majestic Theater, a performance hall that is the last remaining structure of the city's historic Theater Row.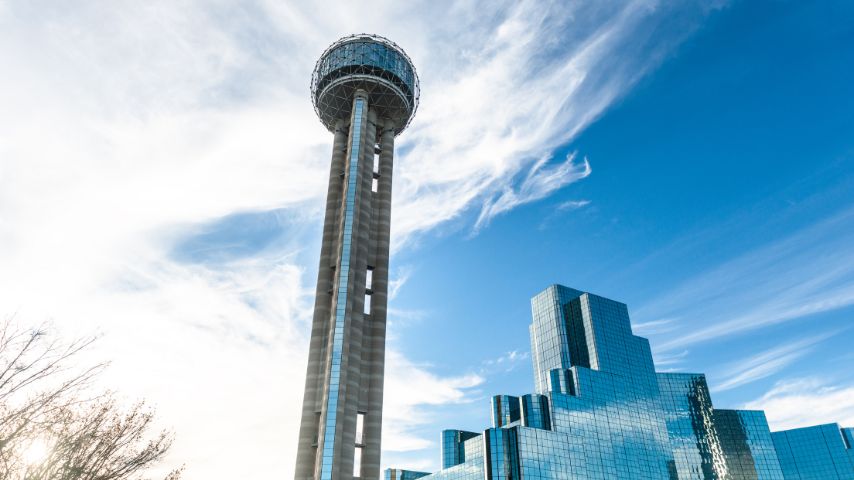 The Sixth Floor Museum at Dealey Plaza is a dedicated museum to Joh F. Kennedy's life and legacy, who was assassinated in the downtown area. The Dallas Museum of Art, the Klyde Warren Park, and many other notable city landmarks are all located downtown.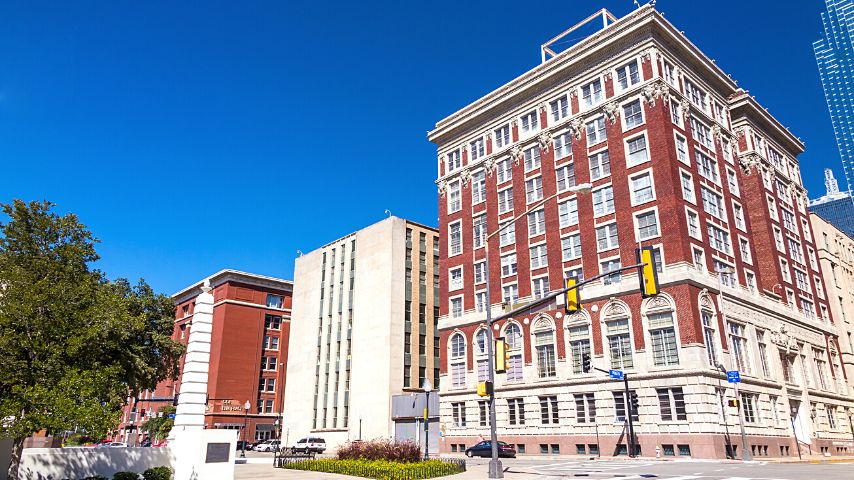 While rent and housing prices can be higher, its amenities and high-quality city living make it one of the best areas to live.
Median Rent: $1,616
Median Home Value: $717,014
Population: 19,570
Main Attraction: Proximity to the city's main landmarks, convenient because of the DART system
5. Uptown
North of and adjacent to Downtown Dallas, connected by the Klyde Warren Park, Uptown is another popular choice when looking for neighborhoods to live in Dallas.
With its tree-lined, pedestrian-friendly streets, green parks, trendy restaurants, cool cafes and lounges, fitness and exercise studios, shopping, and luxury boutiques, it embodies the "live-work-play" concept of urban living.
Uptown Dallas has five boroughs or areas, each with its distinct charm and personality.
State Thomas – Houses the largest remaining intact Victorian structures and homes in Dallas
The Pearl – Quiet area with luxury high rises, with easy access to downtown
Routh South – The largest borough located in central Uptown, can get busy at night due to the cluster of bars and restaurants. Popular for after-work meetups with young professionals
Victory Park – Home to the American Airlines Center, Perot Museum of Science and Art, hip and trendy sports bars, shopping, and restaurants
West Village – Vibrant, walkable neighborhood located on the northern edge of Uptown, along the famous McKinney Avenue. Known for its shopping and European-style outdoor cafes.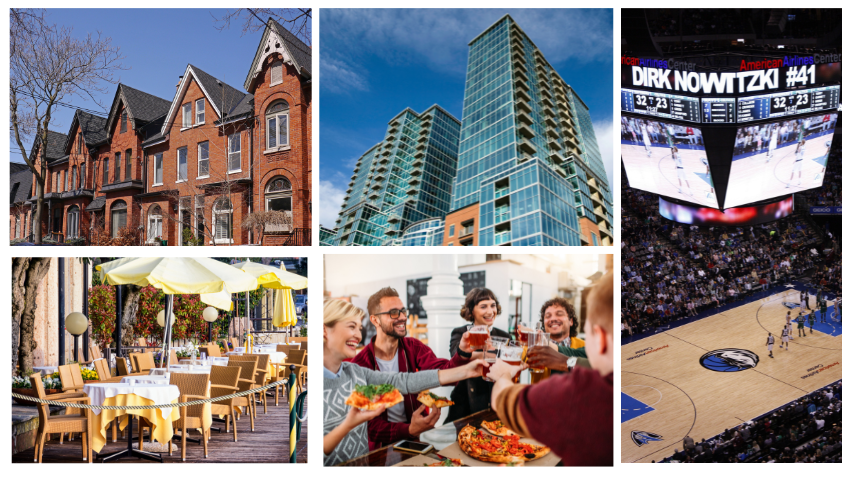 McKinney Avenue is perhaps the main attraction of this vibrant neighborhood, filled with all sorts of retail and dining attractions, which can easily be explored through the free McKinney Avenue trolley.
The McKinney Avenue Trolley is a free retro trolley with fleets that date back to as early as 1909. It operates hop-on, hop-off style, and the entire route takes roughly an hour to complete.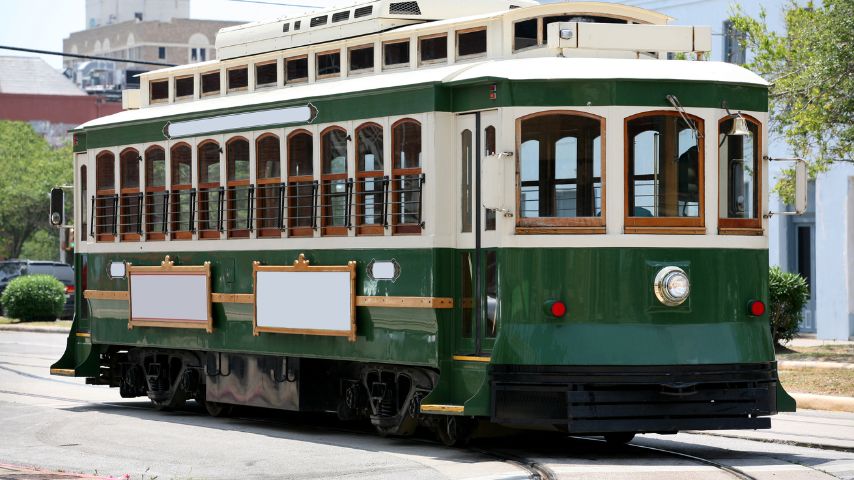 Median Rent: $1,769
Median Home Value: $480,665
Population: 24,675
Main Attraction: Proximity to downtown, walkable neighborhoods and tree-lined streets, shopping and eating
6. Oak Lawn
Oak Lawn is one of the more affluent neighborhoods in Dallas and also one of the larger ones. It is perhaps most known as the home of the Dallas LGBTQ community.
It is a community that is lively and diverse and welcomes various backgrounds and lifestyles. It has many parks and green spaces, is very pet-friendly, and is home to some of Dallas' most vibrant nightlife scenes.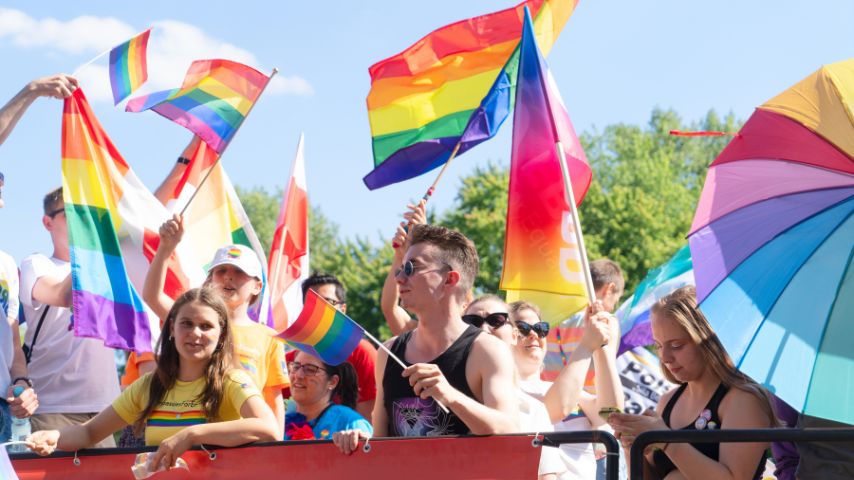 The Katy Trail, a jogging and exercise path built on a former railroad, is a popular attraction in Dallas, and can easily be accessed from Oak Lawn.
The abundance of bars, restaurants, nightclubs, and shops in this neighborhood regularly attracts people to the area because there is always something going on.
The annual Dallas Pride Parade is a highlight for many, as is the Halloween Block Party every October, and the Purple Party Weekend, which solidifies Dallas' reputation as a must-visit city for the gay community. Cedar Springs Road is the center of this vibrant LGBTQ nightlife scene.
Oak Lawn Park is a 14-acre park with shaded areas, walking trails, and areas to spend time with pets. It also hosts the annual costume contest for dogs, the famed "Pooch Parade".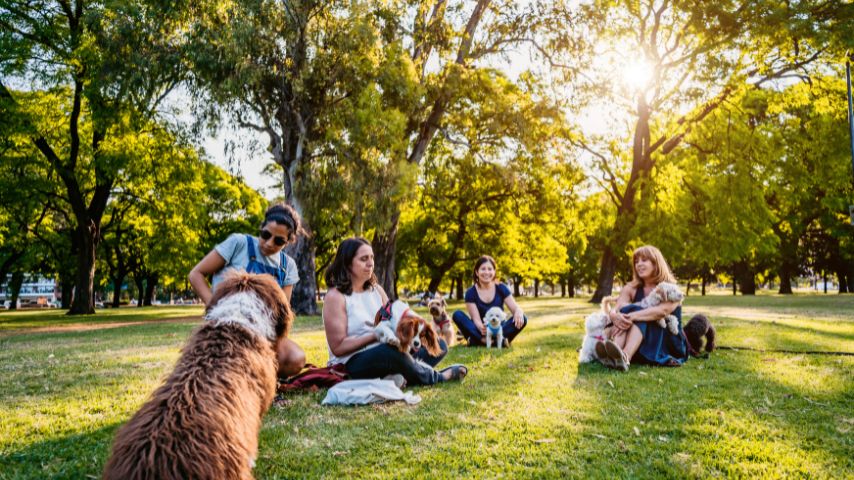 There are diverse types of homes available in the neighborhood, from townhouses to condominiums to luxury apartments to single-family homes.
Median Rent: $1,351
Median Home Value: $334,446
Population: 34,239
Main Attraction: Green spaces, parks, vibrant nightlife, and events
7. Greenville Avenue
Greenville Avenue is known for its bustling nightlife and entertainment scene, as well as its shops and restaurants. It is divided into two areas, Upper Greenville and Lower Greenville, divided by Mockingbird Lane.
Upper Greenville is the more upscale of the two, attracting a more yuppie crowd. Lower Greenville, with its lively and affordable bars, attracts a younger, more bohemian crowd.
Greenville Avenue hosts the annual St. Patrick's Day Parade, one of the must-see events in the city. For people who like to pretend they are Irish once a year, this is a great event to check out.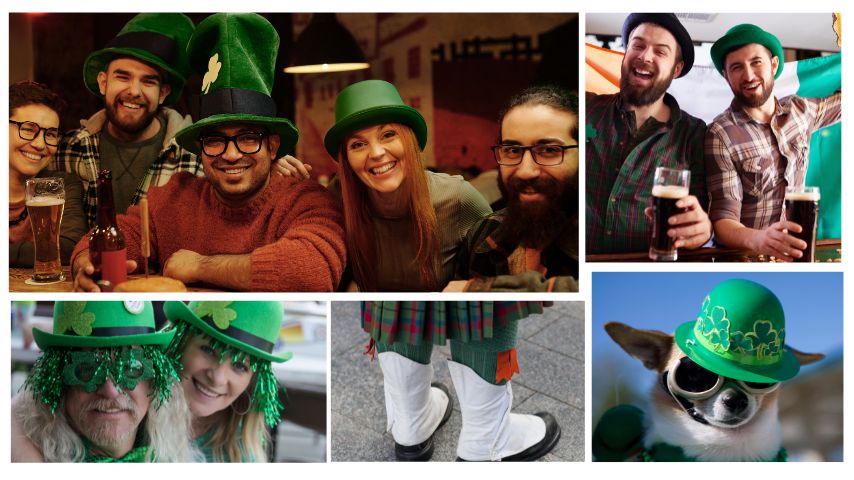 The Truck Yard is an outdoor beer garden that used to be a junkyard. It is a rustic place with treehouses and outdoor seating where people can come together to enjoy their cheesesteaks, and food trucks, which change daily.
The Libertine Bar has an extensive list of interesting cocktails, such as the Mexican Penicillin and the Cinnamon Crunch Cereal Milk.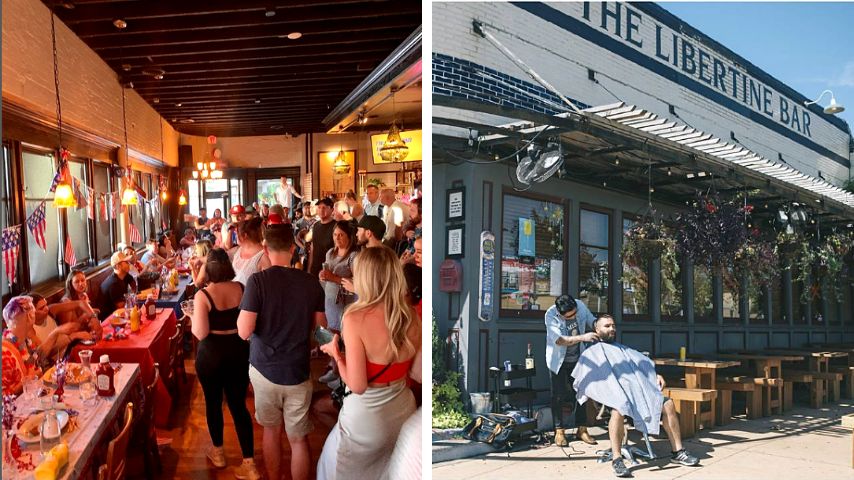 Greenville Avenue also has an abundance of local, organic, and gluten-free fare, as well as grass-fed meat so if you subscribe to this lifestyle, you will feel right at home in Greenville Avenue.
Median Rent: $1,352
Median Home Value: $497,815
Population: 8,236
Main Attraction: Lively bars and shops, entertainment, events, food
8. Preston Hollow
Preston Hollow's one of the most prestigious Dallas neighborhoods. It's aka the "Golden Corridor" because this is where some of the wealthiest Dallas residents live. (Read: Where Do the Rich Live In Dallas?)
Many homes in Preston Hollow are big and luxurious, with big backyards and front lawns suitable for those with bigger families. Still, more modest home options in various architectural styles and with more reasonable prices can also be found here.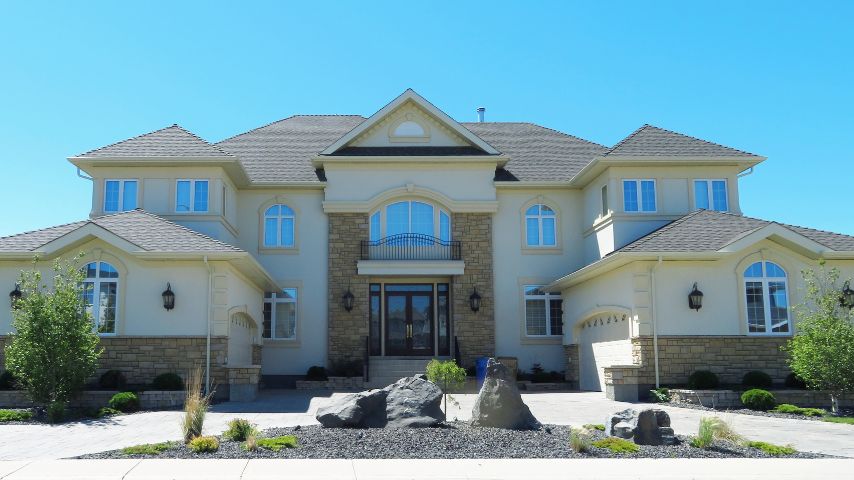 Preston Hollow is known for its safe, oak-tree-lined streets, many parks and playgrounds, the abundance of trees and greenery, and amenities like softball fields, tennis courts, and private and public swimming pools.
The school district here is also top-notch, with some of the state's best public and private schools. St. Marks, the best private school in Texas, is located in Preston Hollow.
Food and shopping are also easily accessible here with its proximity to places like The Plaza at Preston Center, Preston Royal, and the Northpark Center.
Residents in this area value the privacy, prestige, and family-friendly appeal associated with their neighborhood. Some of its famous residents include Mark Cuban, entrepreneur, and owner of the Dallas Mavericks, golfer Lee Trevino, NBA star Dirk Nowitzki, and former U.S. President George W. Bush.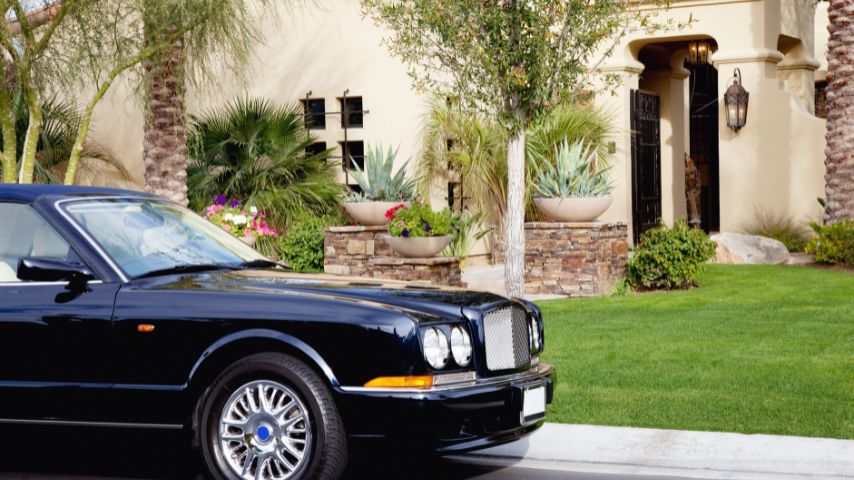 Median Rent: $2,119
Median Home Value: $1,030,556
Population: 83,392
Main Attraction: Prestigious, safe, family-friendly, green spaces amenities
9. Park Cities
Highland Park and University Park are together known as "The Park Cities". They are suburbs of Dallas located 7 miles north of Downtown, but they are independent cities, meaning they have their municipal government, fire, and police force.
The two neighborhoods also share a school district, the Highland Park Independent School District, which is considered one of the state's best school districts.
Residents of this community are heavily invested in the education of their children and the values instilled in them, often having many collaborative activities and community events geared toward their development. The proverb "It takes a village to raise a child" rings true here.
The Park Cities are also very wealthy areas, and according to D Magazine, they comprise some of the most expensive patches of real estate in the whole DFW area.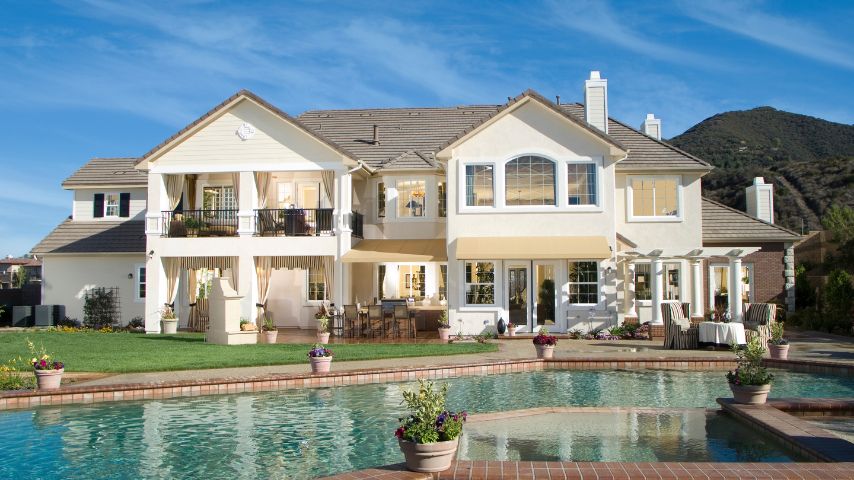 Highland Park Village was built in 1931 as a town square for Highland Park and is the oldest outdoor shopping center in the country. Nicknamed "The Village", it was named in 2000 as a National Historic Landmark.
University Park is home to the famed Southern Methodist University, known for its diverse student population, and is considered one of the best universities in the state and the country. The whole city of University Park began as a small cluster of homes initially supported by the then-just-established university.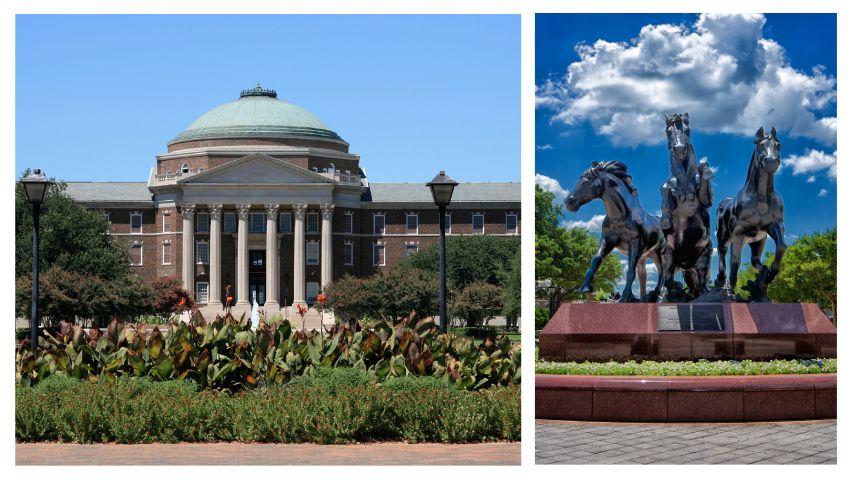 Other attractions in the Park Cities include the Meadows Museum, which houses artwork from masters like Goya, El Greco, Murillo, Miro, and Picasso, and is the largest collection of Spanish art outside of Spain, and the George W. Bush Presidential Library and Museum, dedicated to documenting the legacy of the George W. Bush presidency.
The Park Cities are known for their safe streets, beautiful homes, manicured lawns, beautiful gardens, and green spaces, and their tight-knit, education-centered community.
They are two of the best places in Dallas to live, especially for families.
Median Rent: $2,364 – $2,536
Median Home Value: $1,000,001
Population: 43,690
Main Attraction: Beautiful gardens and homes, safe streets, parks and amenities, family-friendly community, top schools
10. Lake Highlands
Lake Highlands is a sprawling neighborhood located in Northeast Dallas. It is named as such because of its proximity to White Rock Lake and because of its topography — hills and valleys as opposed to Dallas' mostly flat areas.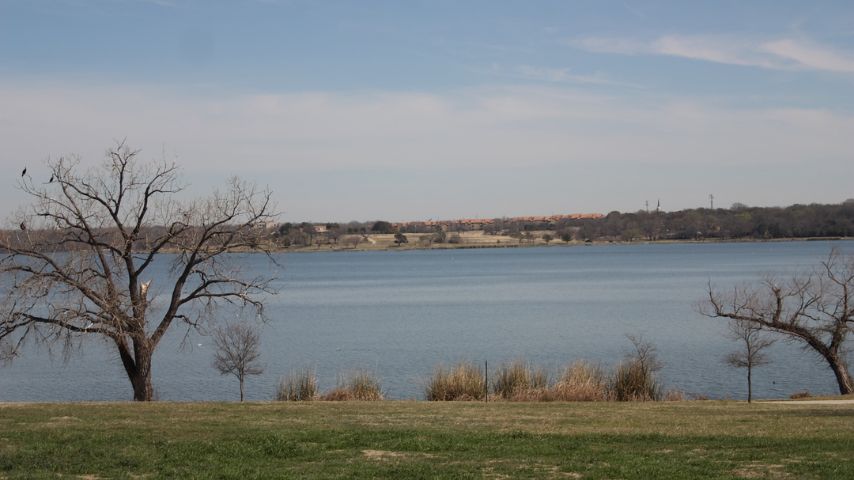 It is a very popular area for families and those wanting to live in an affordable area while still having easy access to the amenities of the big city. One of the main draws, especially for those with children, are the schools served by the Richardson Independent School District, one of the best in the state.
Lake Highlands is generally family-centered and school-centric. The dozen subdivisions in the area are bound by their common support for the school district and their children's education.
Aside from the schools, Lake Highlands offers access to beautiful wooded areas, rolling hills, and plenty of walking and biking trails. It's the perfect area for outdoor lovers and those who love being close to nature.
Aside from that, the Dallas Arboretum and Botanical Garden, with its beautiful gardens and exhibitions, is nearby.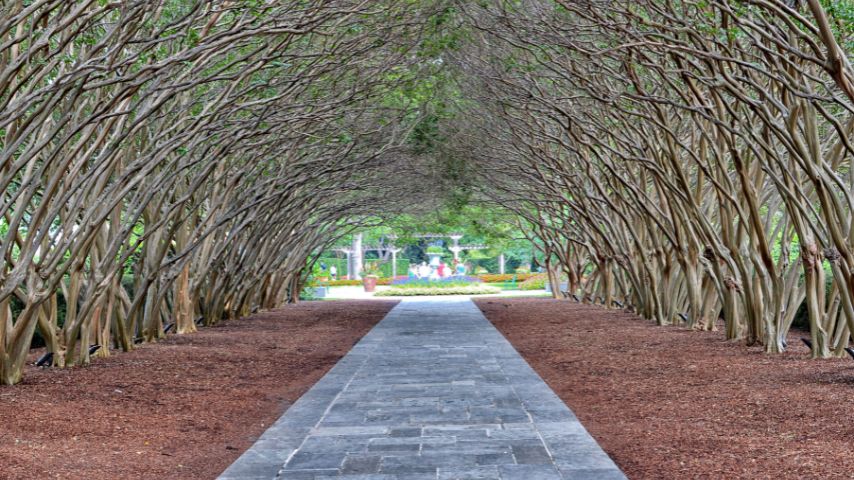 Because Lake Highlands covers a relatively large area, there is a range of options for all types of people with all types of budgets. There is a place and a corner for everyone in this neighborhood.
Median Rent: $1,269
Median Home Value: $370,581
Population: 17,777
Main Attraction: Proximity to the city, affordable homes, nature and outdoors, top school district
11. Lakewood
Lakewood is a quiet, woody neighborhood in East Dallas, located west of White Rock Lake. It is known for its beautiful homes, which range from simple bungalows to big estates. English Tudor, Colonial Revival, Spanish, and French Eclectic styles can all be found here, as well as more modern homes.
Residents who live in Lakewood are all about the outdoors. Activities like fishing, kayaking, sailing, paddle boarding, and rowing, as well as hiking, running, and biking, are all everyday activities in this neighborhood.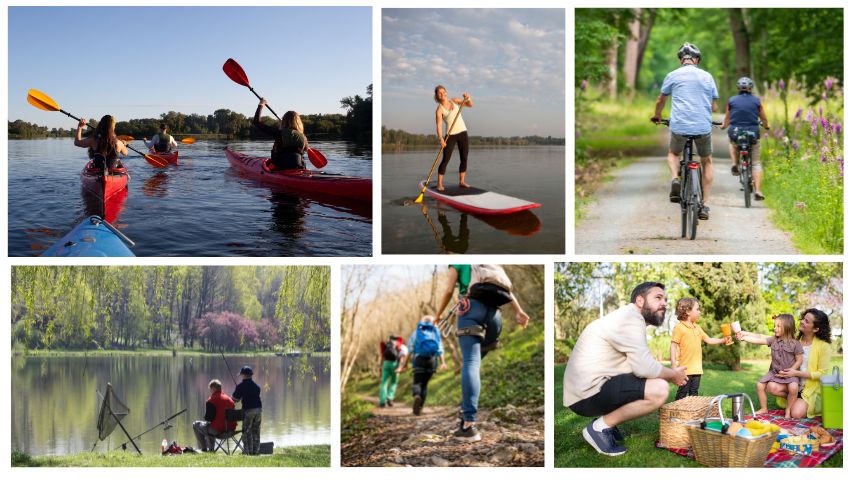 Lakewood Elementary School is a highly rated school that is one of the highest-performing in the state and is one of the big draws of families moving here. As in other family-centered neighborhoods supportive of their school districts, the Lakewood community is fiercely supportive of all things related to the education of their children.
The Lakewood Country Club was founded in 1912 and is one of the North Texas premier country clubs.
This beautiful, wooded neighborhood located just 10 minutes from Downtown Dallas, with beautiful architecture and natural surroundings, makes it one of the best places to live in the city.
Median Rent: $1,972
Median Home Value: $736,936
Population: 14,954
Main Attraction: Beautiful architecture and homes, close to nature, close to the city
12. Frisco
If you are into sports, you might know that Frisco is home to "America's Team," the Dallas Cowboys of the NFL, as well as many other sports teams like the Dallas Stars (NHL), FC Dallas (MLS), Texas Legends (NBA G League), and the Frisco Roughriders (MiLB).
Aside from this, the PGA of America recently unveiled its new headquarters here. This is the reason why Frisco is dubbed as "Sports City USA".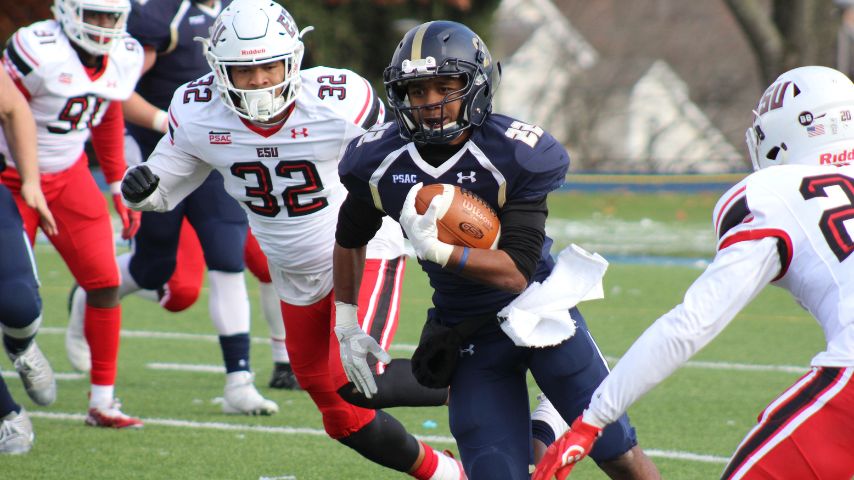 One of the main attractions of the city is the state-of-art training facility of the Cowboys, The Star, which offers tours, and events, as well as a premier shopping, dining, and entertainment destination for both sports fans and non-sports fans alike.
The nationally recognized Texas Sculpture Garden is home to over 40 unique sculptures done by Texas artists. The National Videogame Museum details the history of the videogame industry and has the world's largest Pong console. The Frisco Heritage Museum is a must-visit to learn about the city's history.
Aside from art and museums, and sports, Frisco has many trails, parks, and opportunities for outdoor activities. Additionally, it is one of the country's safest cities. Frisco was named in 2018 by Money Magazine as the Best Place to Live in America.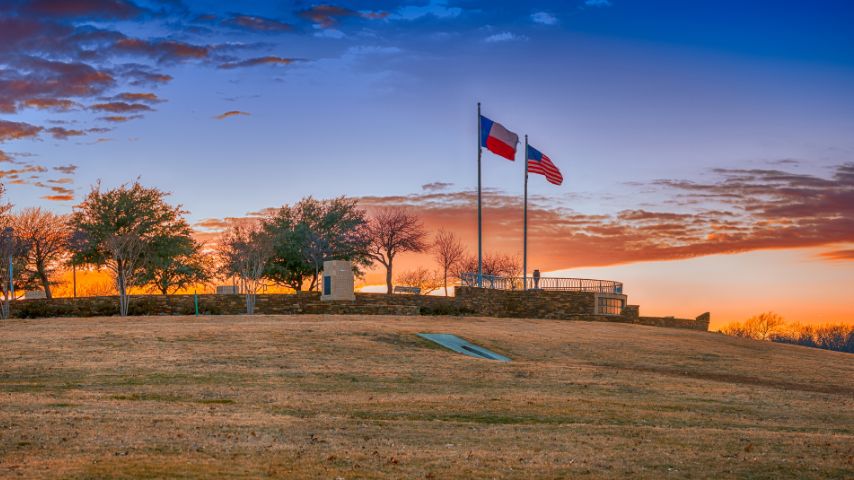 Median Rent: $1,628
Median Home Value: $448,000
Population: 210,719
Main Attraction: Sports, art, museums, outdoors, safety
13. Plano
Plano is considered one of the best cities in Texas to live in. Personal finance website WalletHub recently named it "The Happiest City in Texas" and the 22nd happiest city in the country.
Another study by the same website ranked the city of Plano as the 16th safest city in the nation.
Aside from being a safe and happy city, Plano is known for its education system, highly educated residents, strong job market, excellent shopping and dining, outdoor activities and nature preserves, diverse community, and overall high quality of living.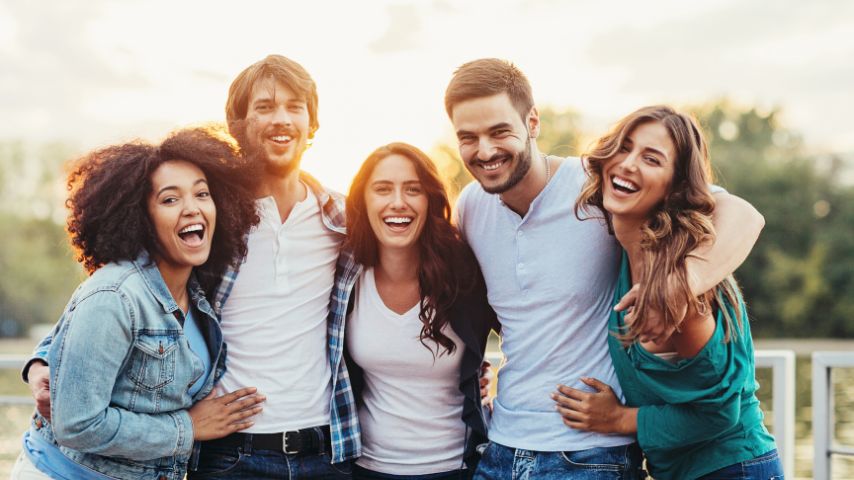 Oak Park Point Nature Preserve is Plano's largest park, and within its 800-acre area, various concrete and soft surface trails can be enjoyed for hiking, running, and biking. It is also where Go Ape, an outdoor adventure company, is located. Go Ape features various treetop courses and experiences that are suitable for people of all ages.
Plano is also known for its shopping. Legacy West and The Shops at Legacy feature a variety of shopping options, from luxury brands to unique, one-of-a-kind labels. Various types of restaurants, from upscale, to noteworthy, to casual, can also be found here. The Shops at Willowbend is where the Crayola Experience is located.
The Texas Pool is a saltwater pool shaped like the state of Texas and is listed in the National Register of Historic Places.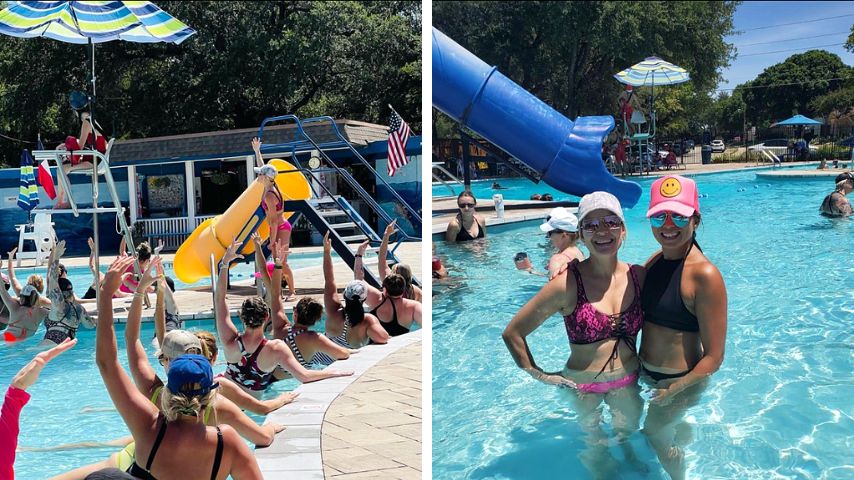 Plano is also a green city, with most residents always within a 10-minute walk to a green space.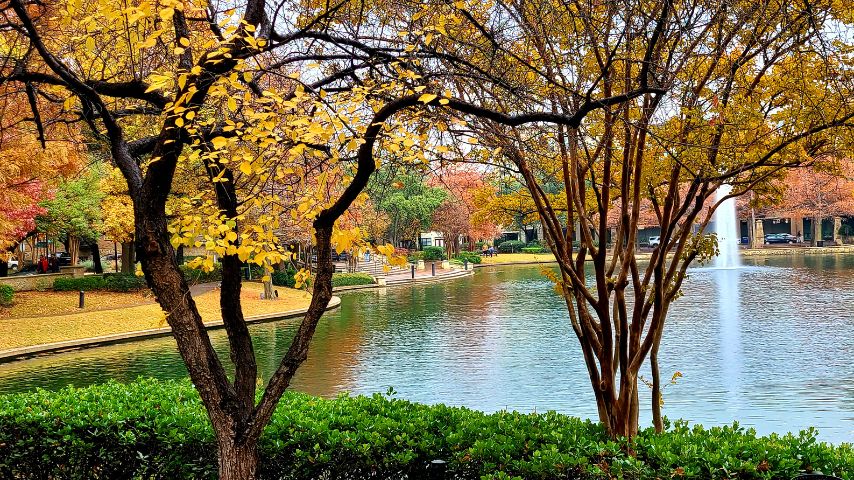 Median Rent: $1,541
Median Home Value: $358,100
Population: 288,253
Main Attraction: Safe, happy, and green city, parks, shopping, strong job market
14. McKinney
According to Livability's list of Best Places to Live in The US, McKinney is one of the best places to live in the country, coming in at number 18. This list ranks the livability of small to mid-size cities based on various factors, and McKinney came in the highest out of all DFW cities.
McKinney, according to Livability, is a place where one can enjoy "a quaint hometown feel and big-city amenities." It is a city with a well-preserved, historic downtown, which offers a unique glimpse into what Texas was like over a hundred years ago.
Downtown McKinney is a charming area with over 100 unique shops and restaurants, art galleries, furniture stores, antique stores, and arts and cultural events.
McKinney is also known for vineyards and breweries, with many places offering tours and opportunities to try local and regional wines and beers.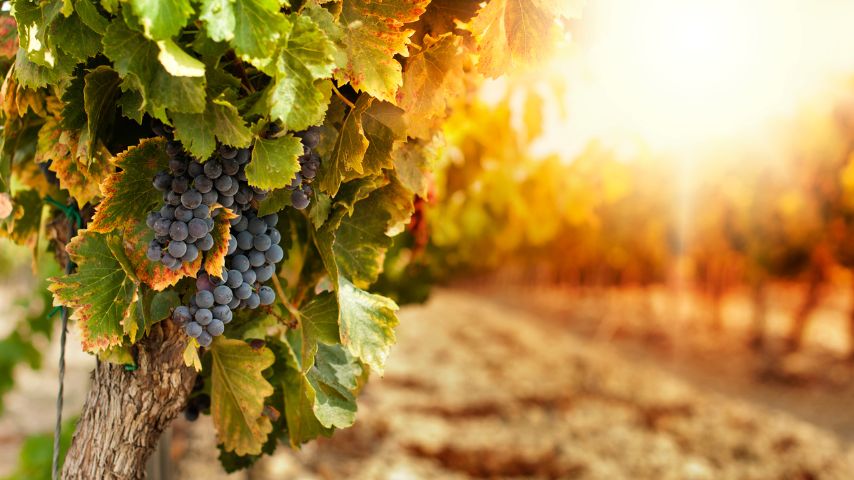 Lone Star Wine Cellars is a family-run winery housed in a former theater where you can experience the best Texas wines and enjoy live music.
At the same time, the Franconia Brewing Company offers the opportunity to sample various local beers while learning more about the beer-making process from the owner, who has 220 years of beer-making legacy in the family.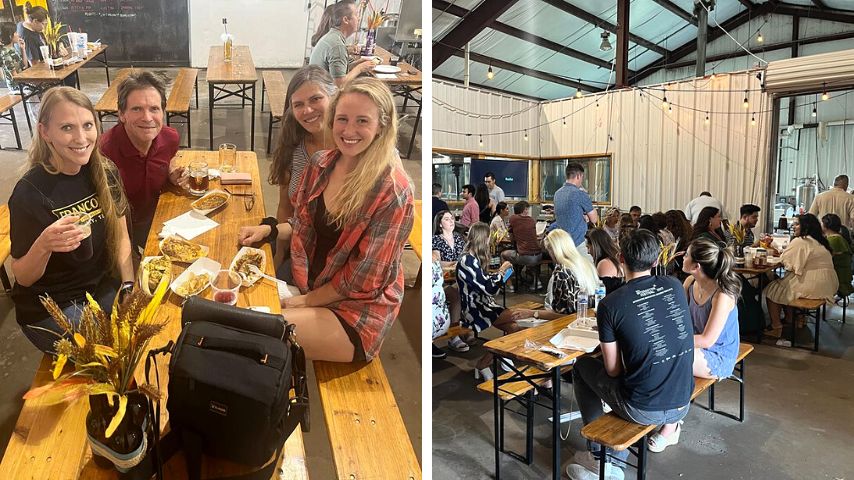 The Heard Natural Science Museum and Wildlife Sanctuary is a 289-acre museum and sanctuary with over 5 miles of walking and hiking trails, native plants, live animals, various indoor and outdoor exhibits, a butterfly house, and regular events like bird walks and tree walks. It is one of McKinney's main attractions.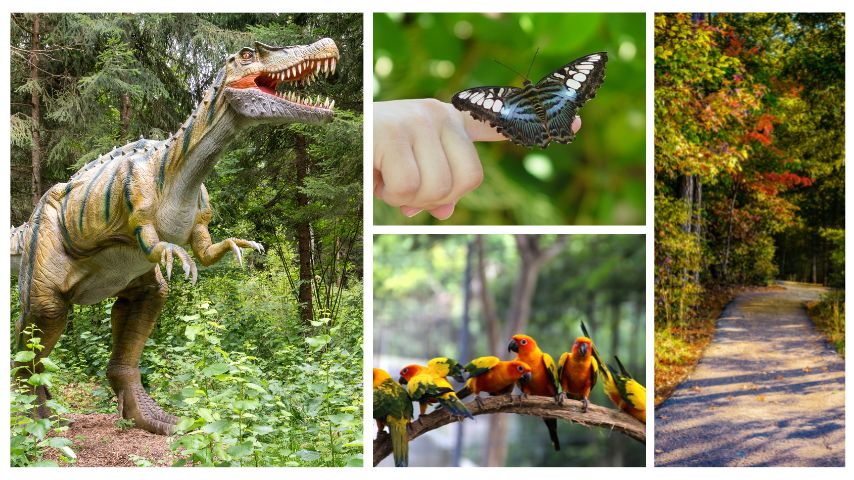 Median Rent: $1,535
Median Home Value: $349,600
Population: 202,690
Main Attraction: History, museums, vineyards, breweries
15. Arlington
Arlington is called the entertainment capital of North Texas and attracts close to 50 million visitors yearly. Like Frisco, sports are a big deal here. The Dallas Cowboys (NFL), the Texas Rangers (MLB), and the Dallas Wings (WNBA), all play their games at Arlington, as well as a host of other sports teams, including collegiate ones.
The AT&T Stadium, home to the Dallas Cowboys, and the Globe Life Park or Choctaw Stadium, the former home of the Texas Rangers and Globe Life Field, the Rangers' current home, are all located here. The stadiums are open to the public for tours.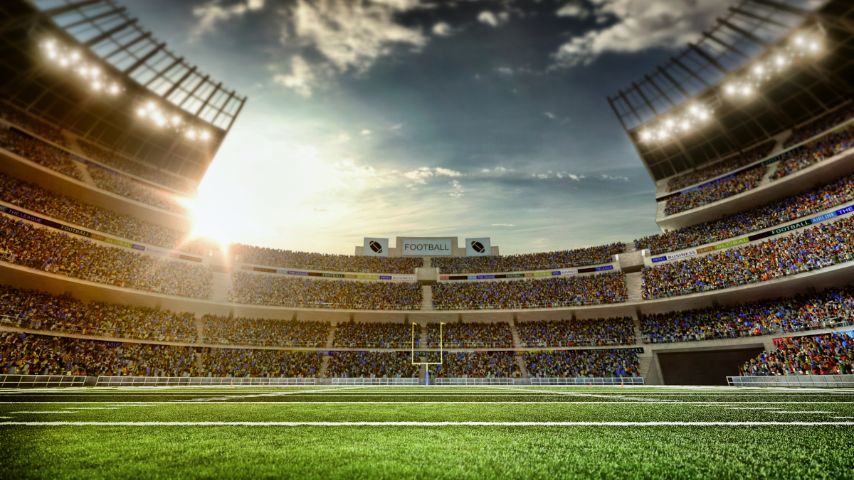 The University of Texas Arlington is a Division 1 school that competes in the highest level of collegiate sports and is also considered a tier-one research university.
The very first Six Flags was first opened in Arlington in the year 1961. Six Flags Over Texas is a 212-acre amusement park that was the first to offer an all-inclusive admission price and the first to offer log flume (El Aserradero), and mine train rides.
Nearby, Hurricane Harbor, a water amusement park built by the same company, draws thousands of visitors to the area regularly.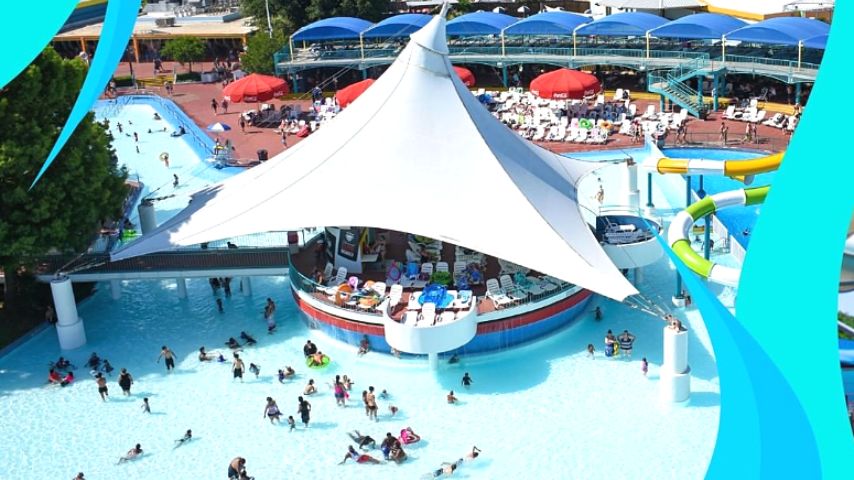 Texas Live! is a vibrant hospitality and entertainment district between the three famous stadiums, AT&T, Globe Life Park, and Globe Life Field, and it offers world-class dining and events. It is a great place to hang out before, during, and after sports games.
If entertainment and sports are your vibes, Arlington is a great place to live. Plus, Arlington is located between Dallas and Fort Worth, so it's equally convenient to access both cities from here.
Median Rent: $1,671
Median Home Value: $210,800
Population: 392,786
Main Attraction: Sports, entertainment, amusement parks
16. Addison
Addison is a suburb located 14 miles north of the Dallas city center. It is known for its many events and outdoor festivals, world-class shopping, dining, museums, and parks.
The Cavanaugh Flight Museum in Addison Airport is a popular attraction in the suburb, which houses the largest collection of warbirds from WWI and WWII in the entire Southwest.
Every year on July 3rd, Addison celebrates Independence Day through Addison Kaboom Town, a unique fireworks show and air show that features the historic planes from the Cavanaugh Flight Museum. The event attracts over 400,000 visitors to the area.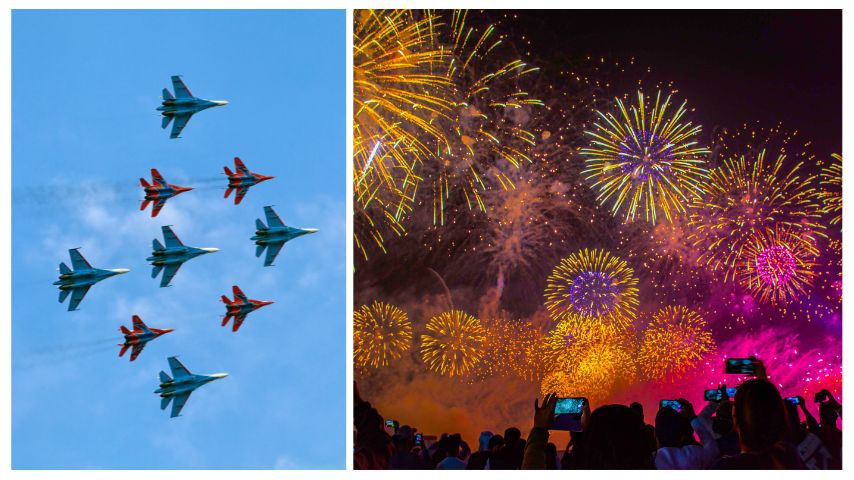 Addison's Oktoberfest has been called one of the most authentic celebrations outside of Munich and is a must to experience.
The Galleria Dallas is an upscale retail center, one of the biggest in Dallas. It is home to over 200 retail shops with luxury brands such as Gucci and Louis Vuitton, as well as other favorites like Macy's, Nordstrom, Apple, and H&M. Aside from shopping; it is also known for its Holiday events and its skating rink.
Aside from shopping, Addison is also an excellent place for foodies. In a space of just 4.4 square miles, it is home to over 200 restaurants, some of which can only be found in Addison. With just 17,000 residents living in the area, it boasts one of the highest numbers of restaurants per capita in the entire country.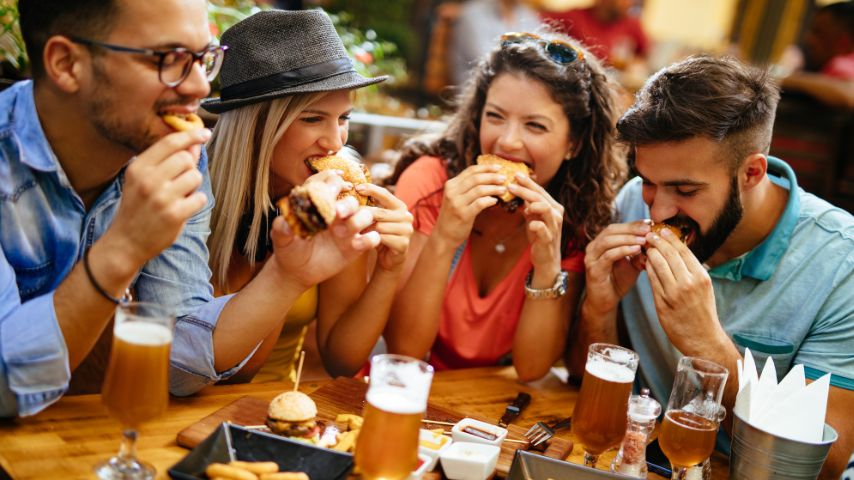 Addison also has many beautiful parks. Every year during the holidays, Vitruvian Park, a 19-acre park with a beautiful creek, turns into a colorful, magical wonderland of lights during the Vitruvian Lights celebration.
Addison Circle Park, on the other hand, serves as the venue for many of the town's exciting festivals, like Taste Addison, a food and music festival that features local food and live musical acts.
Addison is close enough to the Dallas city center to have access to all of its amenities, but it is also an interesting town and suburb all on its own. It is one of the best Dallas suburbs to live in. (Read: 11 Best Areas Around Dallas to Live (Suburbs) 2022)
Median Rent: $1,487
Median Home Value: $356,200
Population: 17,012
Main Attraction: Food and music festivals, flight museum, parks, shopping, and dining
Conclusion to 16 Best Places to Live in Dallas 2022
The best places to live in Dallas in 2022 are Deep Ellum, Bishop Arts District, Design District, Downtown, Uptown, Oak Lawn, Greenville Avenue, Preston Hollow, Park Cities, Lake Highlands, Lakewood, Frisco, Plano, McKinney, Arlington, and Addison.