We had a look at the best places to live in Dallas for older singles. Dallas is a vibrant, bustling city with a growing economy that is quickly becoming one of the most popular places to live in the country. It has great food and entertainment, tons of history, culture, and art, as well as options for outdoor activities.
If you are an older single looking to make Dallas your new home, here is a list of the best neighborhoods you can consider as your home base.
12 Best Places to Live in Dallas for Older Singles
Deep Ellum
Bishop Arts District
Design District
Knox Henderson
Oak Lawn
Lower Greenville
State Thomas
West Village
Turtle Creek
Trinity Groves
City Center District
Addison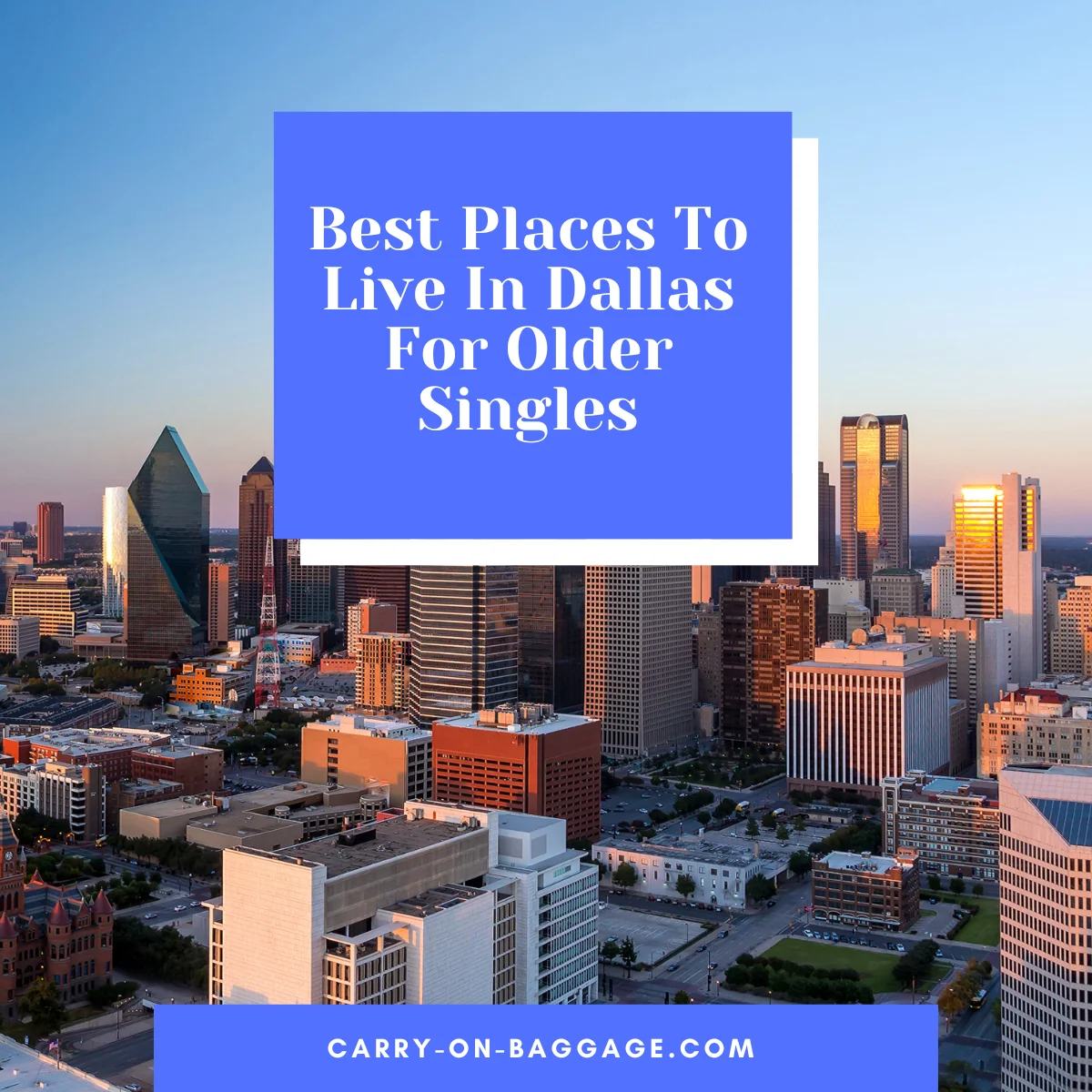 12 Best Places to Live in Dallas for Older Singles
1. Deep Ellum
No article about Dallas neighborhoods will be complete without mentioning the famous Deep Ellum.
Deep Ellum is a colorful, vibrant, and richly historic neighborhood that is considered by many to be one of the coolest in Dallas. Known for its live music, art, and street murals, it is a very walkable area that offers so much stimulation to your senses that if you live by yourself here, you will never feel lonely.
Music is at the heart of the Deep Ellum neighborhood, with its strong roots in jazz and blues in the 1920s. Nowadays, all types of live music can be found here, whether you're into indie music, rock, or hip-hop, you'll find something to enjoy by way of music.
Countless fusion restaurants are also found in this area, and you will never run out of choices. While it is a neighborhood that comes alive at night, appreciating the instragrammable street art is best done during the day.
A possible drawback is that it might get noisy and busy during the night, and some streets may not be safe to walk alone.
Neighborhood Highlight: Live Music, Restaurants, Street Art
Median Rent: $1,383
Median Home Value: $188,851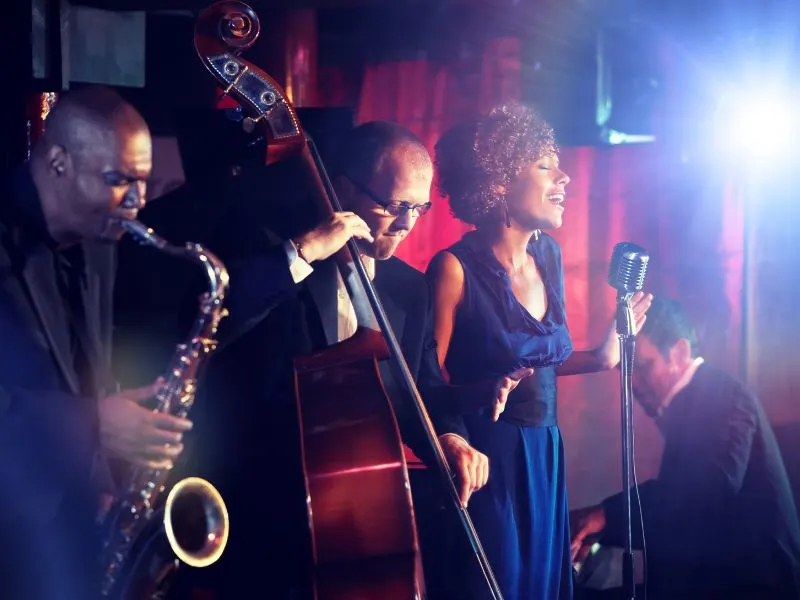 2. Bishop Arts District
The Bishop Arts District used to be the best-kept secret of Dallas. Today, this not-so-hidden gem is known for its artsy and hipster ambiance, and laid-back lifestyle.
With most of the shops here being independently owned, it has that small-town feel that contributes to the charm of the place.
The streets are extremely walkable, and very instagrammable as well. The area has lots of good coffee shops, independent bookstores, farm-to-table restaurants, casual bars, and lounges, and diverse food and entertainment options.
The focus is on local artisans and small businesses, so if you're someone who loves to buy unique and one-of-a-kind pieces, and if you're someone who values this type of independence and self-expression, this may be the right neighborhood for you.
The community is also considered tight-knit, as they create and come up with many community-led events several times during the year.
If you are single, this is a great opportunity to get to know others in your community and get involved. (Read: The 12 Best Places to Live in Dallas for Singles).
Neighborhood Highlight: Local artisan shops, diverse food, and nightlife, quieter than Deep Ellum
Median Rent: $894
Median Home Value: $316,080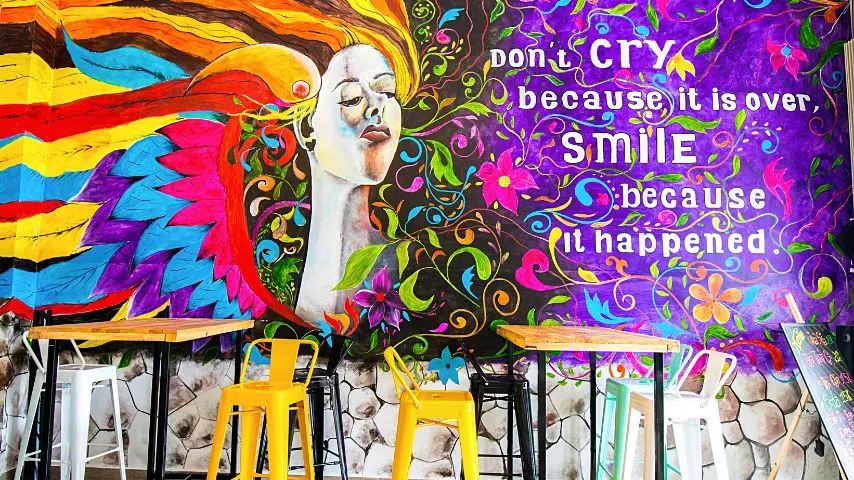 3. Design District
There used to be nothing in the Design District except storage and inventory warehouses, but over the last few decades, it has evolved, quite organically, into one of the most coveted areas of Dallas. It is a trendy and upscale neighborhood that is art and design-focused, although it is also known for its breweries.
With its collection of notable art galleries, sophisticated interior design and furniture showrooms, famous antique stores, and contemporary art displays, coupled with some buzz-worthy fine dining restaurants and its proximity to the downtown area, it has become an extremely attractive neighborhood to the artsy types who want a little bit more sass to their neighborhood.
Neighborhood Highlight: Goss-Michael Foundation, an art museum started by singer Kenny Goss and George Michael; Peticolas Brewing Company
Median Rent: $1,662
Median Home Value: $330,051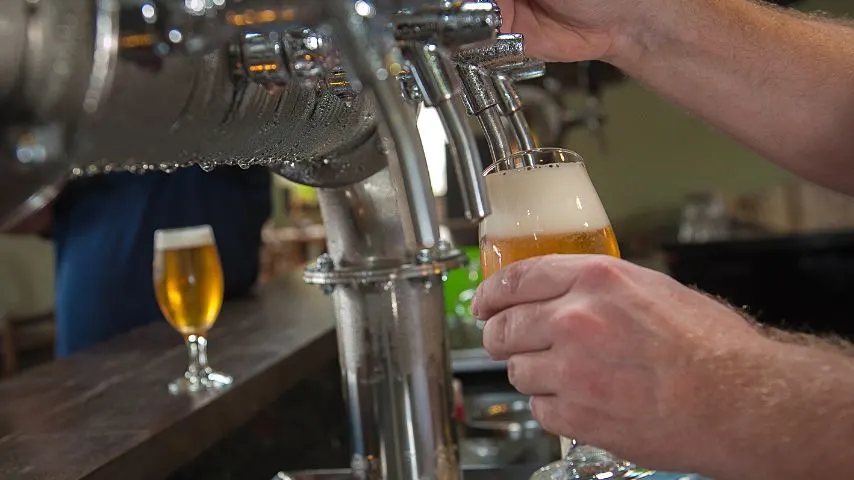 4. Knox-Henderson
Knox-Henderson is a small, cozy, fully walkable neighborhood that is well-known for its diverse shopping and dining options and its accessibility to the Katy Trail, a jogging path built on an old railroad line.
It was named after two streets bordering it: Knox Street and Henderson Avenue. The streets are safe and walkable, and its location offers easy accessibility to the Uptown and Downtown areas, as well as to places like Lower Greenville.
It is known as one of the best areas to eat in Dallas because of the diverse food options across all price ranges, from Tex-Mex food to farm-to-table cuisine, to sports bars, Knox-Henderson would have it all for you.
In terms of stores, both big brand names and locally-owned, small brands can be found here.
Neighborhood Highlight: Fully walkable, pedestrian-friendly. Various shopping and dining options, Access to the Katy Trail
Median Rent: $1,165
Median Home Value: $246,297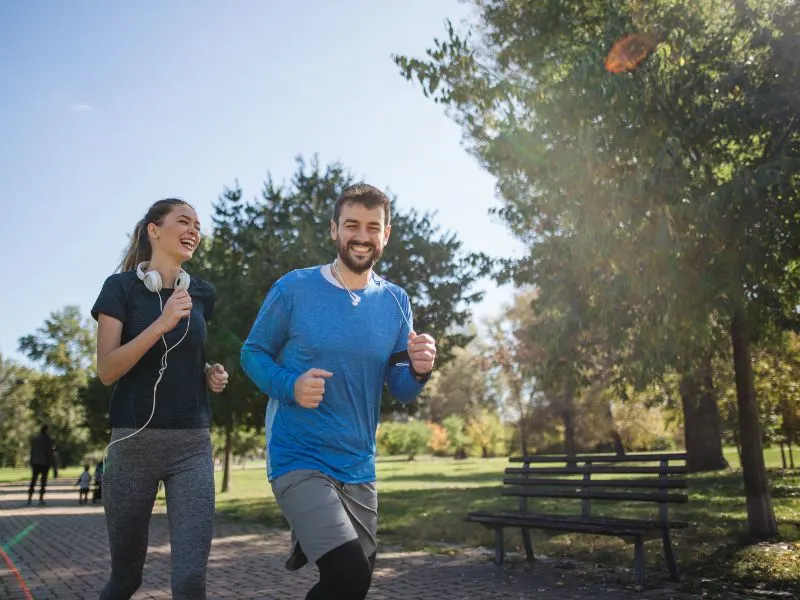 5. Oak Lawn
Oak Lawn is one of the larger neighborhoods in Dallas and is a diverse neighborhood with an interesting and vibrant nightlife. It is known as the center of the Dallas LGBTQ community and is home to many annual events that attract thousands of visitors each year.
The Dallas Pride parade, the Halloween Block Party every October, and the Purple Party Weekend are just some of the big events that it hosts, events that are making the city of Dallas a must-stop for the gay community.
Regular weekends here can draw crowds as with many hip neighborhoods, with its many interesting bars, entertainment, and places to dine. However, on the whole, it is relatively quiet, has lots of green spaces, and the best thing of all, it is extremely pet-friendly.
Another perk is that the Katy Trail can also easily be accessed from this area if you want a little bit of health and wellness to balance your night of fun.
It is easy for someone single to feel right at home here, and the diverse demographic is a huge plus if you want to meet different types of people.
Neighborhood Highlight: Lots of green spaces, interesting food and entertainment scene, pet-friendly, access to the Katy Trail
Median Rent: $1,351
Median Home Value: $334,446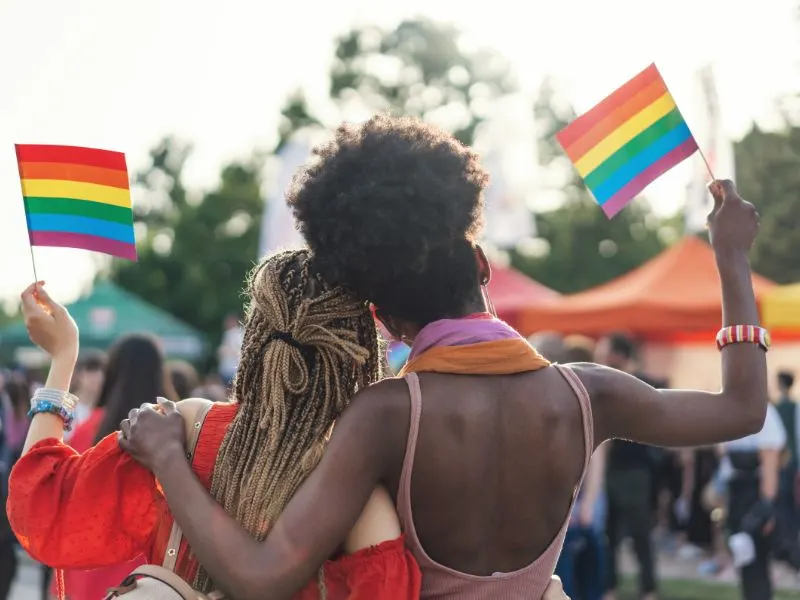 6. Lower Greenville
Lower Greenville is a walkable, quaint neighborhood filled with many well-known bars and restaurants, the list of which is ever-growing.
While it is best known for its entertainment and nightlife, it is also becoming one of the most favorable places to live in Dallas. If you are the type of person who likes going out to your favorite bar down the street for a quick nightcap and heading home shortly after, this area offers that convenience.
Residents in the area are committed to making the area more livable, and if you like to be where the action is but also want to maintain some semblance of peace and quiet at home, it's a good opportunity to get involved.
The Granada Theater is Lower Greenville's main attraction, a beautiful, recently renovated art-deco building that hosts live music, and shows and is even open for private events.
The annual St. Patrick's Day parade is also a Lower Greenville event, and if you live here, you're right in on the action.
Neighborhood Highlight: Lots of bars, restaurants, Granada Theater, St. Patrick's Day Parade
Median Rent: $1,352
Median Home Value: $497,815
7. State Thomas
State Thomas is a charming area in Uptown Dallas that is desired for its tree-lined streets, friendly residents, and small neighborhood-type feel.
While still fast-paced like most of Uptown, it is relatively a little bit more laid back here. If you are an older single who wants to have the benefits of the Uptown lifestyle but still a little bit of breathing room, this is a nice place to consider.
State Thomas is known as the "jewel of Dallas' Uptown neighborhoods", and contains the biggest concentration of Victorian-era homes in all of Dallas. It is a Dallas Landmark District, which means it is protected because of its historical and architectural significance.
Neighborhood Highlight: Quiet and more laid back than other Uptown neighborhoods. Tree-lined streets, friendly residents, Victorian-era homes
Median Rent: $1,896
Median Home Value: $855,000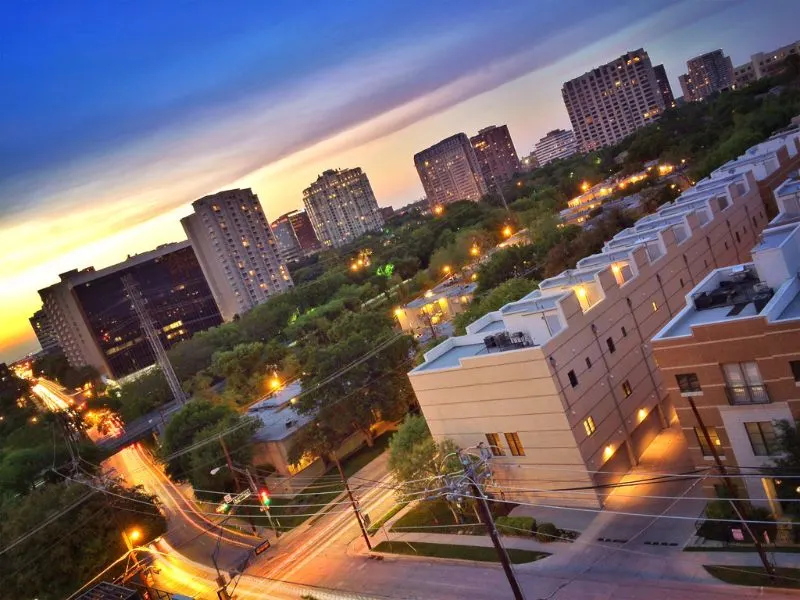 8. West Village
The West Village in Uptown Dallas (not to be confused with the West Village in New York), is a lively area that is packed with cafes, restaurants, lounges, bars, fitness studios, spas, boutiques, wellness centers and others.
It is located near the northern edge of the Uptown area and offers convenient access to the Katy Trail, the DART, and the McKinney Trolley, so someone who wants to explore can easily do that with the West Village as their home base.
There are beautiful tree-lined streets that showcase American architecture, and the bustling outdoor cafes are intended to make it have a more European feel to it. The area is mostly upper-middle class, is highly walkable and the energy and activity is constantly high.
West Village is also known as one of the safest neighborhoods.
The Village is home to The Magnolia, a movie theater that showed films typically not shown in mainstream theaters, but has closed during the onset of the pandemic and has not reopened since. It will soon be taken over by Austin-based Violet Crown.
The place is lively, with many entertainment, dining, and shopping options. You will surely not get bored!
Neighborhood Highlight: Lively, bustling streets with outdoor cafes and restaurants. Easy access to the Katy Trail, DART, and Trolley
Median Rent: $1,147
Median Home Value: $810,000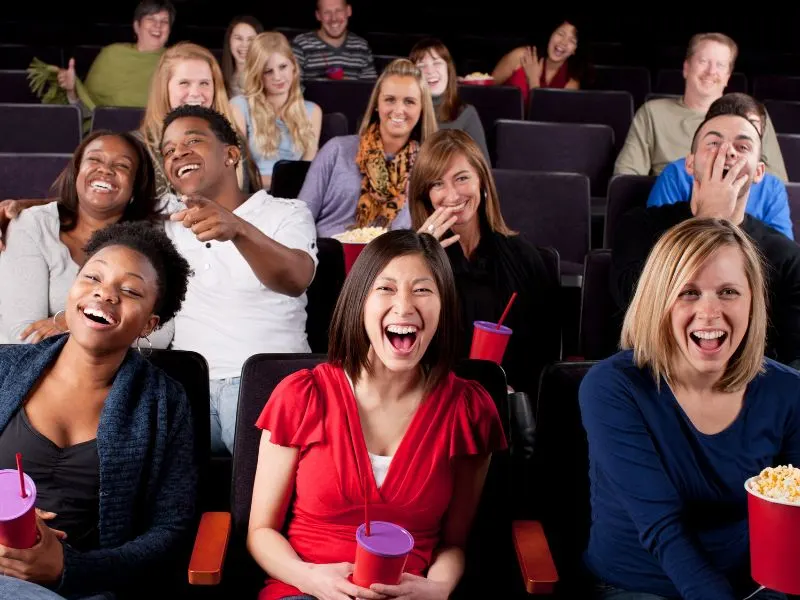 9. Turtle Creek
Turtle Creek is an upscale neighborhood on a thin, narrow strip of land that is sometimes considered part of Oak Lawn or Uptown but is actually a different neighborhood all together.
It borders Uptown Dallas via the Katy Trail. It is close enough to Uptown and places like the West Village and McKinney Avenue to have access to the best food and entertainment they have to offer, while still being quiet and private.
The housing here is more affordable than the ones in Uptown, and it is a little bit more peaceful with all its green spaces and parks. There are actually more outdoor and recreational spaces than living spaces in the area, which makes it all the more private.
While being more affordable than Uptown homes, there is a lot of luxury here. Stylish high-rise apartments, stately mansions, and luxury condos abound. There are a lot of working professionals based in the area. If you are an older single wanting the buzz of an urban lifestyle but still want green spaces and privacy, Turtle Creek is a great option. It is jogger-friendly and pet-friendly too.
Neighborhood Highlight: Private, luxury homes close to Uptown but more affordable. Lots of green and outdoor spaces and access to Katy Trail
Median Rent: $1,707
Median Home Value: $732,000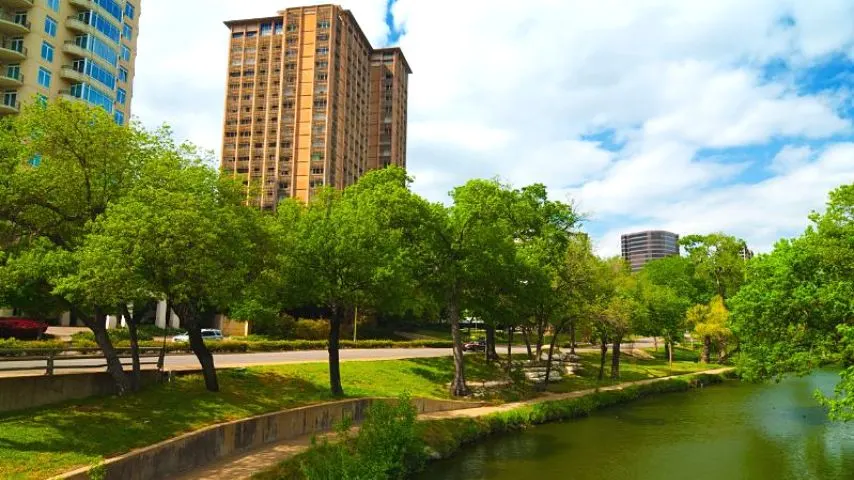 10. Trinity Groves
First opened in 2012, Trinity Groves is a 15-acre food and entertainment district that is a popular foodie and entertainment haven in Dallas. The restaurants here are varied and unique, and most started off as part of the complex' incubator program, where chefs and restaurateurs can test food concepts without having to shell out a lot of money by opening them in the traditional way.
It is mostly known for its food but entertainment and shopping options have increased over the last few years, making it an extremely interesting place to explore.
It is a neighborhood that was less organic in its growth but has become a popular place to live in recent years.
It offers great views of the Dallas Downtown Skyline, and housing is relatively affordable, although it has seen an increase in recent months due to its popularity.
Neighborhood Highlight: Food and dining options, entertainment, music, views of the Dallas Skyline
Median Rent: $2,100
Median Home Value: $349,000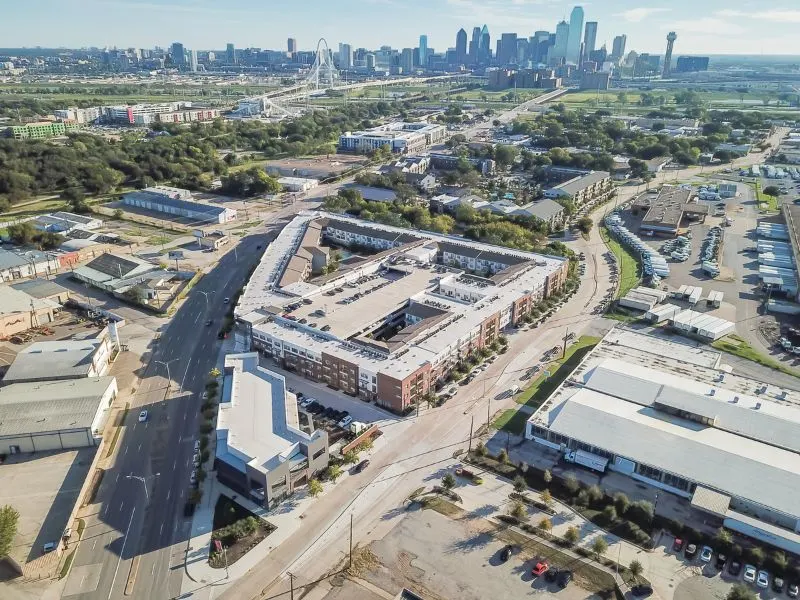 11. City Center District
The City Center District is home to a lot of upscale dining, clubs, museums, and art galleries as well as shopping. Located in the northern part of Downtown Dallas, it's located next to the historical and arts district.
It is mostly corporate in look and feel, with its towering buildings and upscale hotels, but with its centralized location, it is a good home base to explore other neighborhoods, beginning with the nearby arts and historical district.
People who love to eat and love to be entertained may appreciate the varied selection of restaurants and entertainment options in this area including dance clubs and bars and one of Dallas' most popular comedy clubs, The Back Door Comedy Club.
Most of the residents in this area are singles and young professionals so you are in good company. The area is walkable and safe, but one possible downside is that it does not have a lot of green spaces.
This district is home to the historic Majestic Theater, the last still-standing theater of Dallas' Theater Row. Shows and live events are held there regularly, including Broadway shows.
Neighborhood Highlight: Walkable, convenient, and centralized location. Lots of food and entertainment options
Median Rent: $1,755
Median Home Value: $281,568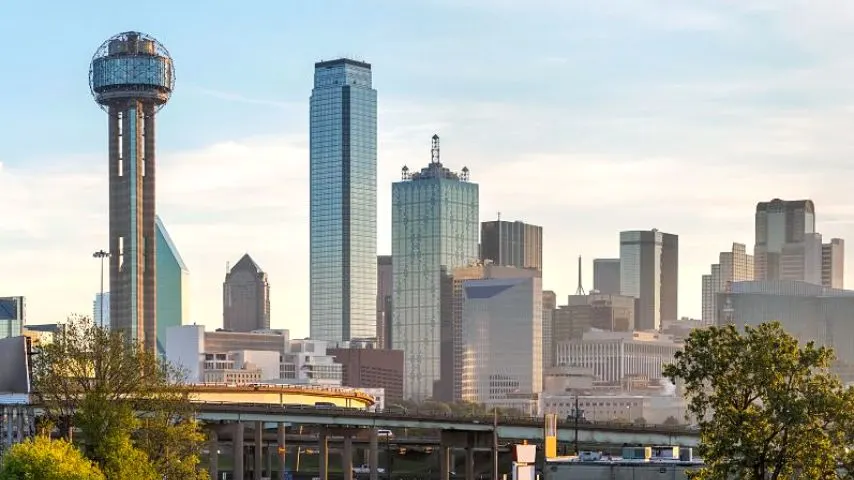 12. Addison
Addison is a North Dallas suburb that is popular with working professionals because of its proximity not just to the Dallas city proper but to other surrounding cities like Plano and Frisco.
If you are an older single who prefers to live in a more suburban area, away from the fast-paced urban lifestyle of Uptown or Downtown, yet still have access to awesome entertainment options, Addison is a wonderful option.
Addison is home to some great shopping, green spaces, and outdoor activities like golf, as well as lots of dining options. And when saying a lot, we mean A LOT. Addison is known as the "restaurant capital of America", with over 200 restaurants concentrated in the area, the most per capita than any other U.S. city!
If you love food like me, this alone will excite you to consider Addison. What better way to spend your hard-earned money and bond with and meet new people than over food?
Addison is also home to the Cavanaugh Flight Museum, an aviation museum that has a big collection of warbirds from WWI and WWII.
There is also no shortage of events in Addison every year, ranging from food and music festivals like Taste Addison, a fireworks show known as Addison Kaboom Town, Addison Oktoberfest, and Addison After Dark, a monthly outdoor-themed activity that offers opportunities for fun and socializing.
Neighborhood Highlight: More than 200 restaurants in the area, lots of outdoor activities and events
Median Rent: $1,413
Median Home Value: $348,200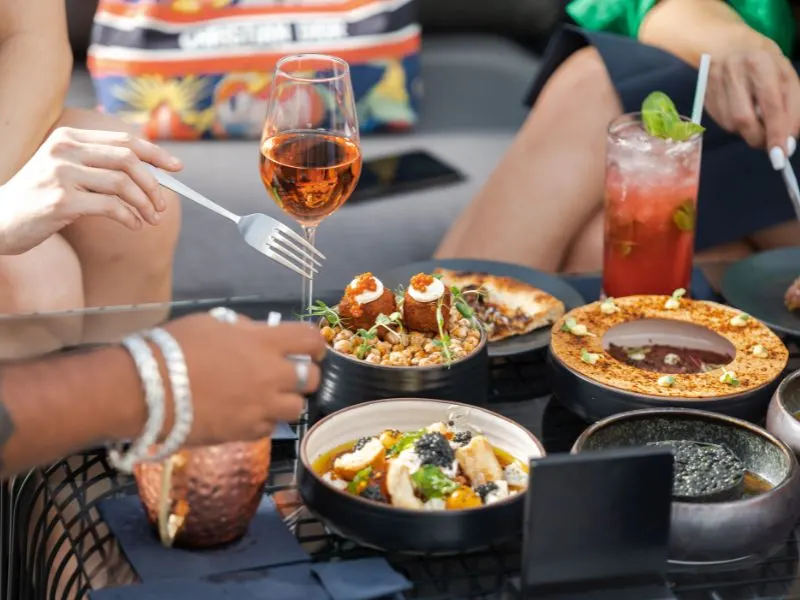 Recommended reading: Best Places To Live In Dallas For Young Professionals
Conclusion to 12 Best Places to Live in Dallas for Older Singles
The best places to live in Dallas for older singles include Deep Ellum, Bishop Arts District, Design District, Knox-Henderson, Oak Lawn, Lower Greenville, State Thomas, West Village, Turtle Creek, Trinity Groves, City Center District, and Addison.