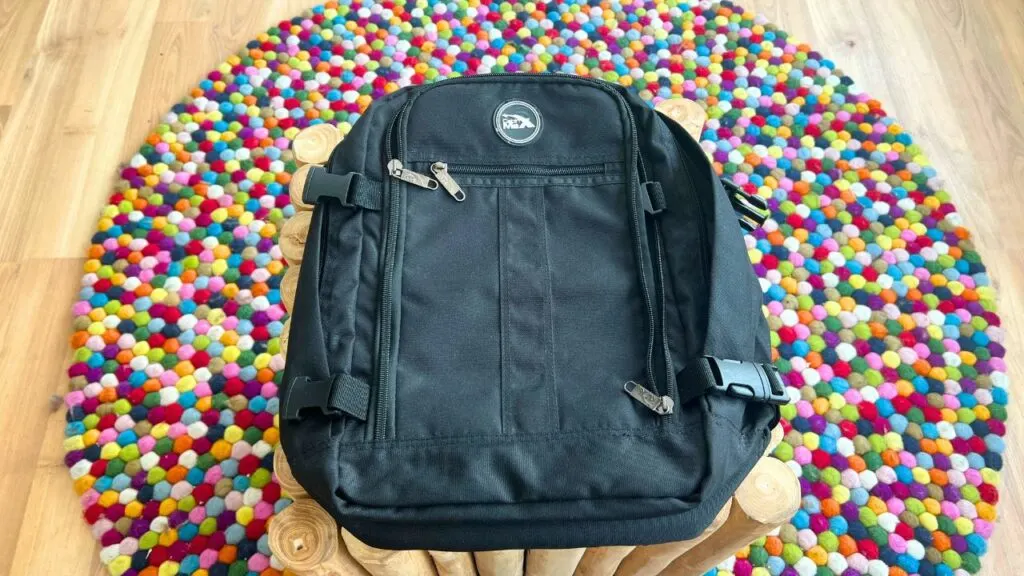 "All my bags are packed I am ready to go…" and just like in this song by John Denver, I am also "ready to go" again.
Of course, not without a cool hand luggage.
Since the Cabin Max Manhattan had already convinced me so much, but I now wanted to take a more compact hand luggage, my choice has fallen on the Cabin Max Metz 20 Liters.
Now, let us have a closer look at this tiny, yet fully functional hand luggage.
Material
At first glance, the Cabin Max Metz backpack makes a solid impression.
A slight chemical smell, but that quickly evaporates.
The material is pleasant to the touch and seems durable.
Unfortunately, the exact material composition is not specified this time.
From the smell and from the feel I am pretty confident to say that we are dealing with a light polyester fabric here.
The straps and the back sections are additionally provided with a mesh fabric to achieve better breathability.
There are also three foam pads on the back, one each on the right and left sides and a foam pad on the lower back.
The carrying straps are also well padded and promise a comfortable feel.
The material is obviously also important as far as the overall weight of the backpack goes. In this case, the backpack only weighs 500 grams, which is amazing.

Dimensions (measurements)
The manufacturer gives the dimensions as follows: Length 40 cm, width 25 cm and depth 20 cm. Empty weight 500 grams, capacity 20 liters.
I measured this once, and the information is just about right.
You have to remember that the material is flexible and you should not pack the backpack to bursting.
Then you probably may not take him on board, but must check him or book as a large hand luggage in addition.
However, if the backpack is packed normally, many airlines accept it as a small piece of hand luggage and you can take it on board without paying an additional fee.
In our day and age, it definitely cannot be taken for granted because many airlines, especially low-cost carriers (think easyJet and Ryanair and the like), now only permit a small piece of hand luggage for passengers traveling under the standard tariff.
However, as these regulations are constantly being adapted, it is worth taking a look at the baggage guidelines of the airline you are flying with before departure. Always!

Interior
The backpack has three compartments: a main compartment, a front pocket and a small document pocket.
Main compartment
Packing the backpack is like packing a suitcase: the main compartment opens from the side. This is great because it makes packing so much easier and it also makes it easier to see where your things actually are within the backpack.
So you don't have to squeeze everything in from above through a fairly small opening, as with many other backpacks.
Even my shirt, which I put on top, remained halfway ironed that way.
The backpack has room for one to two outfits, depending on how thick the material of the actual outfits is.
Anyway, I was amazed at how much room the main compartment offers.

Outside pockets of the Cabin Max Metz 20 Liters by Cabin Max

Front pocket
The front pocket has it all and consists of many smaller pockets and compartments.
The first pocket is perfect for an Ipad, and there are two pen holders sewn to the pocket.
In this Ipad pocket also fits a flat folder with DIN A-4 documents, but this folder should not be too full.
Then we have a small slip pocket, for hand cream or passport and a mesh pocket with a zipper.
Perfect for medication or contact lens cases.
Furthermore, the backpack still has a mesh insert pocket.
My wallet has found a very good place there.
On the lid of this pocket is again a mesh pocket with zipper.
This is suitable for socks or underwear.
Best flat articles, so that the backpack does not bulge too much and then no longer passes as hand luggage.

Document pocket
At the very front of the backpack still has a zipper pocket.
This pocket is especially suitable for items that you need to have quickly at hand.
The bag is about 24 cm long and 18 cm wide, which means that airline tickets and passports fit perfectly inside.

Special features
The backpack has a carrying handle on top and two buckles on each side, either to clamp something on the side and to give the backpack more stability.
The zippers run smoothly and each has an eyelet to attach a lock.
I particularly noticed the back padding.
This is very thick and firm and you have a better wearing comfort.
It is a bit of a shame that the backpack does not have a separate laptop compartment.
My MacBook Air unfortunately only found room in the main compartment on my clothes, as it is already too big for the front compartment.
Overall impression Cabin Max Metz Small Backpack
I especially liked the many smaller pockets.
I found all my stuff quickly and easily and even my long wallet had good space in this backpack.
I was also amazed at how much capacity this Cabin Max has and how well it can be used for clothes. (Thanks to the handy, suitcase-like closure").
As probably with most travelers who are looking for a suitable hand luggage, the dimensions of the backpack are of utmost importance.
Now, if if you are flying with Ryanair and are on the lookout for a small piece of hand luggage, then the Cabin Max Metz 40 x 20 x 25 cm simply is a perfect fit, as the dimensions are literally tailor-made for this purpose.
Overall, the Cabin Max Metz is a great travel companion that meets all the requirements and offers enough space for a weekend trip. I definitely approve.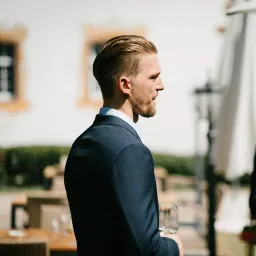 Hey guys! It's me, Marcel. I am the proud owner of carry-on-baggage.com. I am dealing with hand luggage related issues on a daily basis and I own several websites in this niche. Travelling is one of my biggest passions in life and I, therefore, happen to know a thing or two about hand luggage. I hope you all have a safe trip! Take care and thanks for the support. I really appreciate it.