Summer is one of the most popular times to visit Sweden, with its long days, balmy evenings, and when the magical phenomenon of the midnight sun is on full display.
Because of the long daylight hours and the warm, pleasant weather, it is also the time when nature is at its most vibrant and most beautiful, making summer the perfect time to visit. Hiking, biking, kayaking, and swimming are just some of the popular outdoor activities you can do during the summer to explore this beautiful country.
In the sections that follow, I'll list some of the best places to visit in Sweden during the summer so you can plan out your next holiday getaway.
Best Places to Visit in Sweden During Summer
Some of the best places to visit in Sweden during the summer include Stockholm, Gothenburg, Visby, Halmstad, Österlen, Ystad, Malmö, Dalarna, Höga Kusten, and the Swedish Lapland.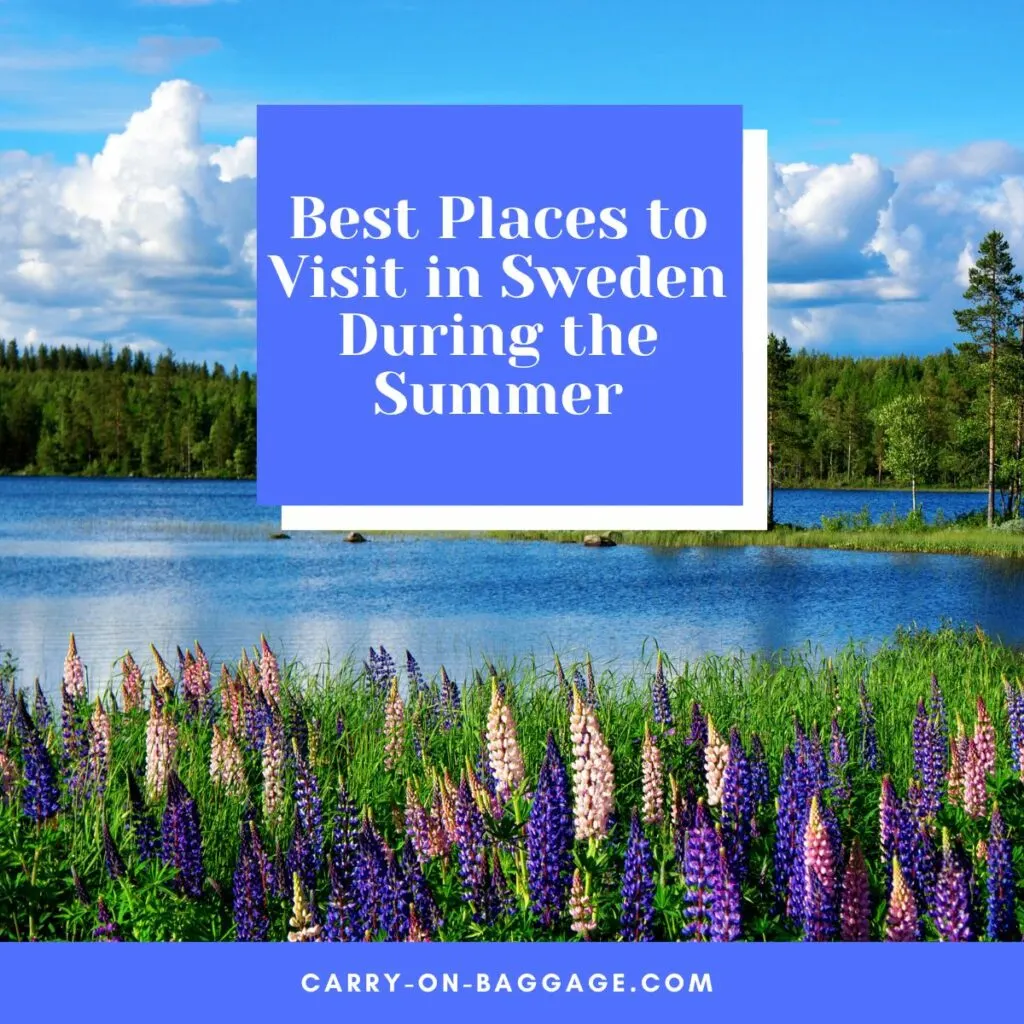 Best Places to Visit in Sweden During Summer
1. Stockholm
Stockholm is Sweden's capital city and is also a charming place to be visited year-round. However, during the summer, the city is at its liveliest.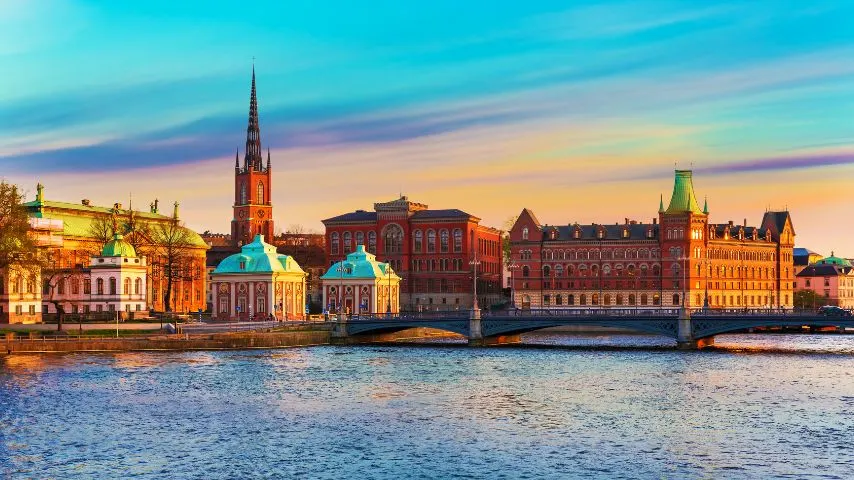 The milder weather is ideal for sitting outside, enjoying a drink or two at one of the city's many bars and cafes, and the longer days and late sunsets give you more time to appreciate the city's many tourist attractions.
The Gamla Stan is one of Europe's largest and most well-preserved medieval districts and is home to attractions like the Nobel Prize Museum, the Stockholm Cathedral, and the Royal Palace.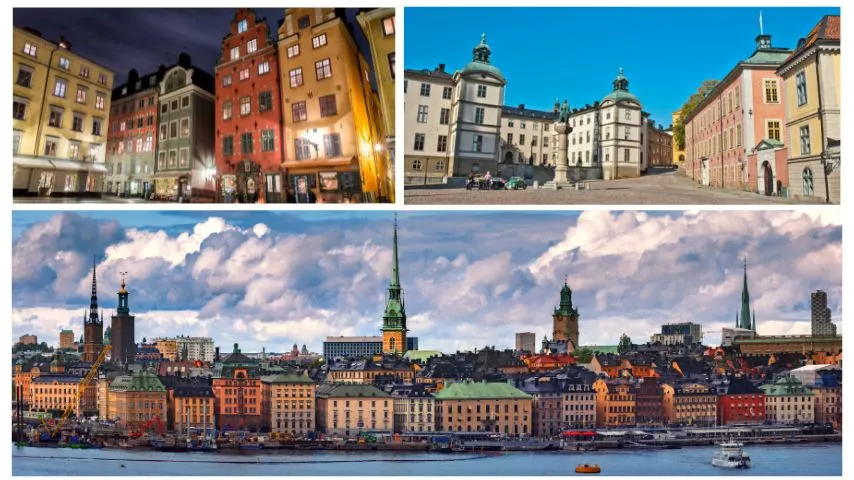 Some other popular museums include:
ABBA Museum – learn about ABBA, the famous Swedish supergroup
Vasa Museum – See the Vasa, the only fully intact 17th-century warship ever recovered
Viking Museum – learn all about the Viking culture, a fascinating period in Nordic history
Nobel Prize Museum – Get inspired by the Nobel laureates whose ideas made a big impact on the world
Skansen – Experience the Swedish way of life prior to industrialization through the world's first open-air museum.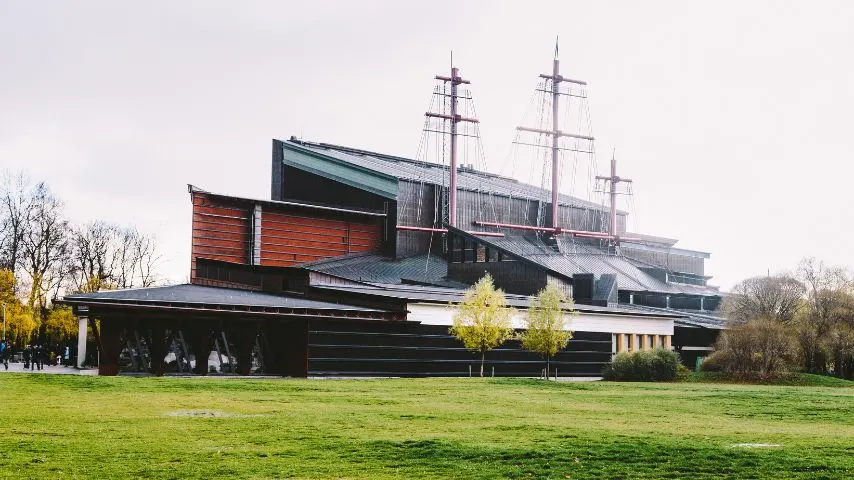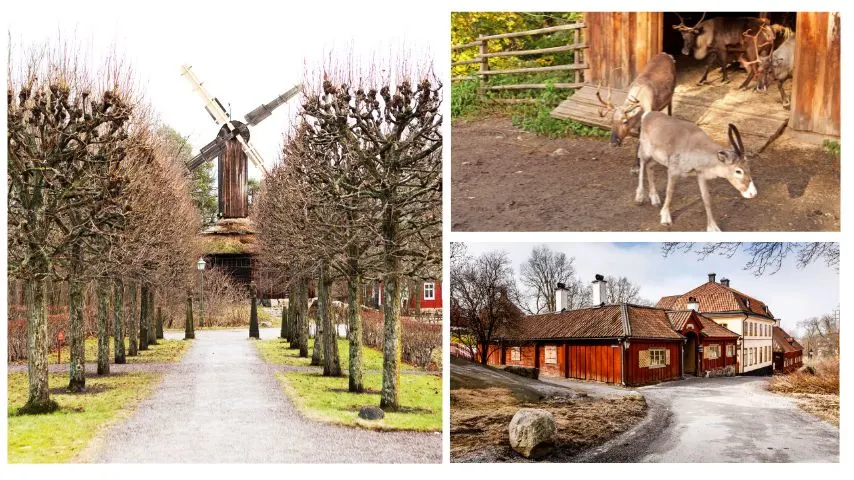 Stockholm is a capital city situated on the water over 14 islands, connected by as many as 50 bridges. Stockholm's known as the Venice of the North. Being surrounded by water means lots of opportunities for swimming and water activities.
Tanto Strandbad, located in the trendy Sodermalm neighborhood, is one of Stockholm's most popular beaches. Smedsuddsbadet and Långholmens Strandbad are two other prime swimming spots centrally located in the city.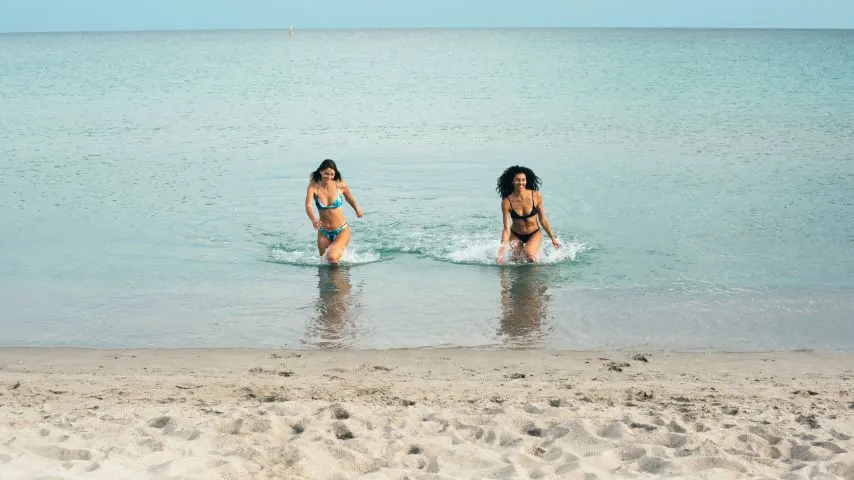 The nearby Stockholm archipelago, with its 30,000 islands, offers more options for water, nature, and outdoor adventures.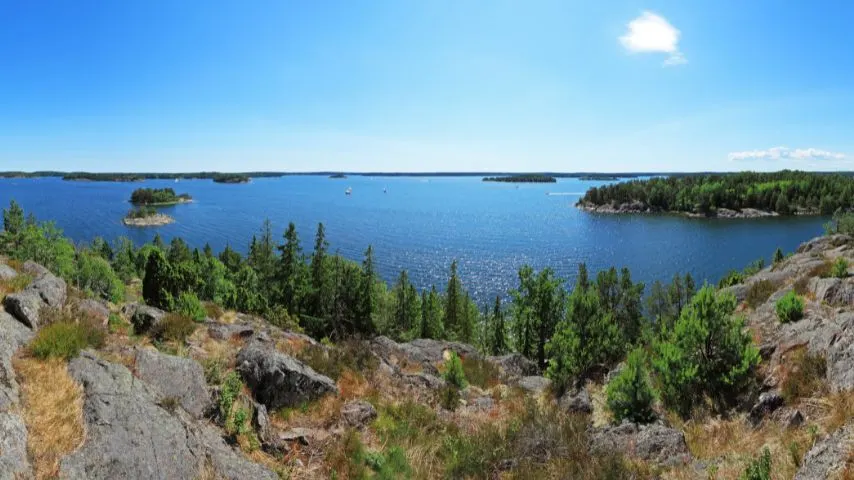 Stockholm is a great place to visit during the summer but it is also peak season, which means higher prices. Tourist attractions can get busy but off-the-beaten-path places can be less crowded, as most locals are also away on their own summer holidays.
How to Get There: Arlanda, Bromma, Skavsta, Vasteras Airport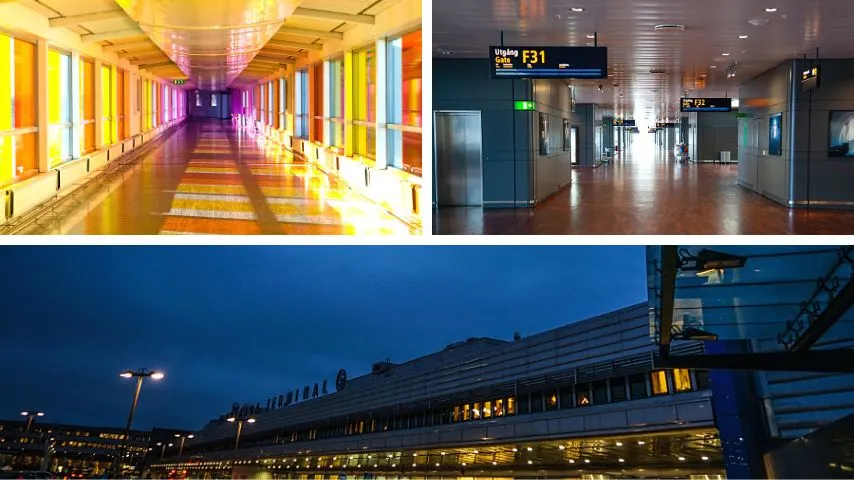 2. Gothenburg
Gothenburg is Sweden's second-largest city, located on its southwest coast along the Göta älv river. (Read: The 6 Largest Cities in Sweden). It is known as one of Europe's coolest and hippest cities, with its tree-lined avenues and Dutch-style canals, and is one of the most sustainable cities in the world.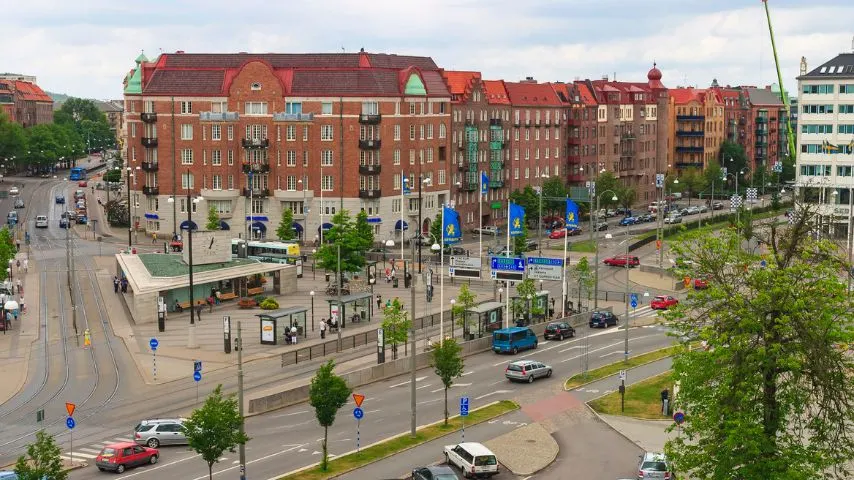 Gothenburg is famous for its university, its seaport, and for being the birthplace of Volvo, a luxury car brand. It is also known as a foodie haven, with its excellent seafood. It is known as Sweden's culinary capital.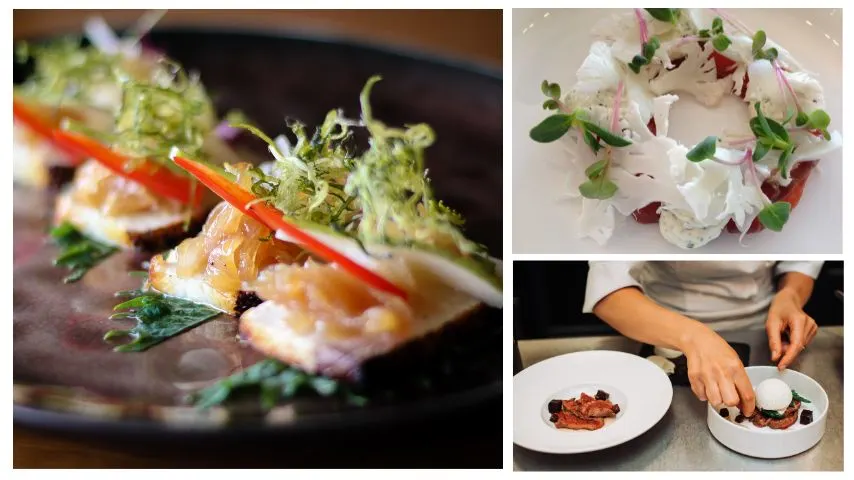 Gothenburg in the summer is home to the Way Out West Music Festival, which features three days of live music performances from popular artists and sustainable vegetarian food. Sustainability is a big part of this festival, which can be seen in all aspects of preparation and presentation.
The Swedish Midsummer takes place in June and is a celebration of the summer solstice or the longest day of the year. It is one of the biggest holidays in Sweden and celebrations start on Midsummer Eve, on a Friday that falls somewhere between June 19-25.
Celebrations start out at lunch and last the whole day, sometimes until the next morning. Dancing around a maypole with flowers in your hair, eating pickled herring and smoked salmon, and drinking Aquavit are just some of the traditional elements involved in this holiday.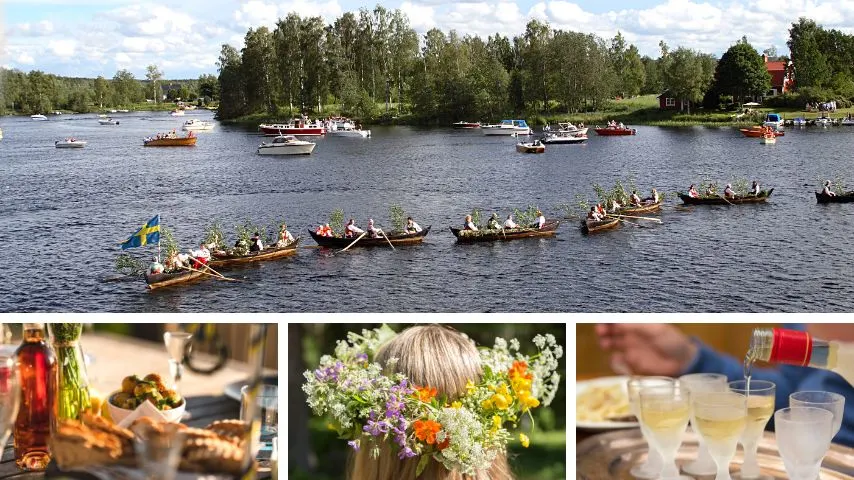 It is celebrated all throughout the country, which each area having its own take on the holiday. In Gothenburg, a popular celebration place is Slottsskogen city park.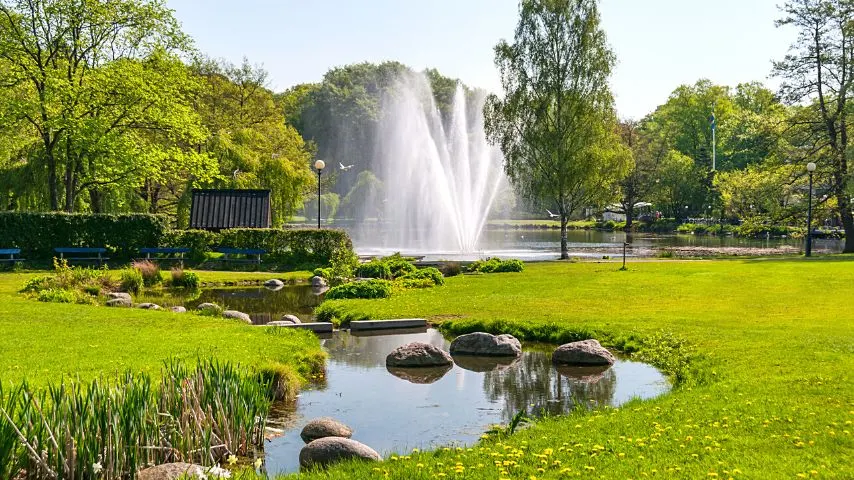 The Gothenburg Museum of Art and Botanical Gardens are also worth checking out, as well as the Volvo Museum. For thrill-seekers, the Liseburg amusement park is one of the most visited and most loved amusement parks in all of Scandinavia, featuring some of the most exciting roller coasters and rides.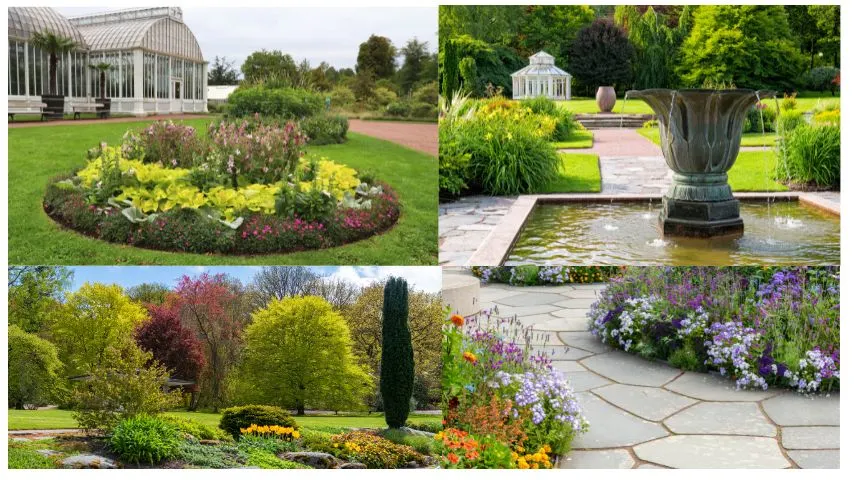 Feskekörka or Fish Church is an indoor fish market located in a neo-gothic structure that resembles the steeple of a church, hence its name. It is a haven to explore the very best seafood that Gothenburg has to offer.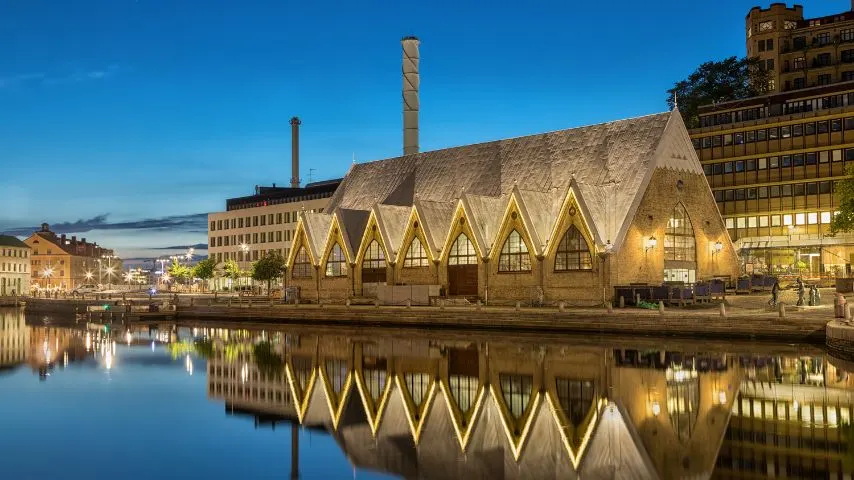 Like the Stockholm archipelago, the Gothenburg archipelago is a short distance away from the city and can be easily visited and explored for nature and outdoor adventures.
How to Get There: Göteborg Landvetter, Gothenburg City Airport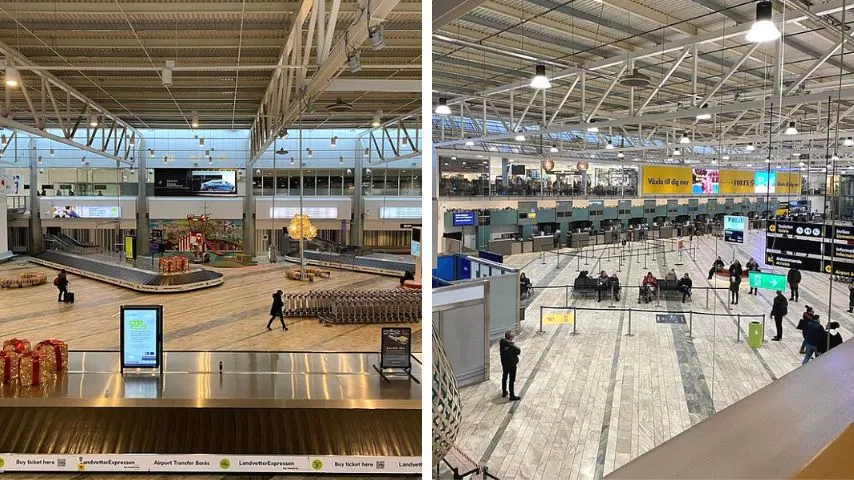 3. Visby
Visby is a UNESCO World Heritage site that's on the west coast of the island of Gotland. It is known as one of the most well-preserved walled medieval cities in Scandinavia. The wall that surrounds the original city is over two miles long, and many elements from when it was first built in the 1200s survive to this day.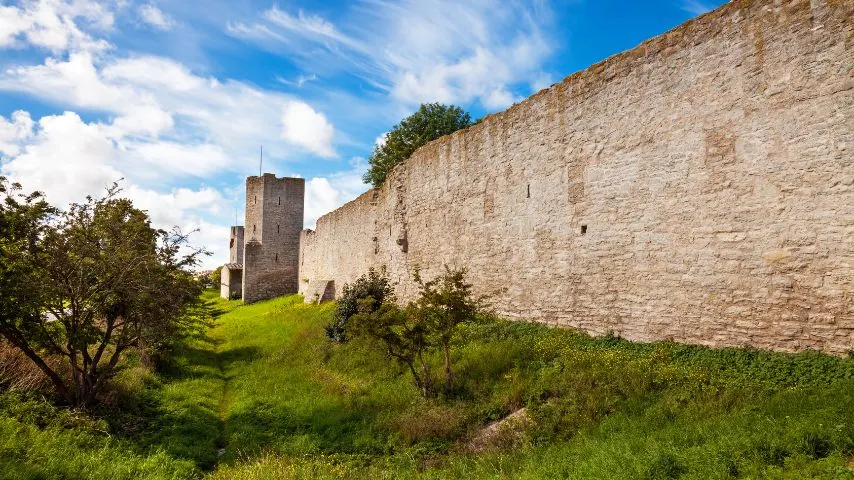 Visby was at the center of The Hanseatic League, a medieval organization of merchants, from the 12th-14th centuries and the well-preserved city provides visitors a glimpse into what an authentic medieval trading town looked like.
Over 200 medieval structures, which include merchant houses and warehouses, as well as several church ruins, winding cobblestone streets, flower boxes overflowing with roses, and charming houses make this dreamy, fairytale-like medieval village a popular destination to explore in the summer.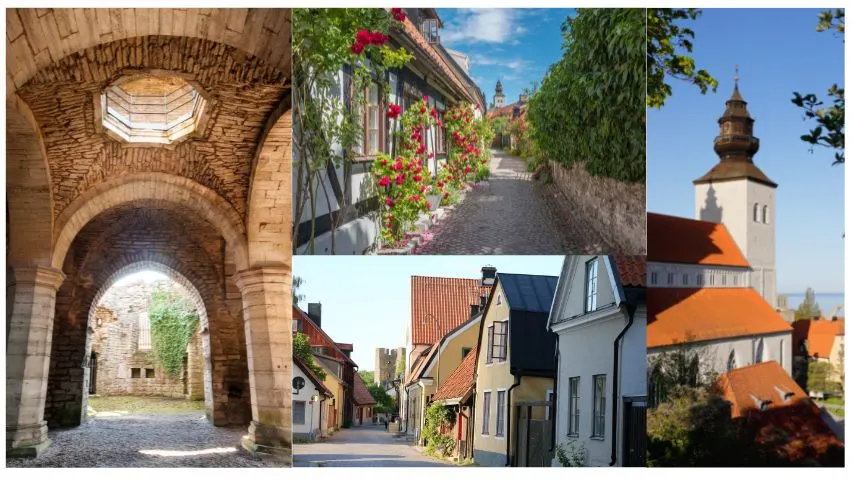 The Gotland Museum in Visby features many artifacts from the Viking age, and even before that, all the way back to the Stone Age, showing that the area of Gotland has long had settlements even before it became the center of trade in the Middle Ages.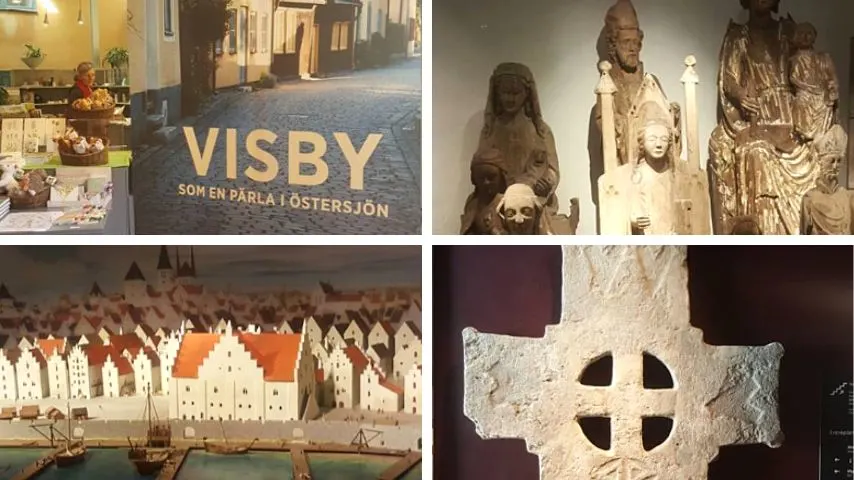 The Treasury of the museum also contains 67 kilos of jewelry and coins, the largest silver collection in Europe, further cementing its reputation as an important trading city.
Gotland is also known for its white, sandy beaches, caves, and limestone structures.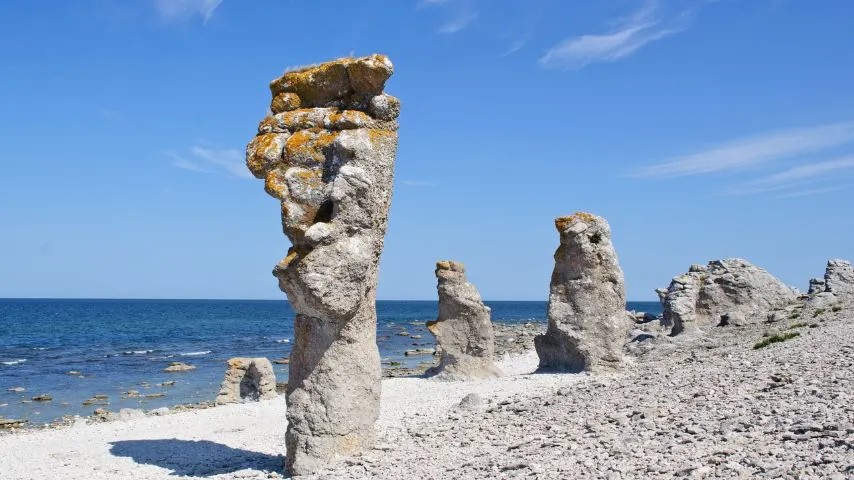 Ljugarn Beach is the longest beach on Gotland and is one of its best. It is the closest Gotland has to a resort town.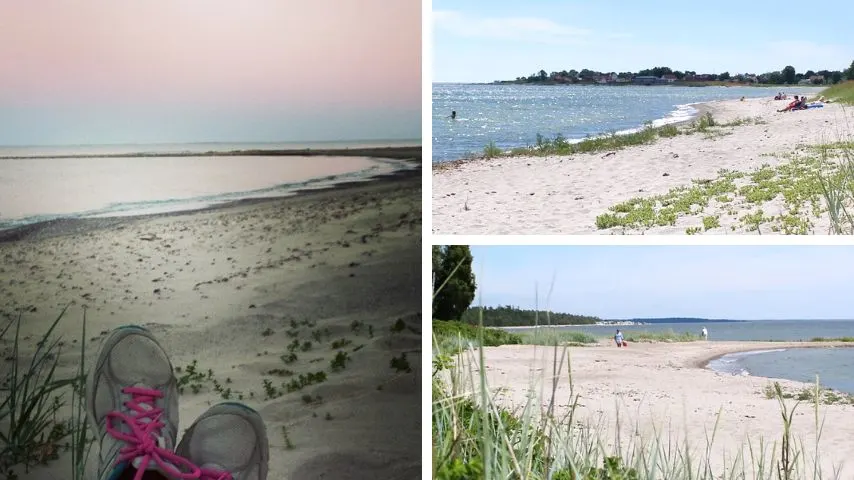 The Blue Lagoon was created from what used to be a limestone quarry, and its warm and clear blue turquoise waters make it one of the most well-loved spots for both locals and tourists alike to go for a swim.
How to Get There: The most popular way to get to Visby is by Ferry from Nynäshamn, located south of Stockholm, or Oskarshamn from Småland. The journey takes about 3 hours.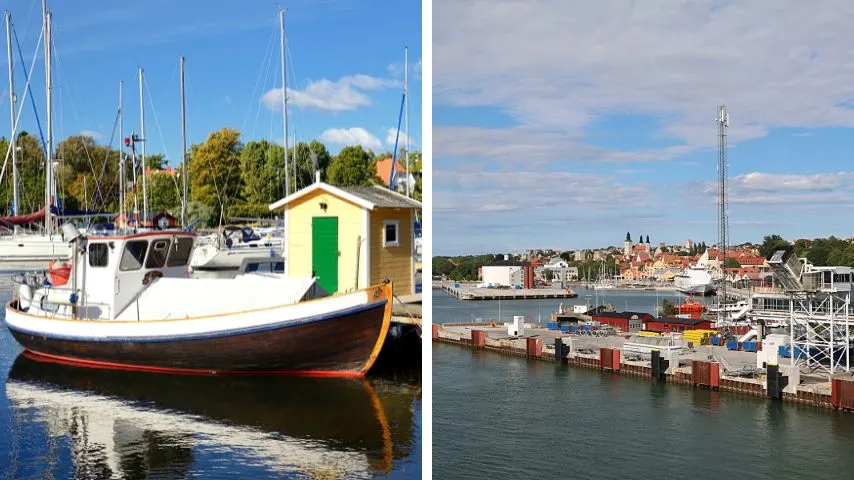 Visby can also be reached via plane.
4. Halmstad
One of Sweden's most popular summer destinations is Halmstad because it is home to one of its most well-known beaches, Tylösand.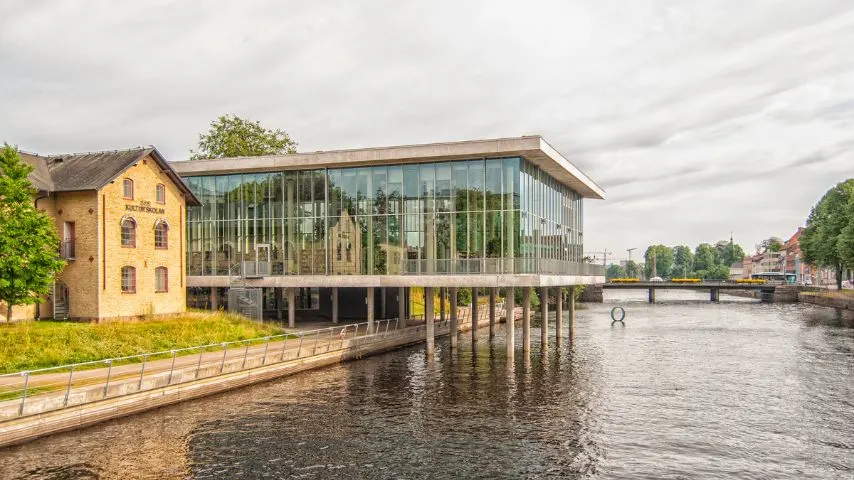 Tylösand Beach features 4 miles of white sandy beach bordered by dunes, with pine trees above them. It is one of the busiest and liveliest beaches in all of Sweden and during the summer, it gives off that vibe that you can only get from a beach in the Mediterranean.
It is home to Hotel Tylösand, the luxury resort hotel and spa and art gallery owned by Roxette star Per Gessle and Björn Norstrand.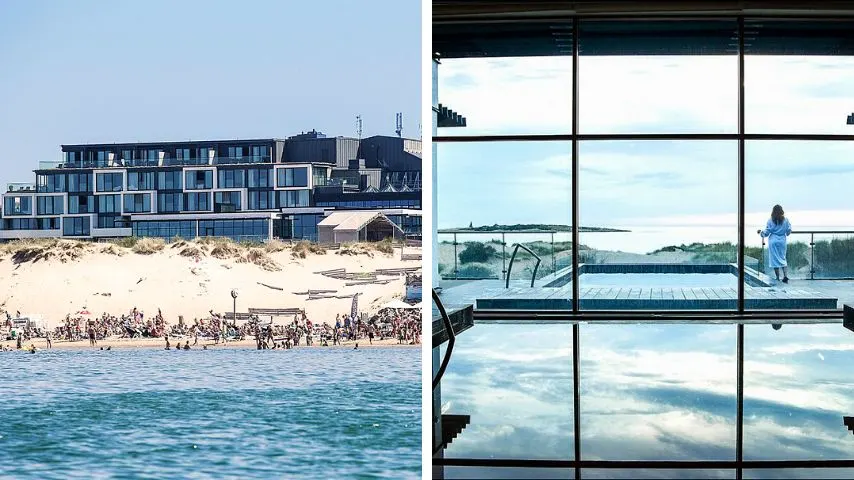 The hotel also owns Solgården, where After Beach is held. After Beach is where people gather for drinks and music during warm sunny days.
Aside from the beach, Halmstad also has golf courses, which makes it even more popular as a summer destination.
How to Get There: Halmstad City Airport. It is also possible to take the train or bus or drive there yourself.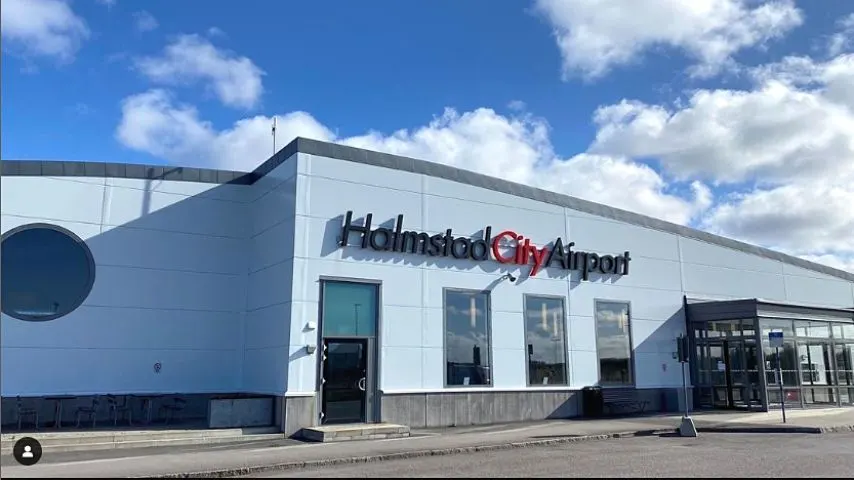 5. Österlen
Österlen is located in the southern province of Skåne and is known for its pristine white sand beaches, picturesque landscapes, cute towns and fishing villages, and rich cultural life.
It has been likened to the French Provence because of its unique light, rolling green hills, and lavender fields, and even Tuscany because of its beautiful vineyards. It is a popular summer destination for Swedes and is a popular place for artists and creatives to visit.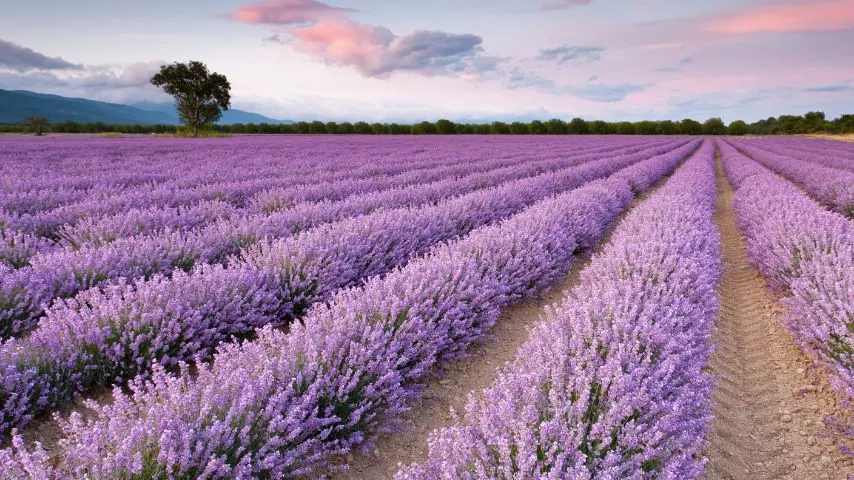 Sandhammaren is a 7.5-mile-long stretch of white sand beach that makes you feel like you're in the Caribbean and is often voted one of Sweden's most beautiful beaches.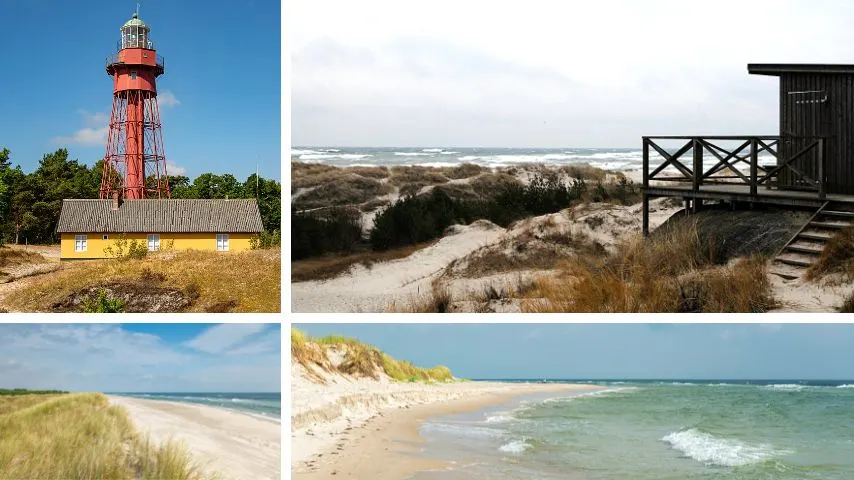 Aside from its beautiful surroundings, this region is also known for its delicious food and artisan ingredients. The area's rich and fertile soils, mild climate, and numerous growers and farmers have made food traditions here strong.
Österlenkryddor is a place where you can experience a "Lavender Morning". With a choice of either a non-alcoholic sparkling lavender drink or sparkling wine, you can visit their beautiful lavender field and learn more about growing lavender, and even get to pick your own lavender bouquet.
After the tour, you also get to sample their famous, award-winning lavender ice cream (If ice cream is your thing, you can also book their ice cream tasting tour to sample their other award-winning flavors).
In the town of Kiviks, Kiviks Musteri allows you to visit an apple orchard and discover over 70 different varieties of apples and see fruit trees that are over 100 years old, and where you can experience one of the region's specialties: apple cider.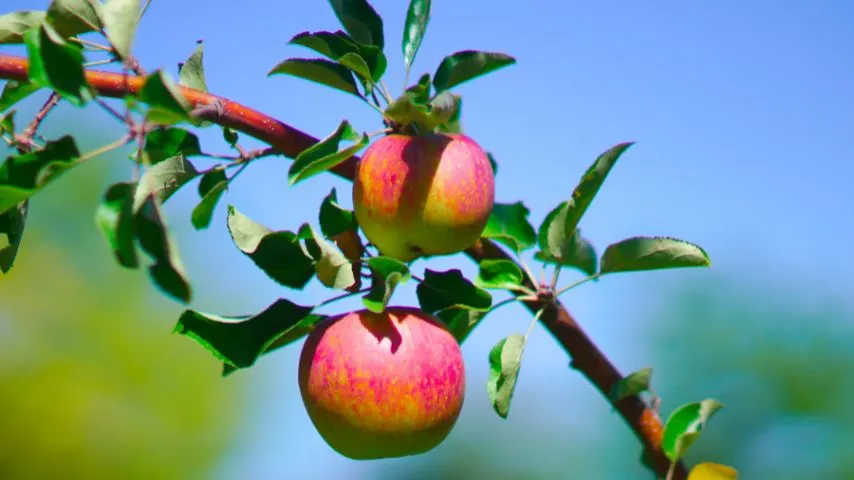 Simrishamn is a small coastal town with cute pastel-colored, half-timbered houses adorned with roses and charming cobblestone streets. It used to be a booming fishing town during the Hanseatic League period, but now it lives largely off of tourism. The old church of St. Nicholas, as well as the rose garden in the center of town that features rose varieties from the whole region, are worth exploring.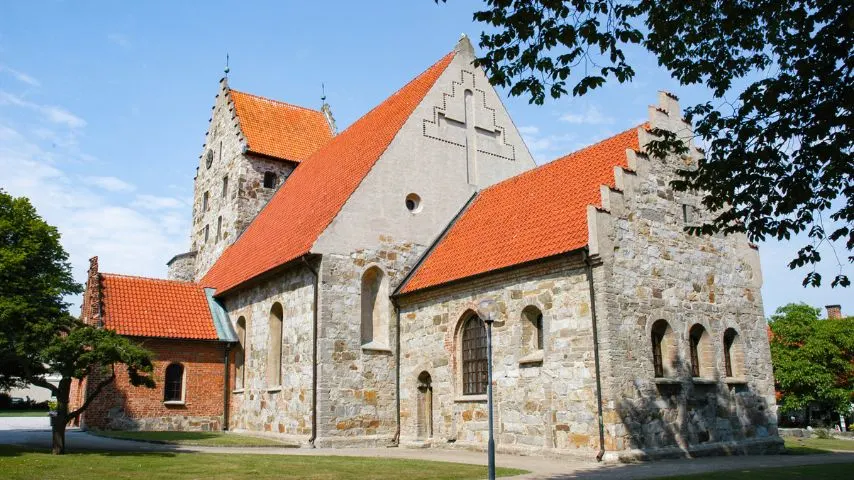 If you like the beach, food, art, and beautiful landscapes, Österlen is a great place to visit.
How to Get There: By plane via Malmö-Sturup Airport or Copenhagen International Airport, and then via Pågatågen Trains or car.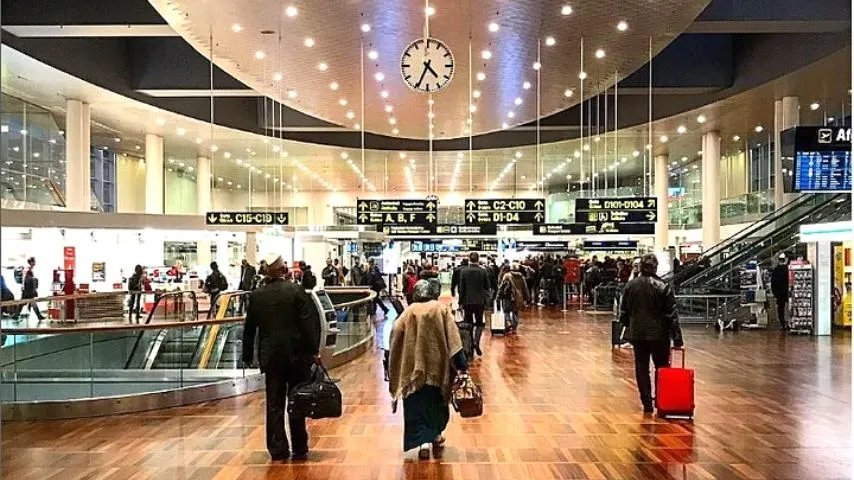 6. Ystad
Some consider Ystad to be part of the Österlen region but it is actually separate from it, located on its outskirts.
Ystad is a small medieval town known for its cobblestone streets and collection of multi-colored, half-timbered houses. These 300 or so half-timbered houses are remnants of its past because as with most of Skåne province, it used to be part of Denmark.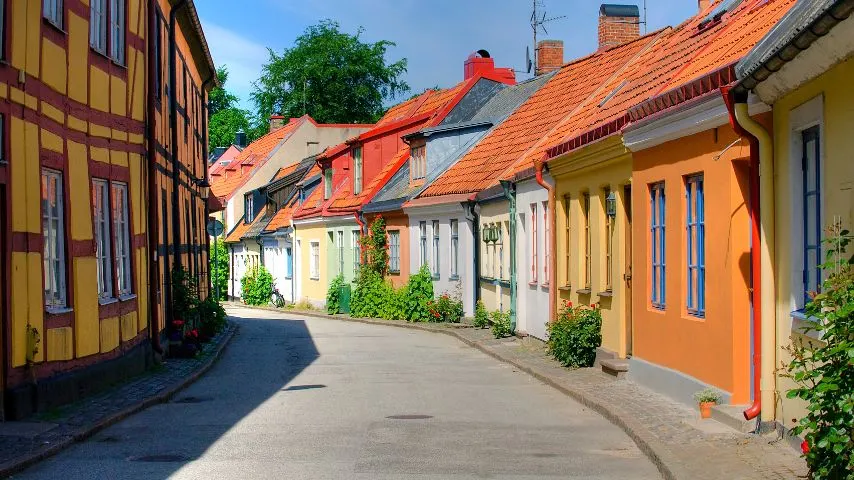 It is probably most well-known as the place where the Kurt Wallander books by Henning Mankell are set. Followers of the books (and films) flock to Ystad's medieval streets to experience life through the eyes of the famed police detective and walk in his footsteps through the various locations mentioned in the crime novel series.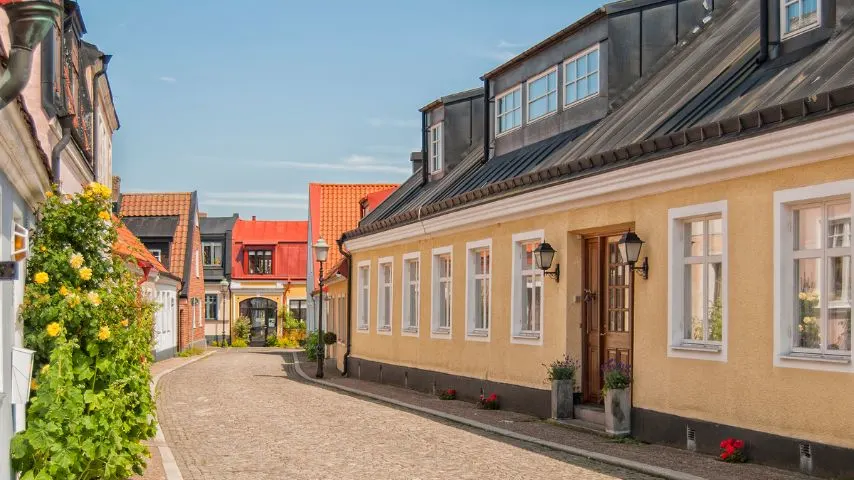 One of Sweden's most well-preserved monasteries built by Franciscan monks in the 1200s, The Greyfriars Abbey, can be found in Ystad.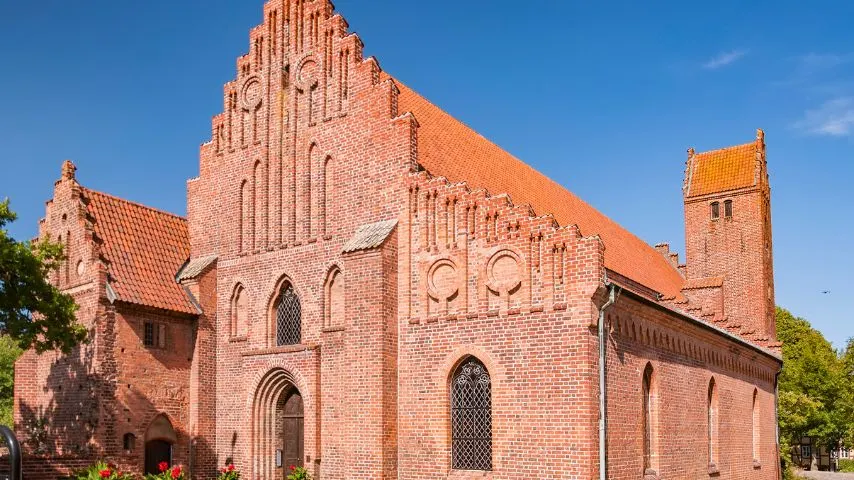 Ale's Stones is a ship-shaped monument that dates back 5,500 years ago and is located about 6 miles from Ystad, in the southeast direction. It is similar to Stonehenge and is a cool attraction to explore as you spend your summer holidays in Ystad.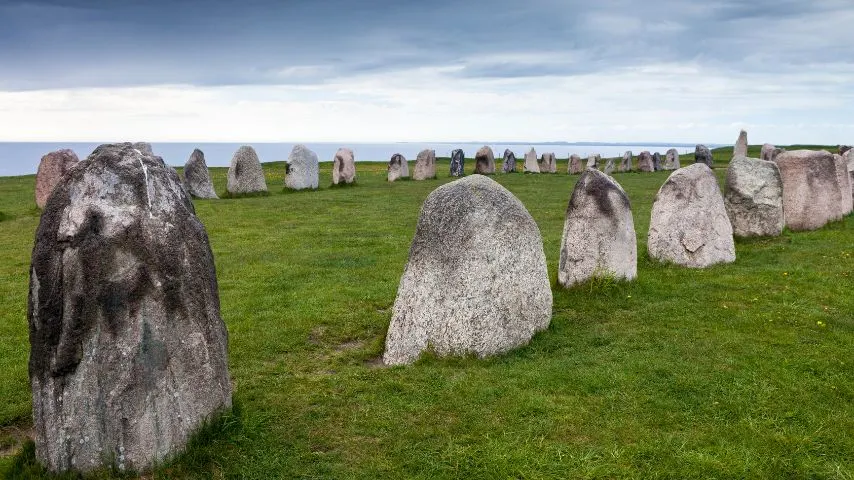 Quaint shops and stores, cute cafes, and steam trains that allow you to explore the beautiful countryside make Ystad one of the best places to visit in Sweden during the summer.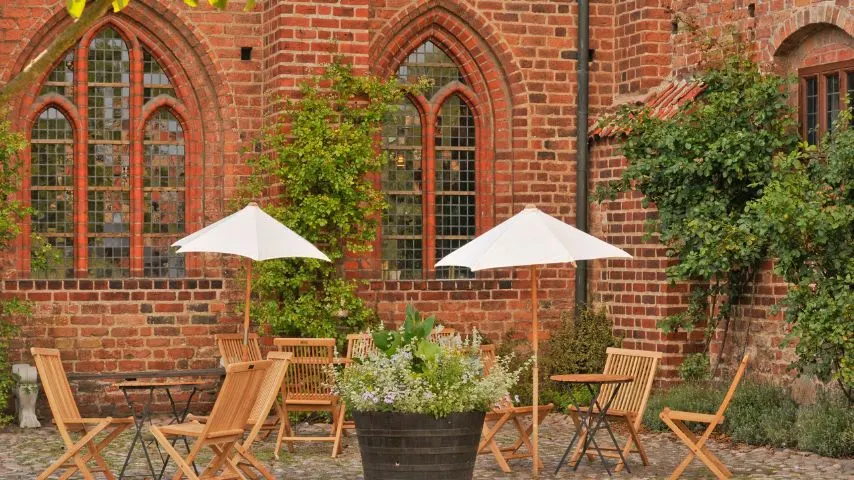 How to Get to Ystad: Fly into Malmö Airport or Copenhagen International Airport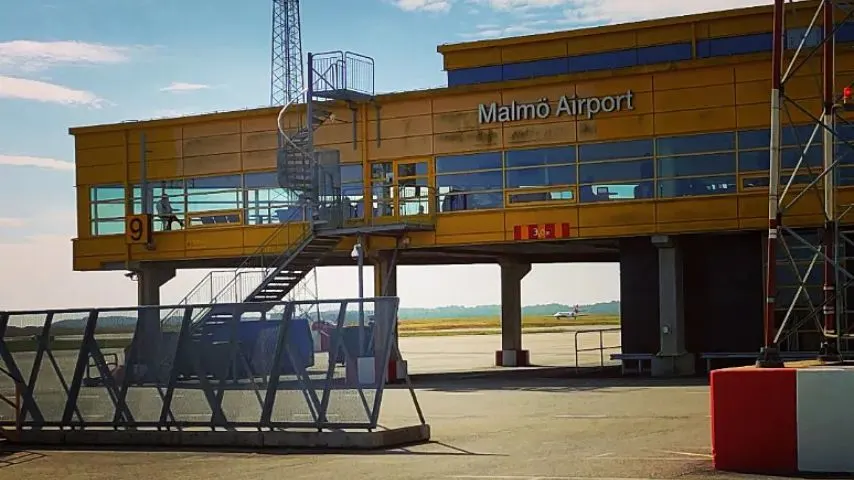 7. Malmö
Malmö, aside from being Sweden's third largest city, is also considered Sweden's happiest city. It is located in the southwest of Sweden and was originally part of Denmark, but officially became a Swedish city in 1658.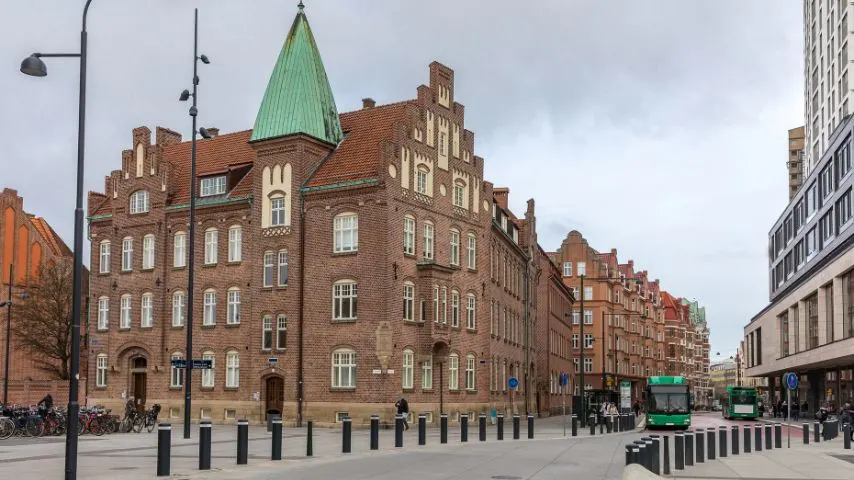 Malmö is diverse and multicultural, one of the most eclectic in Scandinavia. Malmö also has a young population, with an average age of 38, one of the youngest in the country.
Its Old Town, Gamla Staden, is the historic heart of the city. The oldest town square, Stortorget, was built in 1540 and covers an area of 26,000 square feet. It used to be the biggest market square in North Europe. In the middle of the massive square sits an equestrian statue of Swedish King Karl X. Gustav.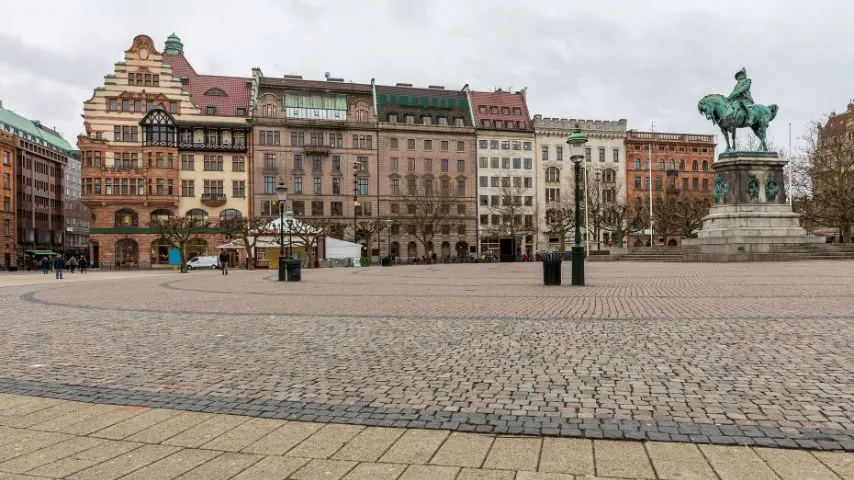 It is also where the Malmö town hall, the Malmö Rådhus, is located, among many other historical buildings.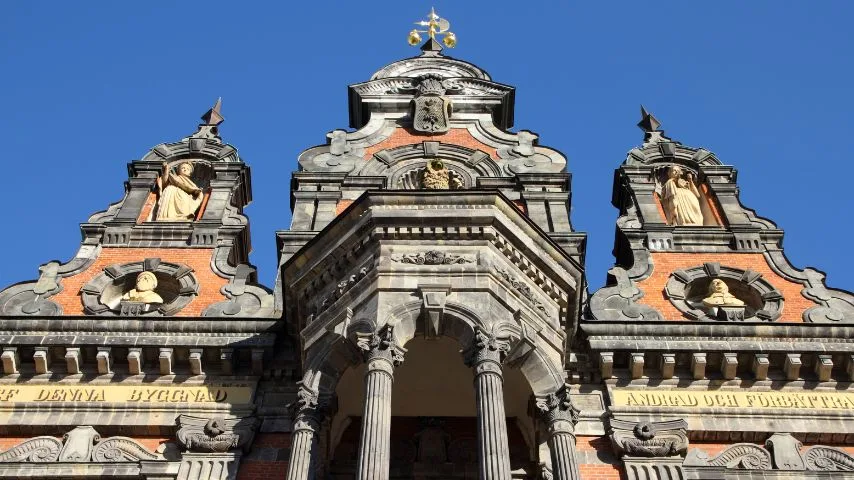 Lilla Torg ("Little Square"), just off of Gamla Staden, is a popular area for people to meet and gather, especially in the summer. With its cute restaurants and cafes with cozy outdoor seating, it is a nice place to enjoy the weather and catch up with friends.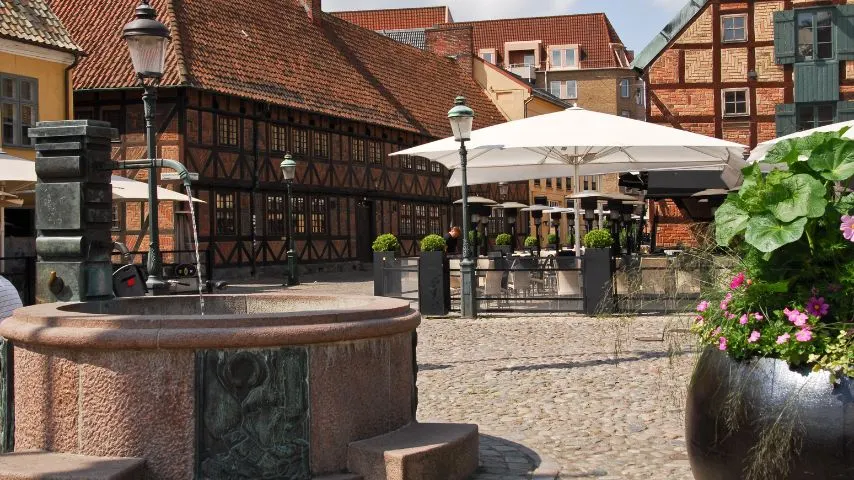 One of the oldest and most well-preserved castles from the Renaissance period in Scandinavia is located here, the Malmöhus or Malmö Castle. The Malmö Art Museum showcases modern and contemporary art and is one of the best museums in Scandinavia.
The Turning Torso is a unique, twisting skyscraper that can be seen as you walk the Västra Hamnen or Western Harbor. It is one of the tallest buildings in the region and the first twisting skyscraper in the world. On warm days, the Western Harbor is also a place to swim, have picnics and enjoy leisurely strolls.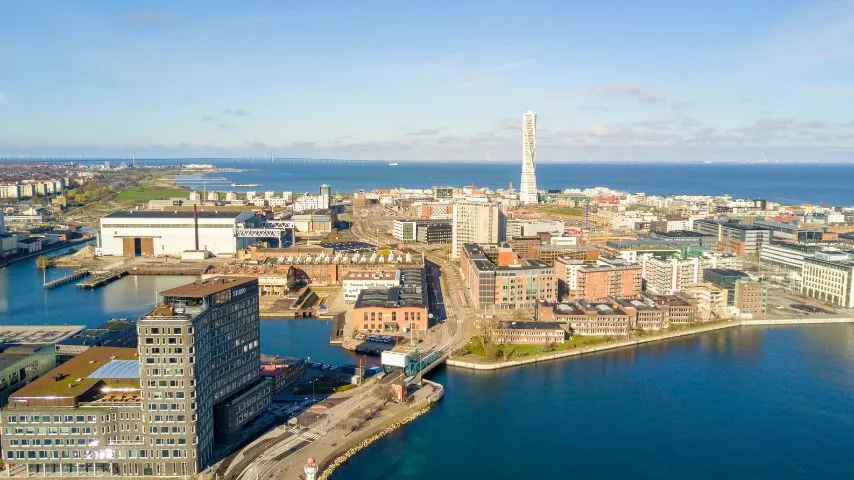 Just two miles from the Malmö city center is Ribersborgsstranden, a bathing beach surrounded by green spaces and aside from swimming, offers a recreational area for various sports.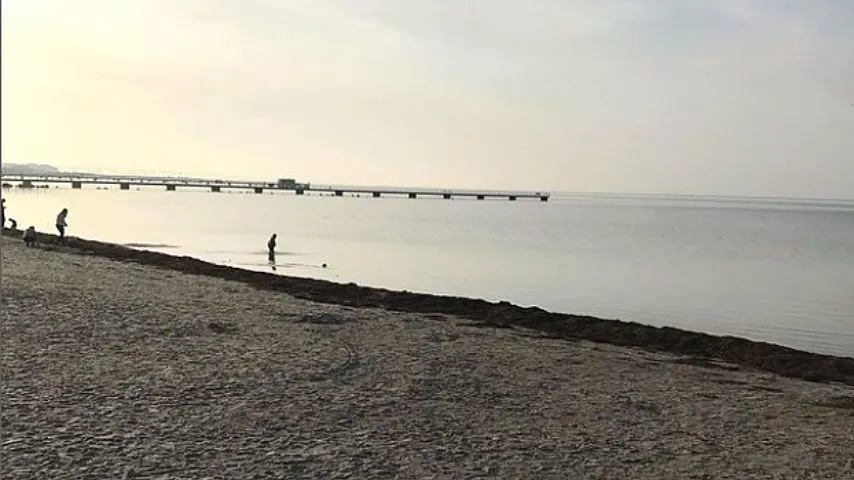 Aside from these attractions, Malmö is also a great food city. Because its residents are international and diverse, the food options are, too. If you want to spend your summer swimming in a sustainable city, with delicious food and historical attractions, Malmö is a great place to visit.
Also, Malmö is just 5 miles away from Copenhagen so if you want to visit Denmark's capital, you are perfectly situated in Malmö by just crossing the Øresund Bridge.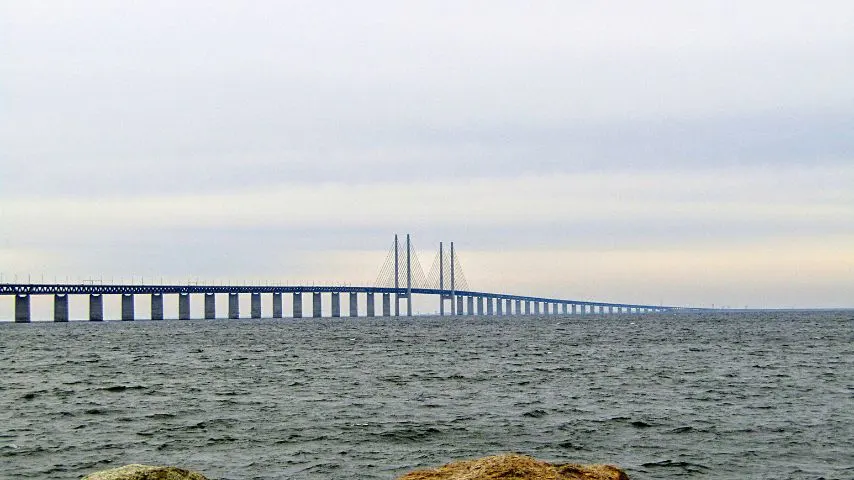 How to Get To Malmö: Fly into Copenhagen International Airport or Malmö Airport, or take the train from Copenhagen or Stockholm.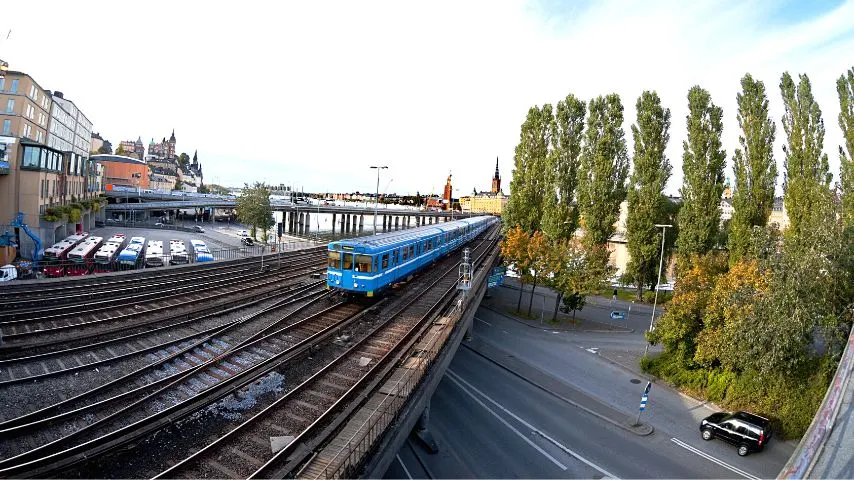 8. Dalarna
If there is an area that represents the typical Swedish province, it is Dalarna. Touted a "miniature Sweden", with its beautiful nature, landscapes, forests, lakes, and mountains, Dalarna is also the region where two of Sweden's most representative and iconic symbols come from.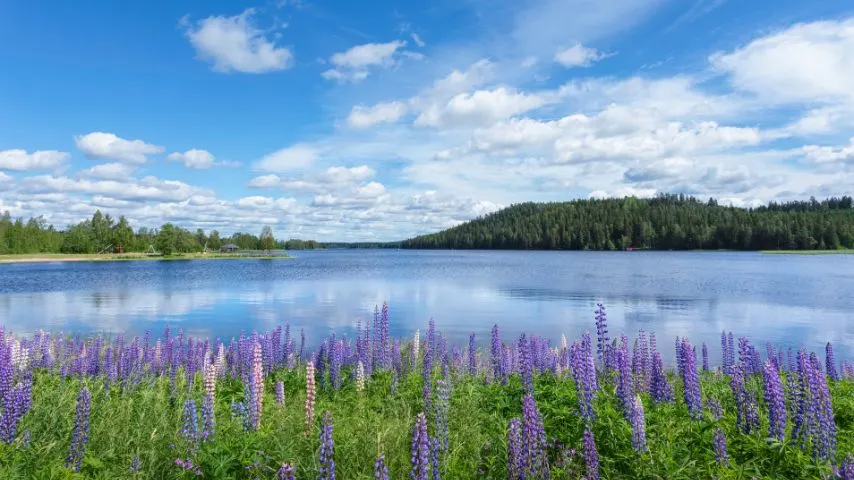 The iconic red hue that adorns Swedish cottages is called Falu Rödfärg, and contains pigment from the Falun mine. The name of the shade is legally protected. It has come to be the country's symbol.
The other Swedish symbol that hails from Dalarna is the Dala Horse, hand-carved and hand-painted horse statues that have been around for thousands of years, and represents strength and courage. It is a symbol of Dalarna, and of Sweden in general.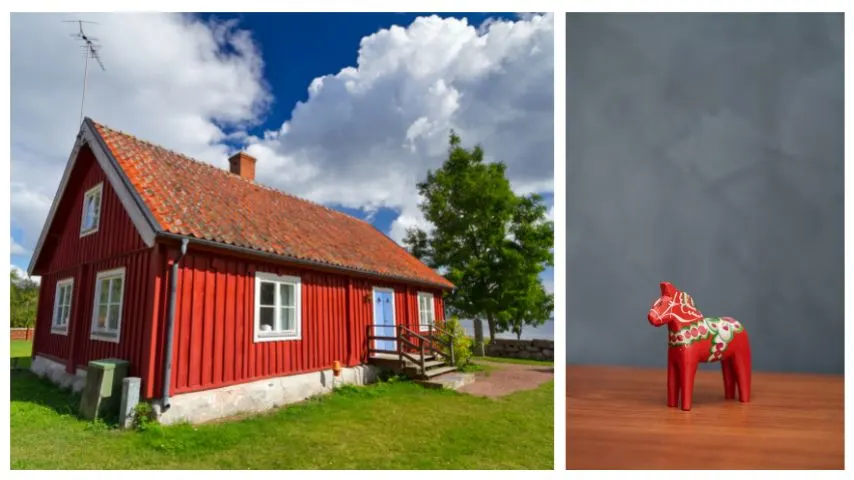 Dalarna is also one of the best places to experience authentic Swedish Midsummer festivities.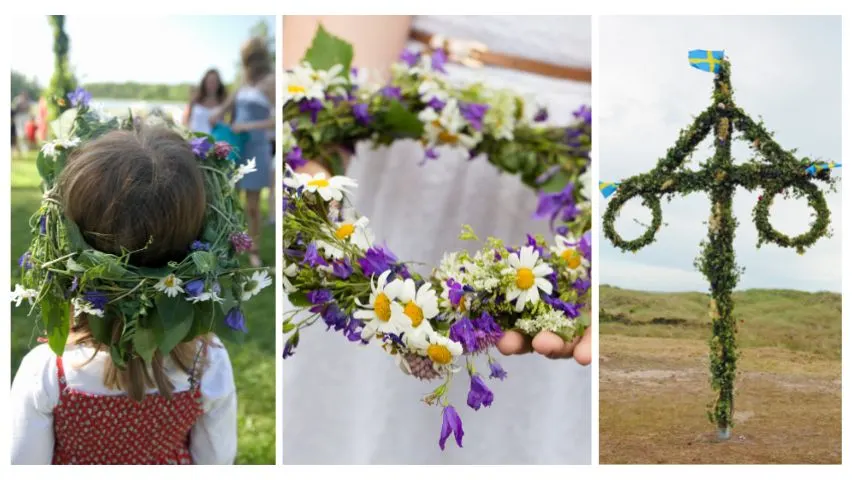 How to Get Here: By train from various cities or by bus from Stockholm.
9. Höga Kusten
A UNESCO World Heritage site, the Höga Kusten or "High Coast" is located in Northeast Sweden, along the coast of the Gulf of Bothnia. It boasts the highest coastline in the world, at 940 feet above sea level, which continues to rise at a rate of about 1/3 of an inch per year.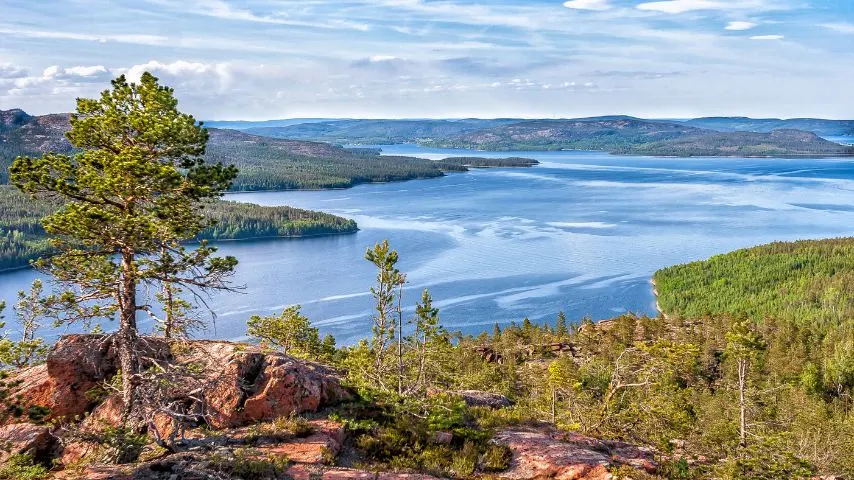 The dramatic landscape of this area was brought about by the last Ice Age, and the subsequent melting of the ice and shifting of the land is the process known as postglacial land uplift or postglacial rebound.
In simple terms, the accumulation of heavy sheets of ice because of the Ice Age pushed the land down (Isostatic Depression) but because now the thick ice is already melting, the land is no longer weighed down and is free to return to a state of balance or equilibrium, which explains the rising.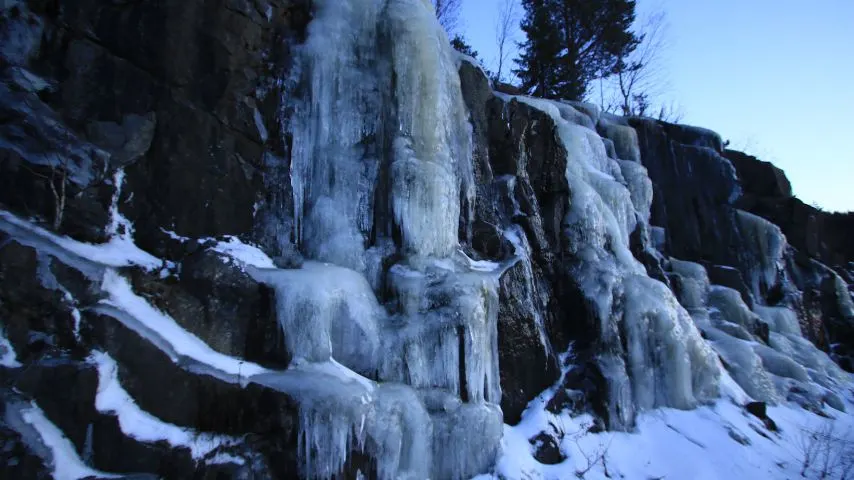 Höga Kusten is one of the best places to experience Swedish nature and outdoor life through hiking, climbing, cycling, fishing, kayaking, ferries, boat tours, and other outdoor activities. Höga Kusten's mountains, forests, and archipelago hold unique discoveries waiting to be explored.
Apart from this, opportunities for swimming are also plentiful, from sea swimming to freshwater lakes to heated pools, making it a perfect area to spend your summer holiday.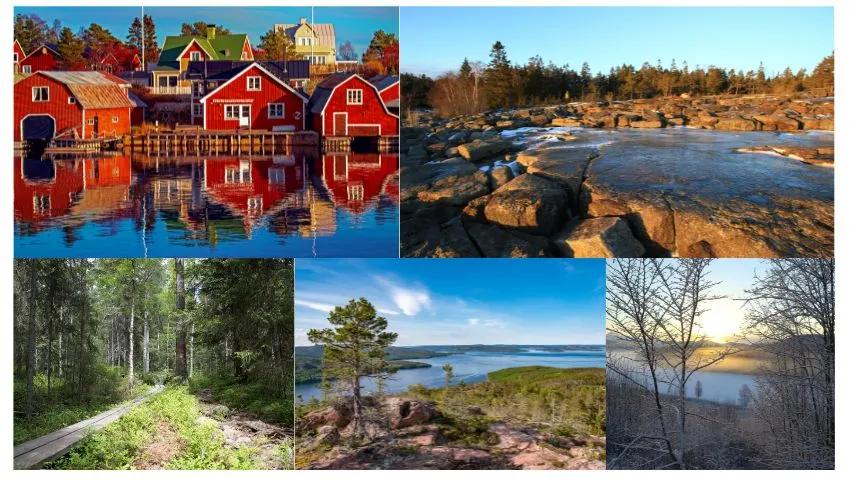 Apart from the outdoors and nature, it is also a place to experience interesting attractions related to history, culture, and art. The Bronze Age rock carvings at Nämforsen and the High Coast Art Valley are just some of the attractions that can help you get your fill of history and art.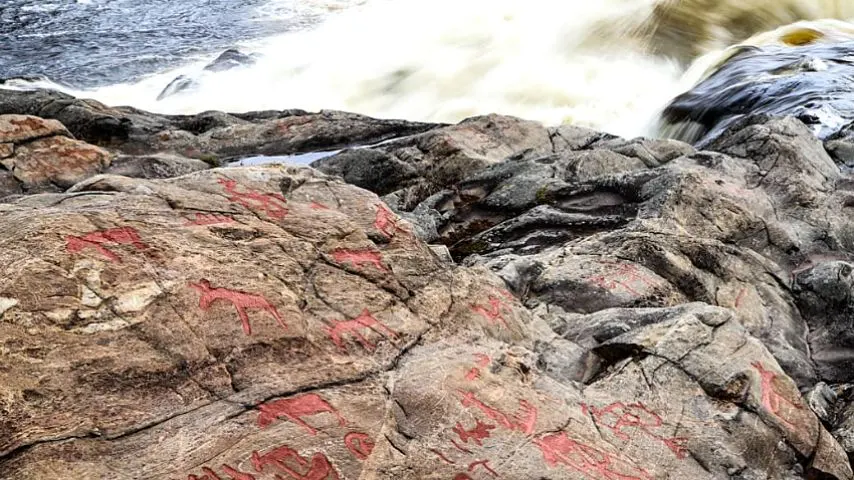 Speaking of getting your fill, this area is also where you can experience surströmming, or fermented herring, for a unique albeit smelly treat.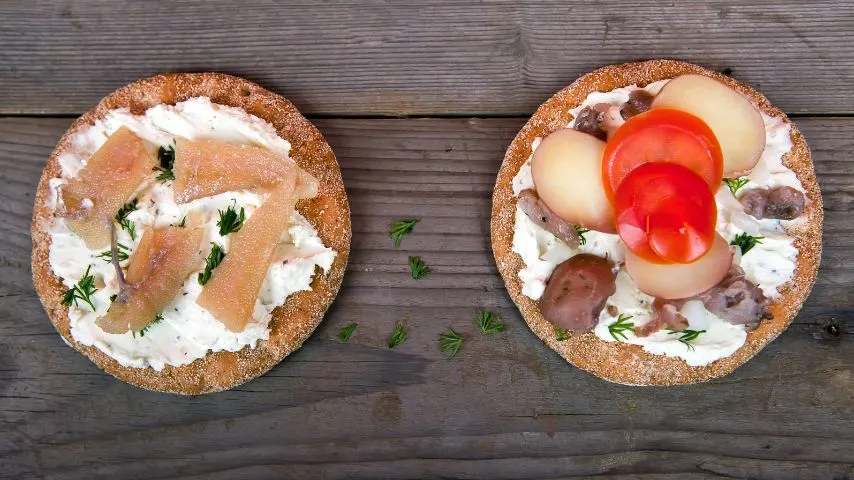 How to Get Here: Take a one-hour flight from Stockholm Arlanda or Bromma Airport. Taking the train or bus is also possible.
10. Swedish Lapland
And finally, one of the best places to visit in Sweden during the summer is the Swedish Laplands. It is the northernmost province in Sweden, and borders both Norway and Finland.
In winter, it is the perfect place to witness the beautiful Northern Lights or Aurora Borealis. In the summer, it offers travelers an experience of the intriguing Midnight Sun. While in most of Sweden you'll get to experience the longer days, the experience gets more dramatic the further north you go, especially if you go above the Arctic Circle in the Swedish Lapland. Here you'll experience 24 hours of sunlight, like experiencing a perpetual sunset.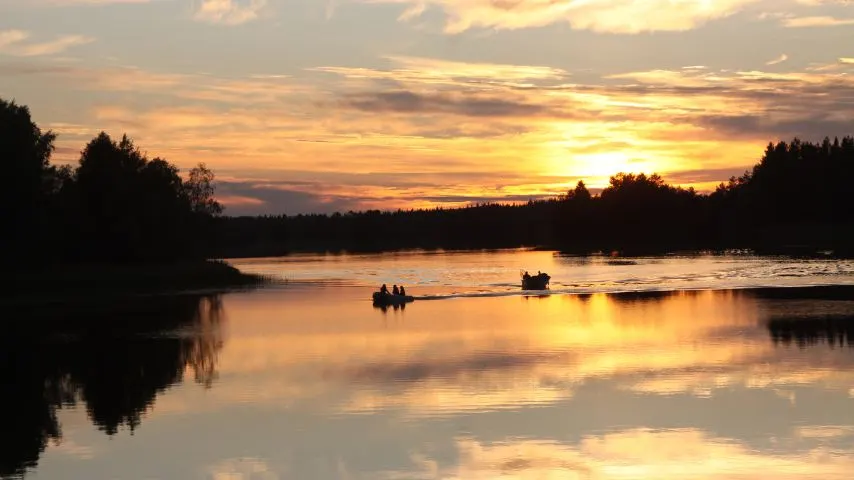 At the Björkliden Arctic Golf Course, one of Sweden's most scenic courses, you can play 18 holes of golf even past midnight.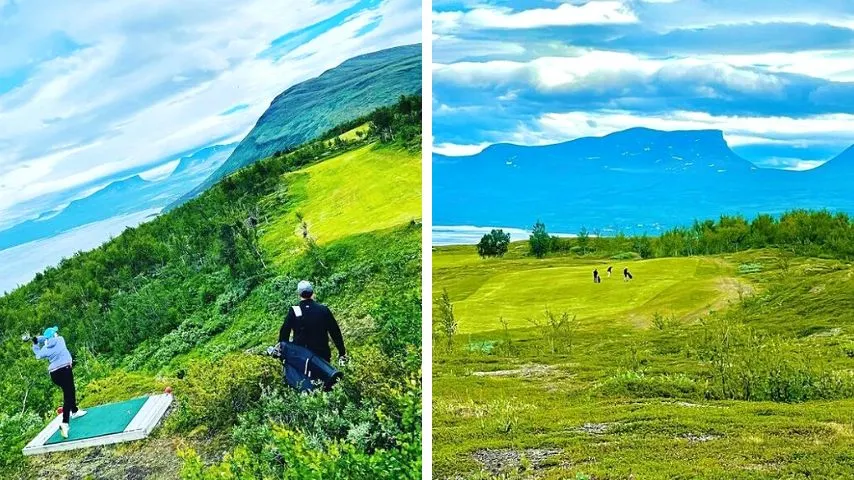 In Tornio Haparanda Golf, you even have the chance to play in two countries, as some of the holes are located in Sweden, and some in Finland.
There's also a chance for skiing under the midnight sun, horseback riding, hiking, and even swimming and boating. You can hike up a mountain and take in 360-degree views of the scenery, or simply pick a spot anywhere and enjoy the unique midnight sun experience.
How to Get to Here: Night trains depart from Stockholm, Malmö, and Gothenburg, and during the summer, the Inlandsbanan is a scenic way to make your way up the Laplands. Flights are also available from Stockholm to the airports of Kiruna, Luleå, Arvidsjaur, Gällivare, and Skellefteå.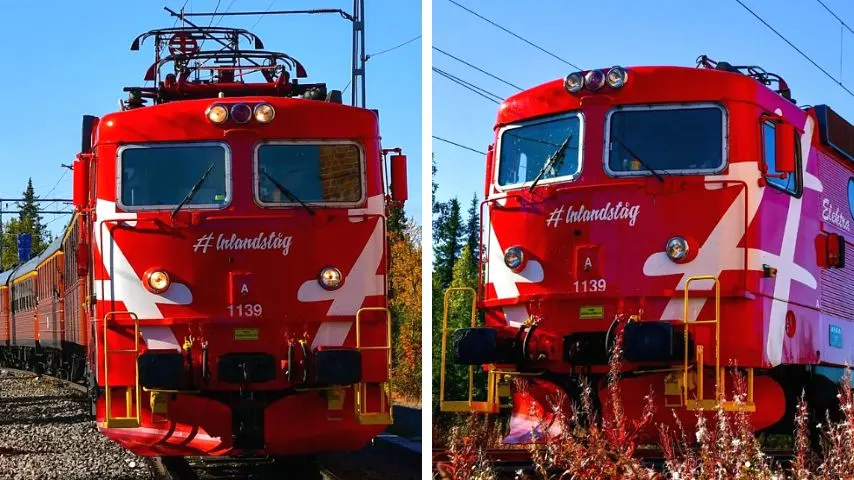 The places we mentioned are just some of the places you can check out for your next summer holiday. Sweden is a beautiful country with many interesting sights and places to see, and the list above is just something to get you started off in your journey to explore this country.
(Read Next: 16 Best Cities to Visit In Sweden)
Best Places to Visit in Sweden During the Summer
If visiting Sweden during the summer, among the best places to visit are Stockholm, Gothenburg, Visby, Halmstad, Österlen, Ystad, Malmö, Dalarna, Höga Kusten, and the Swedish Laplands.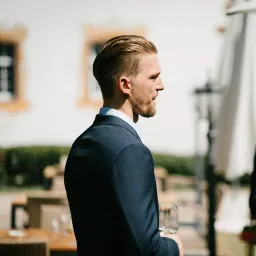 Hey guys! It's me, Marcel. I am the proud owner of carry-on-baggage.com. I am dealing with hand luggage related issues on a daily basis and I own several websites in this niche. Travelling is one of my biggest passions in life and I, therefore, happen to know a thing or two about hand luggage. I hope you all have a safe trip! Take care and thanks for the support. I really appreciate it.