Sweden is considered one of the most gorgeous places in the world. Many people visit Sweden on their honeymoon as it is also one of the most romantic places on the earth.
If you are someone who feels happy living in a place where you can be yourself and appreciate the beauty of nature, then this Scandinavian country is a place you would like to move to.
Sweden is also well-known when it comes to its rich Vikings history. Hence, it has also been nicknamed the Land of Vikings.
Many buildings in Sweden still represent the nation's historical importance during the Viking era.
Every person who has visited Sweden once yearns to go back and have nothing but good to say about its people, landscape, and culture.
However, the country is not only a good place to travel to, but it is also a perfect place to live.
In this blog, you will get to know about a few places in Sweden where you can live easily and will have access to all the needs you require.
The Best Places to Live in Sweden
The City of Malmo
Stockholm
Gothenburg
Uppsala
Helsingborg
Marstrand
Gavle
Lund, Skane
Visby
Karlskrona
Vasteras
Orebro
Linkoping
1. The City of Malmo
The beautiful city of Malmo is full of spectacular and incredible places. After Gothenburg and Stockholm, Malmo is ranked the third-largest city in Sweden.
If you are thinking of moving to the city of Malmo, you can expect to meet a lot of lovely warm-welcoming people.
Moreover, this city offers you low median rents making The city of Malmo an affordable place to live for people with families and a tight budget.
The city of Malmo has an area of 155.4 square kilometers. It has a population of 341,457 people, with over 5000 people living per square mile.
Additionally, Malmo was also ranked the fastest growing city in 2020 in terms of its population size.
The majority of Malmo city's people are young individuals. In fact, the city's population is about 50% under the age of 35.
The city of Malmo has a huge proportion of its people having a foreign background. Iraqi people make up the majority of the total foreign immigrants in the city.
However, it also has immigrants from Hungary, Iran, Poland, Denmark, and Serbia.
The city of Malmo provides a clean and super-friendly environment. The climate of this city is suitable for living as it is neither too hot nor too cold.
So, if you are thinking of moving to The city of Malmo, you just have to learn some Swedish language. Otherwise, this city is perfect to live and start growing a family,
2. Stockholm
Experts have enlisted Stockholm as one of the most beautiful places in the world time and time again.
Hence, it explains why many people dream of visiting Stockholm at least once in their lifetime. Considering how famous Stockholm is, it would be wise to choose to live here.
Considering Stockholm's beauty, it has been nicknamed The Venice of the North. This city is full of beautiful lakes, which are interlinked through bridges providing its residents with serene views as they stroll about.
One of the most populated Swedish cities is Stockholm as it is the country's capital.
Besides its beautiful lakes and densely populated neighborhoods, one of the primary reasons that attract people to live in Stockholm is the large number of historical buildings, which show its connection to its rich history.
Stockholm is perfect for a family to live in as it has a large number of public parks and it is close to nature. The environment in Stockholm is best preserved and is not disturbed by the rapid urbanization of the city.
The rent prices in Stockholm are also low in comparison to the other large cities worldwide. The average rent price in Stockholm is $892.
Moreover, the cost of groceries is also low here, so most of the residents, regardless of their income, can afford them.
Stockholm has a population of 3,618, with 78% of people having their own houses. 22% of people live on rent.
Stockholm also has many public schools that are rated for their high quality of education. In addition, it also has hospitals within the city that provide the best quality care.
Therefore, if you are choosing to live in a city within Sweden and are looking to live in an urban city, which also lets you stay in close touch with nature, then Stockholm is a perfect choice.
3. Gothenburg
Gothenburg, a city known for its Dutch-style canals and leafy boulevards, is a popular destination for both tourists and settlers.
Thanks to the healthy and calm environment that the city has to offer, many enjoy living here.
If art and music bring joy to you, you can dance to the music and charm of this city. The many charms of Gothenburg make it one of the cities most visited in Sweden.
Most people also visit Gothenburg because of the historical sites such as the Haga, Skansen Kronan, and Alvsborgs Nya Fastning, among many others. These many historical places in Gothenburg are also a site of attraction for travelers that visit the city.
The famous Liseberg public park of Gothenburg is always open for travelers and visitors. Moreover, it is a popular weekend getaway for people with families.
The food found in Gothenburg is delicious and caters to every palate. Most people like to have shrimp. Hence, shrimps are a delicacy served in many restaurants in the city.
Gothenburg has a population of 3,489 people, with 28% of people living on rent. It has lots of restaurants, coffee shops, bars, and parks for people looking to spend their free time.
The public schools in Gothenburg are above average but not the best. Therefore, if you are deciding to move here with your family, other places might be more suitable for you.
4. Uppsala
The city of Uppsala is filled with dainty streets with a calm atmosphere and vibrant nightlife. Most people that visit the city like to spend their time kayaking.
However, for those that do not enjoy kayaking, there are yacht tours.
Many students from all over the world move to Uppsala to study. The credit can be given to Uppsala's highly rated education system, which is also affordable. Additionally, the public schools here are also of an excellent standard.
The education system in the city trains students from all around the world to compete in many educational competitions held across multiple countries.
One of the most notable names in driving education to such standards in Uppsala is the Uppsala Universitet.
Owing to the facts stated above, the universities and research institutions in Uppsala are enlisted as the best educational centers in the world.
However, Uppsala provides not only a wonderful educational life, but the life in Uppsala is also adventurous and full of entertainment.
Uppsala has an estimated population of 395,026, with almost 46% of people living on rent, considering the fact that the rent is low here.
Hence, we would rate Uppsala as the best place to live in for students.
5. Helsingborg
Helsingborg is one of the places in Sweden that is most visited. Most people visit Helsingborg because of its art and a large number of museums, theatres, golf courses, and restaurants.
The residents of Helsingborg enjoy a quality life full of enjoyment, entertainment, and good health.
Helsingborg is a good choice for people who want to settle in a suburban region where rents are affordable, and the quality of life is also not compromised.
Helsingborg has many properties for sale at meager prices. Therefore, it is an investment goldmine for people looking for their own place.
Although the rent here is low, and there are many low-cost real estates up for grabs, the groceries here are ranked a bit on the expensive end of the spectrum.
However, that is not a problem for most of the residents here since most of the people here enjoy a good income.
If you are considering moving to Sweden, then Helsingborg is the best place to live if you are a student of arts or love art. This place is perfect for art lovers as they can appreciate art freely here.
6. Marstrand
Marstrand, a locality, although very small both in terms of land size and the population, is preferred due to its historical importance as a city.
It is located in the Kungälv Municipality and is home to an estimated population of 1,319 people that warmly welcomes everyone with its charm.
If you enjoy a life of solidarity and breathtaking views, then this city is your calling.
However, if you want to enjoy living in a place with a small population but still want to experience the vibrant nightlife, then you would be pleased to know that this city is just a few minutes drive from Gothenburg.
Although Marstrand does not have much to offer in terms of other places in Sweden, the view provided in the small city are ones that can be appreciated throughout all season.
For visitors that travel to Marstrand, there are many local eateries where they can enjoy hearty meals and take a tour of the 17th-century fortress Carlsten.
The people here can enjoy their life with low rental homes. The prices of properties here are also.
The schools here are also rated above average. Moreover, the hospitals are also located close to most of the population.
Many public parks are also always open for visitors. Therefore, it is a perfect place to live with your family.
Life in Marstrand is full of entertainment. You will never get bored or depressed here, as most people here love to celebrate together so there is no chance you will feel lonely here.
7. Gavle
Gavle is a city known for its diversity. You'll find everything from old school to new here.
The old towns and modern buildings coexisting together provide this city with a charm that is unique to it.
If you wish to experience living in a city that can offer everything, then Gavle should be ranked at the top of your list. It has historical sites, theatres, restaurants, and much more.
The life of the resident of Gavle is easy and fun thanks to the low cost of living here, paired with the many leisure activities. An average person would find that the groceries here are not expensive and the rent is not too high.
The prices of properties in Gavle are also low. Hence, many people here opt to purchase their own place.
Gavle provides a very calm and pleasant atmosphere. The weather is also suitable for living without any drastic changes.
The crime rates in Gavle are also meager, making it safe for people with families and females who want to move alone.
The public schools in Gavle are also enlisted among the top schools. Life here is not very competitive, so it is a good choice for people who want to live peacefully.
8. Lund, Skane
The city of Lund is one that is always hustling and bustling. Lund gets its name from the Swiss word "green area," and rightfully so.
The city, although urbanized, has kept it in touch with nature.
Located at the southern tip of Sweden, this city is known for its historical Romanesque centuries-old Lund cathedral.
To add to its rich history, Lund University's museum also displays archeological relics dating as far back as the Bronze and Stone Ages.
Besides offering a great homage to the country's history, Lund is also filled with newer markets, cafes, and shopping districts everywhere in the city.
A tranquil environment adds to the many charms that this city provides to its people here.
Moreover, the pollution-free environment of Lund is an added bonus for people who wish to live in an urban city without compromising the quality of life there.
Residents of the green area can expect a good quality of life here with low rental prices and fantastic opportunities for career growth.
Anyone wishing to move here with their family can rest assured as it has a highly rated public school, many parks, and restaurants offerings various cuisines.
Moreover, the city of Lund is not as crowded as the major cities in Sweden as the total population here is close to 92,000.
If you are looking for urbanization, a noise, and pollution-free environment, and rich history coexisting in one place, then you should definitely consider moving to Lund.
9. Visby
Visby has a decent population of 24,330. This place is located outside the Swedish mainland. Hence, it provides an environment away from city life but close to nature.
Visby is considered one of the most historical places in Sweden as it was declared a UNESCO world heritage site in 1996.
People residing in Visby live with the feel same as their ancestors. The historical places in Visby are well preserved by the government's initiatives and the residents' respect for their ancestors, which ensures that this city never loses its historical beauty.
Amongst the many historical buildings in Visby are the many church ruins and museums, some of which are St. Clemens ruins, St. Katarina ruins, St. Olof ruins, and Gotlands Konstmuseum.
Although the town of Visby is full of historical buildings, it has a large number of modern facilities that are wittily placed amongst them, providing a hard time for anyone that would like to tell part the contemporary architecture from its historical counterparts.
If you are someone that enjoys cool summers and mild winter, then the oceanic climate of Visby will suit you well.
Visby is a great place to settle in for families and retired individuals as the rental prices here are very cheap. However, in contrast to the rent here, the groceries are a bit costly.
10. Karlskrona
Karlskrona, a city with a population of approximately 67,000, is a city well known for its similarity to St. Petersburg in Russia.
Karlskrona is not only Sweden's naval base but is also Blekinge County's capital.
Karlskrona is the best choice for a person who's interested in Vikings' history. There are various historical places to see in this area.
This location has preserved the city's Viking culture. As a result, you'll get a good glimpse into Viking history.
Almost everyone in this city can tell you about the Vikings. Even children as young as four have learned it. It is all because every building in this city narrates the golden history.
Besides its rich Viking history, the city is also known as the second-largest city in Sweden, filled with many present-day golf courses, hotels, beaches, spas, restaurants, and parks.
Moreover, basic amenities like hospitals and public schools are also near most of the population.
Karlskrona has good career advancement opportunities partly due to its importance as land close to the sea. The city's major employers are Ericsson, Telenor, and Roxtec.
Hence, Karlskrona is a good choice for you if you are planning for an import-export business since it has a naval base.
It is also considered an excellent place to live with your family due to its booming economy and family-friendly environment.
However, the rental prices here are a bit high, but it is all worth it because the quality of life here is perfect for any person.
11. Vasteras
Vasteras, along with Stockholm, is also one of the largest cities in Sweden. Vasteras is in close proximity to Sweden's center, approximately 60 miles west of Stockholm.
Vasteras is a great place to live if you love kayaking and nature. The city of Vasteras is full of old churches, ancient buildings, ancient wells, and a few museums.
Vasteras has a population of 127,800 people. Most of the population of Vasteras is educated.
Did you know that Vasteras is nicknamed "Mälarstaden" or "The City of Mälaren" due to the importance that the people here give to Lake Malaren?
Moreover, this city is the place of origin of the famous brand H&M.
Besides this, Vasteras is also famous for its open-air valley museum, Kungsbyn Animal Park, and Vasteras cathedral.
For a person to comfortably live in Vasteras, they would require an income of about $1,431 per month, whereas the price of purchasing a property here is $4000 per square meter within the city.
Despite its historical significance, The City of Mälaren has become a much more industrial city, with many engineering and manufacturing career opportunities available.
In addition, the area is home to Sweden's largest thermal and electricity plant.
12. Orebro
Orebro, the sixth-largest city of Sweden with a population of 155,989 people, is home to many Iron, zinc, and copper deposits.
Orebro is famous for its natural views and especially for Orebro castle, which is a 16th-century Swedish Renaissance castle.
Orebro, otherwise also known as the heart of Sweden, is one of the largest and most affordable cities to live in.
Due to its centralized location, Orebro has excellent means of transportation that connects it to various cities across the country.
Its strategic location also makes it home to various career advancement and employment opportunities. Moreover, the city warmly opens its door to economic development for people all around the world.
Orebro is famous with many names, one of such names is "robot valley" this name is given to Orebro because of many the robotics companies located in the city.
Besides being a leader in robotic advancements, Orebro is also a place of rich history and culture.
In terms of living as a single person in the city, one requires at least $1,280 per month to live a comfortable life. Most of the people's income goes to rent.
However, the groceries and transportation charges are very low here.
You can choose to live in Orebro if you are interested in robotics and economic growth with a touch of history and affordable means of living.
13. Linkoping
The cathedral of Sweden is also located at Linkoping. If you are seeking work in software firms, Saab jets, or medical technology, this is a fantastic place to settle in.
Though old structures may be seen here, this city is relatively contemporary, with arts, culture, and leisure activities to enjoy.
The Stora target, open-air museum, air force museum, Linkoping church, and the Gota Canal are all popular attractions in this area.
For Swedish residents, this location is identical to Stockholm. However, it is less expensive. To live a comfortable life individually in Linkoping, you're required to earn $985.
The population of Linkoping is 161,499. It is one of Sweden's most populous cities.
Thus, Linkoping is a good choice if you are looking for an affordable, modern place to live in Sweden.
Conclusion
Sweden is listed as the sixth happiest country in the world. It's frequently included in the list of top ten countries in the world.
The Nordic country has some best places for anyone to live in the world. Therefore, most people that live here come about due to their love for nature, serene landscapes, and a healthy environment.
If your heart desires adventure, then the many must-visit places in Sweden are sure to bring you joy.
The historical sights to visit and entertaining places add to the many charms that this country has to prove.
Sweden is not highly populated. It also does not have freezing winters or scorching summers.
The Scandinavian country is famous for its historic sights, beautiful views, and great outdoor spaces.
The life of foreigners in Sweden is fantastic, but you should keep the taxes in mind. High taxes are one of the drawbacks of living here.
However, they keep the prices of daily needs low, so ultimately, you get to live a good quality of life.
Most of the foreigners choose to live in urban areas like Gotaland and Svealand. Stockholm is a choice for many people because of the plenty of jobs there.
In the end, Sweden can be regarded as a perfect choice to spend life. Sweden's got everything a person needs to live a peaceful, happy and adventurous life.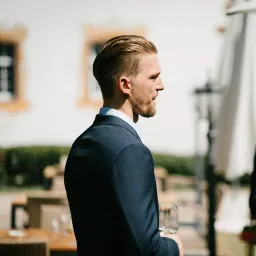 Hey guys! It's me, Marcel. I am the proud owner of carry-on-baggage.com. I am dealing with hand luggage related issues on a daily basis and I own several websites in this niche. Travelling is one of my biggest passions in life and I, therefore, happen to know a thing or two about hand luggage. I hope you all have a safe trip! Take care and thanks for the support. I really appreciate it.