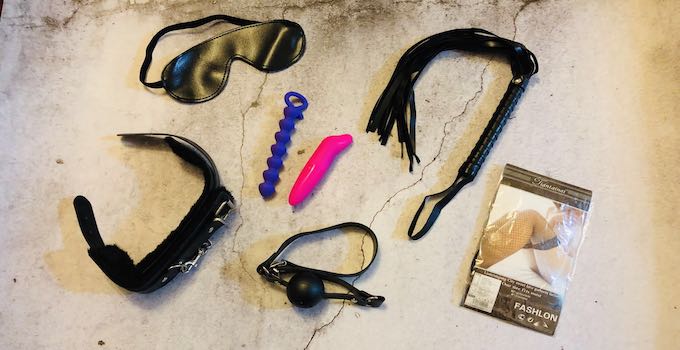 Sex and everything related to it is unfortunately still a taboo topic for many. But not for us here at carry-on-baggage.com. Because after all, we have made it our mission to inform humanity (ok well, at least everybody who speaks English) about hand luggage regulations. And even when it comes to sex toys, we will not deviate from that mission. So let's dive into the obscure world of sex toys in hand luggage and find out what's going on.


Can sex toys be carried in your hand luggage?
From an aviation security standpoint, there is no reason why sex toys should not be carried in hand luggage. In this context, there is also no rule that would categorically prohibit such items in your luggage. In some countries, however, the possession of sex toys in and of itself is prohibited. Consequently, you are not allowed to import Sex Toys into these countries. Neither in hand luggage nor in checked luggage.
Caution with sex toys with batteries
As far as the transport of batteries is concerned, there are some important basic rules to be observed. (Replacement) batteries, if they are lithium batteries/rechargeable batteries, must now be carried in hand luggage. These are prohibited in checked baggage.
Furthermore, the maximum capacity of the batteries is also decisive. Please read our article "Batteries in Hand Luggage: This is what you need to know"
Please note for lubricants
If you wish to carry lubricating cream in your cabin baggage, the rule for liquids in hand baggage must be observed. For you, this means that when it comes to lubricating cream, you may only transport it in a container with a maximum capacity of 100ml. This container must then be stored in the bag for liquids.
Sex toys as a weapon
All toys that could be classified as potential weapons at the security check due to their nature, size, weight or materials should always be avoided in carry-on baggage, otherwise there is a risk that you will have to meet at the security checkpoint.
The following toys should therefore not be placed in hand luggage:
Larger Dildos
Handcuffs
Whips
Caution when travelling to these countries
When travelling to certain countries, the sex toy must remain at home, not for reasons of aviation safety, but simply because these types of toys are banned in those countries.
This applies, for example, to trips to Arab countries (Arab Emirates, Saudi Arabia) and Egypt.
Even if the honeymoon should go to Thailand, Vietnam or Malaysia, the "massage sticks" and other toys must remain at home.
Another destination that doesn't go well with sex toys is the Maldives.
When travelling to India, caution is also advised. Apparently, the possession (for travellers) does not seem to be forbidden, but the sale of such utensils is obviously forbidden in India. So if you are still travelling in India, be sure to inquire about the regulations in force.
You can read more about this in this forum post.
Are you LGBT?
You don't know what LGBT is? Then you are either old or badly informed. Or both. Like me.
But fun aside.
So what does LGBT mean? LGBT stands for Lesbian, Gay, Bisexual, and Transgender.
In connection with sex toys, I would like to point out that in some countries it is forbidden by law to be gay, lesbian, bisexual or transgender.
So if you belong to this group, do well to be particularly careful when dealing with sex toys! If in doubt, better leave the toy at home!
4 Tips for the smooth transport of sex toys
If the toy is battery powered, remove the batteries. Batteries are normally better carried in hand luggage than in checked luggage.
However, it is better to store the sex toy on and for yourself in checked baggage. This raises fewer questions (and checks).
It is best to transport the toy separately in transparent plastic bags. The security staff can thus see exactly what the toy is, without having to inspect (touch) the toy more closely. Just for hygienic reasons.
Also with Sex Toys applies: Objects in "travel size" are to be preferred. Because smaller toys attract less attention and are seen less often by the security forces as a potential weapon.
Sex toys on trips to the USA
When travelling to the USA, there are always slightly different rules regarding air travel and baggage.
And at least as far as the possibilities in hand luggage are concerned, the USA does not really live up to its sonorous nickname "land of unlimited possibilities", because the controls on USA trips are stricter than anywhere else and the possible items that may be transported in hand luggage are limited, which is expressed very mildly.
When it comes to sex toys for the solo pleasure of man and woman, however, the USA shows itself to be generous and gives the green light. You can find proof of that on the website of the TSA. Sex toys (adult toys as they call them) are allowed both in hand luggage and in checked baggage.
Sex toys in checked baggage
Transport in checked baggage might even be the better and less embarrassing choice for many passengers, as you cannot, of course, be asked to show the toys separately or to prove their functionality (ok, that sounds weird, I know). So, if you do indeed have checked baggage, feel free to stow your toys in there rather than in hand luggage.
Overview: Sex toys in your luggage
How good are the chances for each sex toy in your hand luggage? Take a look at the table to find out.
Attention: The table is of course only indicative of the transport of sex toys to countries where sex toys are not forbidden per se. See the section "Caution when travelling to these countries" for more info.
| Sex Toy | In Hand Luggage: Allowed / Not allowed / Problematic | In Checked Baggage: Allowed / Not allowed / Problematic |
| --- | --- | --- |
| Dildo | Allowed | Allowed |
| Lubricating cream | Allowed. However, it is mandatory to follow the rules for liquids in hand luggage. | Allowed |
| Handcuffs | Not allowed, because classified as a potential weapon. | Allowed |
| Whip | Not allowed, because classified as a potential weapon. | Allowed |
| Vibrator | Allowed. Batteries should be transported separately. | Allowed. Remove batteries and transport separately (transport in hand luggage!). |
Please note: We cannot predict the outcome of the carriage of your sex toys with 100% certainty because ultimately the security officers at the security checkpoint decide whether an object is allowed to pass the security checkpoint or not. This also applies to sex toys.
Hey guys! It's me, Marcel. I am the proud owner of carry-on-baggage.com. I am dealing with hand luggage related issues on a daily basis and I own several websites in this niche. Travelling is one of my biggest passions in life and I, therefore, happen to know a thing or two about hand luggage. I hope you all have a safe trip! Take care and thanks for the support. I really appreciate it.