Can you bring food supplements on the plane?
You are generally allowed to take supplements on the plane. Supplements are permitted in both hand luggage and checked baggage. If the food supplements are in liquid form, the rules for liquids in hand luggage must be observed during transport in hand luggage.
Supplements in powder form (not yet enriched with water) are not considered liquids at the security checkpoint.
If you are travelling with supplements across EU borders, then special care should be taken. In this case, inform yourself extensively about the import regulations and prevailing legislation regarding supplements in the destination country.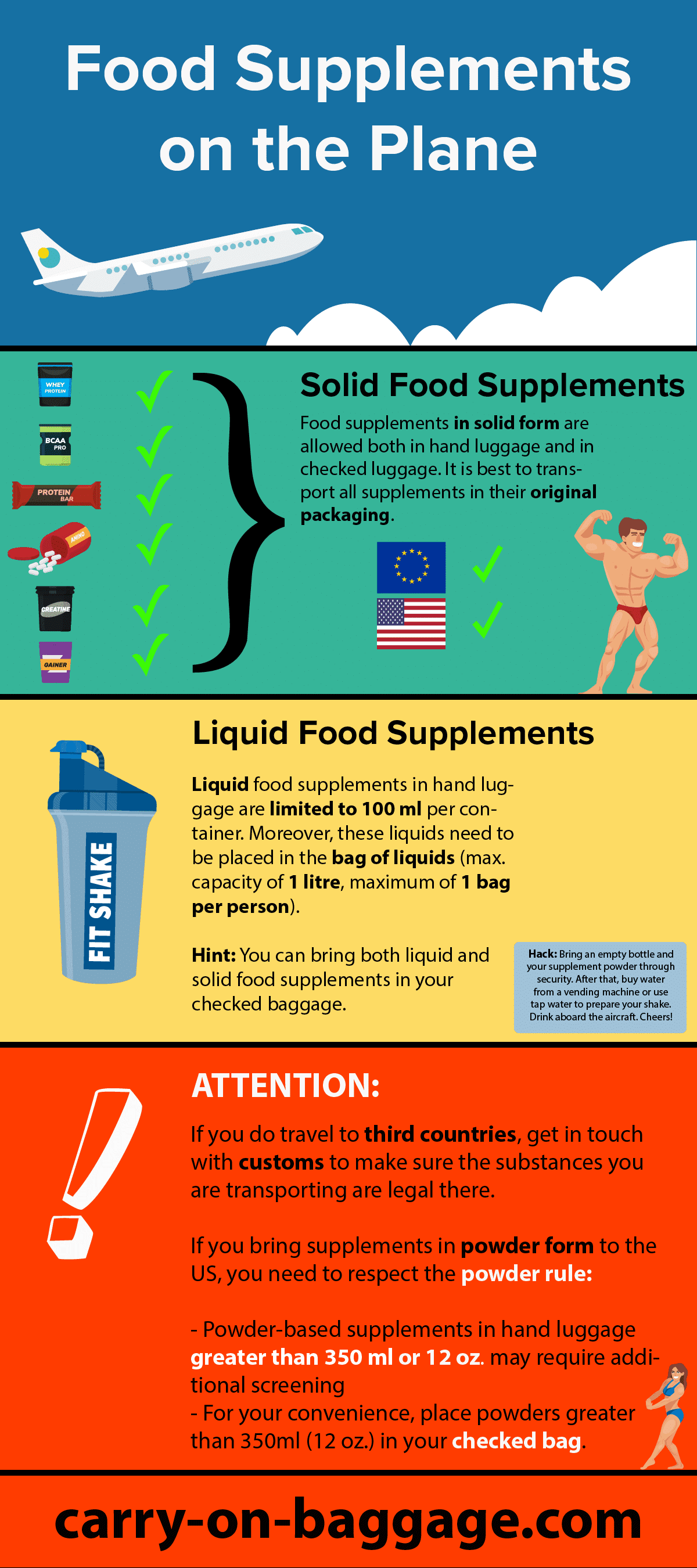 For liquid food supplements, follow the liquid rule
If you want to bring liquid supplements in your hand luggage on board, you must observe the following:
Liquid supplements may only be transported in containers with a maximum capacity of 100 ml
All liquid supplements and all other liquids must be stored in the bag of liquids
This bag of liquids must be both transparent and resealable
The capacity of the bag must not exceed one litre
Only one such bag per person is allowed
If you transport liquid supplements in checked baggage, you don't have to worry about the amount of liquid in your checked baggage, because the amount of liquid in your checked baggage is not limited
Transporting supplements across EU borders
We have seen in this article that legal, commercially available supplements, such as Whey protein, can be easily carried in baggage within the EU.
Anyone travelling to a third country or returning to the EU from a third country should, however, check the import regulations of the country of destination. There may be different laws, restrictions and prohibitions for supplements depending on the country.
Protein is problem-free in the vast majority of cases.
Other supplements, such as training boosters, are certainly much more problematic and could lead to problems at security checks (or customs) depending on the country of travel. So it is better to leave such supplements at home if you are travelling to a third country or returning to the EU from a third country.
Take food supplements with you to the US: Observe powder rule
If you would like to bring food supplements in powder form, such as creatine powder or protein powder, to the US, then this is also possible, but you must strictly observe the powder rule. Powdery substances, and therefore also powdery supplements, are subject to the following regulations:
If you transport supplements in hand luggage, the container with the supplements must not exceed a capacity of 350 ml.
If the security staff can not determine what substances the supplements are, you must leave the supplements at the security check.
Consequently, supplements in containers with a capacity of more than 350 ml should always be placed in checked baggage when travelling to the US.
The powdered supplements must be presented separately at the security checkpoint (procedure as for liquids).
What is the best way to transport (powdered) supplements?
It is best to transport the supplements in their original packaging. This has the advantage that the security officers at the security checkpoint can recognize directly what kind of substances they are. Of course, the (powdered) food supplements will still be checked, but it just seems less suspect than if you bring the supplements packed in a plastic bag.
However, it is not forbidden to bring packed supplements with you. We asked the federal police (Germany) and the TSA (USA) about it and they said that packaged supplements are also allowed.
Since you have to show the powdered supplements separately at the security check, i.e. take them out of your hand luggage and place them in one of the containers provided by the staff, it is advisable to stow them in your hand luggage in such a way that they are always ready to hand and therefore not in the lowest corner of your backpack.
Supplements in solid form, such as protein bars, can be carried without any problem in hand luggage and you won't have to show thse separately at security checkpoint.
If you want to transport protein powder in your hand luggage, we recommend that you read the article: Protein Powder in Hand Luggage. In this article we have compiled all the important information about transporting protein in hand luggage for you and answer the following questions:
How much protein powder can I take with me?
Can I take packed protein powder with me?
Is protein powder considered a liquid in hand luggage?
Is it allowed to take protein powder with you in your checked baggage?
Is there a quantity limit for supplements?
In principle, there is no limit on the quantity of supplements in hand luggage.
If you are travelling within the EU, you can bring any quantity of supplements with you in your hand baggage as well as in checked baggage, as long as this does not violate the conventional regulations for registered baggage as defined by the airlines.
You can find an overview of the hand luggage regulations of the most renowned airlines worldwide here.
If you travel across EU borders, you must comply with the import regulations of the destination country and the associated baggage allowance. There is usually no specific quantity limit for dietary supplements here either, but if you want to bring supplements in larger quantities, then it may, of course, be that you exceed the permitted travellers' allowances and therefore cannot import the goods duty-free.
Bestseller No. 1
Bestseller No. 2
Bestseller No. 3
Organic Green Superfood Supplement (60 Tablets) Super Greens Whole Foods Tablets - 28+ Fruit & Veggie Blend Including Alfalfa, Barley, Spinach, Broccoli - Certified Organic, Non-GMO & Gluten-Free
THE SMNUTRITION DIFFERENCE: Organic Green Superfood by SMNutrition is Certified USDA Organic, Vegetarian, Gluten-Free, formulated Non-GMO, PETA.org Certified, Third-Party Tested, and formulated without the top 8 allergens. It is manufactured in a cGMP, FDA registered and inspected facility.
Consuming supplements on the plane
You are allowed to consume your supplements on the plane
When it comes to supplements in solid form, such as protein bars, this is absolutely no problem. In general, solid snacks are easy to bring on board: Chips, chocolate and even meat snacks may be eaten on board.
If you want to consume liquid supplements in an aircraft, you obviously must comply with the rules for liquids in hand luggage (see here).
However, there is a small hack that allows you to take your regular-sized whey protein shake on board the airplane. You can simply bring an empty bottle (or also an empty shaker bottle) through the security check and then fill it with protein (you can easily bring the protein powder in your hand luggage) and then enrich the whole thing in the toilet with water and your tasty protein shake is ready.
So you can actually enjoy your protein shake aboard the aircraft. However, please keep in mind that you are NOT allowed to consume alcohol that you brought with you on the plane.
Food Supplements: Better put in hand or checked baggage?
If you have the choice, i.e. if you are travelling with both hand and checked baggage, we recommend that you transport the supplements in your checked baggage.
Why?
This saves you the stress of security checks. Especially as far as powders are concerned, problems and/or delays can occur during the security check.
When liquid supplements are involved, transport in checked baggage is practically always preferable, as liquids in hand baggage are very limited (only up to 100 ml per container, etc.).
Powdery supplements >350 ml should be stowed in checked baggage when travelling to the US (as discussed earlier in this post).
Related Questions
Can I take a shaker cup on board in my hand luggage?
It depends. You may bring an empty plastic shaker with you in your hand luggage. A metal shaker, on the other hand, may cause problems at the security checkpoint (the more massive the problem). In any case, you must follow the rules for liquids in hand luggage. It is therefore imperative that you bring the shaker empty through the security check. After the security check, however, you can fill the cup as described here.
Can I take BCAAs with me in my luggage?
Yes, BCAAs are generally allowed in both checked and hand luggage. Pills (tablets) are generally allowed in hand luggage and no medical certificate is required. A medical certificate for liquids in hand luggage is usually just required for liquid medicines in containers larger than 100 ml.
Hey guys! It's me, Marcel. I am the proud owner of carry-on-baggage.com. I am dealing with hand luggage related issues on a daily basis and I own several websites in this niche. Travelling is one of my biggest passions in life and I, therefore, happen to know a thing or two about hand luggage. I hope you all have a safe trip! Take care and thanks for the support. I really appreciate it.